Mallorca Travel Essentials
Useful Information to Help You Start Your Trip to Mallorca
Our Mallorca Travel Essentials lays out the essential information you need to help you plan your trip to one of the most popular destinations in Spain. No matter how frequently you travel, some questions will always need answers: What's the weather like? How can I get from Palma de Mallorca Airport to my hotel? What currency and type of plug do I need?
We have all these answers plus other basic info about the best time to go, getting there, getting around, and a few useful travel tips. You'll also learn about the most popular landmarks in Mallorca such as Catedral de Mallorca, Alcudia Old Town, and Castel de Bellver. You'll also learn about the most popular towns and villages in Mallorca such as Palma de Mallorca, Calvià, Manacor, and Alcúdia. It's all compiled in this Mallorca Travel Essentials. After reading this short and easy-to-read guide, you will be a little more prepared to start your trip to Mallorca.
1
What are the main towns and villages in Mallorca?
Covering an area of 3,640 sq km, Mallorca is the largest in the Balearic Islands in Spain. It lies about 180 km southeast of Barcelona. Its southern location in Europe makes it an extremely popular holiday destination. The central area of the island is mountainous while its coastal area features no less than 262 beaches, making for a total of 50 km of sandy shoreline. The capital city of Mallorca is Palma, and the most popular towns and villages include Calvià, Manacor, and Alcúdia.
Palma de Mallorca
Palma is the cosmopolitan capital of Mallorca. It's on the south coast of the island. Founded by the Romans in 124 BC, it was conquered by the Byzantine Empire, then by the Arabs. This long history has left many captivating landmarks. Now a prime destination on the island, Palma is a sprawling city from its Gothic Quarter to the party-packed promenade in Magaluf.
Calvià
Calvià is the second most populated town in Mallorca. It sits in the hinterland of the southwestern part of Mallorca, 12 km west of Palma. It's only a few kilometres away from 27 beaches, including Palmira, Santa Ponça, and Porto Novo, just to name a few. The entire area is dedicated to tourism and features many hotels, professional golf courses, and waterparks.
Manacor
Manacor is in the hinterland of the island, about 50 km east of Palma. It covers an area of 260 sq km including the coastal village of Porto Cristo. It's in an area famous for its limestone caves – the Dragon and Fishhook caves are inland and Gleda-Camp des Pou is one of the longest underwater caves in Europe. Besides tourism, the main economic resources of Manacor are pottery and the production of liquors and wines.
Alcúdia
Alcúdia is the prime holiday destination in the northeast part of Mallorca. It's located 50 km east-northeast of Palma. Alcúdia is especially popular with families. Home to a good choice of historical landmarks such as its Old Town surrounded by a medieval wall, a Roman theatre, and a 19th-century bullring, it's also famous for its coves and beaches.
2
When is the best time to travel to Mallorca?
Mallorca has a Mediterranean climate, as you might expect, with average temperatures ranging from 12°C in winter to 26°C in summer.
The rainiest time of the year is between September and April, with a modest average of 5 rainy days per month.
The warmest time of the year is between May and October.
June–September is the most popular time to visit Mallorca, but it's peak season, so hotel and flight prices rise accordingly.
March–May and October–November are the best times to visit Mallorca. The weather and temperatures are good, you'll be able to avoid the summer crowds, and hotel and flight prices are normally lower.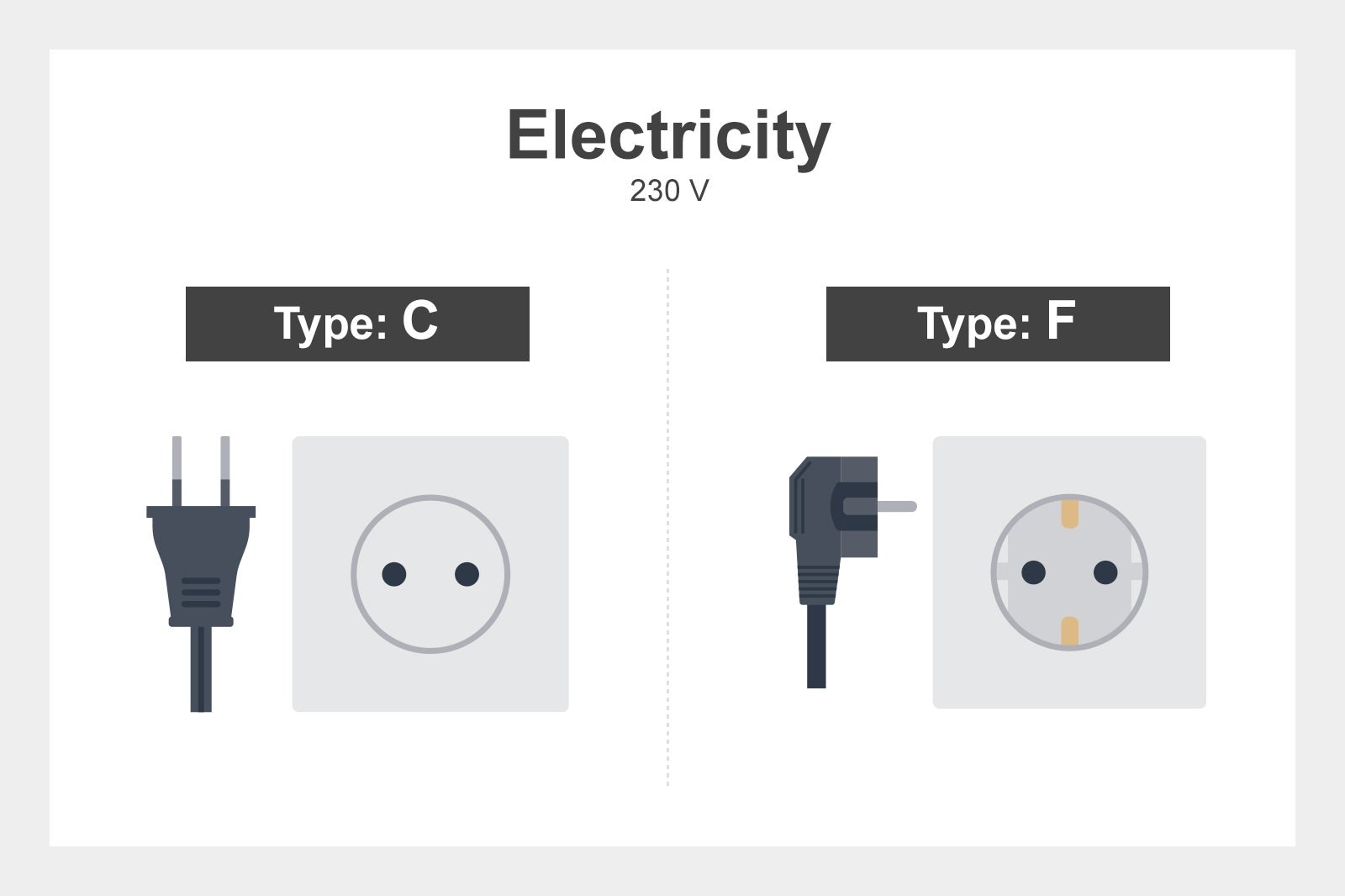 Plug type: C and F
Electricity: 230 V
Currency: Euro (€)
International dialling code: +34 971
Emergency telephone number: 112
4
How to get to my hotel in Mallorca?
Palma de Mallorca Airport (PMI)
Palma de Mallorca Airport is 8 km east of Palma de Mallorca's city centre. Palma Airport – also known as Son Sant Joan Airport – has 4 passenger terminals served by 2 runways. The terminals are home to a good choice of dining and shopping options as well as facilities like free Wi-Fi, banking, and currency exchange services. There are several transfer options to help you get to any destination on the island:
Taxi ranks are just outside the Arrivals Hall.
If your destination is Palma de Mallorca, the EMT city bus – Route 1 – takes 20–30 minutes to reach the city centre. The bus stop is right outside the Arrivals Hall. You can also get to S'Arenal for the same price on an EMT city bus – Route 21.
Intercity buses to most destinations in Mallorca are also available.
Car rental agencies can be found within the terminal.
5
How to get around Mallorca?
Travel tips
The best way to explore towns and villages in Mallorca is on foot or a bicycle.
For longer distances, renting a car is the most convenient option for getting around Mallorca. The roads are mostly of good quality. Note that an international driving licence is required for foreigners to be able to drive in Spain. You can rent a car at an international car hiring company, but if you want to save some money, you can often find better deals from local agencies. Get a map – using your phone is forbidden while driving.
Travelling by bus is a great option if you're on a budget. Efficient and cheap, the island bus networks serve almost all towns and villages. The only downside of travelling by bus is that it's slower than driving a car and it runs on limited schedules, especially on weekends.
Metered taxis are available, but travelling throughout the island by taxi will be expensive.
You can travel by train between Palma (Plaza España) and Inca. There are stops in Santa Maria, Binissalem, and the Festival park shopping outlet. Once in Inca, you can find connections to Sa Pobla and Manacor.
You can also take the Sóller Railway, which links Palma to Sóller several times a day.
Cycling is an increasingly popular way to explore Mallorca. Ascending the mountainous areas requires a certain degree of fitness, but the coastal areas offer pleasant, leisurely rides.
6
What are the main annual events in Mallorca?
Sa Rua Carnival
Early March
Most towns and villages in Mallorca celebrate the onset of Lent with a carnival. Expect a festive atmosphere with colourful costumed parades in the street, as well as live music, food, and drink. There are prizes for the best costumes.
Where: In most villages and towns throughout the island
Semana Santa
Mid-April – the week leading up to Easter Sunday
The Semana Santa – Holy Week – is the most religious event in Mallorca. It starts on Palm Sunday and ends on Easter Sunday. On Maundy Thursday and Good Friday, the Blood of Christ and Stations of the Cross processions are held. Easter Sunday is celebrated with family picnics.
Where: In most villages and towns throughout the island
Nit del Foc – Night of Fire
June
One of the major festivals in Palma de Mallorca, Nit del Foc brings fireworks, bonfires, and people dressed as devils running through the streets with firecrackers.
Where: Palma de Mallorca
7
What are the main landmarks in Mallorca?
Cathedral of Santa Maria of Palma
Locally called La Seu, the Cathedral of Santa Maria of Palma sits in the south of the Old Town, a stroll away from the port. It's built from golden sandstone and is designed in a stunning Catalan Gothic style with a Northern European twist.
Alcúdia Old Town
Home to 13th-century houses and surrounded by a 14th-century wall, Alcúdia Old Town is especially renowned for its small restaurants and bistros. The top of the wall is walkable and offers great views of the Old Town. Do not miss the local market held on Sundays and Tuesdays.
Castel de Bellver
Built in the early 14th century at the top of a hill covered with pine trees, Bellver Castle is one of the few circular Gothic-style castles erected in Europe. Its elevated position offers splendid views of the port and the city. Bellver Castle hosts the city's history museum and can be visited for a modest entrance fee.
Cap de Formentor
Cap de Formentor on the northeastern end of Mallorca is locally known as the "meeting point of the winds". It offers many panoramic viewpoints showing nearby bays, including Cala Figuera and Cala Pi de la Posada. The Cap de Formentor Lighthouse stands tall at the tip of the cape.
Back to top