5 Best Street Markets in Seoul
Seoul's Most Popular Street Markets
Street markets in Seoul are great places to experience authentic Korean lifestyle, mingle with friendly locals, and browse through a vast range of goods. Most of these markets stay open year-round and are easily accessible via subway trains and buses.
These street markets cater to locals and tourists with specific shopping needs – visit Dongdaemun Market for trendy apparels, jewellery and accessories, Gwangjang Market for an extensive array of Korean comfort foods, and Noryangjin Fish Market for seafood that comes fresh from the ocean. A visit to Seoul's most popular street markets is a must-do for every first-time visitor.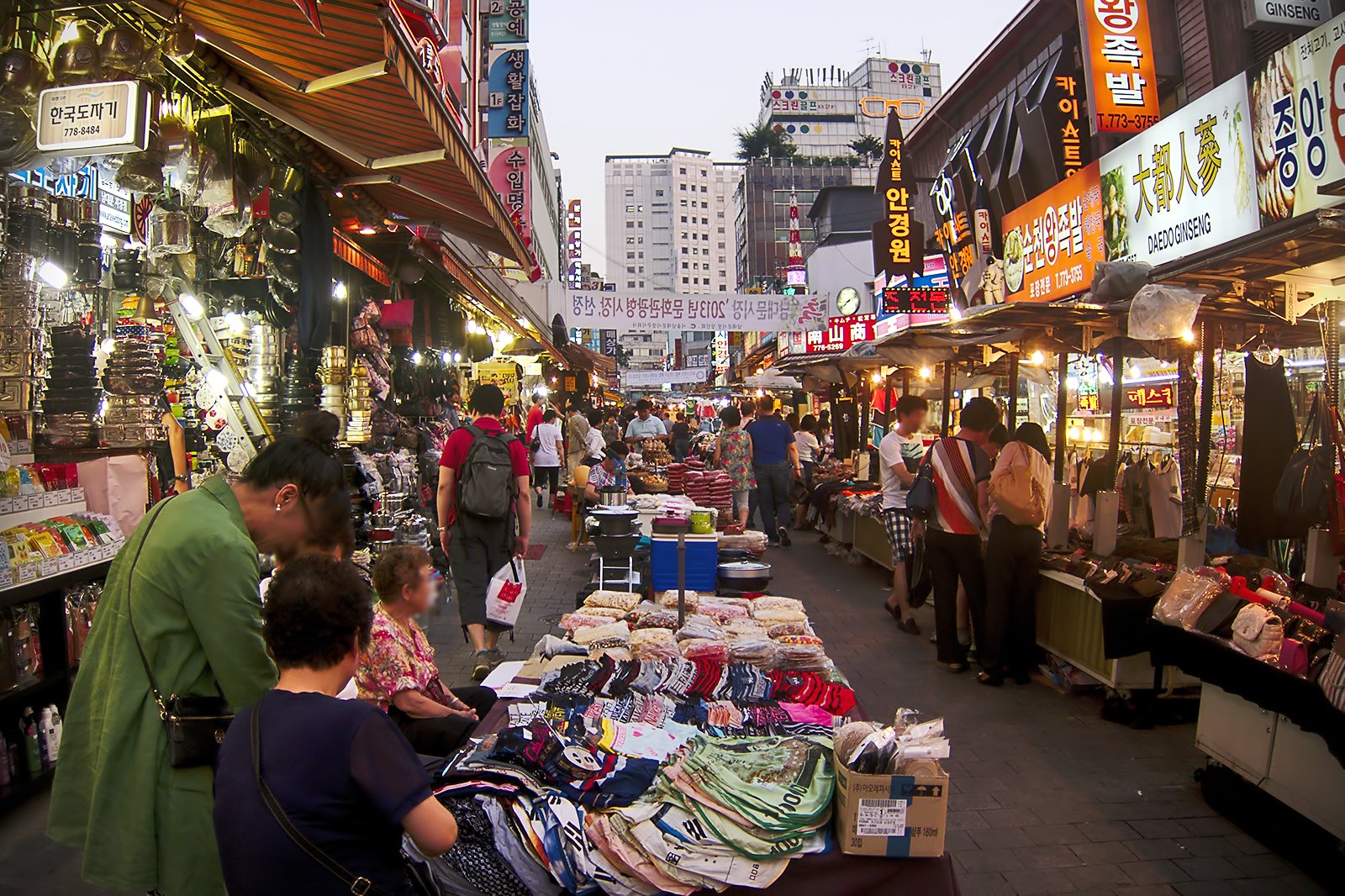 Namdaemun Market, founded in the early 1400s, is one of the busiest markets in South Korea. The traditional market was named after Seoul's Great South Gate, which was the main gate to the ancient city. You can find quality leather goods, clothing, crafts, imported goods, utensils, electronics, and traditional oriental medicines at really affordable rates.
During the day, you can see locals shopping for groceries and household items. It's also particularly famous for its wholesale handicrafts and food sections. Namdaemun becomes a vibrant night market from 11pm until 4am every day.
Location: 88, Changgyeonggung-ro, Jongno-gu, Seoul, South Korea
Open: Daily from 8.30am to 11pm (hours vary by shop)
photo by Adrián Pérez (CC BY-SA 2.0) modified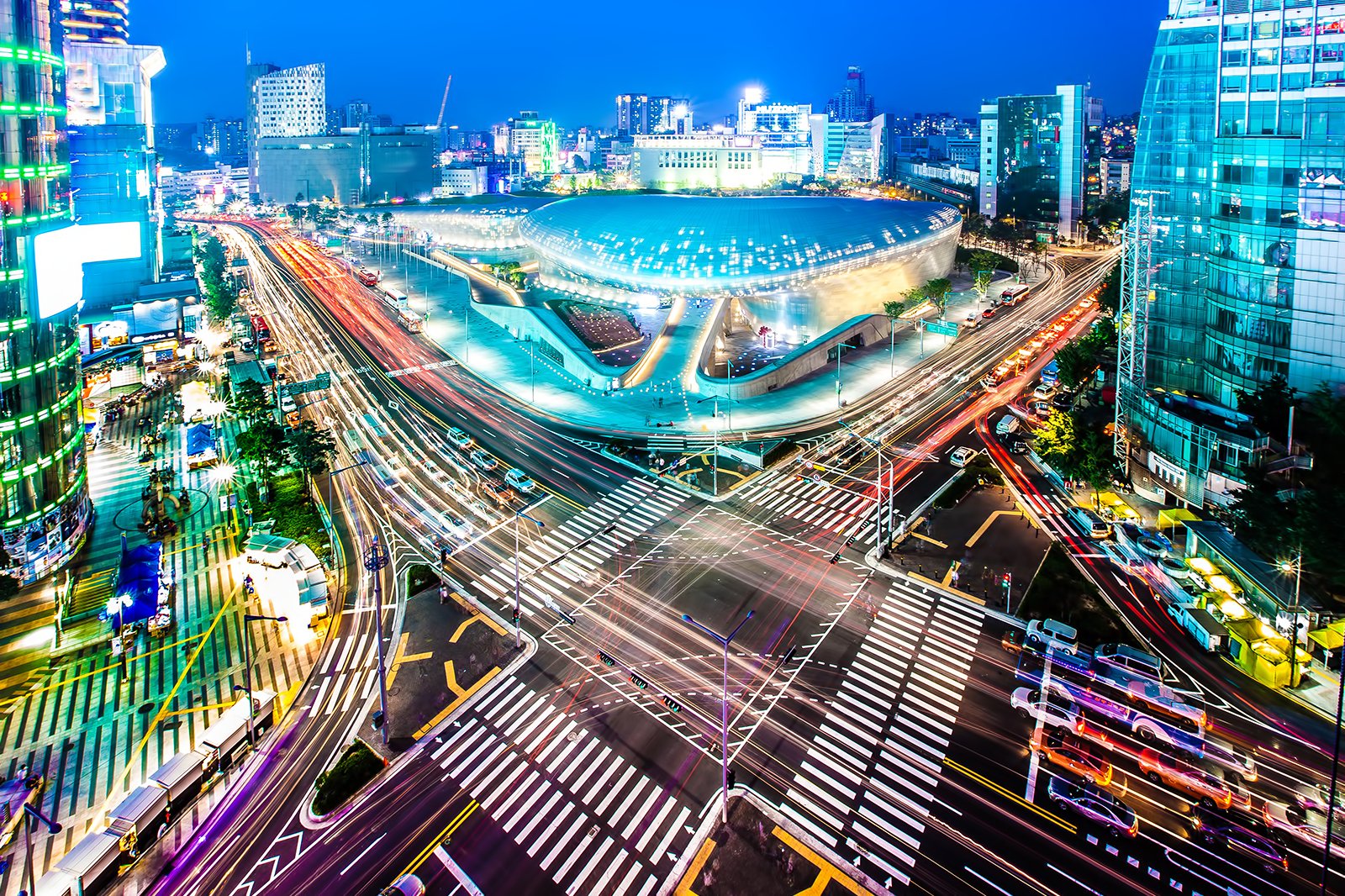 Dongdaemun Market has around 26 shopping malls, 30,000 speciality shops, and 50,000 manufacturers. It's one of South Korea's largest wholesale and retail shopping districts, with items for sale ranging from textiles, clothes, shoes, and jewellery, to leather goods, toys, electronics, and office supplies.
Dongdaemun Market is also a food haven – Mukja Golmok is an alley dedicated to Korean street food and snacks. The shopping district stays busy well into the night, with festivities, fashion shows, music and dance performances taking place year-round.
Location: Euljiro 6(yuk)-ga, Jung-gu, Seoul, South Korea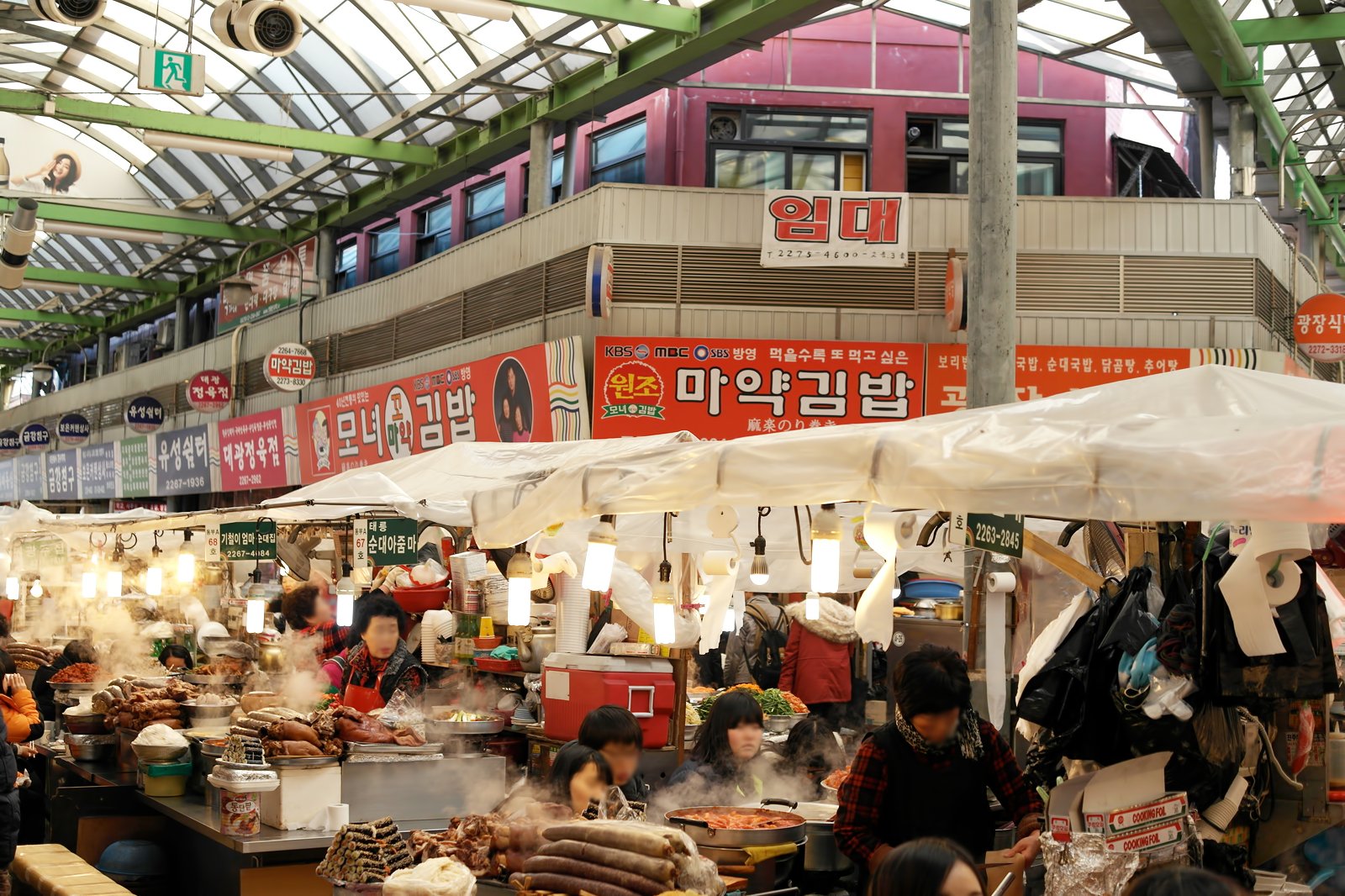 Gwangjang Market dates back to 1905, and is the 1st permanent street market in South Korea. While it is more known for its extensive selection of fabrics and textiles, you can also find kitchenware, imported products, fruits and vegetables, and dried goods. Many locals visit the market to purchase prayer items for Korean rituals as well as traditional wedding items such as hanbok (traditional Korean clothing) and pyebaek (wedding food that brides prepare for their future in-laws).
The ground floor has dozens of food stalls and restaurants, where you can enjoy authentic Korean dishes when you're shopping at Gwangjang Market. Tailor shops occupying the 1st floor offer folk clothing at reasonable prices.
Location: 88, Changgyeonggung-ro, Jongno-gu, Seoul, South Korea
Open: Daily from 8.30am to 11pm (hours vary by shop)
photo by ChongDae (CC BY-SA 3.0) modified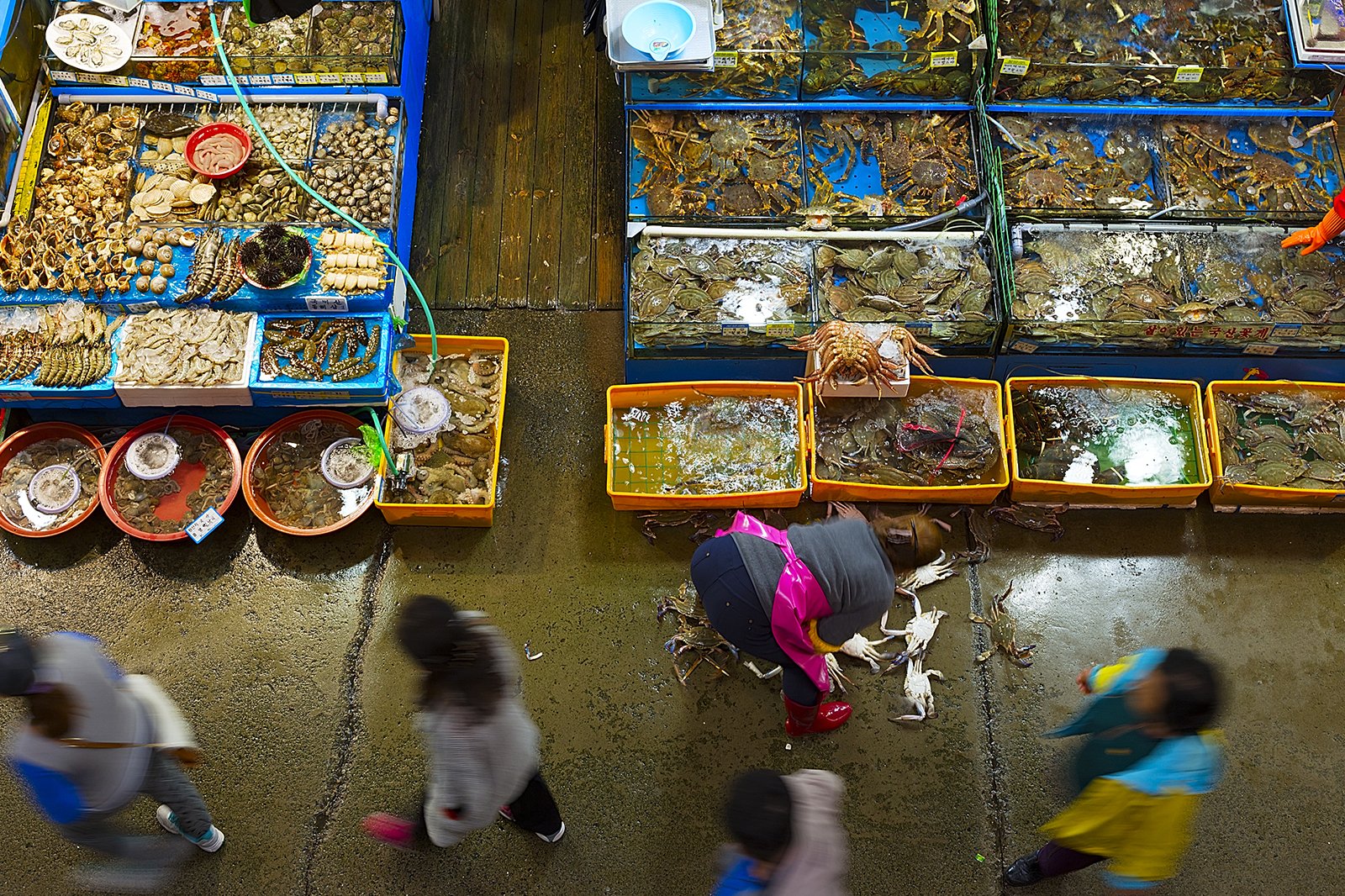 Noryangjin Fisheries Wholesale Market
Noryangjin Fisheries Wholesale Market is a 15-minute train ride from Seoul Station. The best time to visit this marketplace is around dawn, when seafood auctions take place. There are around 800 vendors selling seafood fresh from the ocean at very affordable prices. The upper levels of Noryangjin Fisheries Wholesale Market has several restaurants serving Korean and Japanese dishes.
Location: 674 Nodeul-ro, Noryangjin-dong, Dongjak-gu, Seoul, South Korea
Open: 24/7
Phone: +82-2-2254-8000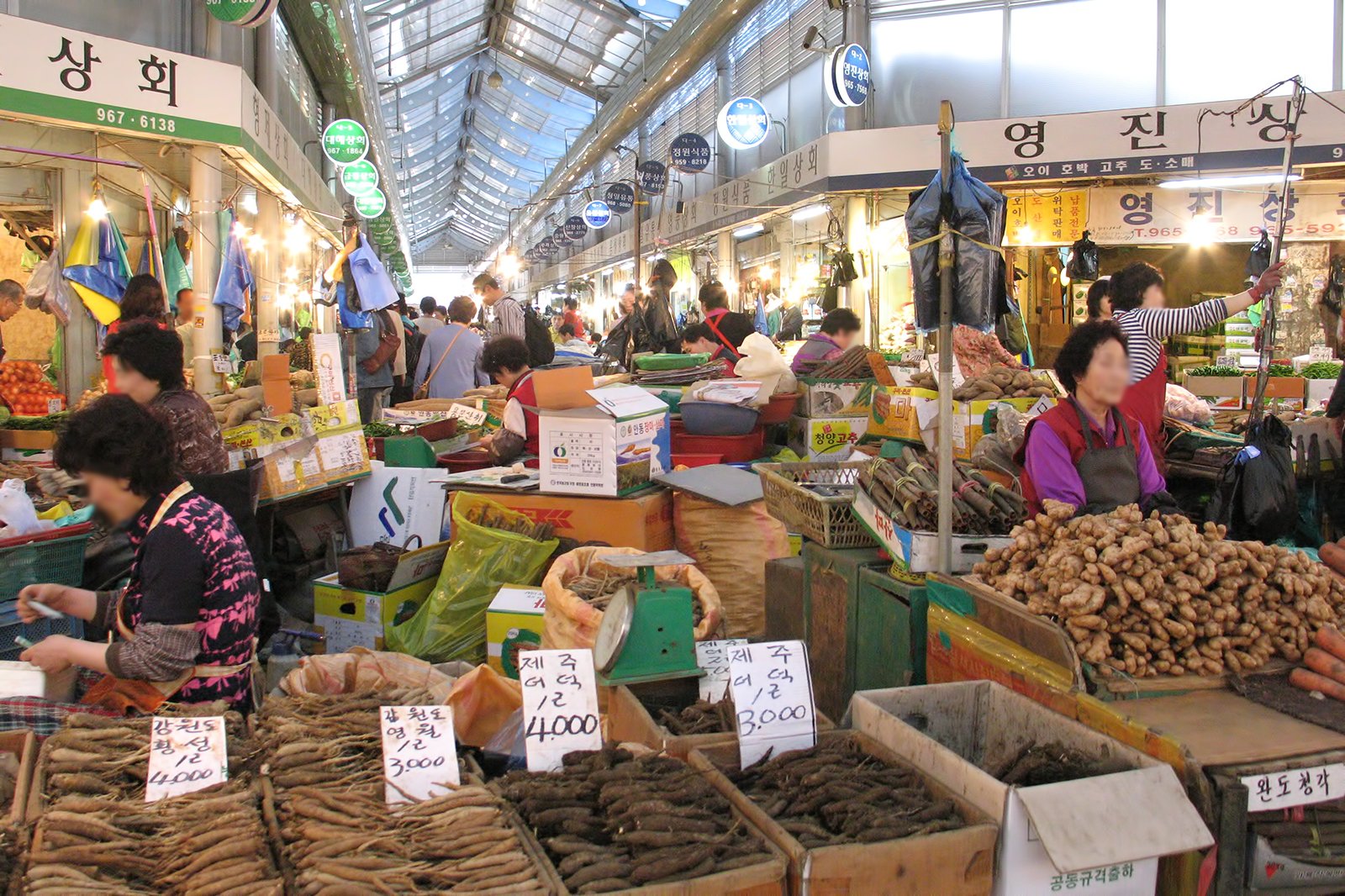 Gyeongdong Market has over 1,000 stalls selling homemade medicines, roots, herbs, and spices. Located in Dongdaemun, this street market is especially popular among Chinese and Japanese tourists as Asian herbs and medicinal products are available at affordable prices.
The rich fragrances of herbs immediately greet you as you enter the market - some of the most popular items here include red ginseng for restoring energy, maesil (plum) to improve blood pressure, and chrysanthemum flowers which are brewed to make refreshing drinks.
Location: 147, Wangsan-ro, Dongdaemun-gu, Seoul, South Korea
Open: Daily from 4am to 7pm (hours vary by store)
Phone: +82-2-967-8721
photo by Gaël Chardon (CC BY-SA 2.0) modified