La Rochelle Travel Essentials
Useful Information to Help You Start Your Trip to La Rochelle
Our La Rochelle Travel Essentials lays out the essential information you need to help you plan your trip to one of the most popular destinations in France. No matter how frequently you travel, some questions will always need answers: What's the weather like? How can I get from Aéroport La Rochelle to my hotel? What currency and type of plug do I need?
We have all these answers plus other basic info about the best time to go, getting there, getting around, and a few useful travel tips. You'll also learn about the most popular landmarks in La Rochelle such as the Old Port (Vieux Port), Orbigny-Bernon Museum, and Saint-Louis Cathedral. It's all compiled in this La Rochelle Travel Essentials. After going through this short and easy-to-read guide, you'll be a little more prepared to start your trip to La Rochelle.
1
When is the best time to travel to La Rochelle?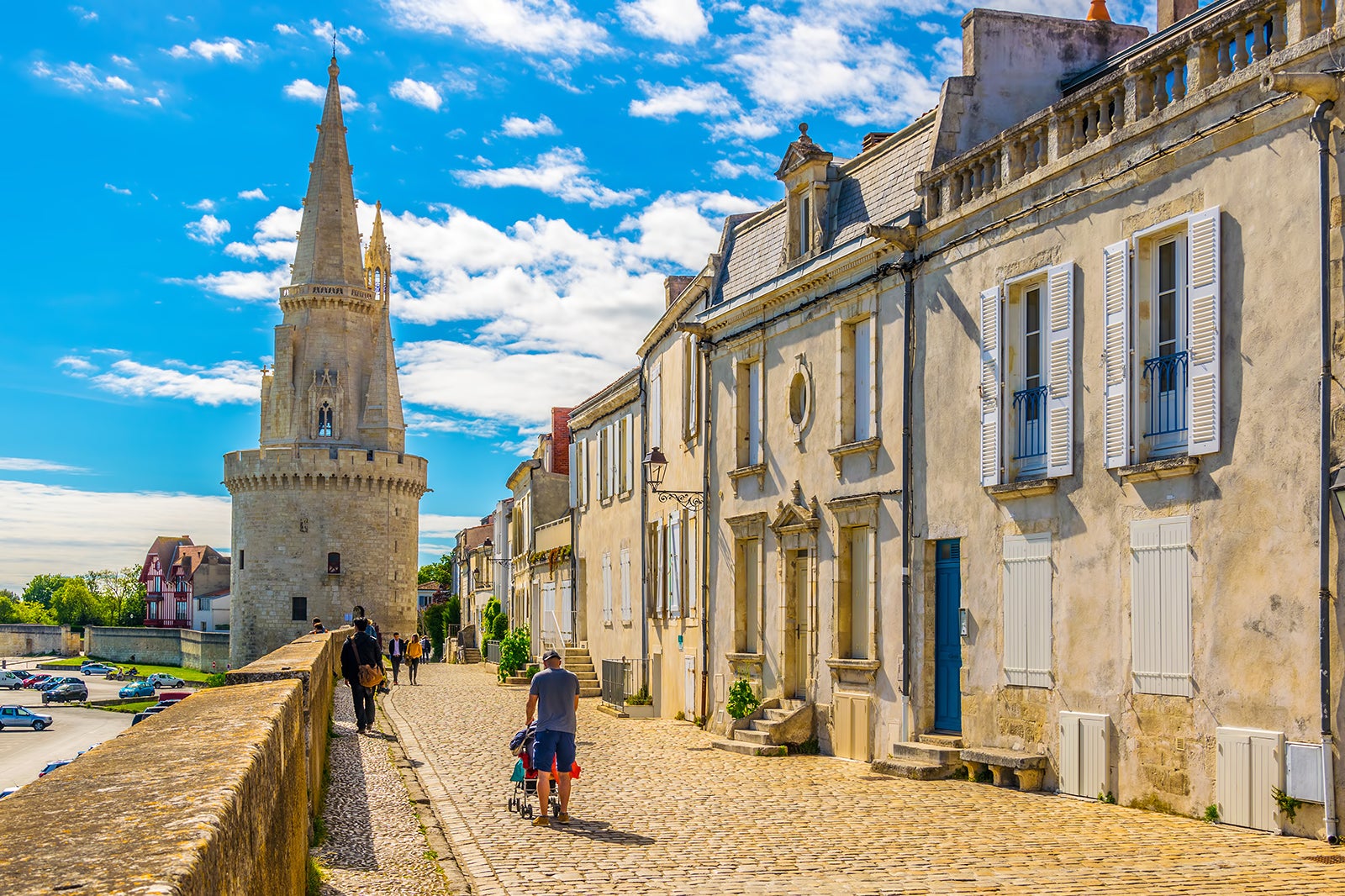 La Rochelle has an oceanic climate with warm summers and mild winters. Average temperatures range between 6.6°C in winter and 20.6°C in summer.
The period with the most rain in La Rochelle is October–May, with 9–12 wet days per month. Expect an average of 6–7 rainy days per month for the rest of the year. Expect a few snowfalls in December–February.
June–September is the warmest period of the year with average temperatures over 19°C.
Summer is peak season in La Rochelle. June–August is when precipitation is low and when you can expect higher hotel rates and more crowds, especially during the French summer school break. If you plan to visit La Rochelle around this time of the year, it's best to book ahead.
Besides the popular summer months, the best times to visit La Rochelle are in autumn (September–November), with the remaining warmth of summer but dissipating crowds, as well as in spring (March–May), when several festivities mark the approach of summer.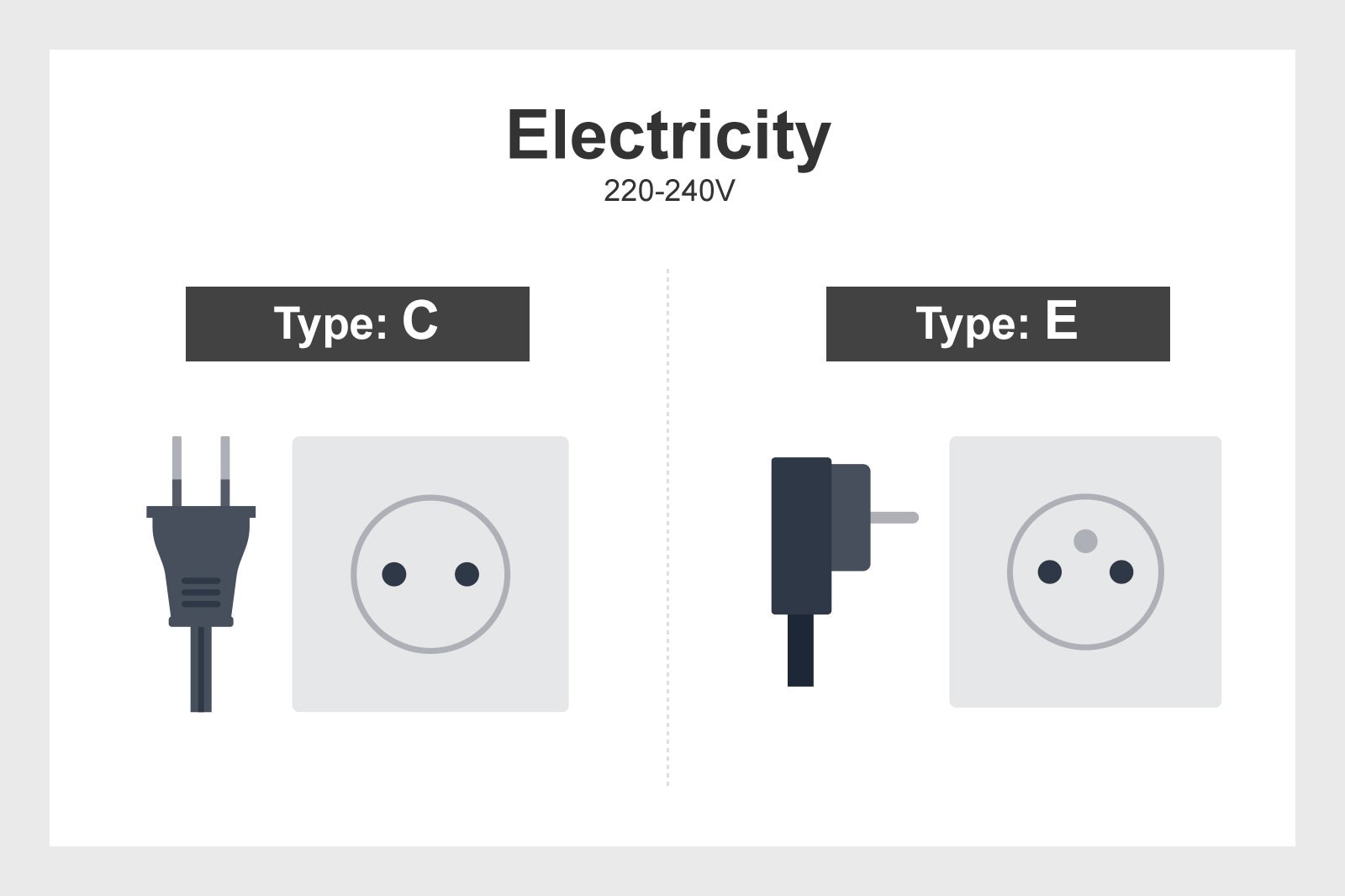 Plug type: C and E
Electricity: 220-240 V
Currency: Euro (€)
International dialling code: +33 5
Emergency telephone number: 112
3
How to get to my hotel in La Rochelle?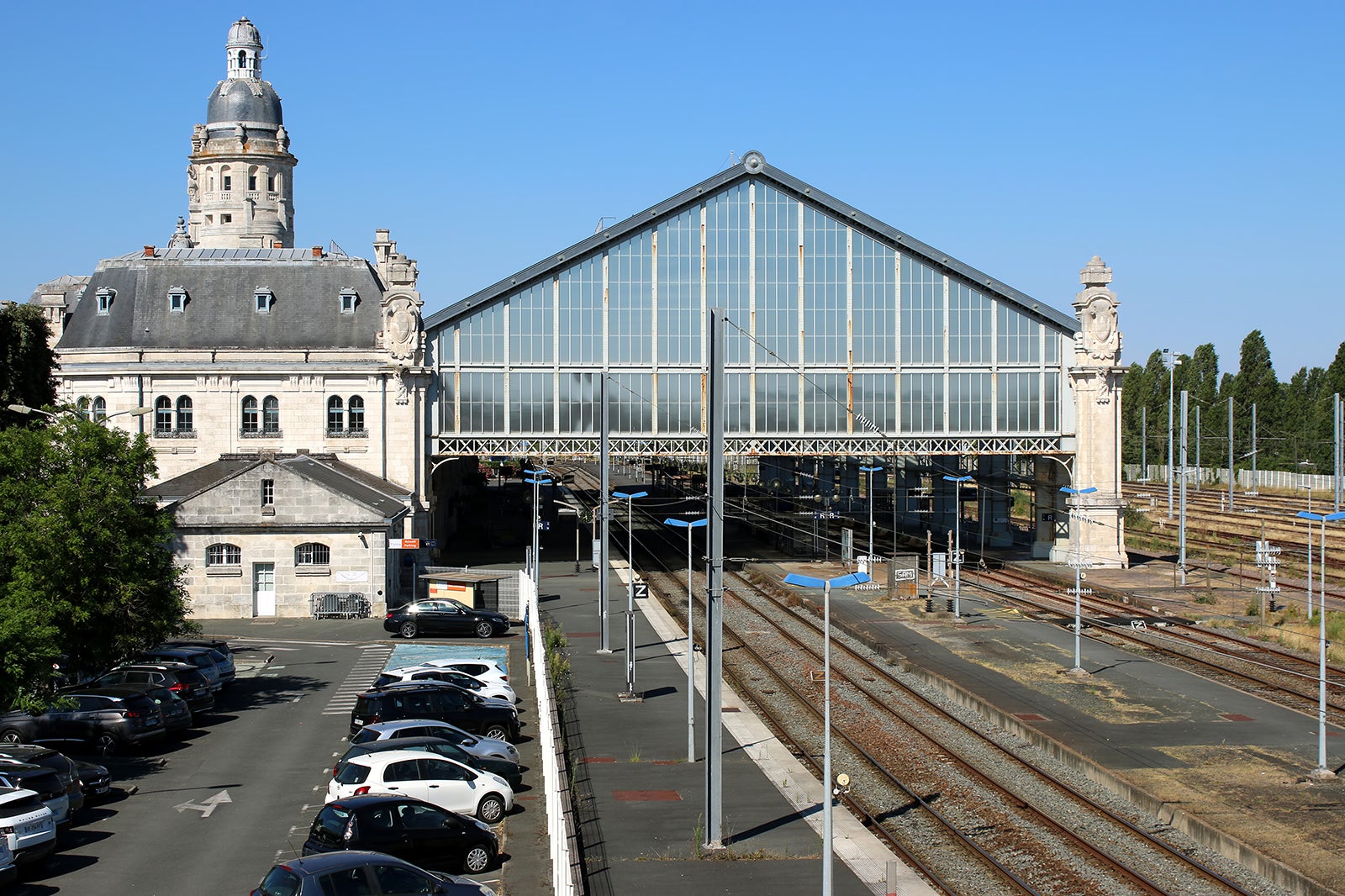 La Rochelle – Île de Ré Airport is the main gateway to La Rochelle and the nearby island of Île de Ré. Pleasure boats and ferries dock at Port Des Minimes while international cruise ships occasionally dock at the Môle d'escale pier on the far end of the Viaduc Président Christian Morch bridge.
You can also get to La Rochelle by high-speed train (TGV – Train à Grande Vitesse) from Gare Montparnasse in Paris. Travelling on a budget from within France, you can also consider getting to La Rochelle by bus. By car, La Rochelle is accessible via the A10 from Paris and Bordeaux.
La Rochelle – Île de Ré Airport (LRH)
La Rochelle – Île de Ré Airport, or simply Aéroport La Rochelle, lies 5.5 km west of the city centre, or an 11-minute transfer via Avenue Jean Guiton. The airport serves direct flights from other cities within France and across Europe such as Paris, Lyon, Marseille, London, Manchester, Dublin, and Geneva. Connecting flights are required for other international destinations.
Aéroport La Rochelle provides free and unlimited Wi-Fi throughout the terminal and boarding area. Public transport to take you to La Rochelle's city centre include the Yélo bus network (+33 (0)8 10 17 18 17), which can also take you to the 28 communes of La Rochelle. The buses run every 20 minutes Monday–Saturday from 6 am to 9 pm and hourly on Sundays and public holidays between 9 am and 7 pm. You buy your tickets on the bus.
To get to any of the 10 villages on the island of Île de Ré, you can hop on the Transdev electric coach between Monday and Saturday, using the 3E line.
You can find taxis at the exit of Arrivals by companies such as Blanchard Valet Service (+33 (0)6 83 92 29 08), My Course (+33 (0)7 66 48 89 38), Taxi David (+33 (0)6 20 19 63 30), and Taxi Pascal (+33 (0)6 58 83 51 71).
Major car rental companies are available just past the passenger car park. They include Europcar (+33 (0)5 46 41 09 08), Sixt (+33 (0)5 79 53 00 10), Avis (+33 (0)5 46 41 13 55), and Hertz (+33 (0)5 46 00 93 27). It's best to book ahead either by phone or online. When you've booked a rental car, a representative will be on standby to pass you the keys upon arrival.
Gare de La Rochelle train station
The Gare de La Rochelle train station on Place Pierre Semard, just south of the city centre, has trains linking La Rochelle to Bordeaux, Nantes, Poitiers, Paris, and several other regional destinations, served by TGV and TER rail services. The train station itself is a historical landmark, dating back to 1922.
Upon arrival, there are car rental agencies just opposite the station and taxis are easy to find. There's also a bus that runs from Gare de La Rochelle to the island of Île de Ré.
You can use the self-service ridesharing electric cars run by Yélomobile (+33 (0)8 10 17 18 17), accessible 24/7 at their charging docks outside the station. Obtain a Yélo card from the station to use these small, 100-km-range city cars and return after use to any docking station. You'll be charged based on the duration of use.
Port des Minimes
Yachts and pleasure boats dock at the large Port des Minimes (+33 (0)5 46 44 41 20), which is 2.4 km from the centre of town. It's the largest marina in France with slips for over 3,000 vessels. From the port, you can use regular taxi services provided by various companies as well as the Yélo night taxi service. The Illico bus is available to take you across town in under 10 minutes.
A solar-electric ferry service lets you continue your trip over the waters between Minimes and the Old Port in under 20 minutes. The Yélo bike-sharing and Yélomobile car-sharing schemes are also available as fun and convenient ways of getting around the city from the port.
4
How to get around La Rochelle?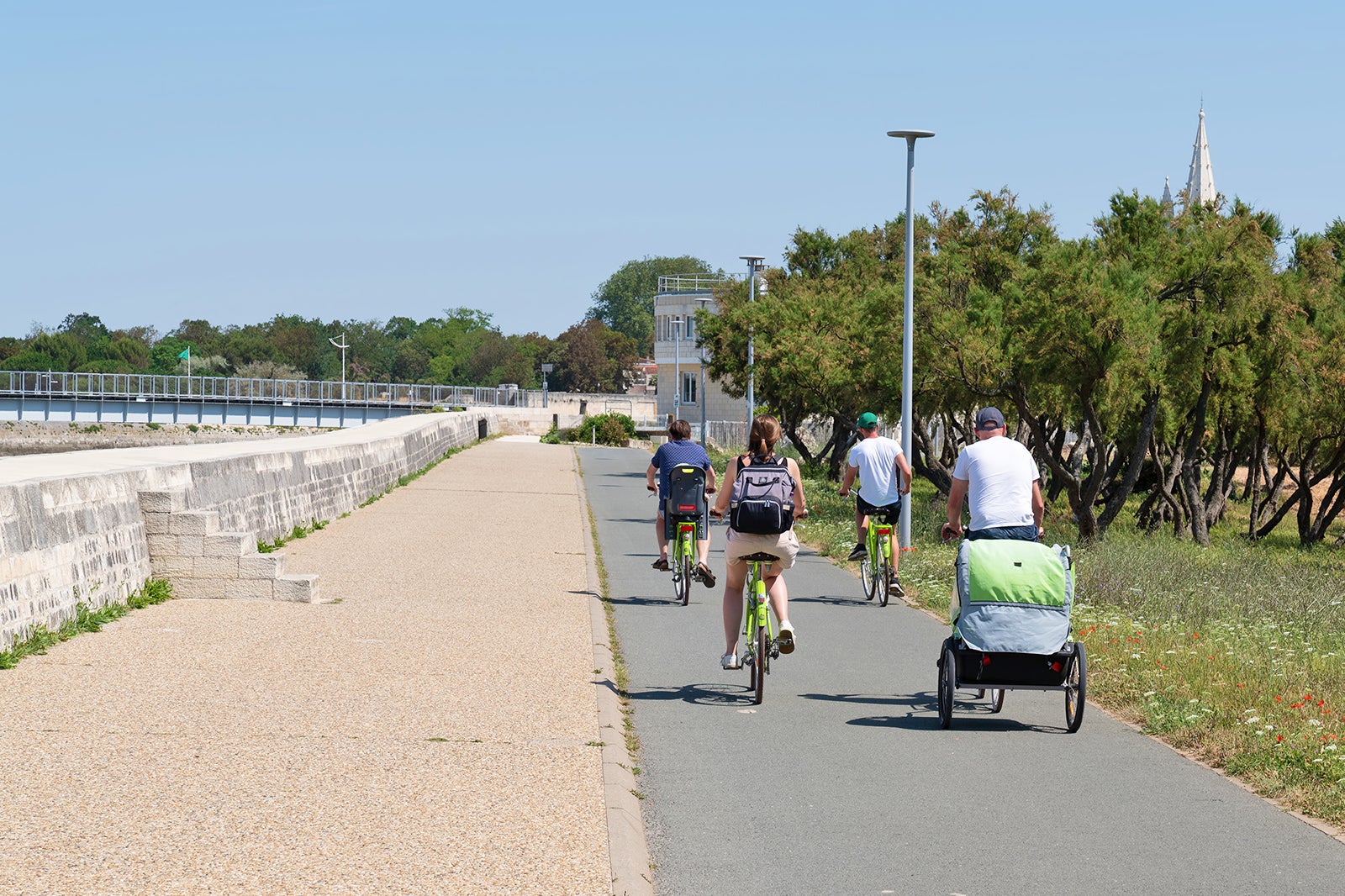 Travel tips
The island of Île de Ré aside, the heart of the city of La Rochelle is small enough that it's easy to explore on foot. Moreover, there's the local bike-sharing scheme run by Yélo that offers fun and convenience for enjoying the city on 2 wheels. The bike-sharing scheme was born in La Rochelle in the '70s and inspired similar schemes worldwide.
The same company runs a local bus network as well as an electric car-sharing scheme. To get between the grand marina of Port des Minimes and the Old Port (Vieux Port), you can hop on an hourly ferry or a 'seabus', also run by Yélo.
Taking a taxi
You can easily find taxis at various points of interest throughout La Rochelle, such as Place Verdun, the Gare de La Rochelle train station, and along Cours des Dames by the Old Port. Among the many taxi companies operating in and around La Rochelle are Abeille Taxi (+33 (0)5 46 41 55 55), Mélitourisme (+33 (0)6 48 22 87 32), and Yélo (+33 (0)5 46 34 02 22).
Travelling by bus
The Yélo buses are easy to spot with their yellow-white colour scheme. They run about 29 lines throughout the city centre and link to surrounding communes throughout the region. Single-day and week-long passes are available, and you can buy them from the Yélo kiosks – one being at Place de Verdun.
Using a Yélomobile electric car
Driving in La Rochelle is convenient thanks to the many car parks and parking spots available. The small electric city cars offered by the Yélo company are efficient. Signup for a Yélomobile account online and you can reserve a car or just head to a nearby docking station to borrow one. After use, simply return it to any of the 13 docking stations throughout the city and you'll be invoiced with the corresponding rates based on the duration of use.
Cycling around La Rochelle with Yélo bike-share
In favourable weather, La Rochelle is great for exploring by bike. The city has over 90 km of bike trails within the city limits. Yélo's bike-sharing service adds to the convenience with bright-yellow bikes available at various docking stations throughout the city.
Head down to a Yélo kiosk with an ID and credit card to get a pass with the minimum deposit. There are short-term as well as long-term rental packages available. Note that you can't ride the bikes across to Île de Ré. After use, simply return the bike to any station across the city.
5
What are the main annual events in La Rochelle?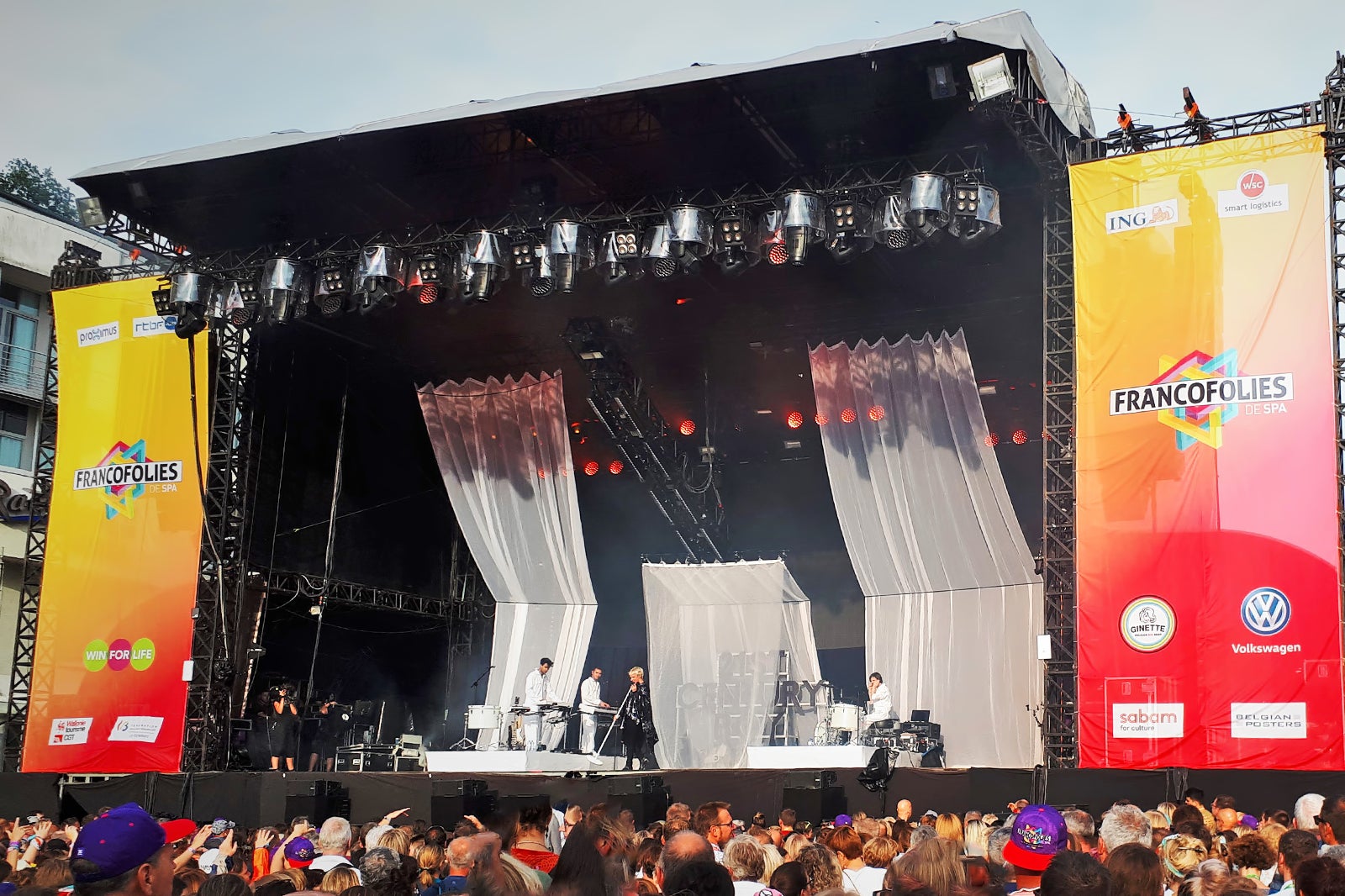 Francofolies
July
Les Francofolies de la Rochelle started in 1985 to promote francophone music. The annual music festival draws summer crowds with leading musicians and bands taking to the stage.
Where: various venues in La Rochelle
Grand Pavois
September
One of Europe's largest in-water boat shows, welcoming tens of thousands of visitors to the largest pleasure marina in France.
Where: Port des Minimes
Escales Documentaires
November
An annual celebration of documentary films from all around the globe as well as a meeting place for filmmakers. Film competitions are also part of the festival, covering various categories.
Where: various venues in La Rochelle
photo by Fabricejeanfils (CC BY-SA 4.0) modified
6
What are the main landmarks in La Rochelle?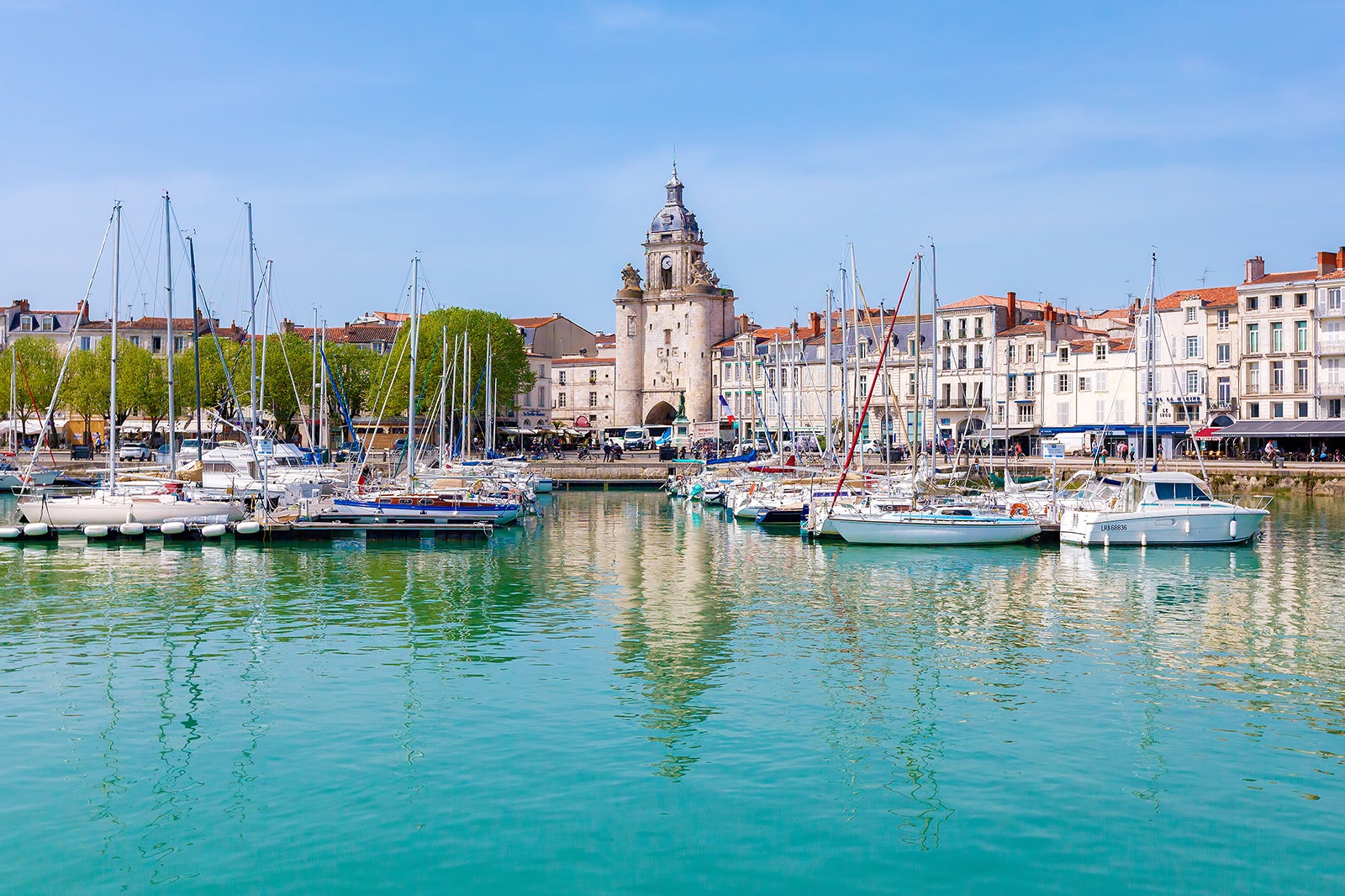 Old Port (Vieux Port)
The old port of La Rochelle is an icon of the city's maritime past. The view of the port is augmented by the 2 large sea-facing towers and a variety of sails and vessels.
Orbigny-Bernon Museum
A history museum in La Rochelle that dates back to 1917. It has an extensive collection of exhibits that hark back to the seafaring days of the old seaside city.
Muséum d'histoire naturelle de La Rochelle
La Rochelle's natural history museum is home to over 10,000 artefacts, ranging from specimens from the natural world to ethnographic items dating back to the 18th century.
Saint-Louis Cathedral
A majestic Roman Catholic church and early 20th-century French national monument that stands in the heart of La Rochelle.
Back to top