9 Best Things to Do in Costa Adeje
What is Costa Adeje Most Famous For?
Costa Adeje (the Coast of Adeje) has diverse beaches, with a well-balanced mix of features that make it one of the best seaside resorts for families to hit among the Canaries. Cradled on the southwestern foothills of Tenerife's Teide Volcano, beautiful beaches range from pebbly, to black sand or white, mostly lined with an ocean-view boardwalk.
You can enjoy an upscale beachfront experience on Costa Adeje's north coast, while Playa Fañabe and Playa de las Américas further down offers laidback vibes. There are great things to do in Costa Adeje in a day or two in between. These include waterparks with thrilling slides, modern shopping scenes and some cool spots to chill out with the view. You can even boat out to meet cetaceans up close in their most natural habitat in the Atlantic!
What are the best things to do in Costa Adeje?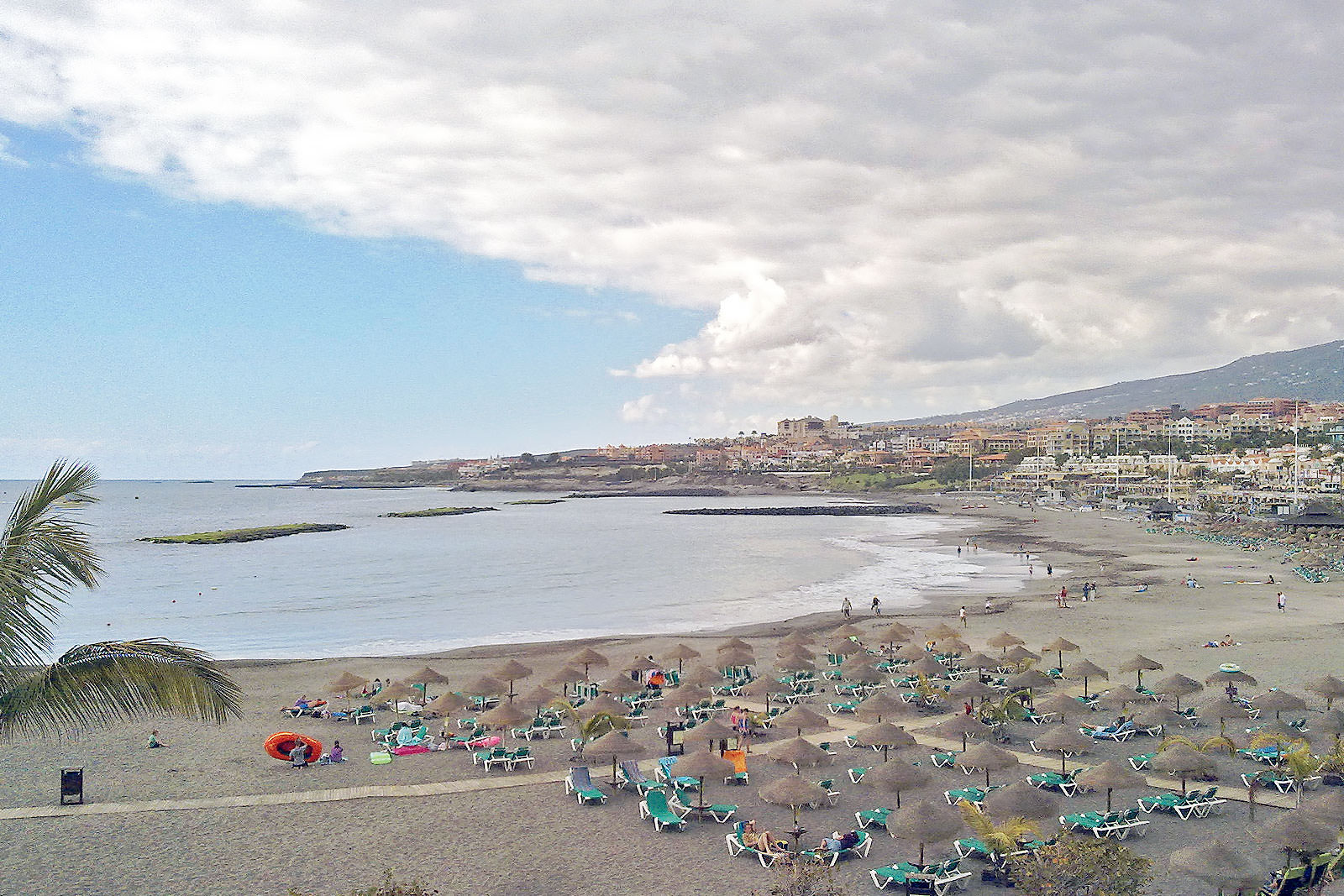 Start the Day at Playa Fañabe
With scenic walks along the Atlantic coast
Take in the seaside vibes of this coastal town at one of its scenic beaches. Playa Fañabe is a great beach to head down to, overlooking the blue waters of the Atlantic and with a boardwalk as a bonus. This lets you enjoy scenic ocean-view walks (or bicycle rides) along the half-kilometre coastline, with plenty of shops, bars, restaurants and even full-service beach clubs along its length. The northern end of the beach easily connects you to Costa Adeje's main downtown hubs, such as San Eugenio shopping centre.
Location: Adeje, Santa Cruz de Tenerife, Spain
Open: 24 hours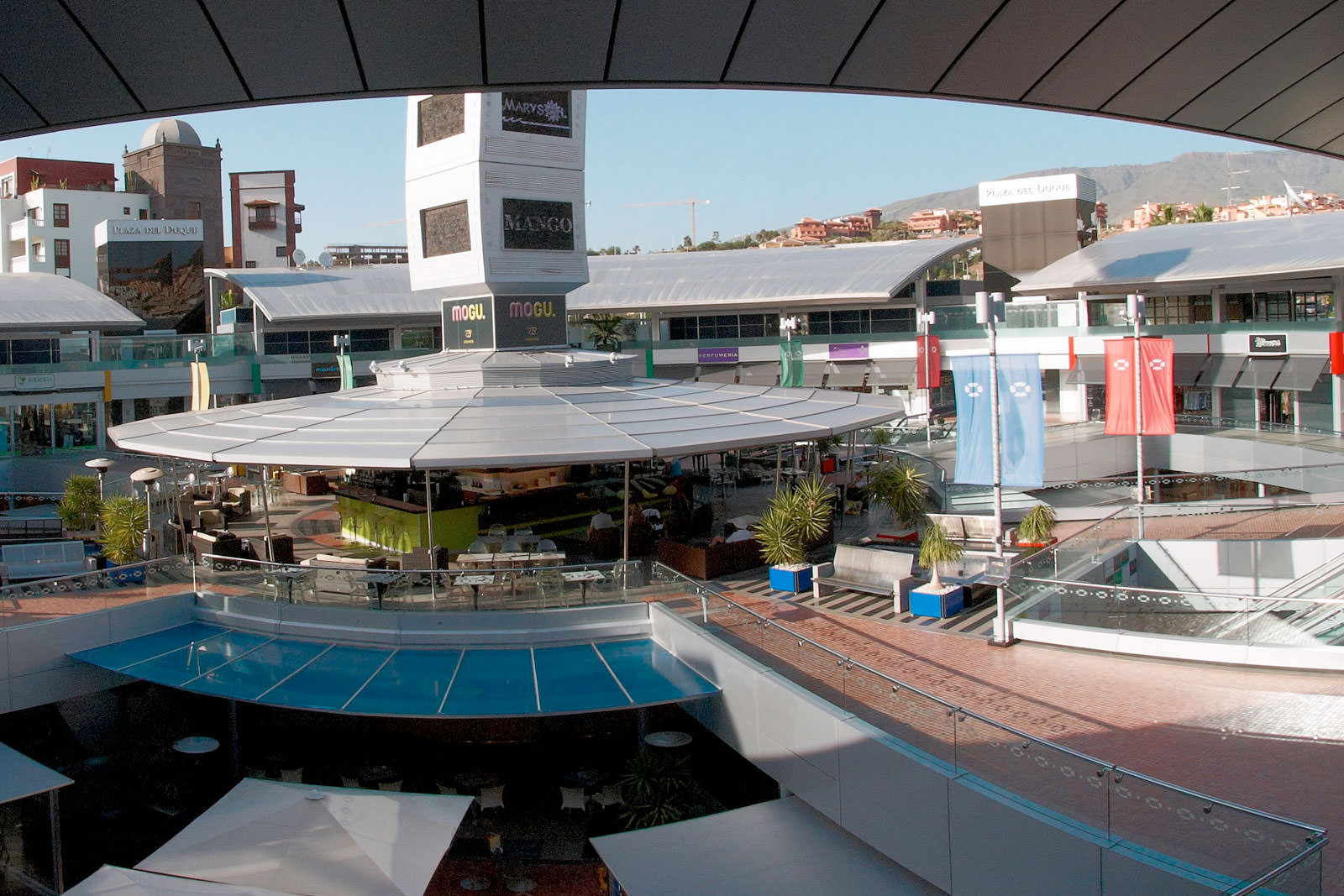 Shop at Plaza del Duque
Costa Adeje's main shopping mall
This large, circular-shaped mall also serves as a junction for 4 main streets, and is easily accessible from beach it takes its name from. The mall offers an eclectic shopping experience, with stores including international designer fashion brands such as Porsche Design, Boss and Armani. They're mostly high-end, but the real deal. It's also a great spot to take cover from the heat of the day or when it rains in, with creperies and cafés, as well as restaurants serving Canarian delicacies. For an open-air experience try the San Eugenio shopping centre, around 10 minutes' drive south.
Location: Calle Londres, Costa Adeje, Adeje, Tenerife, Spain
Open: Daily from 10am to 10pm
Phone: +34 (0)922 7198 88
photo by Wouter Hagens (CC BY 3.0) modified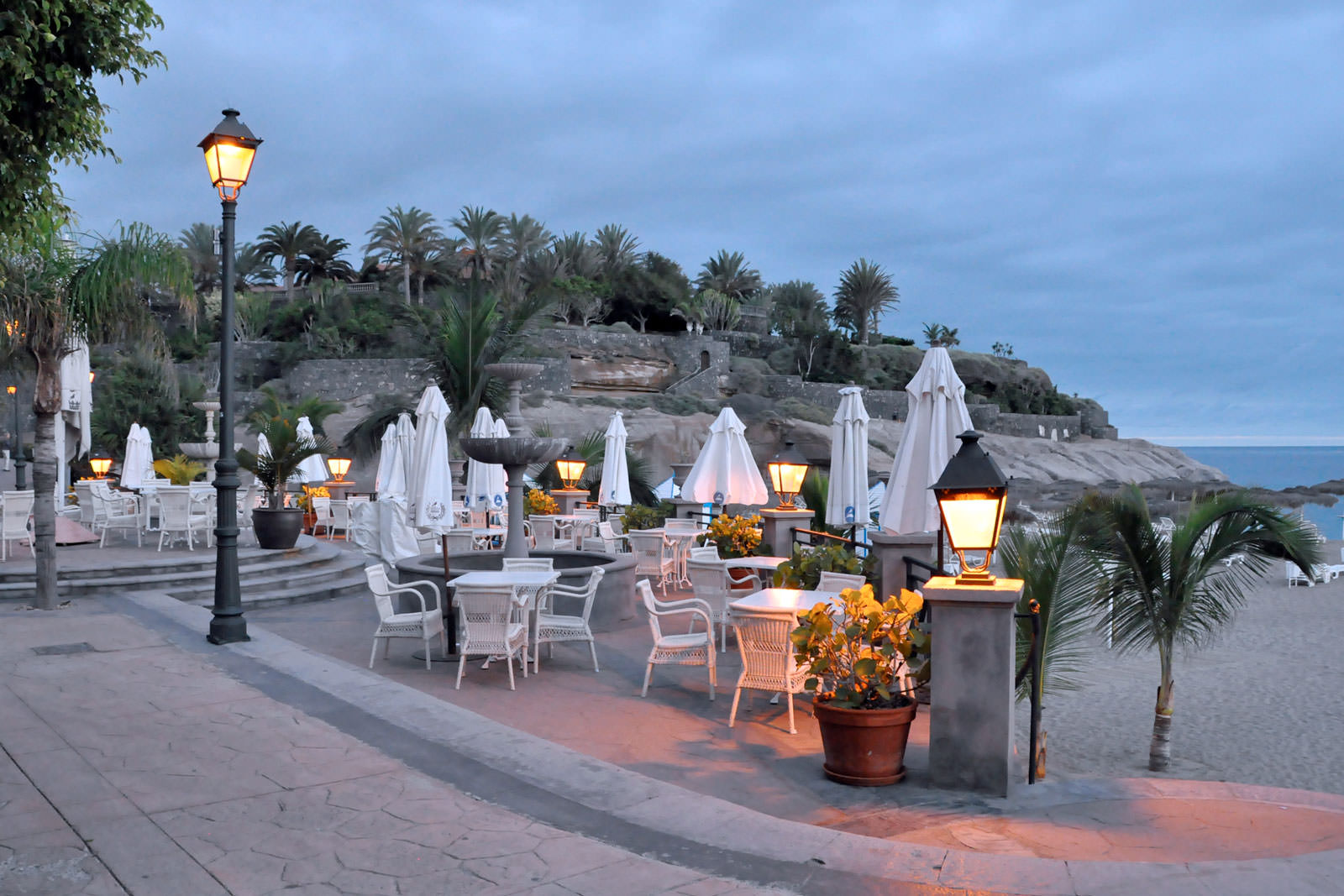 Choose the Right Beach
A scenic coast for every need
The coastline of Costa Adeje is linked by a long boulevard, with each beach catering to a different crowd. Playa Del Duque is one of its most exclusive white-sand beaches, where the scene is somewhat upscale thanks to the grand shopping and lifestyle complex next to it. South is Playa Fañabe, which is especially good families. The Puerto Colon Marina has its own small beach where you can enjoy a host of water sports activities. Playa de Troya and the adjoining Playa de la Américas have grassy sections where you can enjoy the laidback seascape with a picnic.
photo by Marc Ryckaert (CC BY 3.0) modified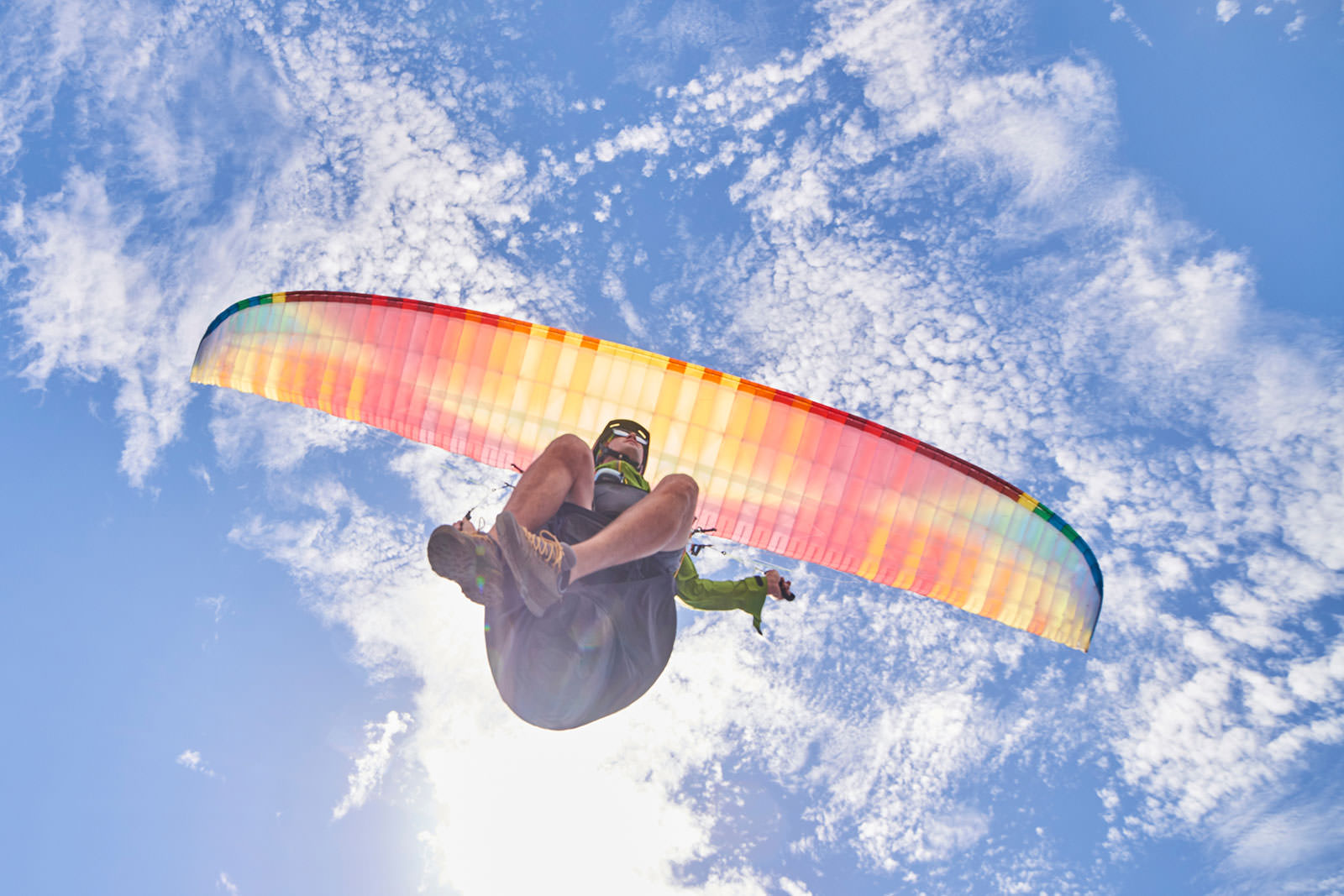 Tandem Paraglide with Tenerfly
Stunning coastal views from high above
Paragliding operators in Costa Adeje such as Tenerfly offer tours that let you fly tandem with a professional paragliding pilot. The steadily cruising flights also optionally include flyovers of the spectacular mountainous landscapes nearby. The flight down is usually the most exhilarating part, concluded with a cocktail at a beach bar nearby. Note that they will only fly when the wind and weather conditions are right, putting safety foremost. Flights usually take up to 25 minutes, costing around €90 per person.
Location: Calle Reykjavik, 73, Residencial Benimar, Costa Adeje, Santa Cruz de Tenerife, Spain
Open: Daily from 9am to 7pm
Phone: +34 (0)637 5592 22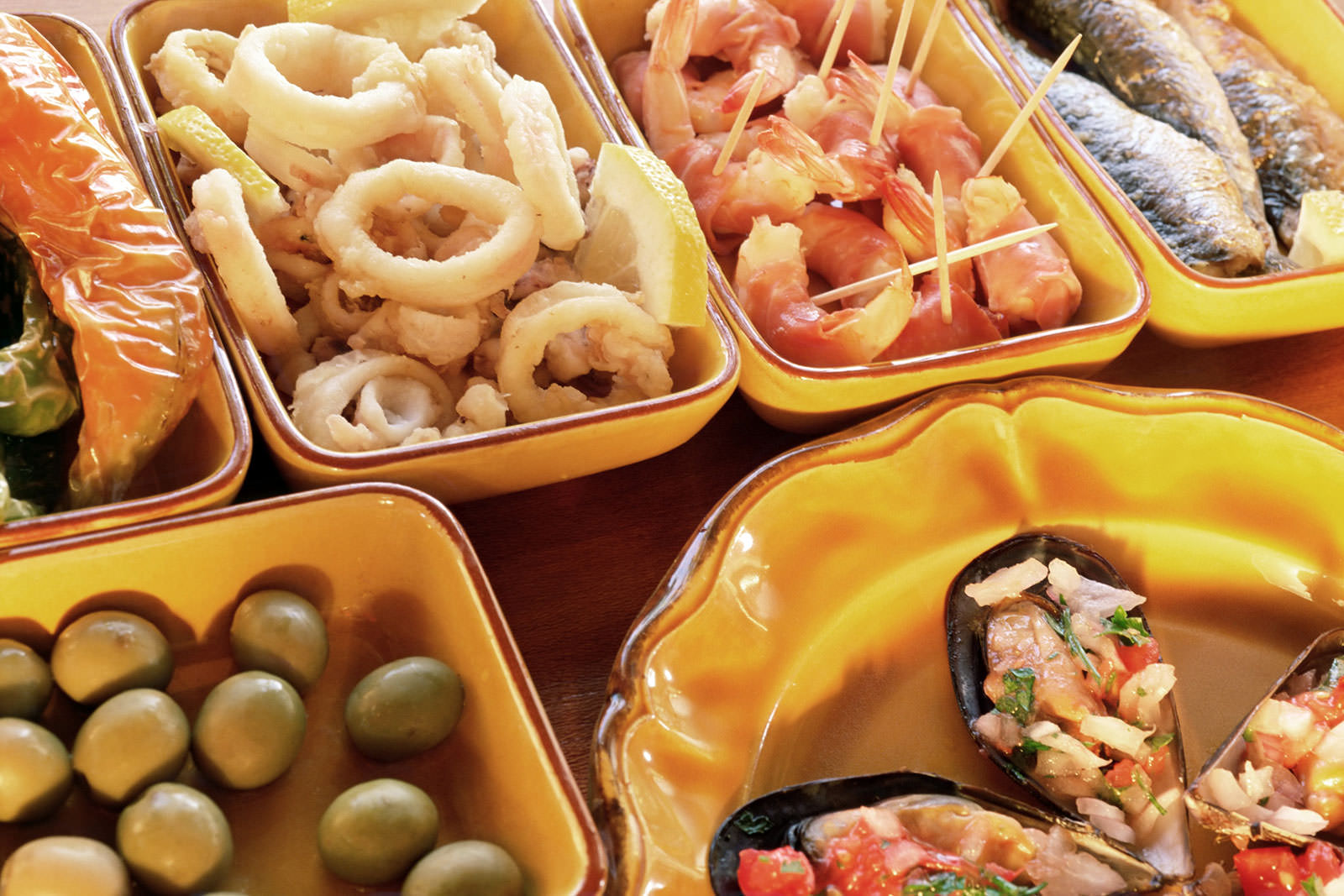 Enjoy Tapas at Restaurante Sebastian
Great Basque cuisine and Spanish wines
As one of Tenerife's favourites, Restaurante Sebastian in Costa Adeje serves Spanish cuisine with an emphasis on tapas. You'll find a very varied selection, such as their wonderful Iberian ham croquettes, mixed chorizos and chistorra (traditional Basque fast-cured sausages). Warm tapas for seafood lovers include squid rings "a la Romana" and mussels in tomato marinara sauce. Average prices for tapas are €6 per serving. Their Spanish rioja house wines are great for pairing, all under €13. Despite its refined atmosphere, they also welcome families with a special kids' menu available.
Location: Centro Comercial Los Atamanes, Calle Antonio Navarro, Costa Adeje, Santa Cruz de Tenerife, Spain
Open: Monday – Saturday from 1pm to 10.30pm
Phone: +34 (0)922 7146 48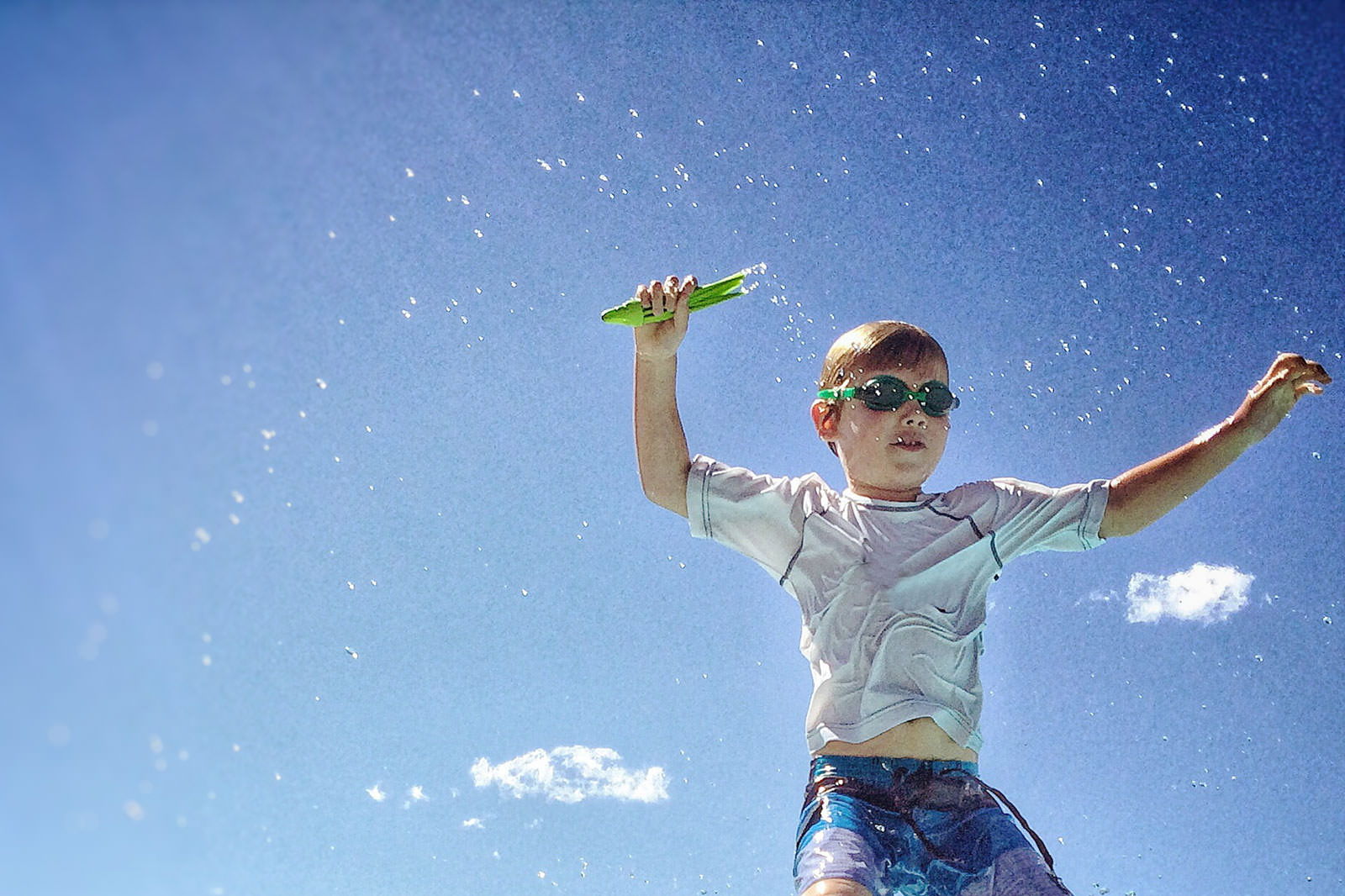 Take the Kids to Siam Park
Outdoor fun and splashing adventures
Uniquely Thai-themed, this waterpark is one of the best places in Costa Adeje to take the family to. For relaxation, float on inflatables along the tropical garden-lined Mai Thai lazy river pool, or at the enormous Wave Palace with its artificial beach and waves. For adrenaline rushes, there's the spiralling Kinnaree slide that ends with a big splash, and the ultimate Tower of Power where you drop down a slide from 28 metres high, reaching speeds of up to 80 km/h. Tickets are around €37 for adults.
Location: Av. Siam, Costa Adeje, Santa Cruz de Tenerife, Spain
Open: Daily from 10am to 6pm
Phone: +34 (0)822 0700 00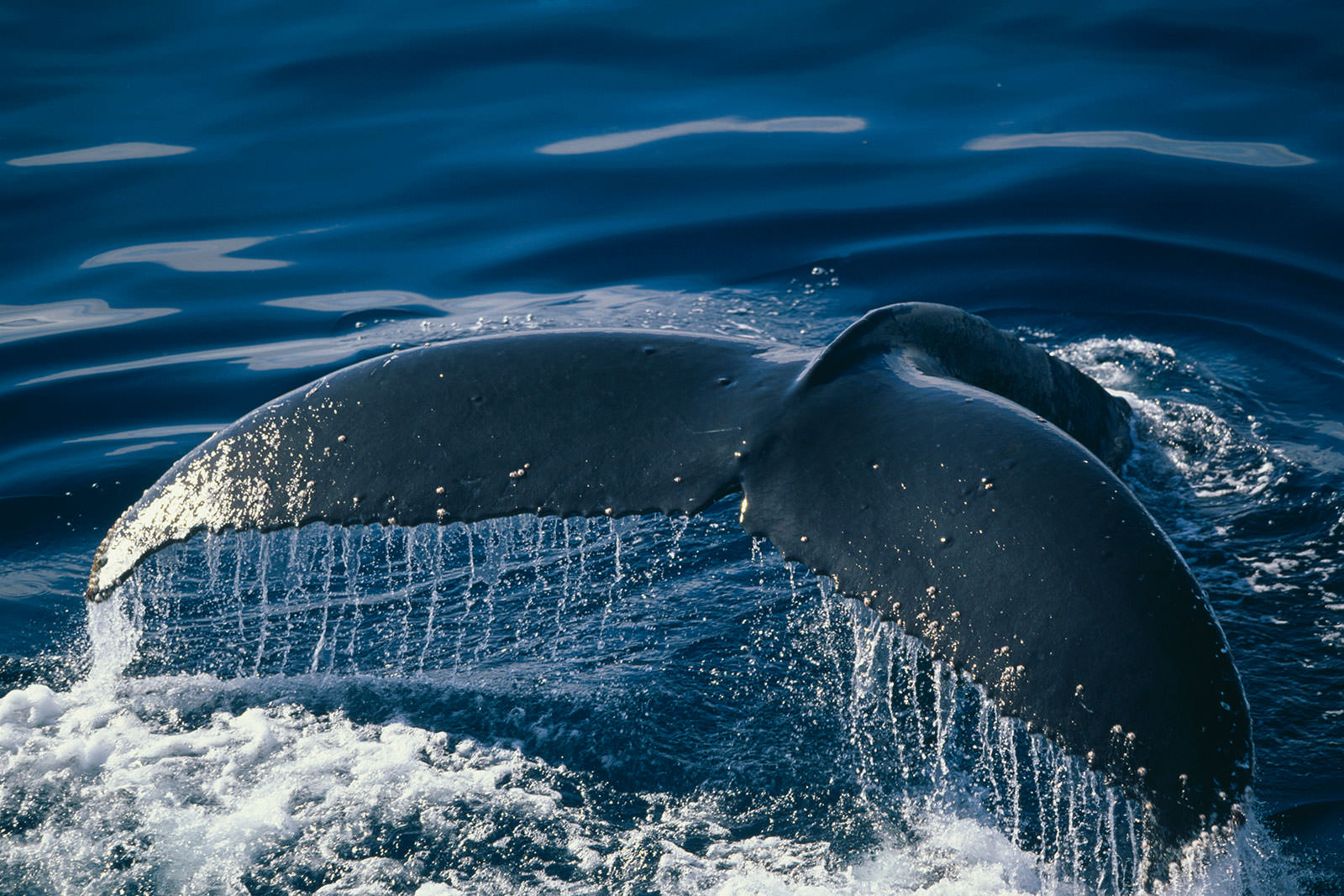 Go Whale Watching from Puerto Colon
Stunning breaching action in the Atlantic
Costa Adeje's marina of Puerto Colon is dotted with the sails and masts of neatly docked luxury yachts and catamarans. It's also where you'll usually depart from for exciting whale and dolphin watching tours that Tenerife's popular for. Some tour operators provide packages that include snorkelling and swimming with turtles. Most of the captains are master mariners who know how to reach and safely sail around the pods, and you can usually get amazingly close to one within the 2-hour ride (for around €35 per person).
Location: Puerto Colón, Colón, Adeje, Santa Cruz de Tenerife, Spain
Open: Monday – Saturday from 8am to 6pm
Phone: +34 (0)634 351 856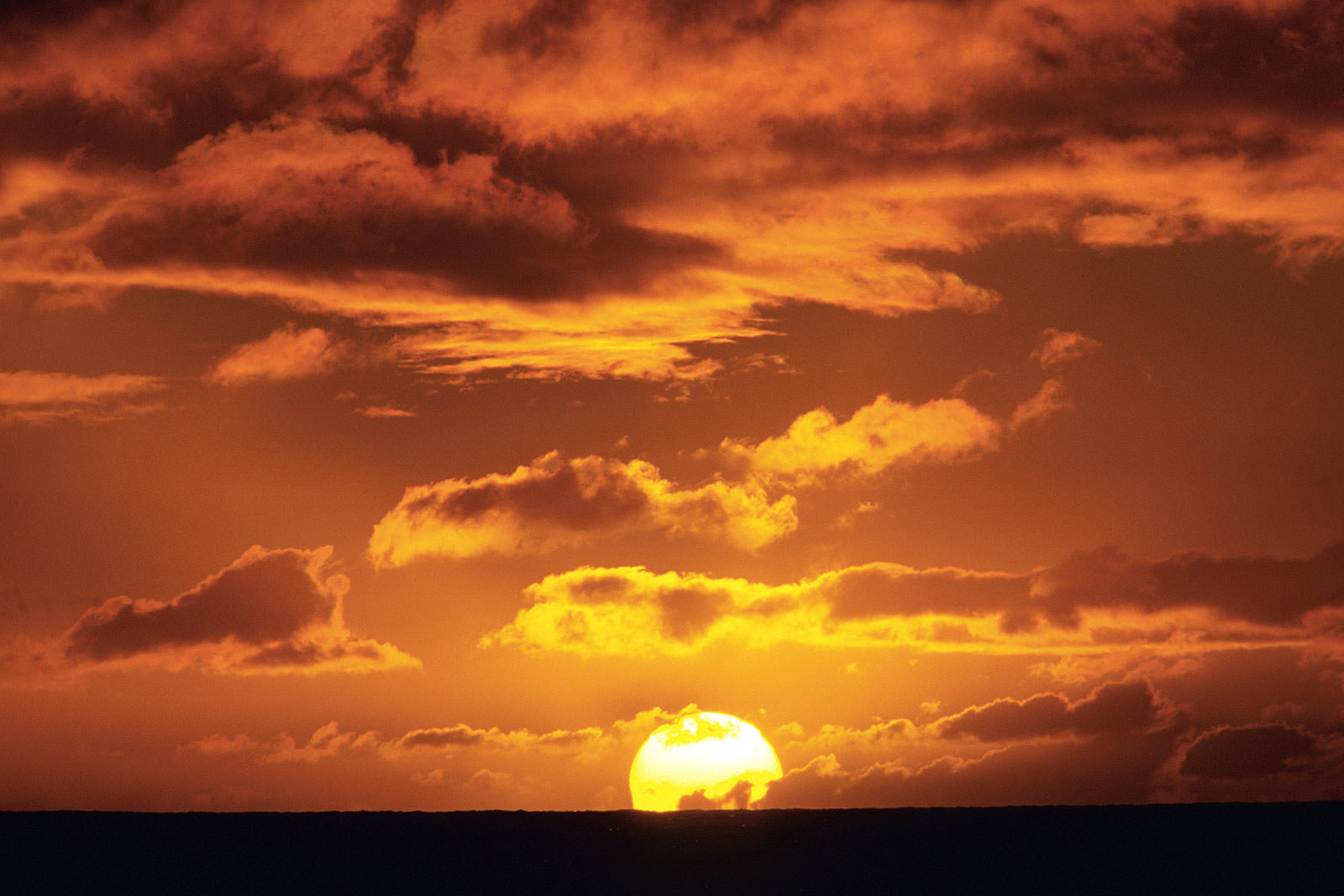 Watch the Sunset at Kaluna Beach Club
Chill out with cocktails and sea views
Costa Adeje has plenty of beach clubs to choose from. Kaluna, north of the marina on the other side of Puerto Colon Beach, is one of the most luxurious. You can treat yourself to a private VIP area with sun loungers and Jacuzzis from around €600, inclusive of meals and drinks. Dip into the infinity pool and soak up the vibes during their regular infinity pool parties, with DJ sets and dancers. Lower-key but great beach clubs leaning more towards the seaside dining experience include Le Club Tenerife on Playa Fañabe and Papagayo Beach Club on Playa de la Américas.
Location: CC Centro Costa Local, 79, Costa Adeje, Santa Cruz de Tenerife, Spain
Open: Daily from 11am to 9pm
Phone: +34 (0)922 7138 89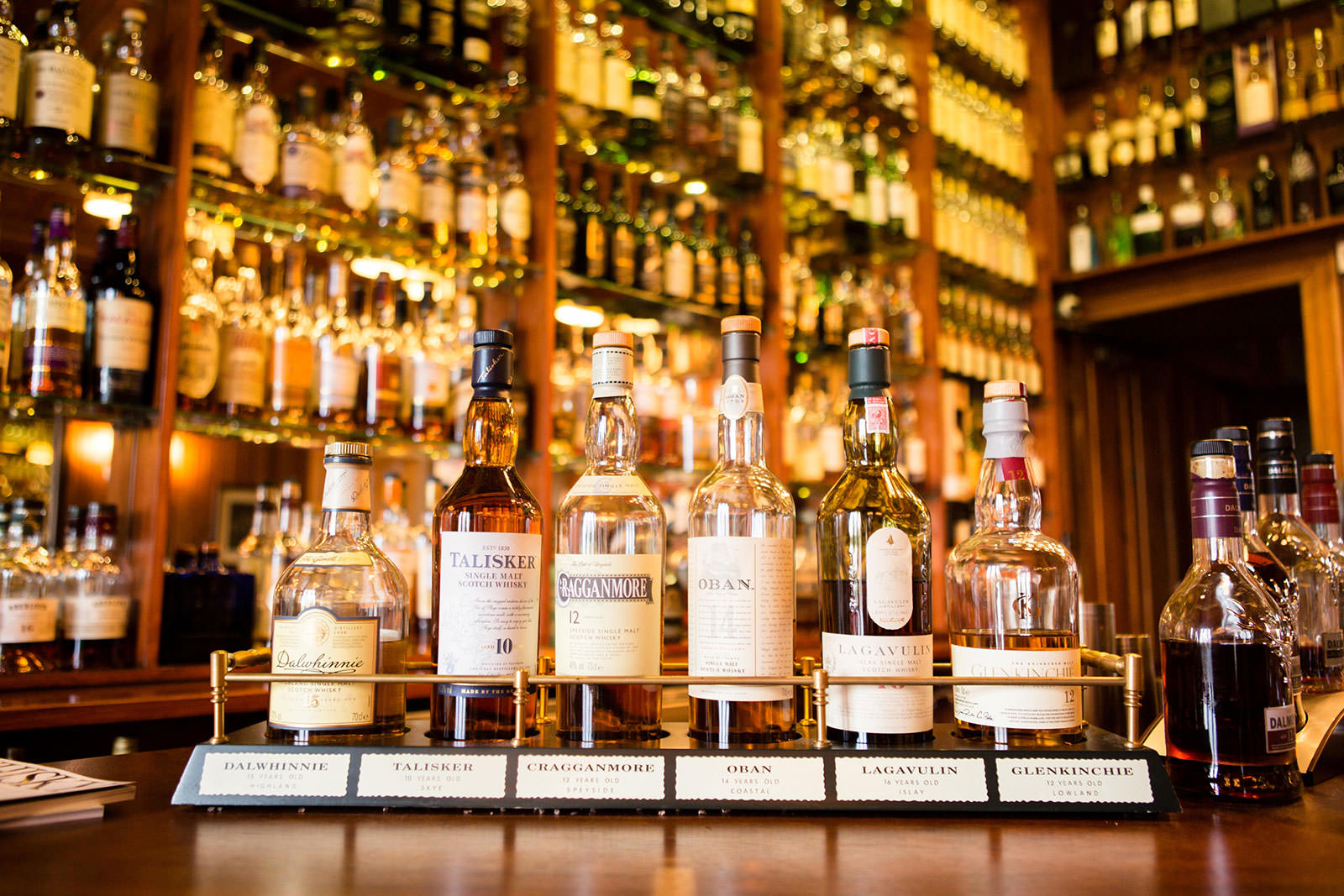 End the Day at Puerto Colon Marina
Scenic by day with neatly docked yachts in rows and views over the small beach, the Puerto Colon Marina is also a wonderful place to chill during and after the sun sets. The marina's main boulevard is lined with plenty of shops and harbour-view pubs and bars. These include Fosters Irish Bar, The White Horse Pub, The Irish Rose, NieuwsCafe and the Marina Beach Steakhouse and Pizzeria. Most feature live bands or karaoke sessions, in addition to live sports feeds. San Miguel, Guinness or Heineken on tap are around €3 a pint.
Location: Puerto Colón, Colón, Adeje, Santa Cruz de Tenerife, Spain
Open: Daily from 10am to 10pm
Phone: +34 (0)922 7156 51