14 Best Beaches in Italy
Discover Italy's Most Beautiful Beaches
The best beaches in Italy include some of the most beautiful coastal stretches on the remote islands in the Bay of Naples, as well as secluded sandy strips that require a considerable trek to reach but are worth the journey for the breathtaking prize views. While you can go out on an adventure and discover Italy's most beautiful beaches (most of which you may have never heard of), others offer gorgeous seascapes just a short bus ride from major towns. Stroll along pine-forested pathways and splash into the waves of the Tyrrhenian with us through the list below.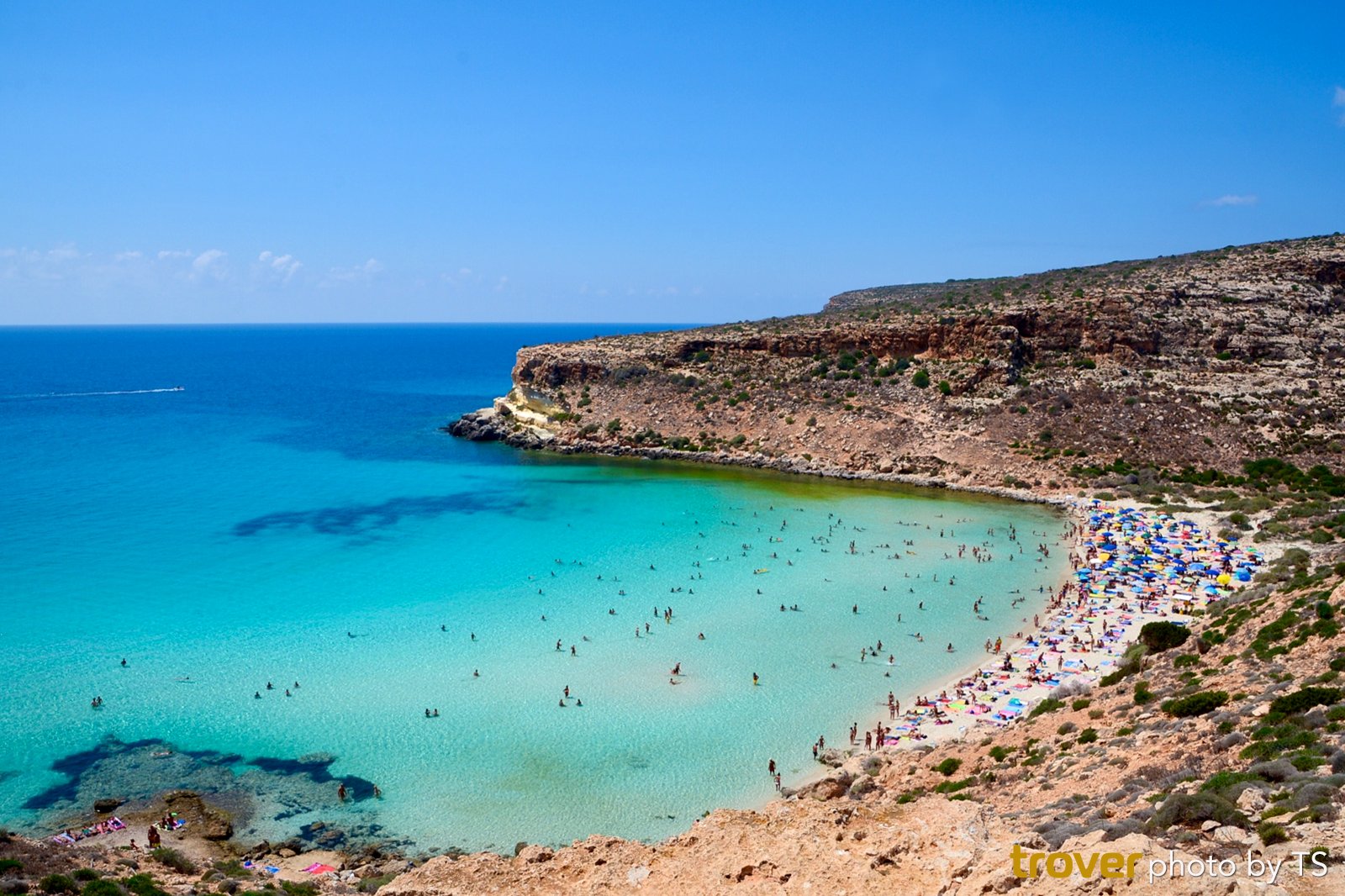 Rabbit Beach, Lampedusa
Hidden paradise and turtle nesting ground
Its name might mislead you to images of a bunny haven. But no, you won't find any rabbits on this 100-metre, hidden coastal stretch. Instead, this small but stunning golden bay sees loggerhead sea turtles emerging from the vast blue waters of the Mediterranean to nest. Getting to the beach is about a 15- minute walk down a stone footpath from the street. Bordered by rocky limestone cliffs and shallow, crystal-clear blue water, this small stretch of sand can be amazing.
Location: Spiaggia dei Conigli, 92010 Lampedusa e Linosa, AG, Italy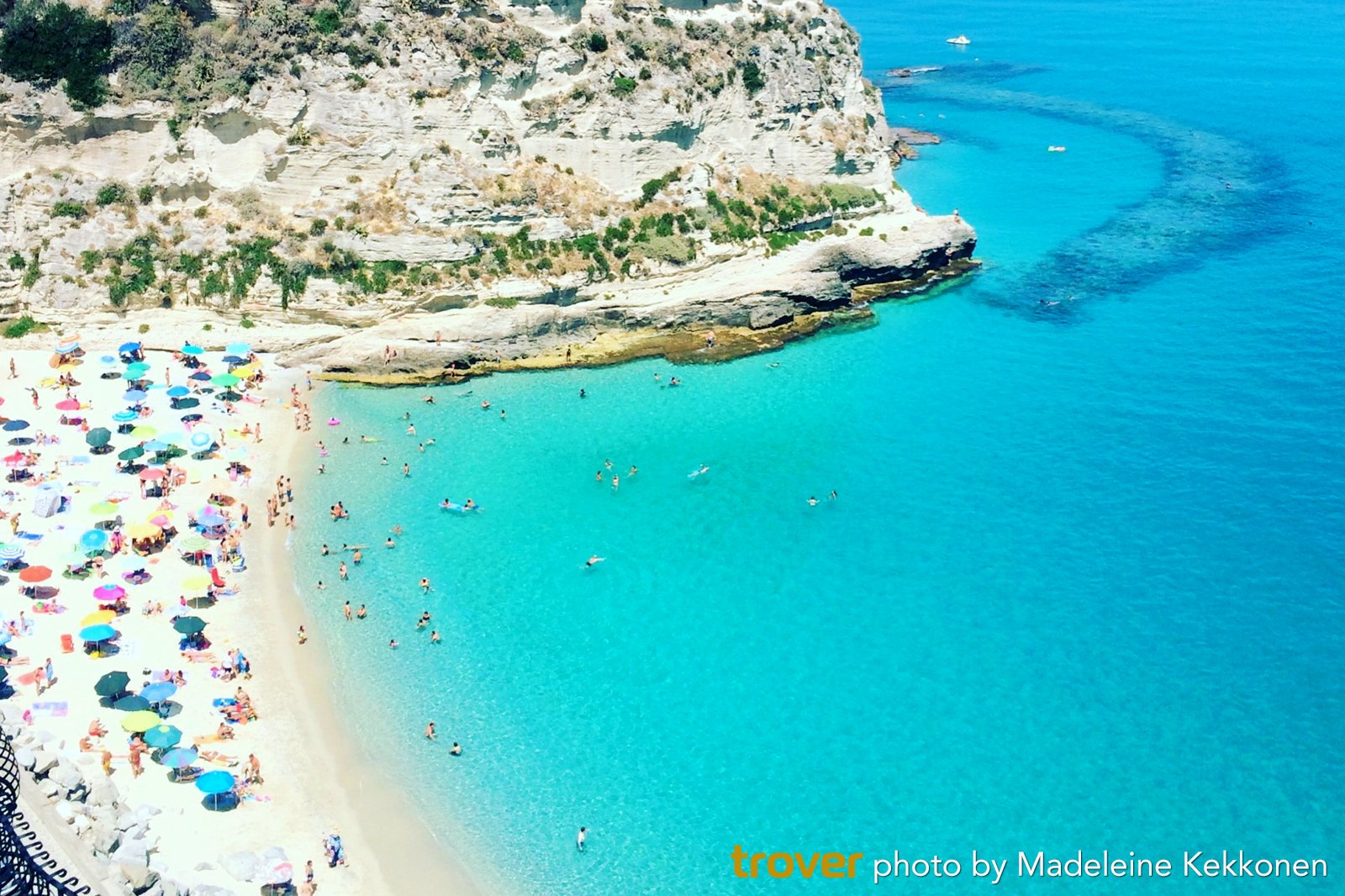 Tropea, Calabria
Stunning coast under an Ancient Roman town
Tropea is the beach below the small Byzantine clifftop town of the same name on Calabria's east coast. Stretching around 350 metres east-west, the white-sand coast is beautifully framed by the calm blue waves of the Tyrrhenian and towering cliffs topped with some of the town's striking medieval buildings – most notably, the 6th-century Santuario di Santa Maria dell'Isola cathedral. The beach has wide sandy areas and calm waters, good for swimming and snorkelling. You'll also find plenty of bars and water sport options.
Location: Spiaggia Di Tropea, 89861 Tropea, Province of Vibo Valentia, Italy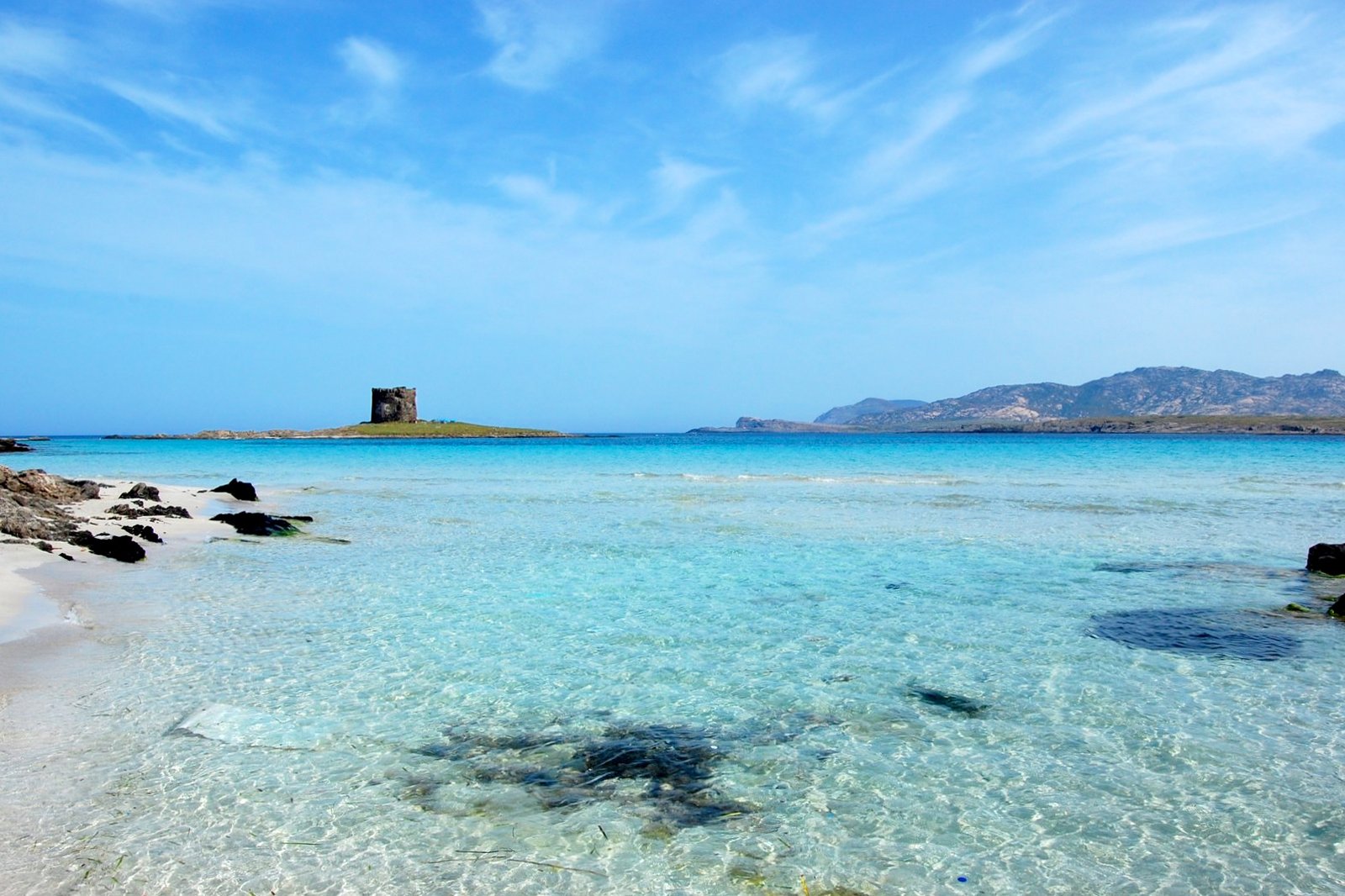 La Pelosa, Stintino
White Sardinian beach with turquoise waters and a castle
Stintino is one of the beautiful coastal towns on the northernmost tip of Sardinia. Its main beach, La Pelosa (or Spiaggia la Pelosa), is where you can take in stunning seascapes from the 300-metre stretch of soft white sand that's bordered by the vast yet shallow turquoise waters of the Mediterranean. On the near horizon, you'll see the outlines of the larger Isola Piana, as well as a small castle-like 16th-century watchtower on the tiny islet of Isola della Pelosa.
Location: Spiaggia La Pelosa, Viale la Pelosa, 07040 Stintino SS, Italy
photo by goldpicasa (CC BY 3.0) modified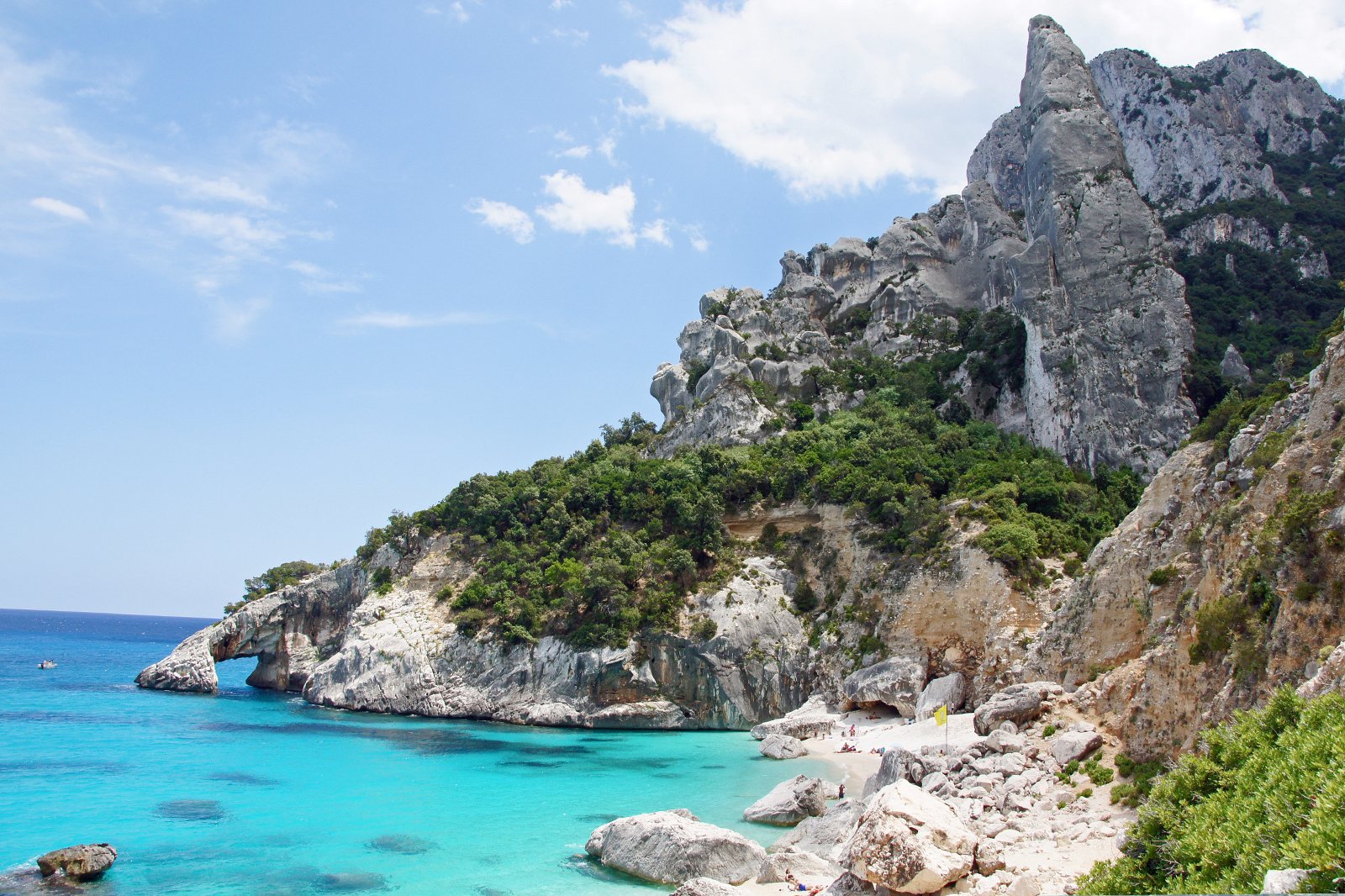 Cala Goloritze, Baunei
Secluded beach under towering limestone hills
Cala Goloritze is hidden beneath striking limestone features on the rugged east coast of Sardinia. This simply adds to its appeal, with the prize view as a reward for accomplishing a challenging trek down. The scenery is almost as dramatic as its history, formed from a landslide back in 1962. The rocks are popular among climbers. You can see one of its karst peaks looming around 143 metres over the cove, as well as the prominent natural arch near the bay's northern side.
Location: Località Cala Goloritzè, 08040 Baunei NU, Italy
photo by Yesuitus2001 (CC BY-SA 2.5) modified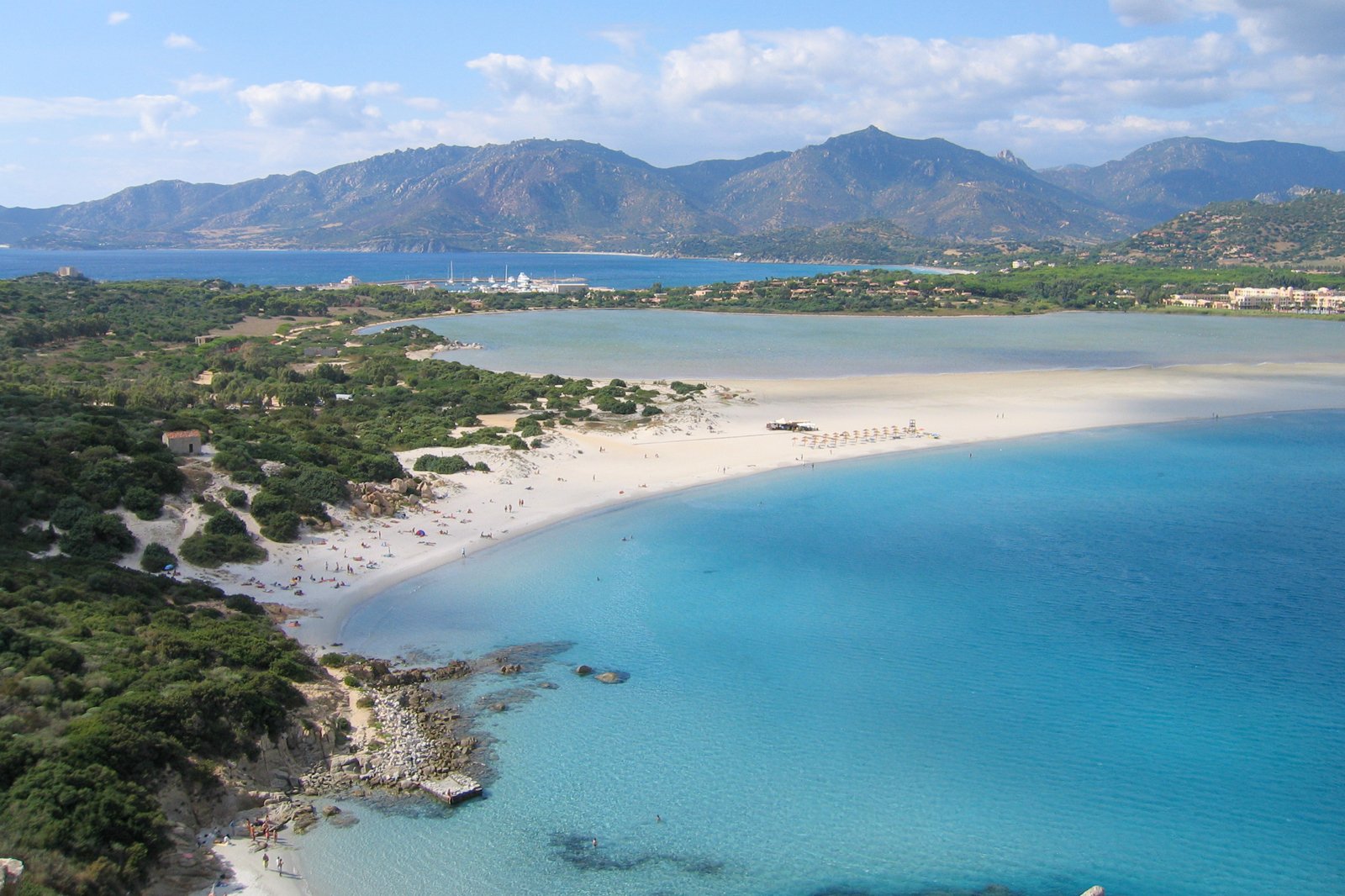 Porto Giunco, Villasimius
Sardinia's southernmost coastal oasis
Pass through Villasimius, the scenic coastal town in south-east Sardinia, and you'll come across Capo Carbonara, a marine protected area that's full of biodiversity, particularly around its seagrass meadows. It's famous for the Stagno di Notteri lagoon, with its migrating flamingos. Nearby is the beach of Porto Giunco, which serves as the icing on its cake. Its long stretch of fine white sand separates the lagoon from the open Tyrrhenian Sea, with shallow waters by the beach that make for a beautifully laid-out seascape.
Location: Spiaggia di Porto Giunco, Via Capo Carbonara, 1, 09049 Villasimius CA, Italy
photo by Robin Corps (CC BY-SA 2.0) modified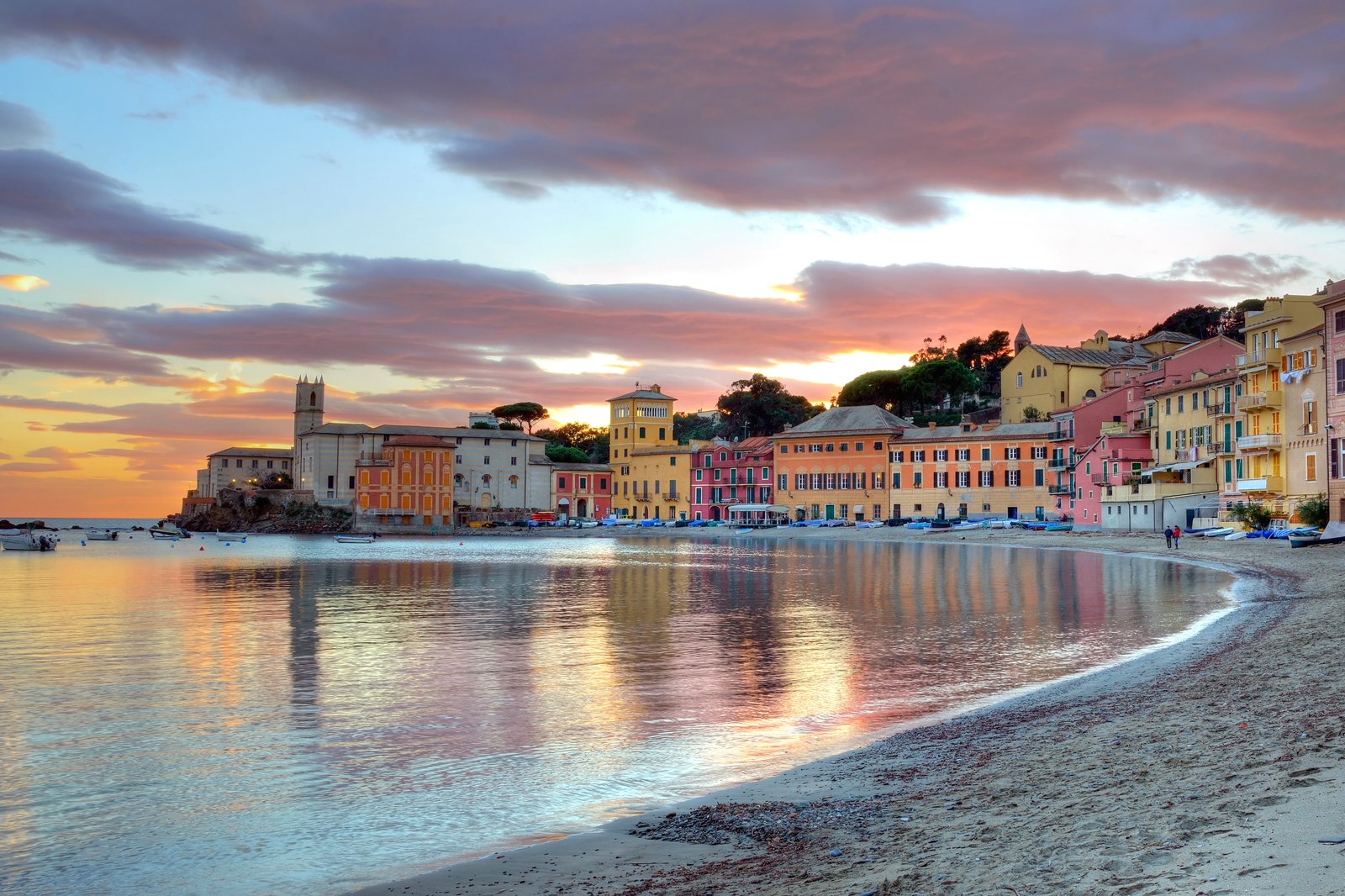 Bay of Silence, Sestri Levante
Quaint cove dotted with colourful little houses
The coastal commune of Sestri Levante in Liguria is home to 2 evocative bays, with the Bay of Silence – or Baia del Silenzio, to the locals – being the most prominent. The Bay of Silence features a sandy cove that's adorned with colourful little houses overlooking the calm blue waters of the Ligurian Riviera. Numerous boats speckling the bay add to the charm of this beachscape, backed by a lush green hill. You can reach the bay within an hour's train ride east from the Genova Brignole station.
Location: Baia del Silenzio, Via Portobello, 16039 Sestri Levante GE, Italy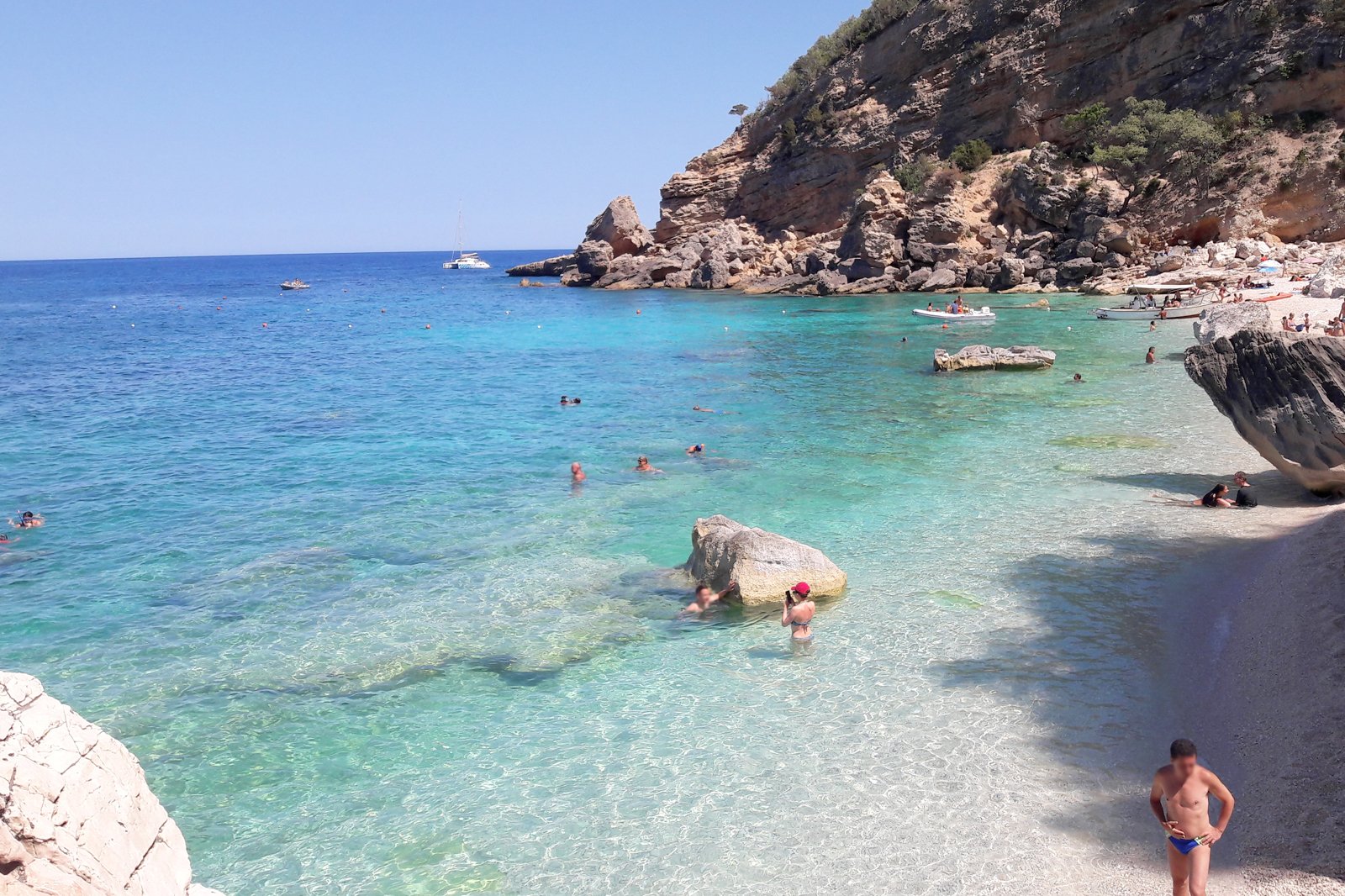 Cala Mariolu, Baunei
White-pebbled beach lapped by the Tyrrhenian Sea
You can find this gorgeous beach along Sardinia's eastern coastline. Cala Mariolu neighbours the famous Cala Goloritze Beach, adding to the Baunei commune's streak of stunning hidden beaches. But unlike its more rugged sister, the pebbled coast of Cala Mariolu is overhung by limestone hills that are vibrantly green, covered in Mediterranean vegetation. Adding to its exotic appeal, a few rocks rise from the calm, turquoise Tyrrhenian waters. You can enjoy as much sun as you wish, while shaded areas are created by the tall cliffs.
Location: Cala Mariolu, 08040 Baunei, Province of Nuoro, Italy
photo by Lddcrs (CC BY-SA 4.0) modified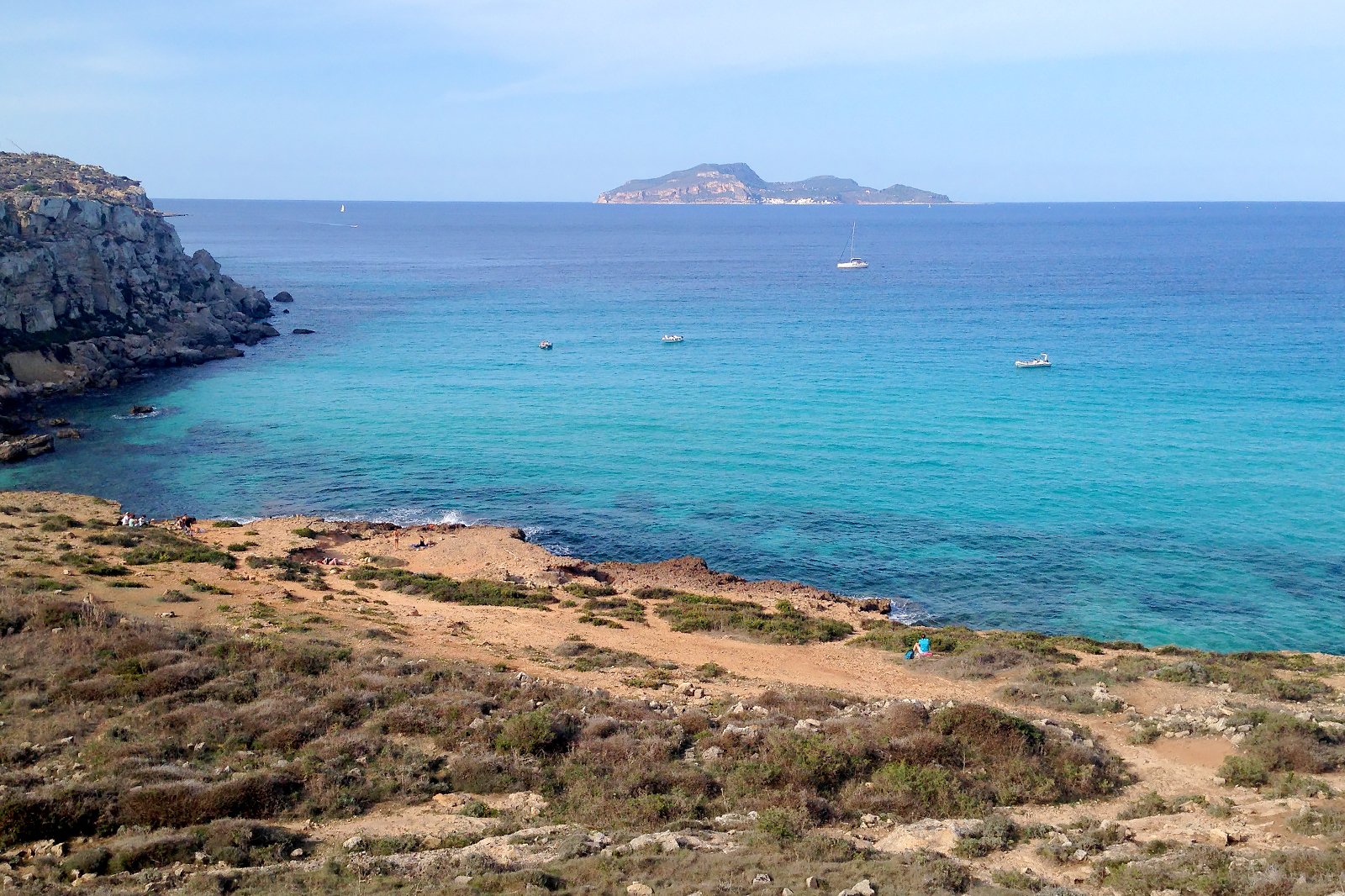 Cala Rossa, Favignana
Azure seascapes on the largest Aegadian Island
Favignana is the largest of the three Aegadian Islands in southern Italy, which is around 18 kilometres west of the Sicilian coast. The island is famous for its tuna fishing, as well as for its beautiful coastlines lapped by stunning, shallow and azure Mediterranean waters. One of its most popular beaches is Cala Rossa. It's basically a cove, featuring limestone rock formations that tower over the coast. You can take the path down or come by bike. Either way, you're rewarded with beauty and serenity.
Location: Spiaggia di Cala Rossa, 91023 Favignana, Province of Trapani, Italy
photo by Davide Mauro (CC BY-SA 4.0) modified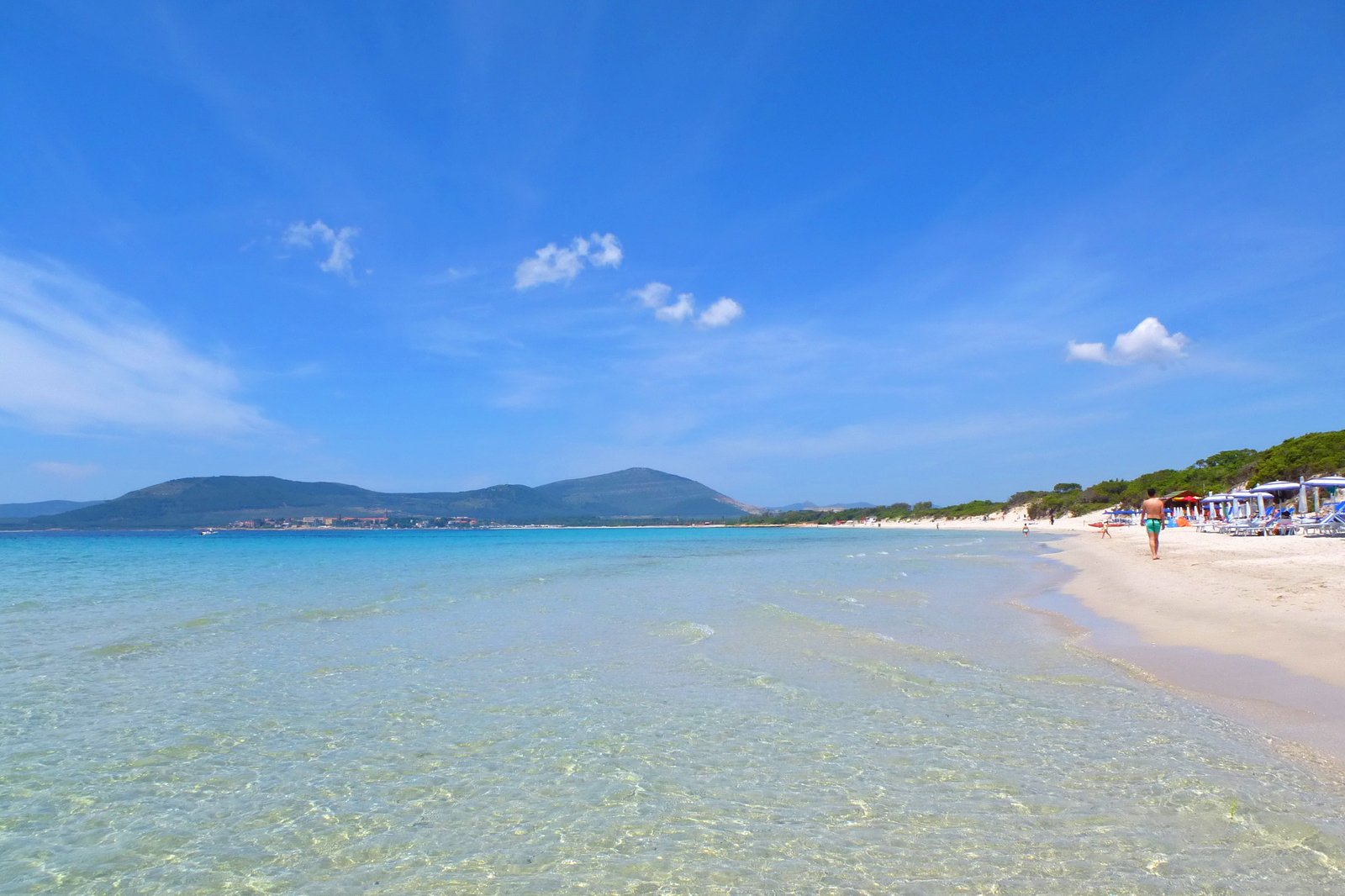 Maria Pia, Sardinia
Pine-forested white sand shore by the Tyrrhenian Sea
The coast of Maria Pia in Sassari lulls beach-lovers visiting this north-western corner of Sardinia with its calming nature. It's around a 10-minute drive north from the historical centre of Alghero. The stretch of soft white sand spans over a kilometre, facing the shallow and calm blue waves of the Tyrrhenian Sea. Beautiful dunes and a sparse row of pine forests cover half the length of the coastline. Maria Pia features wooden pathways, making it accessible for most.
Location: Spaggia di Maria Pia, 07041 Alghero, Province of Sassari, Italy
photo by toastbrot81 (CC BY 2.0) modified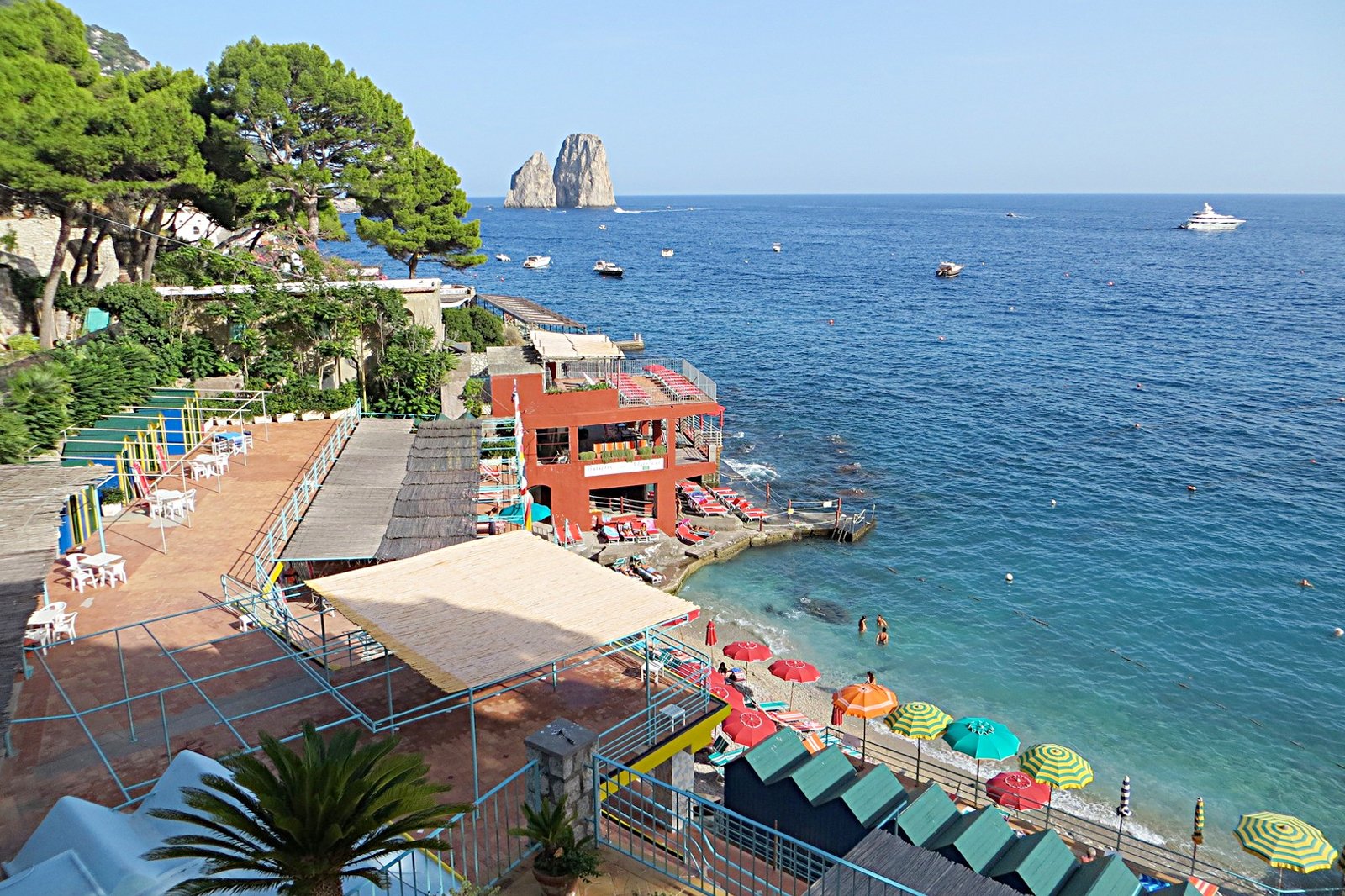 Marina Piccola, Capri
Reimagine some mythical scenes from the Odyssey
Capturing the image of an idyllic Italian town by the sea, Capri's Marina Piccola goes beyond by serving as a stage of myths and legends. It's where seductive sirens were said to have beckoned Odysseus and his sailors. Fantasy aside, the cove's beach itself is pebbly and its seascape offers cool shades of blue. The waters are great for morning dips, and you can boat out and imagine some of the scenes described by Homer. It can be quite a summer crowd magnet, for sure.
Location: Marina Piccola, 80076 Capri, Metropolitan City of Naples, Italy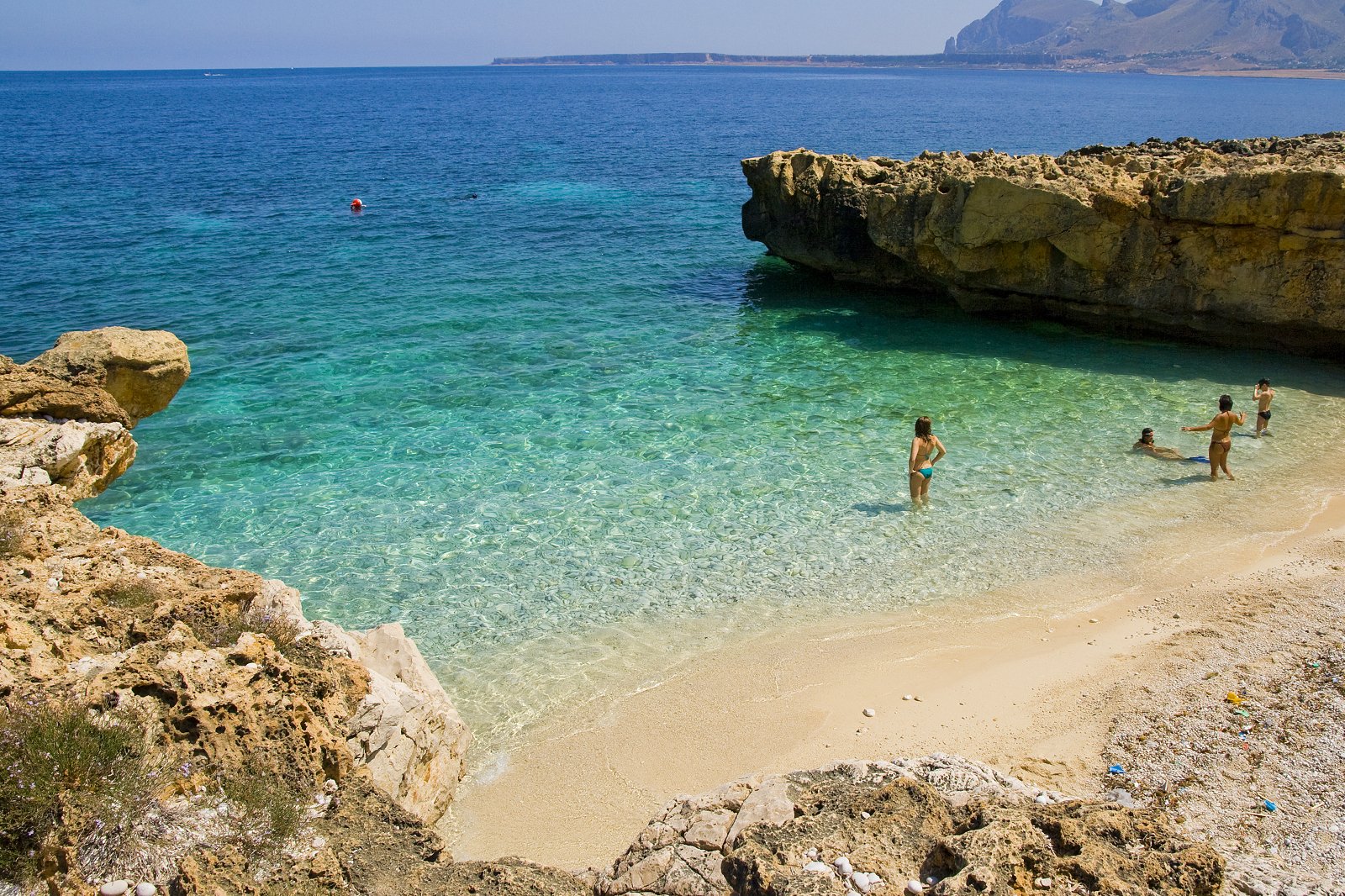 San Vito Lo Capo, Sicily
Seaside paradise in the town of the same name
This fine-white-sand beach is the main attraction of the small namesake seaside town on the north-western coast of Sicily. San Vito Lo Capo is sheltered within a curved bay, featuring sand that is a slightly pale earthen tone. A large, rocky mountain, Monte Monaco, dominates the beach's eastern seascape. The calm and shallow Mediterranean waters near the shore make for great swimming and playing – good for all ages.
Location: Spiaggia di San Vito Lo Capo, Via Litoranea Lungomare, 91010 San Vito Lo Capo TP, Italy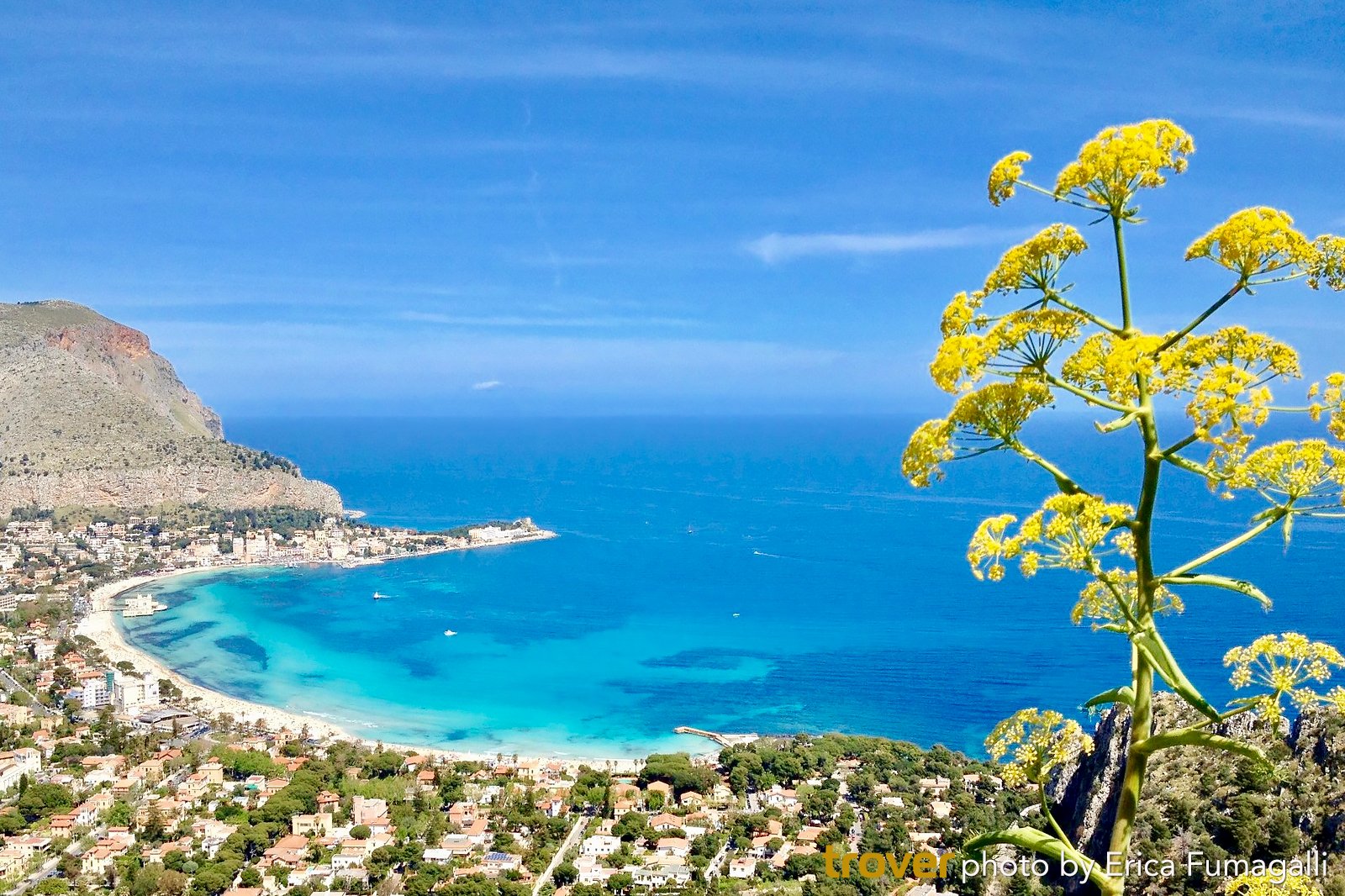 Mondello, Palermo
Charming long coast near the Sicilian capital
The Sicilian capital that's rich in 12th-century historical buildings, Palermo lures beach-lovers to its nearby coastal town of Mondello. Mondello Beach offers a long stretch of fine sand, and its well developed into a holidaymaker's destination with plenty of activities right on the sand and in the azure waves, as well as dining spots and bars that help keep you refreshed throughout your day out on the beach. The beach itself is beautiful, backed by the rugged scenery of nearby mountains. However, big summer crowds are always expected.
Location: Spiaggia di Mondello, Viale Regina Elena, 90149 Palermo PA, Italy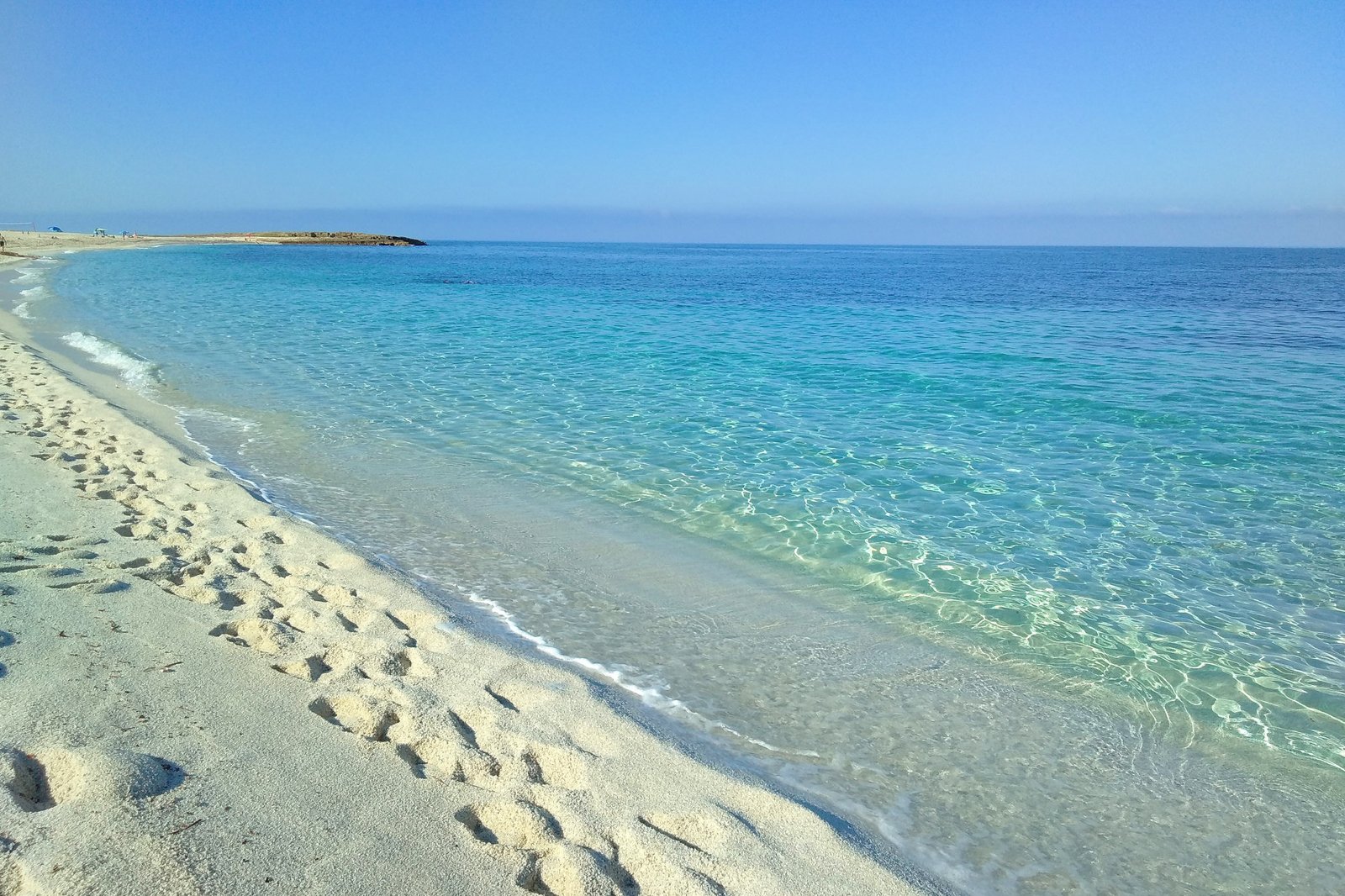 Is Arutas, Cabras
A jewel on Sardinia's west coast
With unique, coarse sand comprising miniscule grains of quartz, Spiaggia di Is Arutas can make for interesting barefoot strolls. The beach goes north-south for around half a kilometre on the western coast of Sardinia, between 2 rocky cliffs. Looking out into the Mediterranean Sea, the nearby shore has a broad expanse of shallow water with a unique rock bed underneath, making it great for swimming and snorkelling or exploring the various formations of rock pools.
Location: Spiaggia di Is Arutas, Is Arutas, 09072 Cabras OR, Italy
photo by Elena Giglia (CC BY-SA 2.0) modified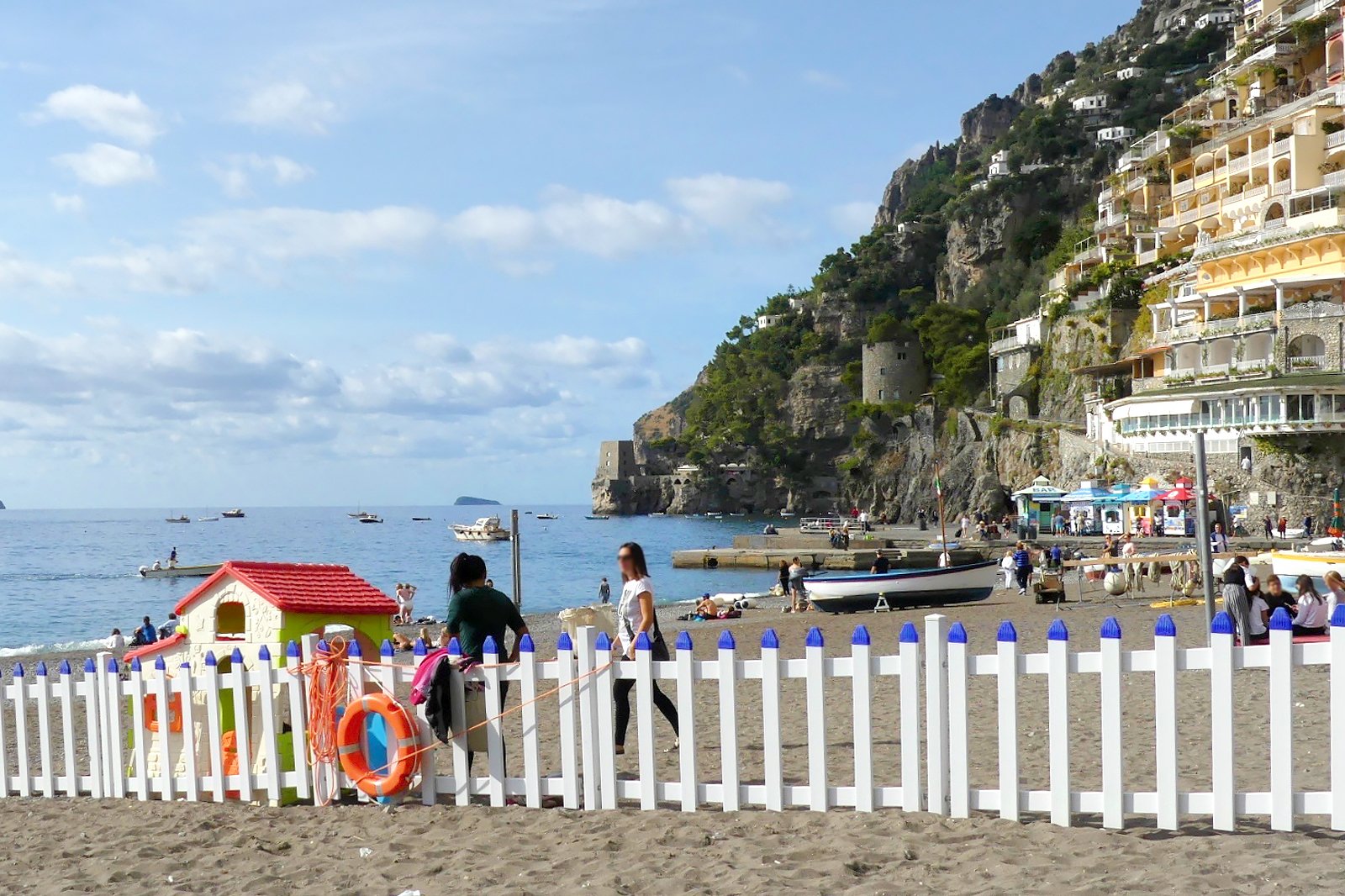 Marina Grande, Positano
Pebbly beach under the Amalfi Coast's "vertical town"
The Amalfi Coast is a UNESCO-listed landscape, most notable for Positano, which is its small mountaintop town overlooking the beautiful Tyrrhenian Sea. Colourfully painted houses add to this dramatic coastal landscape. No wonder, it has won the hearts of many, including worldwide celebrities like Mick Jagger and Keith Richards, who famously wrote a Rolling Stones song here. Follow steep paths down to the pebbly coast of Marina Grande, where you choose a café for a drink with the view, bask, or bathe in the calm azure waters.
Location: Positano Spiaggia, Via Marina Grande, 84017 Positano SA, Italy
photo by Dega180 (CC BY-SA 2.0) modified