5 Best Night Markets in Siem Reap
Siem Reap's Most Popular Local Markets
The best night markets in Siem Reap are concentrated within the downtown area, offering a wide range of fair-trade handicrafts and fresh produce at affordable prices. Open daily, Siem Reap's vibrant markets are great for purchasing authentic Cambodian craftsmanship such as stone carvings, silverware, lacquer figurines, ceramics, and silks, with proceeds going to local Khmer people.

Great for those looking to experience the town's unique culture and history, these outdoor shopping venues often host live music performances and interesting workshops that suit visitors of all ages. As with most local markets in Southeast Asia, make sure you bargain hard before purchasing as most items are priced significantly higher for tourists. Plan your shopping adventures with some of Siem Reap's most popular local markets below.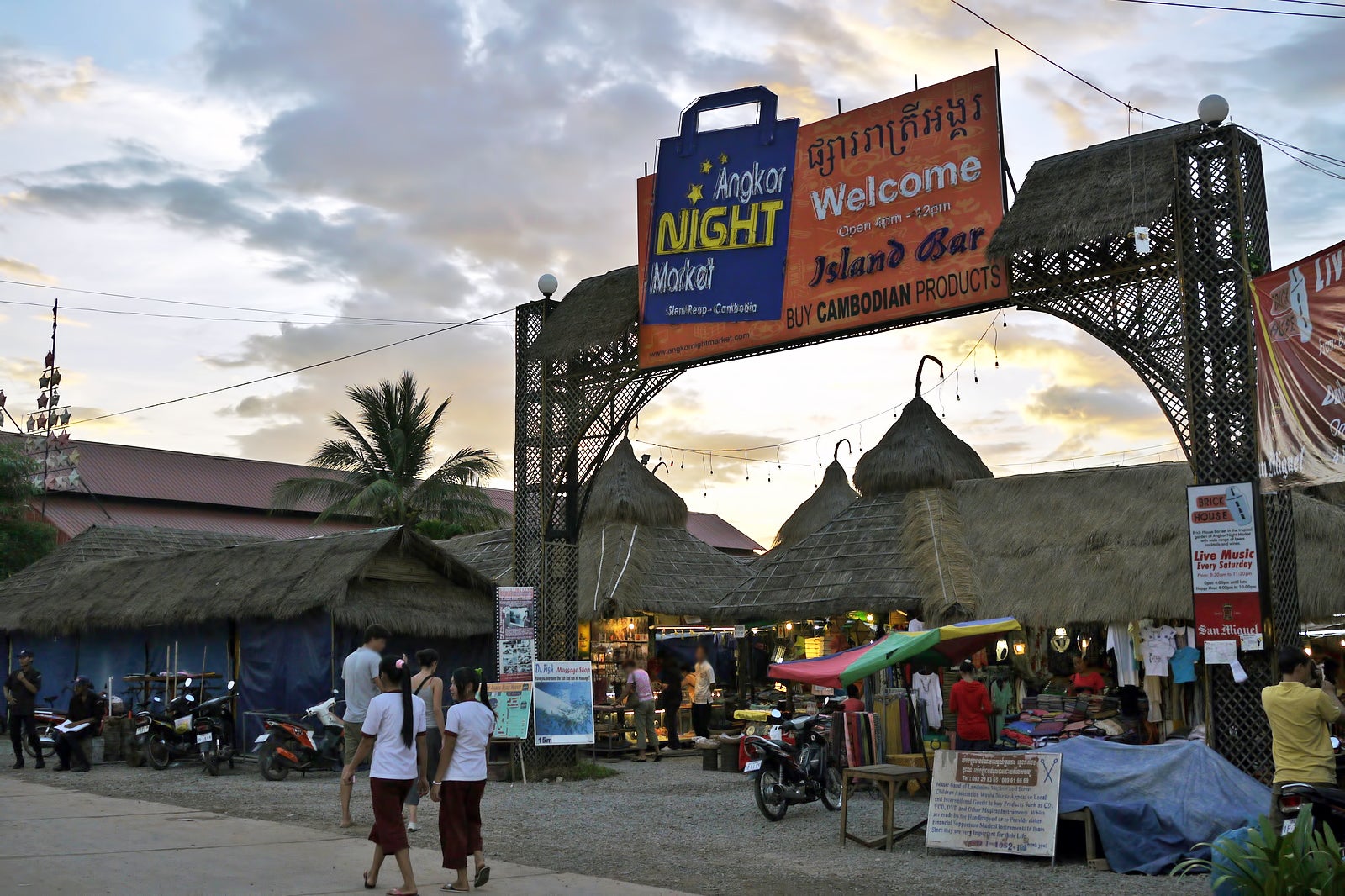 Angkor Night Market, off Sivatha Boulevard in Siem Reap, consists of over 200 bamboo huts selling a wide range of clothing and handicrafts by local communities and non-governmental organisations.
Founded in 2007 to preserve traditional Khmer handicrafts and improve the lives of Khmer people, this outdoor market offers one-of-a-kind goods such as silk paintings, shadow puppets, handbags made from recycled materials, as well as intricate stone carvings embellished in silver or brass.
Set within a landscaped garden in downtown Siem Reap, Angkor Night Market is also ideal for enjoying local delicacies and cheap booze as well as live music performances until late.
Location: Off Sivatha Boulevard, Siem Reap, Cambodia
Open: Daily from 4pm to midnight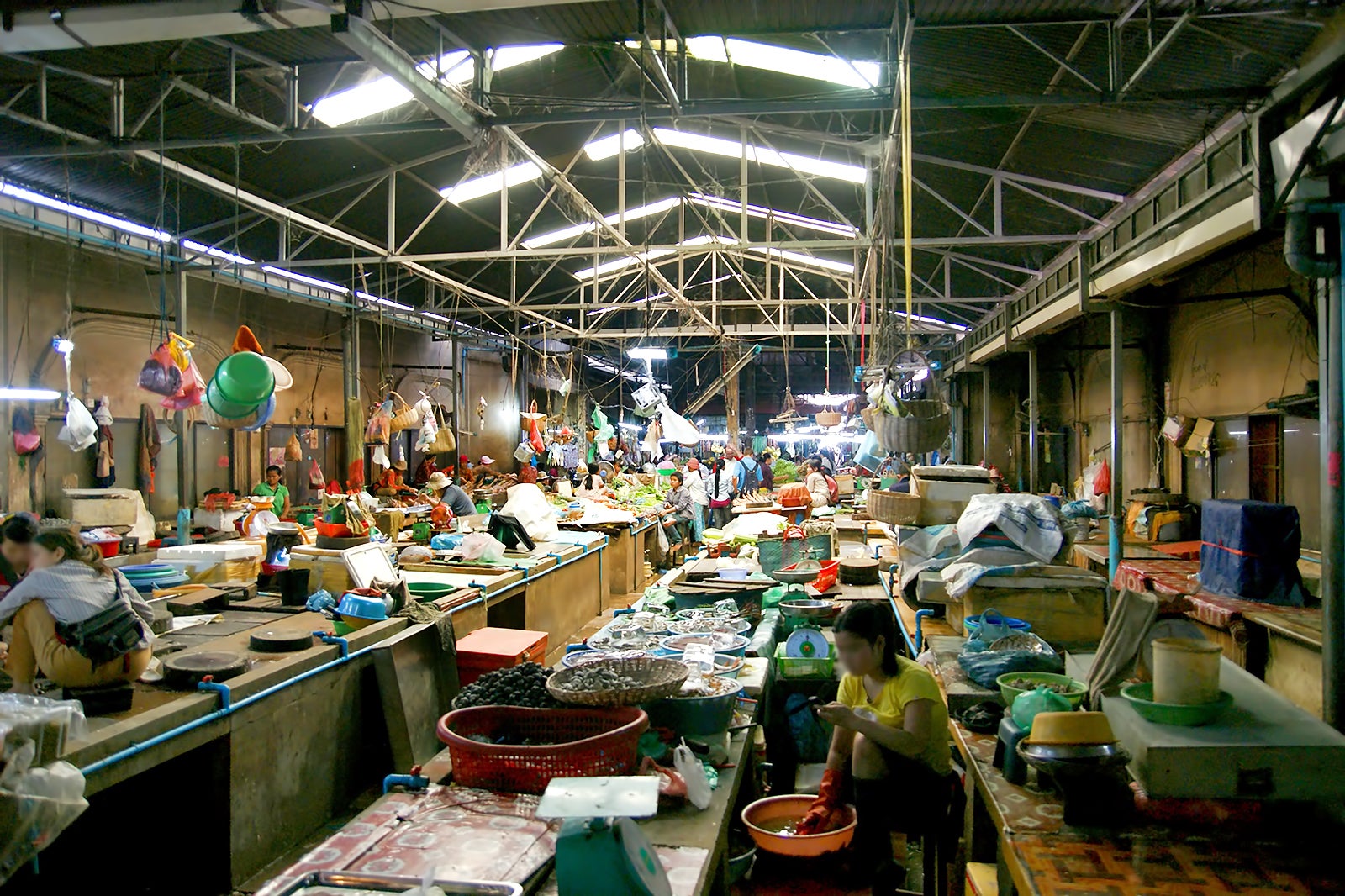 The Old Market is the oldest Khmer market in Siem Reap, where locals shop for fresh produce and household items in the early morning. Also known as Phsar Chas, travellers can also find vendors selling inexpensive souvenirs such as clothes, jewellery, and shoes, most of which are located nearby the market entrance.
If you're here on an empty stomach, make a beeline for the centre of Old Market to sample authentic Cambodian soups, rice dishes, baguettes, spiced frogs, dried fish, and pork sausages.
Location: Psar Chas Road, Siem Reap, Cambodia
Open: Daily from 7am to 8pm
photo by Allie_Caulfield (CC BY 2.0) modified
Made in Cambodia Market offers a wide range of live performances, tasty local food, and Cambodian souvenirs by renowned local artisans. Held every Saturday, Sunday and Tuesday, this vibrant outdoor market takes place in front of Shinta Mani Resort Siem Reap.
Goods sold at Made in Cambodia Market are pricier compared to most markets in Siem Reap, but the uniqueness and quality of clothes, cosmetics, jewellery, paintings, and toys are well worth the splurge. Highly recommended is the Sombai rice spirits, which is infused with cinnamon, mangoes, star anise, and red chillies.
Location: Street 27, Achar Sva St, Krong Siem Reap, Cambodia
Open: Daily from 12pm to 10pm
Phone: +855 10 345 643
Angkor Handicraft Association
Angkor Handicraft Association is highly recommended for those looking to see local artisans working on their products. Visitors can learn about Khmer traditional crafting and even participate in interesting workshops. The fair-trade market houses 20 stalls selling authentic handwoven silk, silverware, stone and bronze statues, paintings, and bags.
Best of all, 100% of profits are given back to the artisans and their families as well as the local community. Located within Traing Village, Angkor Handicraft Association also hosts 12 types of activities that are suitable for all ages, such as coconut carving, palm leaf weaving, and flute making classes.
Location: Road 60, Traing Village, Siem Reap, Cambodia
Open: Daily from 9am to 7pm
Phone: +855 78 341 454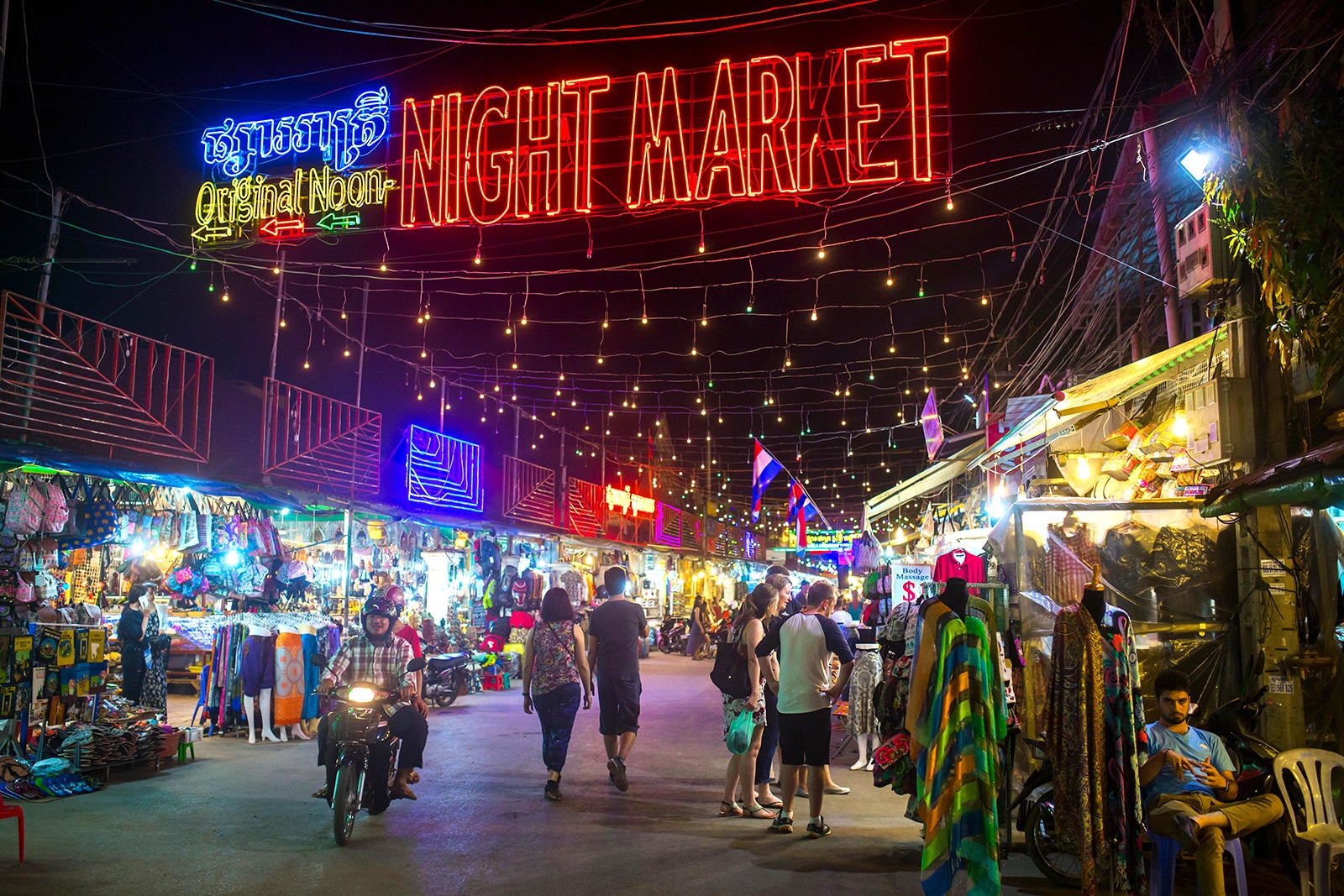 Noon Night Market features a wide range of fair-trade souvenirs and handicrafts, with 10% of profits earmarked for funding a local orphanage. Located between Sivutha Boulevard and Angkor Night Market, its walkways are fitted with numerous silk lamps and fans to help combat the sweltering heat while authentic Khmer delicacies such as fish amok, lok lak and spring rolls are available at Bistro Khmer Restaurant.
After a few hours of exploring Noon Night Market, visitors can unwind with a Khmer-style massage or enjoy imported beers and cocktails at the bar.
Location: Vithey Charles de Gaulle, Khum Slorkram, Siem Reap, Cambodia
Open: Daily from midday to midnight