Where to eat in Colombia – a guide to regional cuisine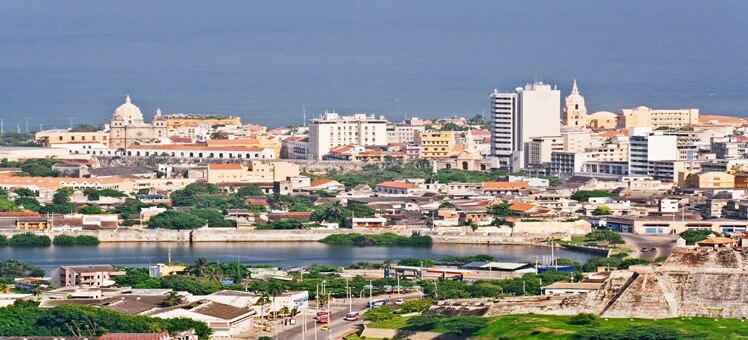 Colombia's food is as diverse and rich as the country itself. The hardy Andean highlands produce maize and potatoes, which influence the cuisine of Bogotá, while in Cartagena, the Caribbean Coast offers up a bounty of seafood.
In the rich, tropical Valle del Cauca, bounteous sugar and tropical fruit has given Cali a sweet tooth, while Medellín, sandwiched between the tropics, mountains and coast, pulls it altogether in the ultimate Colombian feast.
Arepas are a Colombian staple. These corn pancakes can be sweetened with manjar blanco for breakfast or laden with bean stew for dinner.
Bogotá
In this cosmopolitan capital, the food scene is international and eclectic, while still using local ingredients. The city has several restaurant zones – the historic center of La Candelaria is best for finding traditional Colombian fare. Try Mama Lupe for authentic ajiaco; a corn, potato and chicken stew. For the ultimate Bogotá dining experience though, you'll have to head a little out of town, to Andres Carne de Res. It's worth the effort of getting there: the restaurant is cavernous, holding up to 2,000 diners, and decked out like a gaudy bazaar. Not just a meat-eater's heaven, it is an all-night experience you won't forget.
Medellín
Sure, other places in Colombia serve up Bandeja Paisa, but nowhere does it quite like Medellín. This is the 'Paisa' region after all. There are creative twists and trendy variations, but it is basically a huge plate of arepas, rice, bean stew, sausages, beef, avocado and a fried egg. There's usually plenty for two people to share. Mondongos, on Parque Lleras, is a good bet for an authentic and plentiful dish – they also specialise in their namesake, tripe soup, or Mondongo. Parque Lleras itself is full of restaurants boasting a range of cuisines, so even if you never ventured past this square, you wouldn't go hungry.
Cartagena
Cartegena is Colombia with a Caribbean soul, and its food reflects this fusion. Seafood is the specialty, with restaurants using whatever comes in with the catch that day. Like revenge, fresh Caribbean seafood is a dish best served cold – and Cartagena has some of the best Cevicherias outside of Peru. Colombian ceviche is a dish of raw crab and fish 'cooked' in lime juice, marinated with onions and coriander and spiced with fiery chilli. The simply-named La Cevicheria is a well-known choice with reliably good offerings, but there are a few newer restaurants making waves – just wander the old town and see where seems lively.
Cali
Since it is situated at the foot of the sugar-growing hills, it's perhaps not surprising that in Cali, you choose dessert first and work backwards. That's not to say it doesn't have some great parrillas – grilled meat is a big thing here – and there's plenty of restaurants in the Zona Rosa serving up excellent Sancocho, a chicken and corn stew. Just leave room for the dulces: you'll be tempted on every street corner by chontaduro, honey-drizzled palm fruit, and cholados – cups of sweetened, fruity shaved ice. If that doesn't satisfy your sugar craving, visit a pasteleria for a slice of tres leches cake, decorated with passion fruit and mango.
•
Mama Lupe
, Bogotá, Calle 11 No. 6-14. Tel: +57 1 2435393 •
Andres Carne de Res
, Chia, Calle 3 No. 11ª-56. Tel: +57 1 8612233•
Mondongos
, Medellín, Calle 10 No. 38-38. Tel: +57 4 3431846•
La Cevicheria
, Cartagena, Calle Stuart No 7-14. Tel: +57 5 664 5255
Discover
Find your perfect holiday in Praia
From 40 hotels.