Mumbai – a guide of where to shop in the city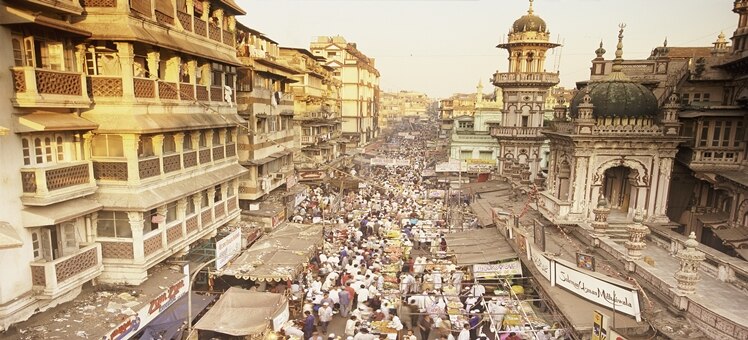 As one of India's biggest cities with a fast growing economy, Mumbai has many attractive western shopping malls. There are also plenty of markets and stalls to grab a real Indian bargain too such as the famous Colaba Causeway in South Mumbai. Mumbai has everything from designer labels and local fashion outlets to markets selling locally made jewelry and bright colorful textiles that India is renowned for worldwide.
South Mumbai
Colaba Causeway is the most visited area by tourists. Its official name is Shahid Bhagat Sing Road and is the causeway of land connecting Colaba to the Old Woman's Island. Street stalls and markets align the streets here. Trinkets, sarees, pashminas and other locally made and colorful items are lined up and tightly packed in. Even if shopping isn't your bag, this street is still an attractive place to wander and experience what the streets of Mumbai have to offer. Don't miss out on Crawford Market inside one of the most beautiful buildings full of fruits to plastic cups.
South Central Mumbai
South Central Mumbai used to be an area full of textiles mills. But since the 1970s it has gone from making the clothes in old mills, to selling them in shiny new western malls. Located here is the Phoenix and Atria mall shopping centers. Think clothes, food, alcohol and entertainment. Phoenix Mall is one of the most popular in the whole of Mumbai with its top end international designer brands to locally made Indian clothes. There are also food courts, cafes, restaurants, pubs and even a nightclub inside it. South Central is also claimed to be the best place in Mumbai to buy a saree.
West Mumbai
Here in Western Mumbai you will find plenty of multiplex malls such as Globus, Shoppers Stop and Inorbit Mall. Inorbit is one of the largest shopping malls in the whole of South East Asia, sprawling over an impressive 1.2 million square feet. Even though this mall is slightly further out, it is worth the trip. The top floor is dedicated to food courts and children's play areas, whilst the bottom floor is mainly British department stores. Indian designer stores and fashion outlets area also prominent here.
East Mumbai
Inside of the central suburbs, lots of shopping centres are located in the area of Hiranandani Gardens in Eastern Mumbai. If you love shoes, this is your place as one of the largest shoe shops in the whole of India can be found here where you can have fun finding your perfect Indian camel skin shoe. For cheaper items, visit Huma Mall, which is India's first factory outlet mall. Here you'll find Indian brand names sold cheaper.Shopping tips: When shopping at markets, carry cash and preferably low denomination rupee notes. Often places will say that won't have change and you'll end up paying more. Don't forget to bargain. Ask how much something is, and then offer a price half of it, gauge the reaction and work from here. If markets do not barter, there will be a sign saying fixed price. Malls will not barter on price and most debit and credit cards will be accepted.
Discover
Find your perfect holiday in Mumbai
From 1100 hotels.