Spring vacations in Dallas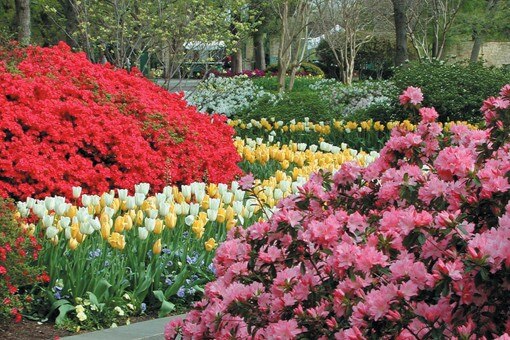 Spring vacations in Dallas are alive with symphonies under the stars, sunny-day shopping strolls and parks and gardens in full bloom. Book a spring hotel in Dallas and indulge in its seasonal pleasures.
A day of baseball
The crack of bats, the smell of steaming hot dogs, the cheer of the crowd – spring is baseball season. One of the best places to see a major league baseball game is at Rangers Ballpark in Arlington. The redbrick-and-granite stadium is like a shrine to many of the league's oldest baseball stadiums. Retro scoreboards and painted billboards recall Chicago's Wrigley Field and Boston's Fenway Park. Get there early for a 50-minute stadium tour, including a visit to the Legends of the Game Baseball Museum. Fans will thrill to mementos like Babe Ruth's jersey and Joe DiMaggio's glove.


Experience Dallas nature
Dallas parks, lakes and gardens explode with activity in springtime. Walk the shady paths and wooded acres of the Dallas Arboretum & Botanical Garden. Springtime is especially colorful and fragrant in the Jonsson Color Garden when the azaleas are in bloom. It is one of the nation's largest azalea collections. The Katy Trail is for cycling and inline skating while the Great Trinity Forest draws hikers. Ponder Rodin and Picasso statues in the soothing outdoor sculpture garden at Nasher Sculpture Center or find a shady spot to watch the boats sail by on White Rock Lake.


Dallas Symphony outdoor concert
Whether lively Bach keyboard suites or the sweet sounds of a Mozart flute concerto, the Dallas Symphony Orchestra performs magical renditions from classic composers all year round. In spring, the symphony performs in parks around the city during its Parks Concert Series. Pack a picnic basket and a bottle of wine and thrill to a soul-stirring concert under the stars.


Shopping and strolling
Spend a day browsing the art galleries, vintage clothing shops and folk art stores in Deep Ellum. Stop for ceviche (South American-style marinated seafood) and some of the best margaritas in town at La Calle Doce. Uptown, via an M-line vintage streetcar, is the West Village, where leafy walkways take you past chic clothing shops, Western-wear stores and bustling cafes. If it's raining, Galleria, Dallas's most exclusive indoor shopping mall, is the place to go. Sophisticated shopping reigns supreme here, with boutiques like Prada, Cartier and Hugo Boss housed under a light-filled atrium.
Savor Dallas Festival
Dallas welcomes spring with a celebration of its love of food. On one weekend in March, food lovers converge to taste dishes from local restaurants, prepared as you watch by the chefs who created them. Taste samples from more than 500 wine producers, learn the subtleties that define a grand cru Bordeaux at a wine-tasting seminar, or mix art with wine on a wine stroll through the arts district. The Dallas Farmers Market joins the party with FunDay Sunday, where kids can sample nutritious snacks and participate in chef cooking demos.


Rainy days
Spring in Dallas is generally sunny but it does occasionally rain. That's the time to get lost among Picasso and Mondrian canvases at the Dallas Museum of Art or among the stingrays, sharks and sea turtles of the Dallas World Aquarium. Shoppers can stay dry and check out the spring fashions at the flagship Neiman Marcus. If it's raining all day, NorthPark Center can fill the time with mega-mall shopping.