Narrow reviews:
190 verified guest reviews
Súper
The hostal is a beautiful remodeld exconvent. Location is great; just take the water bus 4.1 or 5. from Santa Lucía station to Fte. Have; turn right; pass the small bridge and make the first left. The hotel will be on the left side half way in the plaza. Staff is helpful and kind; price is good and the place is super nice.
Verified Hotels.com guest review
Stay was fabulous, very clean and friendly Very happy with our stay..
Verified Hotels.com guest review
The following English reviews were posted by hotel guests from other countries
Almost perfect
Check-in until 23h30, free towels, comfortable room, kitchen and bathroom, great staff, room for leaving the baggage (but you need to have your locker), great atmosphere with the bar and restaurant. I found the surroundings beautiful, like old town. The only thing I did not like was the temperature of the room, but I am person who is usually cold. I would stay again for sure.
Verified Hotels.com guest review
Highly recommend
Very nice hostel, highly recommended. Easy to get to by water bus and water bus from there goes direct to airport. Hostel 3 minutes from water bus. No walking through all of Venice with your luggage like we saw a lot of people try to do.
Verified Hotels.com guest review
Amazing Location wonderful facilities simple but exceptional will be coming back when I visit Italy again! Staff on check in where a little unfriendly but I think it's just not done the same way in other countries but this aside best stay over Italy So far! Can be quite noisy early in the morning with carts bumping around the street and people About out your window but still doesn't downgrade the stay over all as it's just that lovely a property! Thank you for the wonderful stay!
Verified Wotif guest review
The location is great and the place is clean. As it is generally a college dorm, just note that some rooms have two twin beds on separate sides of the room (which cannot be moved), rather than one double bed.
Verified Hotels.com guest review
Very bad behavior of the staff. Not enough staff. Not properly furnished. Poor maintenance
Verified Expedia guest review
Great place to stay in Venice
Restaurant was delicious, rooms very comfortable Very close to transportation
Verified Hotels.com guest review
Hidden gem, very spacious rooms ..................................
Verified Expedia guest review
Romantic hotel with clean and big rooms.
The hotel was in an excellent condition. Clean, relatively big rooms with US type 110v outlet. They gave me a canal view room and it was amazing! Not only the room, but the patio and cafeteria were very rimantic as well.
Verified Hotels.com guest review
Nice location, pleasant stay, good option now in Venice.Thank you! Additional: + luggage storage, place to wait your next destination, but food choice need to be improved.
Verified Travelocity guest review
Location was awesome.
Verified Hotels.com guest review
Realy satisfied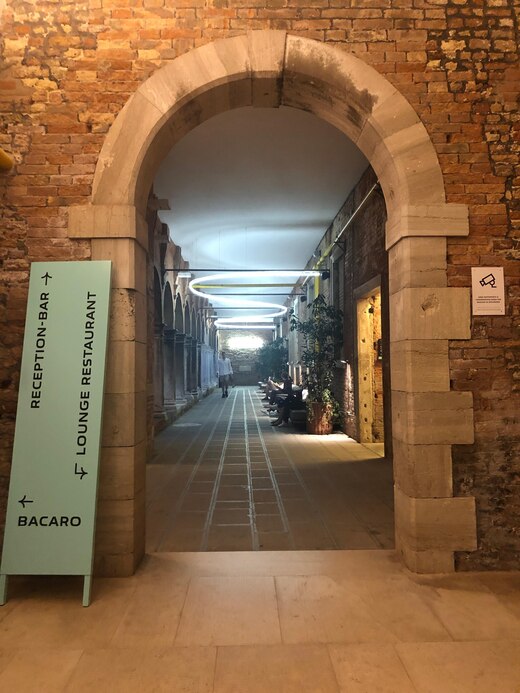 Verified Hotels.com guest review
Great minimalist place to stay with very helpful and friendly staff. The bathroom light didn't quite work, and there weren't enough utensils or pots to use in the kitchenette. Plus the second floor in the room was kind of useless.
Verified Expedia guest review
Hip and modern in old Venice
Very modern and clean room (we had a private room w/ bath, as opposed to some hostel-type rooms, which they also have). Lots to do at this hotel. Love the large courtyards and bar. Bands, djs, restaurant, and plenty of people to mingle with. Bring your bug spray!! Easy to get to from the large ACTV stop at F.te Nova.
Verified Hotels.com guest review
Combo is a beautiful former convent with fabulous communal areas. The rooms are spacious and clean but facilities in the rooms are sparse and inconsistent.
Verified Expedia guest review
This is such a unique property. It is a historic building that has been exquisitely remodeled in a very modern way. It is a bit off the main tourist path and that is one one the things that we enjoyed about it. It was in a quiet neighborhood but very easy to get by Vaporetto. The neighborhood seemed more authentic and not full of tourist shops. The court yard was very cool- my 17 year old really enjoyed hanging out there. The walls are very thick and noise was not an issue at all- even with the amount of young travelers staying there. The air conditioning worked well and the view of the canal from our window was outstanding. I would highly recommend staying here.
Verified Expedia guest review
Former Franciscan Monastery. Cafe on premises. Short walk to Fondamente Nove Vaporretto stop.
Verified Hotels.com guest review
Really loved the mix of old and modern spaces, felt like a museum
Verified Expedia guest review
Slightly different in that it looks like it wad once a monadtery with a central cloisters. Rooms a little cell-like, but different
Verified Expedia guest review
I realize the uniqueness of this accommodation, the room was spacious + hi ceiling. This is actually boarding quarter for a university for students, turn to hotel in the summer vacation recess. Water taxi from St Lucia train station to this hotel is about half an hour, but the hotel is just about 5 minutes walking crossing the bridge and turn left. There is a coffee shop and a cafe type restaurant and the staff are very helpful.
Verified Orbitz guest review
Once I found it. Everything was unexpectedly excellent. Especially the breakfast. Only drawback, the lift seemed not to work and I was on 5th floor. Will be back next week though. .
Verified Expedia guest review
The staff were very grumpy except for one guy who was really kind
Verified Hotels.com guest review
Would 100% stay again
Great, economical option in a great location in Venice. If I am ever back in Venice, I will stay here again. Beautiful courtyard for drinks/snacks and a nice breakfast available.
Verified Hotels.com guest review
very spacious , nice staff and close to ferry bus to airport (€15 bus 12) takes 30mins to get there straight into the airport. No tv or tea/coffee in rooms (tv I don't need but some might) Some refurb work going on new tables etc. This is a pleasant, basic base for all ages and a good location
Verified Expedia guest review
Best hostel i have ever stayed at. Very clean & the staff are friendly. Arrived 3 hours before check in and i was able to check in early. Comfy beds and spacious. You only share a room with one other person.
Verified Expedia guest review
amazing place in venice
what an amazing place ,from the fantastic stairway to our room tk the view from the window .Location was perfect .service from staff was first class .wish we were staying longer
Verified Hotels.com guest review
Architecturally very pleasing. Helpful staff. Nice little bar for teas, wine cicchetti etc.
Verified Expedia guest review
Friendly and helpful staff. Recently renovated and clean. I loved my room, very quiet for sleeping. Lively social area downstairs. I found my new place to stay in Venice. Thanks for a great stay.
Verified Expedia guest review
I love that it was an old monastery. Staff was very friendly and helpful You were away from the tourist packed areas, letting you experience the areas and people. With badge system, cameras and keys, I felt extremely safe as a solo traveler.
Verified Expedia guest review
Wonderful building and nice rooms. Good location and great value for money.
Verified Expedia guest review
It is almost as a magic place: an old monastery embedded into Venice with the modernity we all like to have
Verified Expedia guest review
Good location and rooms are neat, friendly staff. A really good hostel for the price
Verified Expedia guest review
We CROCIFERI was very impressive!! The restoration of the building is amazing in itself! Everything is modern and well kept. The layout of the floor plan for beds is excellent! It is designed for the best privacy and comfort one could want! Easy access to water buses and for anything you could want or need!
Verified Hotels.com guest review
Close to water taxi and cafe on-site; clean and comfortable rooms
Verified Expedia guest review
The hostel was very chill and quiet as it was quite far from the main tourist-y area. Loved the serene vibe. Rooms were spacious and toilets were well-maintained and clean. Love the fact that my room was in a "larger apartment" that had shared kitchen and dining space.
Verified Expedia guest review
This place is in a fantastic location, only 2 stops on the ferry from the airport and a 1 min walk from ferry stop at Fondamenta Nueovo. This places ooozes cool. The buildings are beautiful inside and the rooms all refurbed in 2013, with split level rooms, one sleeping upstairs, one down. Also a fridge , shower etc, so no sharing with strangers here! Breakfast good value at 7 Euros, but hthe English Breakfast tea in a pot on the balcony over the canal was perfect!
Verified Expedia guest review
Beautifal building, good facilities, quiet location and easy access to vaperetto stop. Nice walk to San Marco.
Verified Hotels.com guest review
Beautiful hostel! If you're looking for a party hostel this isn't it. But this was just perfect for a single traveller expliring Venice for a few days. Clean, huge bright rooms. Bathrooms cleamed and fesh towels every day. Steps wway from the ferry to the islands. I'd definitely stay here again
Verified Expedia guest review
Clean and affordable
A comfortable hostel, similar to a dorm room. I had a bed in a 2-bed room that was part of a suite that consisted of 3 rooms, 2 twin-sized beds in each room, as well as a shared kitchen-living area, plus a shared bathroom. Everything was clean. Housekeeping happened daily so the shared bathroom was kept clean. Because of the dorm-room layout, there will be noise from roommates. Most other guests seem to be early-20s, but not all. For extra security bring a lock for the closet; I didn't, but had no trouble. The doors to each bedroom had a lock, and the door to the suite also locked. Would recommend this place for an affordable night's sleep on the island of Venice.
Verified Hotels.com guest review
above average hostel, very secure and close to transportation boats
Verified Orbitz guest review
I had a great time. The people at the front desk were nice and I loved the set up. The location was great as well, just 10 minutes to the Rialto bridge.
Verified Hotels.com guest review
Fantastic experience - arrived late at night and had no trouble getting there from the airport - less than a 5 minute walk from the boat. Wonderful atmosphere, delightful and helpful desk staff, clean and well-appointed rooms. I wish I could have stayed longer, and will stay again when I return to Venice!
Verified Hotels.com guest review
Recommended!
Everything was excellent!! Atmosphere, location, room, toilet!! All worthwhile this price!!
Verified Hotels.com guest review
Amazing place to stay! Beautiful old building with lovely modern interior. Had a canal view out our window. Has a balcony downstairs over the water where you can eat or drink and a lovely courtyard. Having a bar onsite is definitely a bonus. Breakfast costs extra but is still a great deal and very handy. Lovely staff. Good coffee. Beds weren't the most comfortable but I would still stay there again in a heartbeat.
Verified Expedia guest review
Beautiful Hostel, Great location
I absolutely loved my stay at this Hostel. The location is perfect, as it is less than 5 mins from the Boat stop. It takes only further 5 mins walk to get to central shops & Restaurants. Room was clean amd best thing was it had only 2 beds per room. So it was great from privacy point of view, not sharing room with 8-10 other people. Bathrooms were clean & all amenities provided, even towels. Great kitchen for each apartment & lovely staff. Overall it exceeded my expectations. Possibly best hostel in Europe.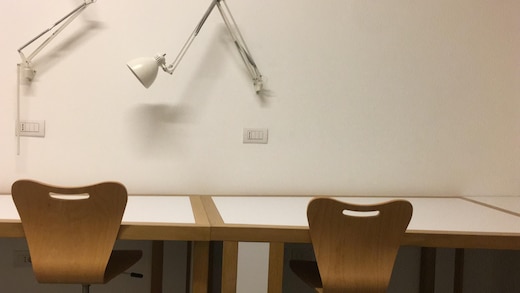 Verified Expedia guest review
Nice hostel close to the pier. I recommed this to all tourists who want to save money.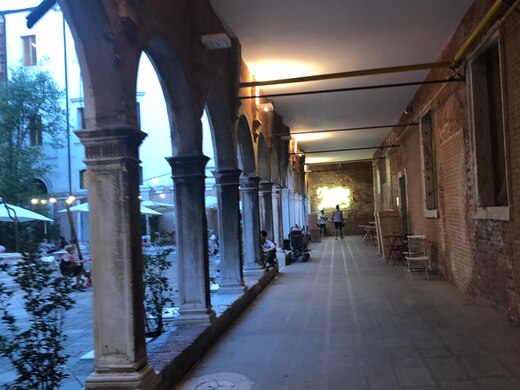 Verified Expedia guest review
Family trip
Great hotel/hostel lovely courtyard with plenty of seating. Good mix of family, students and solo travelers. The location is 20 mins walk from the train and away from the busy S Marco area. Staff were great at recommending places to eat and visit. Highly recommend staying here.
Verified Expedia guest review
The beds are really like student bunkers, even in private hotel rooms. Thin mattresses and tiny pillows make for uncomfortable sleep. Felt like summer camp, not hotel.
Verified Expedia guest review
Amenable budget accommodation
This was the second converted nunnery I'd stayed at that week. While the facility was clean spacious and modern there were some noticeable deficiencies: the bed was rock hard, the AC didn't work and the door wouldn't lock due to sagging. The place was great in concept but needs some functional love.
Verified Hotels.com guest review
Reviews and ratings contained within this site are the subjective opinions of customers and suppliers; they do not represent or reflect Hotels.com's position. Neither Hotels.com nor the parties involved in providing review content shall be held liable for any damages of any sort resulting from use of these reviews