What guests say
Great view
Friendly service
Clean rooms
Nice building
Narrow reviews:
24 verified guest reviews
The following English reviews were posted by hotel guests from other countries
Staff was very nice and the view was excellent. Short walk to lots of places to eat and do, and the breakfast was amazing.
Verified Orbitz guest review
Response by Dreaming View Suites
Thank you for your kind words. We hope you enjoyed your stay in Santorini and expect to see you in the future, of course!!
Staff friendly and accommodating. Hotel itself despite the great view needs renovating.
Verified Expedia guest review
Response by Dreaming View Suites
Thank you for your review, we are trying to express our hospitality in the best ways possible. We hope in your next stay with us, to fulfill all your expectations.
The room (Premuim suite) was compact but perfectly fine. Our large terrace had stunning views of the caldera and sunsets. Breakfast was great and more than we needed. Our host Eugenious was very helpful and friendly. I would highly recommend this property.
Verified Expedia guest review
I invite you to visit this wonderful with spectacular views. The staff is very friendly and they are available to help you either in coordinating a dinner, excursion or whatever you need.
Verified Expedia guest review
The Best view, great room and location.
The view was everything I hoped for and more. Absolutely picturesque! The plunge pool was about 6 ft deep and had an amazing view from the edge. The location is perfect. It's not too far down the hill where you have to carry your luggage and hike, it's right off the main caldera path. The staff will also help with bags too. There are quite a few steps to get to your room, but again, staff can help but it's all worth it when you see the view. Breakfast was included, but wasn't outstanding, although it's free and gets your day started. Plenty of options, and you can change it each day if you prefer. The location is excellent. 20-25 minute walk along the caldera pathway to Fira or 25 minutes the other direction down the pathway to Oia. The walk to Fira is mostly downhill, so be prepared to walk up hill on the return. The first day was rough, the second day we were mentally prepared. Still tough and warm, but there are lots of restaurants and cafe's along the path to stop and take breaks if needed. Restaurants all over for lunch and dinner options, mini market up the steps, you can book tours nearby, staff is knowledgeable of things to do and book, overall just great. Even had a smart TV in the living room to connect to Netflix. I will be staying here again when I return to Santorini (Imerovigli).
Verified Hotels.com guest review
Perfect caldera and sunset overlook
We came here for a honeymoon and our stay at Dreaming Suites was perfect. Located in the middle of Fira and Oia, away from the crowds. And we had the most amazing view from the deck. Perfect view of the sunset. Private breakfast overlooking the caldera every morning. Staff was super too!
Verified Hotels.com guest review
Stunning views
My sister and I stayed here for three nights. We absolutely loved our stay and the views may have been the most beautiful on the island. Irene was the absolute best and is a huge reason why I would come back. She made us feel right at home and helped us with everything. This area is so quiet and a perfect paradise for relaxation!
Verified Hotels.com guest review
This property is in a perfect location. Breathtaking view of sunset , better than in Oia, great room! Super happy! You also have privacy unlike most hotels in Santorini. The hospitality of the host is just amaizing !! Will come back again. Thank you Vasilis for being such a great host!
Verified Expedia guest review
A real dream come true!
The view from this hotel is priceless! Worth the price! , not so many tourtist walking around which makes of this area one of the best in the island!
Verified Hotels.com guest review
Premium room smaller than expected but the outdoor space and indoor tub more than made up for that. Great location, which allows for walks to Oia and Fira on a glorious pedestrianised, caldera path. The view from the patio is stunning with fantastic sunsets. Basilli and Monica always provided service with a smile and made our stay enjoyable and home from home. Breakfast was plentiful and so nice to be delivered so we could enjoy it overlooking the caldera view each morning. Overall, a great place to stay and well-recommended.
Verified Expedia guest review
Excellent view and hospitable staff. Mattress is a bit too soft for my back. Maybe its time to change.
Verified Expedia guest review
Amazing View
Staying at Dreaming view was amazing. Love the Staff, room very clean. The sunset view was incredible. I would stay there over again.
Verified Expedia guest review
The following reviews were posted by hotel guests from other countries
Drömmig vistelse!
Fantastiskt rum med strålande utsikt över havet. Super trevlig personal, Irene som jobbade i receptionen såg till att jag fick den bästa servicen under min vistelse. På mitt boende hade jag ett jätte fint rum med altan och på altanen fanns en jacuzzi. Frukosten serverades på altanen. Hotellet/rummet är mycket finare i verklighet.
Verified Hotels.com guest review
Vue fantastique propreté et luminosité de l'appartement avec jaccuzi extérieur semaine inoubliable avec personnel aux petits soins
Verified Expedia guest review
Reinste Katastrophe! Please translate to English!
Außer der schönen Aussicht kann ich leider nichts positives über das Hotel erzählen. Es war die reinste Katastrophe. Vom Frühstück bis zur Sauberkeit war alles negativ. Als wir am zweiten Tag uns über die Sauberkeit des Zimmers beschwert haben kam die Putzkraft mit Wut in unser Zimmer und meckerte wo denn der Dreck sei. Im Bett waren Haare genauso auf dem Boden und auf dem Tisch! Die Putzkraft war sehr unverschämt und hat mit uns mit einem ganz lauten Ton gesprochen. Das Frühstück (Rührei) wurde Kalt serviert, appetitlich sah es auch nicht aus! Am nächsten Tag kam unser Frühstück mit Würstchen, obwohl wir gesagt hatten, dass wir auf gar keinen Fall welche wollen. Im Pool haben wir auch nicht geschwommen weil es leider überhaupt nicht hygienisch aussah. Als die Putzkraft am nächsten Tag angeblich unser Zimmer sauber gemacht hat, sah es leider immer noch so aus wie vorher. Wieder Haare und Dreck überall. Außerdem wurden wir über die Renovierungsarbeiten die vor unserem Zimmer stattgefunden haben nicht informiert. Nachdem wir den Mann an der Rezeption drauf hingewiesen haben, dass wir uns von den Arbeitern gestört fühlen sind die gegangen. Für ca. 350€ die Nacht hätte ich deutlich mehr pingeligkeit erwartet.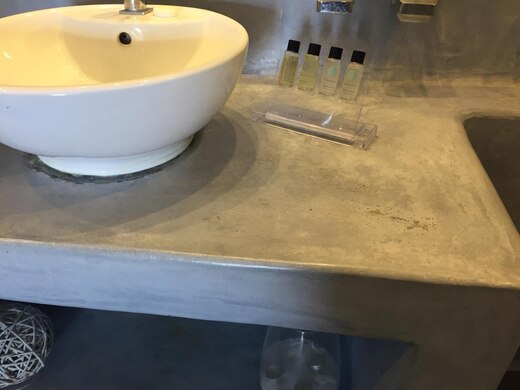 Verified Expedia guest review
Très bon accueil, vue splendide
Très bon accueil avec plein de recommendations et d'aides, petit déjeuner copieux, salle de bain très spacieuse. Nous avions pris la chambre avec jacuzzi intérieur, la terrasse privée de la chambre était très grande, mais un passage public passe entre la chambre et la terrasse. (préférerez un chambre avec jacuzzi externe pour les chambres avce plus d'intimité)
Verified Hotels.com guest review
Meraviglioso
Meraviglioso soggiorno, Hotel ha una posizione incantevole ed è molto romantico, i servizi sono buoni, Il personale è cordiale e socievole. Consiglio vivamente questo hotel.
Verified Hotels.com guest review
Davvero una vista da sogno
Appartamento nella zona di Imerovigli che è una delle più belle di Santoro, con vista splendida resa ancora più bella dalla presenza della vasca Idro. Complimenti al gestore Vasilis che si è sempre dimostrato disponibile e pronto ad aiutarci in tutto. L'unica nota è che la pulizia potrebbe essere migliorata
Verified Expedia guest review
Very nice room with great balcony overlooking Kaldera. You can watch the sunset from your sunbed and the Kaldera from the jaccuzy. There is adequate privacy, no one can see you if that is what you want. Overal a great experience.
Verified Hotels.com guest review
不錯
性價比高
Verified Hotels.com guest review
Camera piccola, senza finestre, colazione scadente
Posto incantevole, ma la stanza e il servizio è stato deludente.
Verified Expedia guest review
Very nice room with a terrific view over Caldera
We stayed in the Blue Suite: a spacious modern room with a terrace with personal jacuzzi with warm water and a breathtaking view over the caldera. The breakfast was honest with a choice of eggs, greek yogurt, toasts, bread, pastries, jams, orange juices, coffee and tea and it was taken straight to your room every morning. Also the staff was very nice: they arranged for us the airport transfer and the scooter renting. The bathroom with a shower is large too and is created inside the rock like a sort of cave.You can also admire from the terrace of this suite one the best sunsets of your life... just in front of you! Everything was perfect in our holiday. In my opinion the Imerovigli is the best place to stay in Santorini because is between Fira and Oia and is close to every point of interest of the island: no more than 30\40 minutes by scooter. At the same time the town it's not too crowded or busy but it's fitted with some of the best restaurants of the islands. Truly Reccomanded!
Verified Expedia guest review
Verified Hotels.com guest review
Verified Hotels.com guest review
Reviews and ratings contained within this site are the subjective opinions of customers and suppliers; they do not represent or reflect Hotels.com's position. Neither Hotels.com nor the parties involved in providing review content shall be held liable for any damages of any sort resulting from use of these reviews