What guests say
Near city centre
Friendly atmosphere
Stylish hotel
Friendly service
Narrow reviews:
65 verified guest reviews
Very nice pools. Friendly and helpfull personnel. Sophisticated cocktails ar the bar.
Verified Expedia guest review
A beautiful hotel with very good friendly and helpful staff .
Verified Hotels.com guest review
Great Hotel but choose your room carefully.
The style of this hotel was great very modern and trendy. The staff were so helpful especially in the restaurant. The food especially breakfast was absolutely wonderful. Pools were very clean and with there being 2 of them, spoilt for choice. Location is within walking distance of the harbour with lots of nice restaurants. The only concern we had was our room. We were given a room upgrade so we were surprised there was so little privacy. Our room shared a balcony with the next door room so we could not leave our balcony door open especially at night as every single word, cough or snore could be heard from the next door room. The room above was very noisy and we could clearly hear football on their television. There was also another room's balcony directly opposite ours (only 2 metres from our shared balcony) so we had to keep our curtains closed all the time. It was very claustrophobic. Given that the hotel was half empty (end of season) not sure why were all squashed into the same area. Excellent as the food and staff were this could not counteract the actual location of the room and the overall lack of privacy. If I were to go back I would book a garden room as they seemed to offer the best privacy
Verified Hotels.com guest review
The following English reviews were posted by hotel guests from other countries
The hotel exceed our Expectations from check-in to check out with great staff and ambiance. The room was quaint, precisely what we were looking for, and extremely comfortable. The staff was superb.
Verified Expedia guest review
Overpriced & super rude manager
Everyone at this Hotel was extremely nice and helpful with the exception of the main manager. He was very rude and unhelpful. We stayed at Mr & Mrs White for 5 nights and the A/C was out 3 nights and 4 days. I had to go down almost every day and let them know the air was still not working properly and finally our 2nd to last night they finally fixed it. However, it was a huge inconvenience, didn't sleep well and the one day they had 2 guys working in the room all day. In return we had to deal with the rude unapologetic manager and only received $60 off. Also, the rooms itself were only ok and were not properly cleaned before checking-in. Due to how we were treated and the quality of these rooms, I would unfortunately not recommend staying here. For what you receive, I feel like this place is overpriced and not worth the headache if anything goes wrong.
Verified Hotels.com guest review
Disappointing
I hesitate to leave a "bad" review when so many others seemed to enjoy but wanted to share my perspective in case it helps someone. The grounds of the hotel are beautiful but I was so uncomfortable here due to three main things: 1. The size. I am used to small spaces but wow this was so tiny it was actually difficult to navigate how to fit my things and move around and I am just one person. The water pressure in the shower was also very bad making it difficult to get my hair fully clean. 2. Noise. This was due to wind but you heard constant knocking of doors and windows throughout and it was very nerve wrecking. 3. The location of the hotel. As others have mentioned, it is a decent walk from town. I don't mind walking 15 minutes but the roads are not situated for it. To walk at night on a busy street without a sidewalk did not feel totally safe. If you stay here you need a car to get to the beach or plan to deal with us schedules or a long walk. To be frank, I am very surprised this hotel is included on small luxury hotels of the world. I do not believe it is worth the money. I am currently staying at another hotel for half the price and much higher quality. This was a very disappointing stay.
Verified Hotels.com guest review
A wonderful stay
The hotel is very comfortable , the rooms are big enough and well appointed although the bathroom could be a little larger. The staff is extremely friendly always ready to help and make your stay as nice as possible giving you advices, adresses and directions. We had a very nice stay and would go back with pleasure. Highly recommend.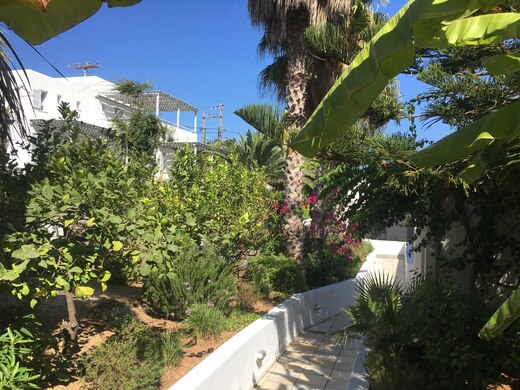 Verified Hotels.com guest review
Great staff and gorgeous property. We certainly plan to return.
Verified Expedia guest review
Love this little gem!
Beautiful and calm villa. Service was excellent, all the staff members were very attentive and helped us with recommendations on where to go on the island. Food was great and I was really happy to see they were able to offer soy milk and gluten free bread for me at breakfast. I was happy that they didn't play any music on the communal areas like hotels in Mykonos for example. It's much nicer to enjoy the quiet atmosphere. We booked superior room but were given a larger villa, however the bed was not very comfy, that's the only downside. Otherwise a lovely place, I would stay again.
Verified Hotels.com guest review
Loved everything about this hotel! It's close to Naousa, beautiful decor, and friendly staff. 10/10 would recommend.
Verified Expedia guest review
Hotel with a very relaxing atmosphere and great staff. Upon arrival, we were given a very clear and good overview of the island - beaches, restaurants, how to move around, etc. All the tips were excellent.
Verified Expedia guest review
Lovely hotel. Staff were very helpful and polite. Breakfast was excellent. Only slight issue was door to our garden room was outside of the hotel grounds which, typical of Greece, wasn't that pleasant an entrance as opposite was an abandoned car and derelict buildings, but inside room and hotel perimeter wall it was lovely and tranquil
Verified Expedia guest review
Lovely property!
Breakfast was perfect for all we needed, hotel rooms a little small but cozy and quiet. Pool was larger than expected and there were two, bonus!! About a 10 minute walk to the town, which was super easy (even in the dark) and refreshing that we got to escape the craziness when we wanted to. Staff helped with taxis any time we needed it, provided food recommendations and even help with dinner reservations at a restaurant that was fully booked. The rooms are not fancy and there is a little bit of a water smell in the bathroom, but it wasn't unbearable and wasn't anything we haven't experienced elsewhere in Greece.
Verified Hotels.com guest review
Mr & Mrs White is bliss.
Mr and Mrs whites exceeded every expectorant. What a find. The staff felt like family by the end of my stay. The cocktails were brilliant. Gorgeous Breakfast. Chic decor. Walk into Naousa. I'm def coming back here.
Verified Hotels.com guest review
Just fabulous
Second stay here and absolutely love this hotel. Everything is perfect.....just 2 minor comments, a full length mirror in the rooms would be nice and also please please ditch the plastic straws in drinks!
Verified Hotels.com guest review
Mr & Mrs W staying at Mr & Mrs W
A great stay. Only let down was low water pressure resulting in shower difficulties. The local town of Naoussa is a delight to visit with great choice of waterfront bars and restaurants,
Verified Hotels.com guest review
We had a two night stay on our honeymoon with a pool side room. The hotel was very nice and relaxing. It is a close walk to the city centre and away from all of the other hotels. Its very sleek hotel and seems new. I would stay here again. Do not bother with the hotels in the main area, Mr & Mrs White is the perfect distance away from the city centre, yet close enough for quiet and relaxation. No more than a 10 minute walk to the small bridge and all the restaurants.
Verified Expedia guest review
Great Hotel But ....
Mr and Mrs White on Paros provides a beautiful resort type experience while staying on the island. The complex consists of a number of two storey buildings that enclose the pool, bar and breakfast areas. A high standard of service is obvious - the grounds are beautiful kept and you'll return to a completely clean room after a day out. The front desk staff also respond efficiently to all requests from car rentals to the short introduction provided to the island and attractions such as beaches and great restaurants. The location, as other reviews suggested, is not ideal as it is on the edge of town and perhaps this is the only major negative. It is a 15 - 20 minute walk to the nearest beach and the road back from town (10 - 15 minutes) is not exactly conducive for a romantic stroll after dinner. It may have just been the particular room but the space between the king bed and the wall was narrow and the concrete posts that supported the bed extended out beyond the frame resulting in some colourful language when I stubbed my toes on a few occasions. Hint - if you are going to be on the island for a few days, hire a car by the ferry. You'll be able to enjoy the complete beauty of the island and save the 20 euro taxi each way from the port to the hotel.
Verified Hotels.com guest review
Amazing hotel with great service!
My husband and I chose to stay at Mr and Mrs White for our honeymoon. We arrived at 10 am and they said we could have breakfast. This was only the start of our amazing service! The manager sat us down and told us about all the best restaurants on the island and the best beaches! The location is good, but keep in mind that it's about a 15 minute walk into the main part of town. Usually it would be fine, except it was very windy when we were there which made us decide to rent a car.. there was parking available near by the hotel.
Verified Expedia guest review
Charming hotel in Paros
Really nice hotel if you want to rest and enjoy all the facilities. Only negative point in that you have to walk 15 min in the dark on a Main street to reach the city center.
Verified Hotels.com guest review
Beautiful relaxing hotel close to shops.
Wow what a beautiful relaxing hotel. Greeted with a mocktail and full run through of beaches, restaurants , taverns, sights to visit from the manager. You feel relaxed as soon as you enter this hotel, friendly staff, beautiful gardens beds throughout. Villas are spacious , bed confortable and spotless throughout. We really enjoyed our stay here. We went to Lefkes by taxi 25 Euros and walked the Byzantine to Prodomas which was beautiful.
Verified Expedia guest review
Immaculately maintained hotel, beautiful grounds and very attentive and pleasant staff. Ilias, the manager, makes a point of welcoming every guest in person and show them around the facilty. He will not hesitate to offer his recommendation for places of interest around the island. We had a wonderful time and look forward to stay at Mr. and Mrs. White on our next visit.
Verified Expedia guest review
Lovely property- nice sized rooms with beautiful views and generous bathrooms. Two separate pool areas as well. Close to Naousa town.
Verified Expedia guest review
Babymoon getaway
Great hotel and service, I would say that it's over priced for what it is. It's simple, clean and good service but I would not pay stay there again for same amount of money.
Verified Hotels.com guest review
Luxury in Naoussa
Wonderful stay at Mr & Mrs Paros! Very luxury, would definitely stay again. About a 17 minute walk into Naoussa. Having a mode of transport is recommended.
Verified Hotels.com guest review
Very nice hotel, pleasant staff. A car is really required to get to beaches.
Verified Expedia guest review
Great hotel. Great location. Easy access to town and rest if the island. Staff very helpful. Cleanliness top notch. Feel, atmosphere and decor very pleasing to the senses! Food was mouthwatering! However, quite expensive.
Verified Expedia guest review
Lovely hotel close to Naoussa
This is our 2nd stay at Mr and Mrs White in Paros in 2 years. We like this hotel for its excellent service, lovely pool with poolside cafe and bar, and sea view. The hotel is located a 10 minute walk from Naoussa so it is quiet but has easy access to Naoussa restaurants and shops. Will definitely return!
Verified Hotels.com guest review
Loved it!
Fantastic stay at Mr & Mrs White. Styling is superb, spotlessly clean, service wonderful. Great location for Naoussa. Excellent breakfast.
Verified Hotels.com guest review
Hard beds. Room needs More decor. Bigger balcony. Room lacked character. Bathroom didn't have a shower head only handheld spout. Water hit everywhere in the bathroom while showering. Needs proper shower door and proper shower head. Needs robes in the rooms. Needs Better happier friendlier faces at reception-Manager. Breakfast was great. Food was deliciocious. Different sweet treats everyday. Great selection of delicious fruit. Loved individual coffee pots. Breakfast Wait staff did a good job. Room Decor and size was disappointing. For the amount of money and star rating I expected much nicer. And as a member of leading hotels of the world I'm not sure they should qualify.
Verified Expedia guest review
Excellent hotel only let down is the bathrooms
We had a two floors suite. Stayed four days. The room was very clean and hotel facilities were generally of high standard. the only let down was the bathrooms that looked a bit dated. But overall an excellent hotel and would recommend it and will visit again. Staff were generally very helpful especially the manager Manos who made a number of good suggestions on where to go and where to eat on the island.
Verified Expedia guest review
Nice boutique hotel. Great staff, very welcoming and helpful. Good location, very close to Naoussa town. Comfortable bed.
Verified Expedia guest review
Perfect hotel with fantastic staff!
This hotel is perfect! From the helpful, friendly staff and especially the hotel manager, to the pristine design of the rooms and common areas, this hotel should be where you stay in Paros. Could use a coffee upgrade! Other than that, it is fantastic! The manager went above and beyond our expectations, recommending a place for drinks to watch the sunset, and arranging the best table in the place for us! He was so helpful...a real star for any hotel.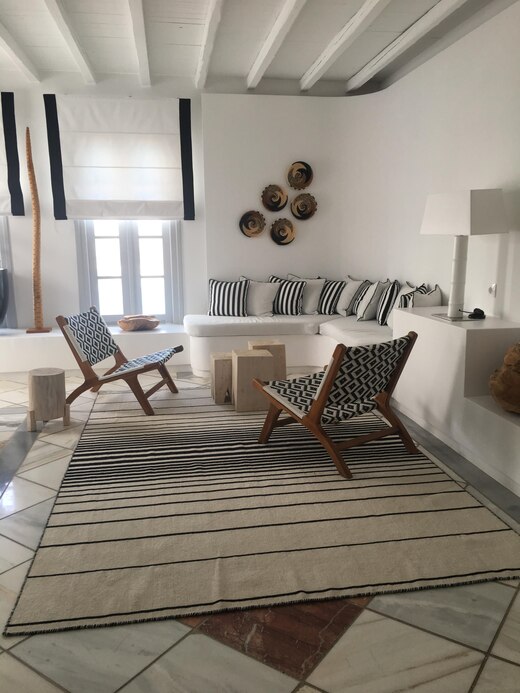 Verified Hotels.com guest review
Pretty hotel with lovely, friendly staff. The wine tasting nearby was amazing.
Verified Hotels.com guest review
Beautiful Boutique Hotel in Paros
I read the review book at the hotel and it's nothing short of compliments that the staff service is excellent, the food is fantastic and the hotel surroundings and room are beautiful. I couldn't agree any less! I do recommend that you hire a car but you can still do it cheaply by catching a bus which is 10 minutes walking distance from hotel to Naoussa. There is two pools which is great to relax and the breakfast and food at the hotel is great so you won't have to eat out all the time if you are feeling lazy and just want to chill at the hotel.
Verified Expedia guest review
Staff amazing. Breakfast amazing. Quiet. Would return again and again.
Verified Lastminute guest review
Beautiful room with sea views from veranda! Refreshing pool. Wonderful service!
Verified Hotels.com guest review
The following reviews were posted by hotel guests from other countries
Hôtel avec beaucoup de charme
La chambre était petite mais confortable et agréable. Le personnel est très accueillant et souriant. Les piscines sont profondes et propres. Petit bémol sur les alentours car c'est agréable au réveil d'avoir une vue mais l'hotel est un peu loin de la ville.
Verified Hotels.com guest review
Personnel très accueillant, établissement moderne avec deux belles piscines
Verified Ebookers guest review
Propreté - gentillesse du personnel et taille de l'établissement - en sus de la qualité du petit déjeuner ! Mention spéciale au barman nouveau spécialiste du Ricard au pays de l'ouzo
Verified Expedia guest review
Très bien situé, hôtel charmant, chambre grande et agréable
Verified Expedia guest review
Ikke luksus - 3 stjerner - ikke hvert prisen
Hotellet markedsfører seg som luksus. Det er et eldre hotell som er prøvd å pusset opp. Gamle møbler er malt hvite og gammelt bad. Mitt beste råd er at de som driver hotellet lærer seg hva luksus er. På rommet lå det en katalog med såkalte luksus hoteller og hotellet var der omtalt som luksus hotell, lite troverdig. Som nevnt er det kun brukt hvit maling på rommene for å pusse opp. Harde dårlige senger. Frokost uten fersk juice og god kaffe. Vi bad om frappe og fersk juice fikk da regning på 16 euro. På et bra hotell burde det være inkludert i frokosten. Frokosten var svært enkel, vi valgte å spise andre steder. Hotellet er i bestefall 3 stjerner og ikke vært prisen. Vil anbefale White Dunes, som også er bed en av de beste strendene.
Verified Hotels.com guest review
Lindo, agradable, un poco alejado del centro de Naoussa y para ser un small luxury hotel le falta! Esta correcto pero de luxury no le encontré nada....
Verified Expedia guest review
Top hotel
Fantastisch hotel , vooral voor de rust ! Het nadeel is dat je vervoer ( huur auto - huur quad...) nodig hebt. Top ontbijt , verzorgd dinner.
Verified Expedia guest review
Bel hôtel, récent et bien décoré. Bel accueil également. À distance de marche du port de Naoussa où on y retrouve de bons restaurants et une belle ambiance. Personnel de l'hôtel agréable et discret. Bon déjeuner et espace de vie de l'hôtel (Piscine, hall, etc) chaleureux. Bon séjour !
Verified Expedia guest review
A little paradise
Amazing experience, the hotel is beautiful, the rooms are very pretty and the staff is so nice and helpful! There are 2 pools and one is more « private » to get rest perfectly. Breakfast is fantastic as well! A little paradise in Paros near the port and all the good restaurants of Naoussa :-)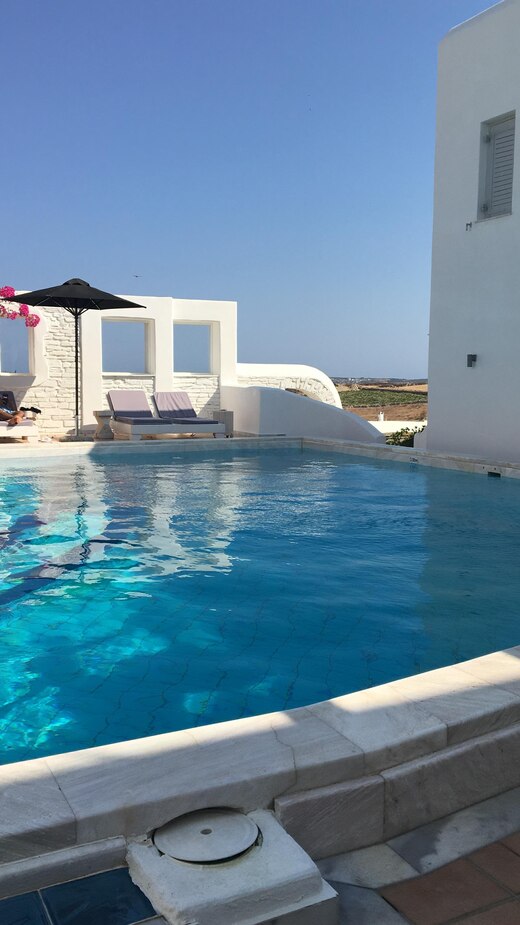 Verified Expedia guest review
Ottimo hotel di design in zona tranquilla
Abbiamo trascorso 4 notti in questo hotel e la qualità del soggiorno ha soddisfatto le nostre aspettative. La camera era grande e ben arredata con letto king comodossimo.il bagno con doccia e servizi mancava di appoggio per vestiti shampoo e altre utilità, il lavabo invece era in camera nel corridoio di entrata. La colazione era molto buona, ma personalmente non abbiamo apprezzato le uova strapazzate e la frutta non molto saporita (melone anguria e fichi particolarmente insapori). Organizzazione da migliorare quando c'e molta gente a colazione. Le zone comuni arredate con cura hanno contribuito a rendere il soggiorno rilassante e piacevole. Le fantastiche piscine si prestano ad ottime fotografie! Il personale gentile e l'hotel ben frequentato. Nel complesso consigliamo vivamente questo ottimo hotel per un po' di tranquillità a 15 minuti a piedi dalla bella Naoussa.
Verified Hotels.com guest review
Hôtel de standing, calme avec un personnel accueillant et serviable
Verified Expedia guest review
Bella esperienza
Eccellente. Bello personale molto gentile. Location molto curata lo consiglio vivamente a tutti
Verified Expedia guest review
Excellent service, excellente proximité du centre-ville, très belle chambre et endroit reposant.
Verified Expedia guest review
Reviews and ratings contained within this site are the subjective opinions of customers and suppliers; they do not represent or reflect Hotels.com's position. Neither Hotels.com nor the parties involved in providing review content shall be held liable for any damages of any sort resulting from use of these reviews