Bodega Phuket Party Hostel - Adults Only
189/3 Rat-U-Thit 200 Years Road., Kathu, Patong, Phuket, 83150, Thailand
Business (0)

Family (0)

Friends (0)
Narrow reviews:
6 verified guest reviews
Unsatisfied
The hostel area is really good and its very close to everything you need. The room wasn't that good because of the noisy beds and toilets weren't clean and had no soap for two days, overall i'm happy with the location of the hostel.
Verified Hotels.com guest review
Response by The Canadian Manager
Hey Mahjub, We're sorry your stay was not as satisfying for your expectations, but we are a hostel and sometimes you do get room mates that will make the room as well as toilets unclean. We have cleaners that go through all of the rooms twice a day, so it sounds like you got the unlucky draw. As for the soap, I will go over the cleaning check list the cleaners filled out for those days and make sure it does not happen again. Cheers, Alicia
The following English reviews were posted by hotel guests from other countries
Recommend
Amazing staff that are super helpful! Always a great time!
Verified Hotels.com guest review
Perfect
The only reason they are not getting a 5 star review from me is because I had breakfast booked and apparently they are not doing breakfast anymore. But otherwise I am super happy!!! This is the place to be in phuket if you are a party animal and or a solo traveler! Everything is just PERFECT!!! The staff is even more perfect and all of them really made me feel welcome!! Much love, Johan!!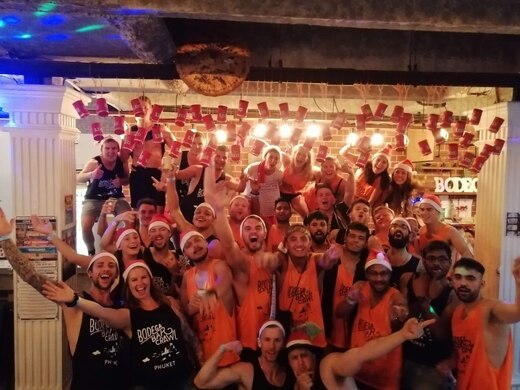 Verified Hotels.com guest review
Response by The Canadian Manager
Johan! Why didnt you tell me your booking came with the free breakfast?! We don't do it anymore because that was at the Resort BUT I would have made you breakfast myself had I known haha. Please come back and visit soon, we loved having you! Much love, Alicia
Good location, clean
My boyfriend and I booked a private room. Clean room and friendly staff. Close to Bangla road and easy to find.
Verified Hotels.com guest review
Good staff and perfect location , 5 mins from bangla road
Verified Expedia guest review
The following reviews were posted by hotel guests from other countries
Hôtel merdique des rats dans l'hôtel. Petit déjeuner degueulasse, tartines secs avec une vieille confiture. Personnel inexistant. Pas de shampoing pas de frigo
Verified Expedia guest review
Reviews and ratings contained within this site are the subjective opinions of customers and suppliers; they do not represent or reflect Hotels.com's position. Neither Hotels.com nor the parties involved in providing review content shall be held liable for any damages of any sort resulting from use of these reviews