9 Best Shopping Experiences in Orlando
Where to Shop and What to Buy in Orlando
Think shopping in Orlando and the first thing that comes to mind is the city's favourite outlet stores, which often roll out some huge discounts on big-name designer labels. There are also a few enormous malls dotted around the city, the largest of them all being The Florida Mall, which draws some 20 million visitors a year with its 250 fashion, electronics and homeware stores.
This being Orlando, it's no surprise that Disney gets in on the retail action, too. The Downtown hub of the city also promises some slightly less touristy shopping opportunities, in the form of markets and local boutiques.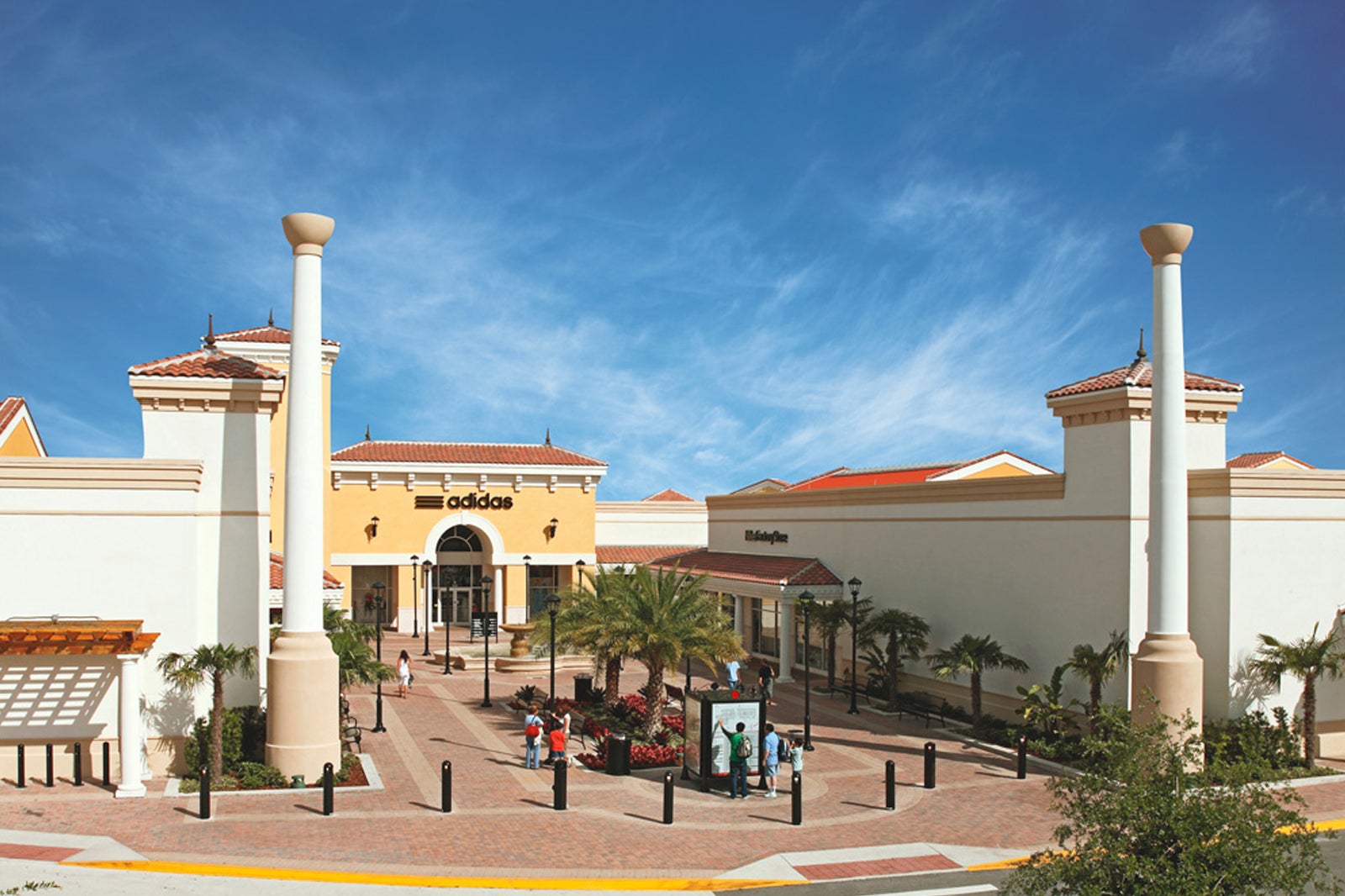 Orlando Premium Outlets at International Drive
Both locals and the throngs of tourists visiting Orlando love the whole outlet scene, and this giant store on International Drive is one of the best. In fact, many will make entire road trips from nearby states just to grab a bargain at Orlando Premium Outlets. Discounts are offered on a huge range of brands, including Adidas, Victoria Secret, Hugo Boss, Diesel, Levi's, Nike, Quicksilver, Ralph Lauren, Tommy Hilfiger – and about 100 more! With items plucked straight from the factory, expect discounts of up to 50%.
Location: 4951 International Dr, Orlando, FL 32819, USA
Open: Daily from 10am to 11pm
Phone: +1 407-352-9600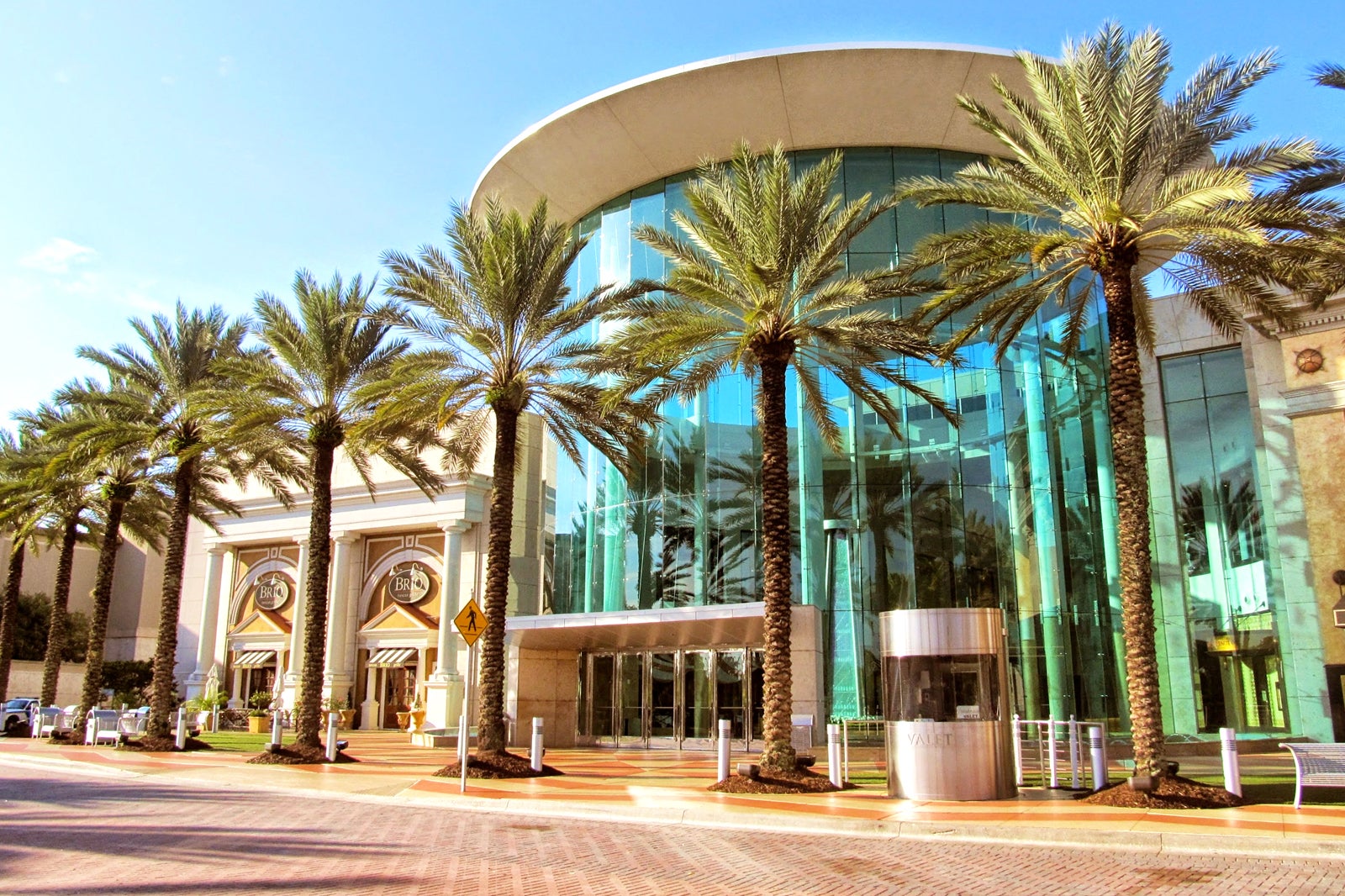 The Mall at Millenia is the place to go for some high-end shopping in Orlando. The stores in this indoor, multi-level shopping space include the likes of Louis Vuitton, Jimmy Choo, Burberry, Prada, Chanel, Cartier, Tiffany & Co, and Gucci. The building itself looks and feels the part, with spacious walkways, bright atriums and a glass roof all bringing Millenia more up to date than some of Orlando's other malls.
Location: 4200 Conroy Rd, Orlando, FL 32839, USA
Open: Monday–Saturday from 10am to 9pm, Sunday from 11am to 7pm
Phone: +1 407-363-3555
photo by Miosotis Jade (CC BY-SA 4.0) modified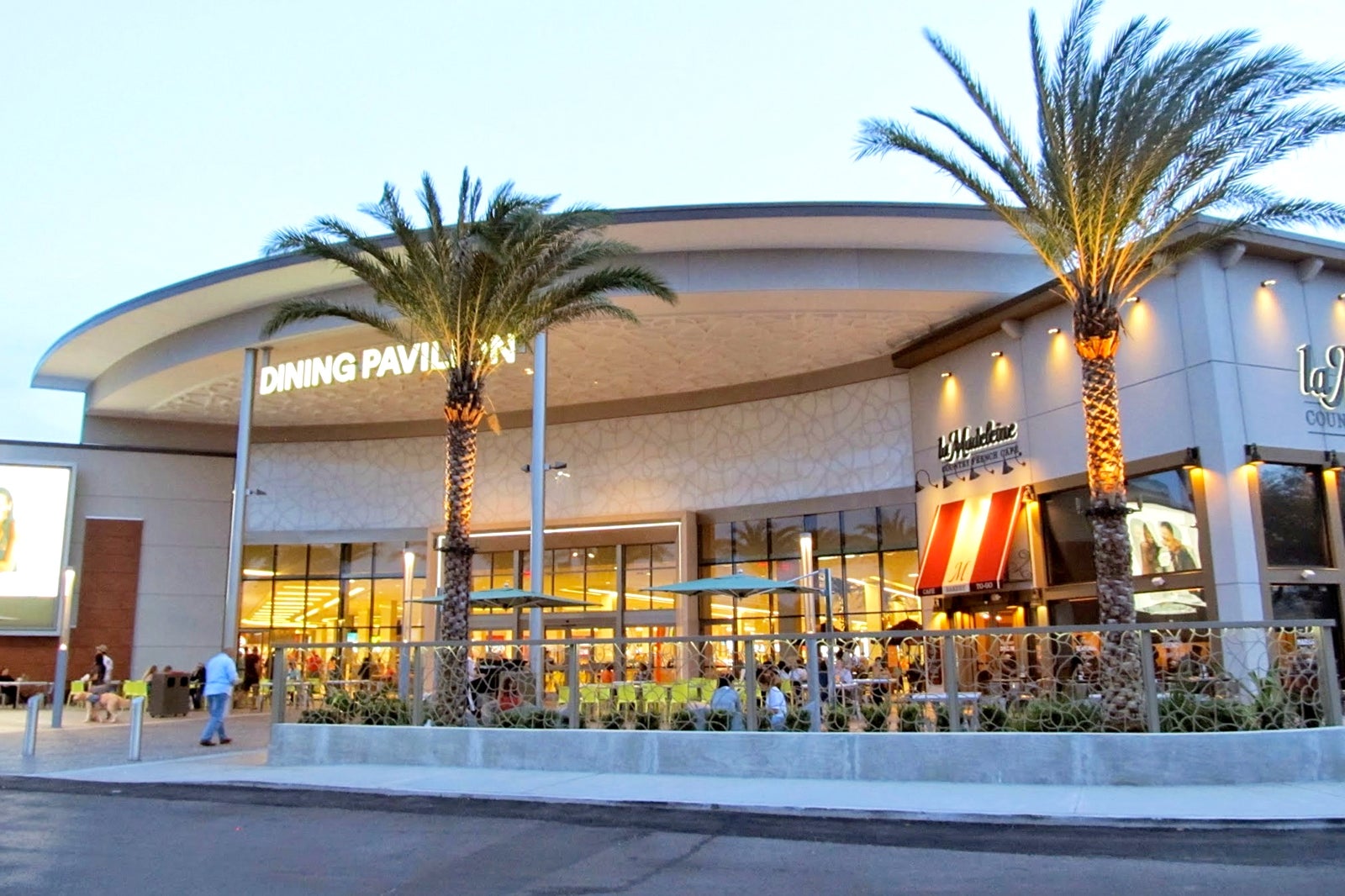 With over 250 stores and a whopping 20 million visitors every year (about the same as how many go through Universal's gates), The Florida Mall is easily the biggest and most popular place to shop in Orlando. There are over 2 million sq ft of space here, packing in everything from mid-range fashion chains to luxury designer brands, electronics, homeware, accessories and health and beauty. You can find a comprehensive range of dining options, with pretty much every big-name fast food joint in the country taking a spot at Florida Mall. The 510-room Florida Hotel is part of the shopping mall as well.
Read more
Location: 8001 S Orange Blossom Trail, Orlando, FL 32809, USA
Open: Monday–Friday from 10am to 9pm, Saturday from 10am to 10pm, Sunday from midday to 8pm
Phone: +1 407-851-6255
photo by Miosotis Jade (CC BY-SA 4.0) modified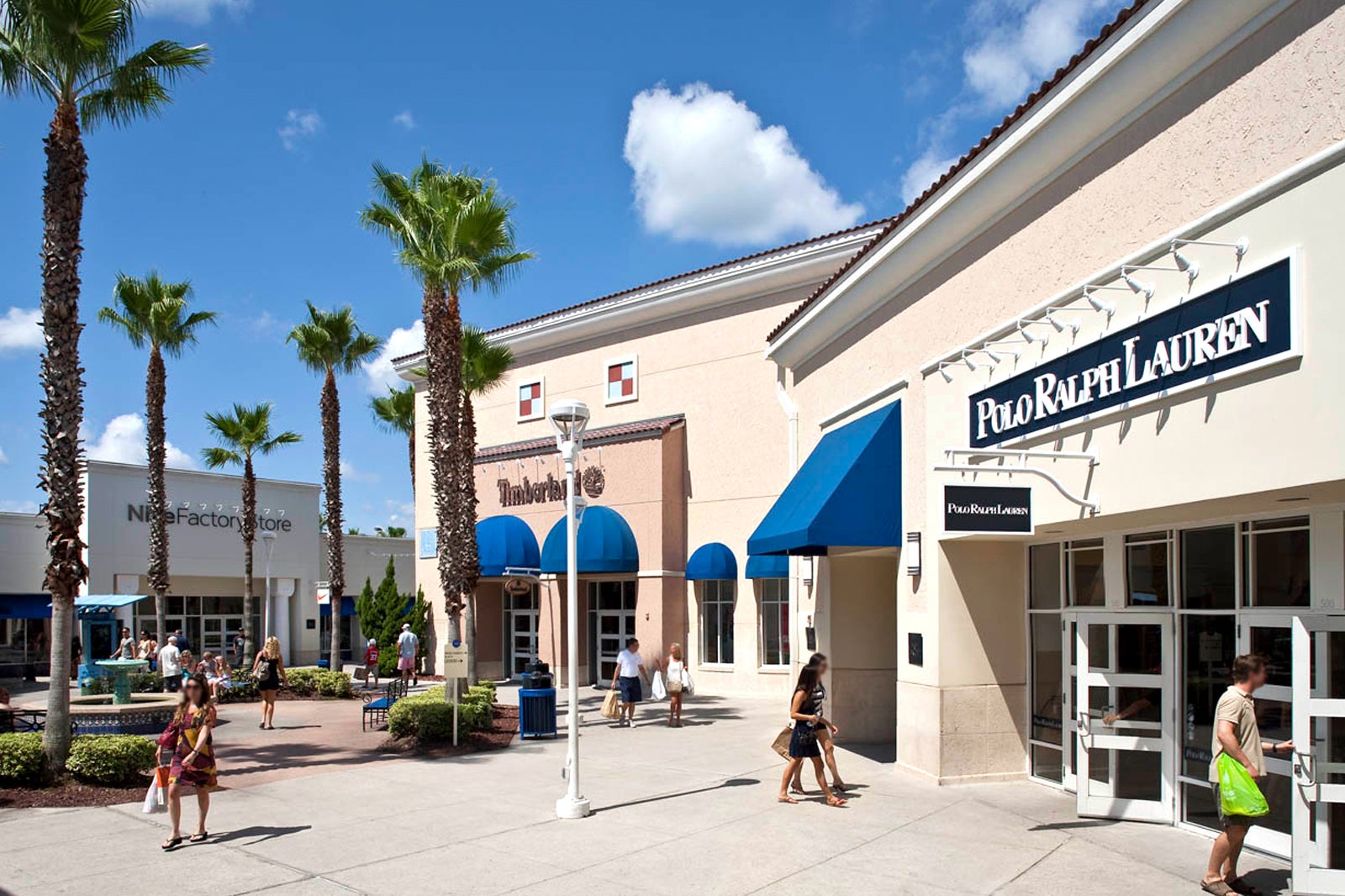 Orlando Premium Outlets at Vineland Avenue
If the sea of shoppers and designer brands at Premium Outlets International Drive becomes a bit overwhelming, you can always head down the road to its sister mall, Premium Outlets at Vineyard Avenue, for more…well, mostly shoppers and designer brands. The outlet stores here see smaller crowds (it's further away from downtown and not right next to Orlando), while the range of brands and discounts is almost identical, continuing the same outdoor community mall kind of vibe.
Location: 8200 Vineland Ave, Orlando, FL 32821, USA
Open: Daily from 10am to 11pm
Phone: +1 407-238-7787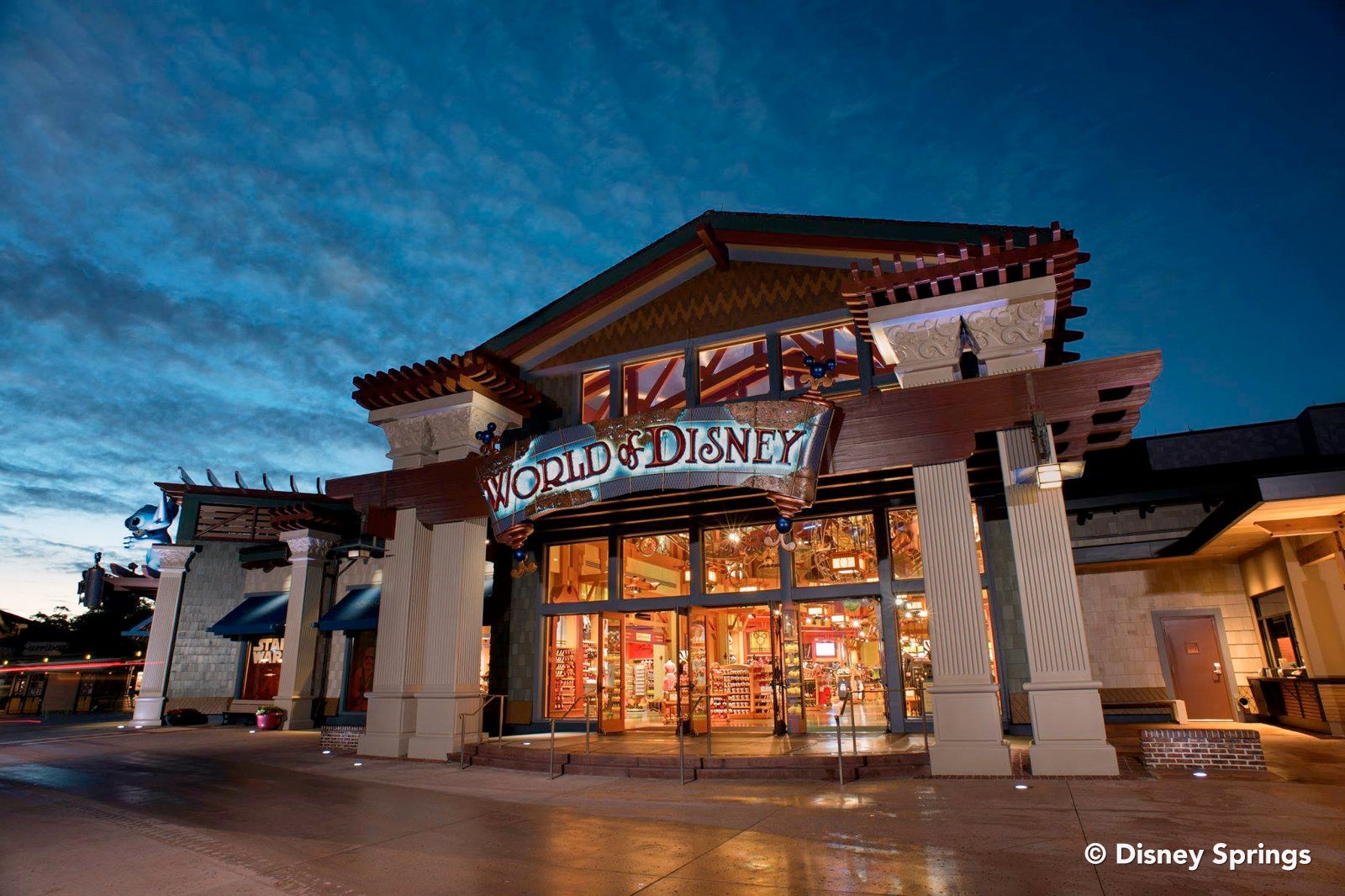 If you've come to Orlando with the kids to see Walt Disney World, then you simply cannot leave without at least a few Disney souvenirs. You don't need any kind of ticket to explore Disney Springs (formerly Downtown Disney). This retail, dining and entertainment district is all free to visit. As for what to buy, expect everything from top-name brands to Disney-inspired apparel, accessories, toys, home décor and memorabilia, as well as opportunities to customise many products.
Location: 1486 East Buena Vista Drive, Orlando, FL 32830, USA
Open: Daily from 10am to midnight
Phone: +1 407-939-6244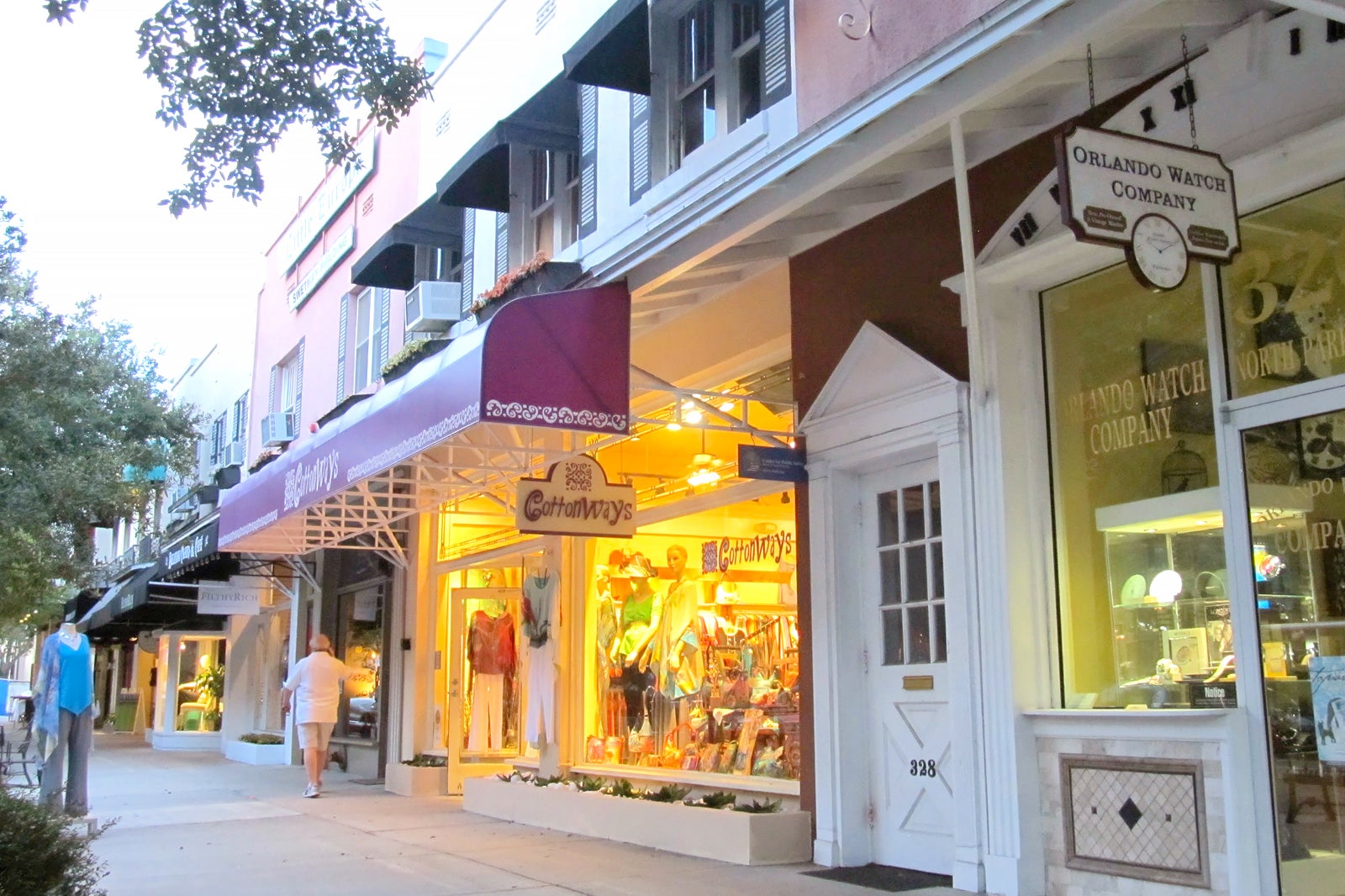 Winter Park Avenue is a cute collection of local boutiques, stalls and diners within a leafy suburb just north of Orlando's main metropolitan area. It's well worth a visit for a more 'local' shopping experience in Orlando. The quaint cobbled streets take you back to a time well before Disney and Universal arrived, although that doesn't mean it's easy to get a table at some of the bars and bistros here at the weekend. On the shopping front, expect local fashion designers, art pieces, homeware, handicrafts and accessory boutiques dotted around the main Winter Park Avenue and adjacent lanes, all easily explored on foot.
Location: Winter Park, Orlando, FL 37292, USA
photo by Miosotis Jade (CC BY-SA 4.0) modified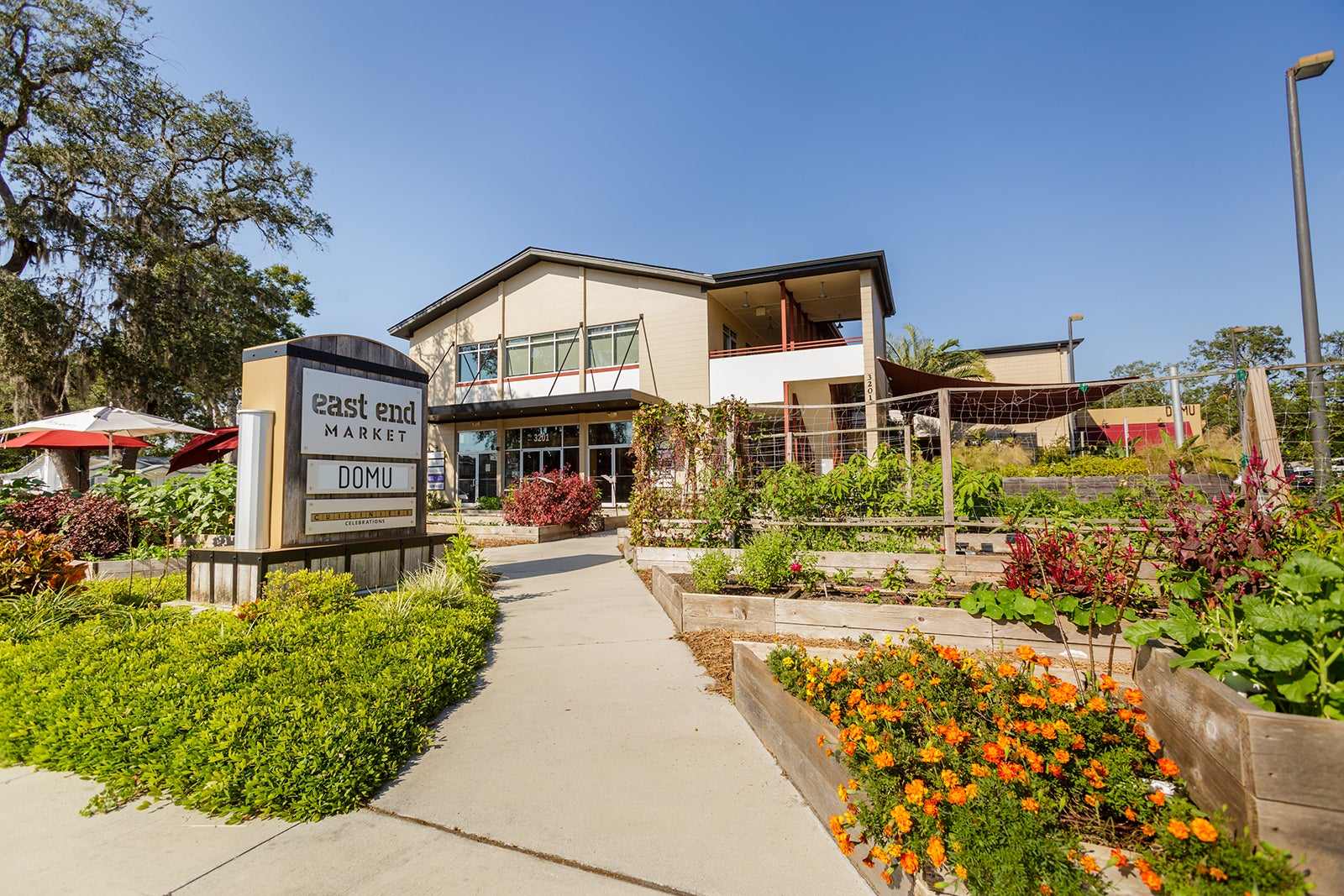 For something completely different – away from the world of malls, outlet stores and Disney – head over to Orlando's quaint East End Market, just a few minutes' drive northeast out of the downtown area. This 2-storey market-cum-arcade aims to showcase the best of what Central Florida has to offer in terms of cooked food, art, and fresh produce. The market also features some world-class restaurants, a large event space, a live-cooking area and office space. Check their website for upcoming special events.
Location: 3201 Corrine Dr, Orlando, FL 32803, USA
Open: Monday–Thursday from 8am to 7pm, Friday–Saturday from 8am to 9pm, Sunday from 11am to 6pm
Phone: +1 321-236-3316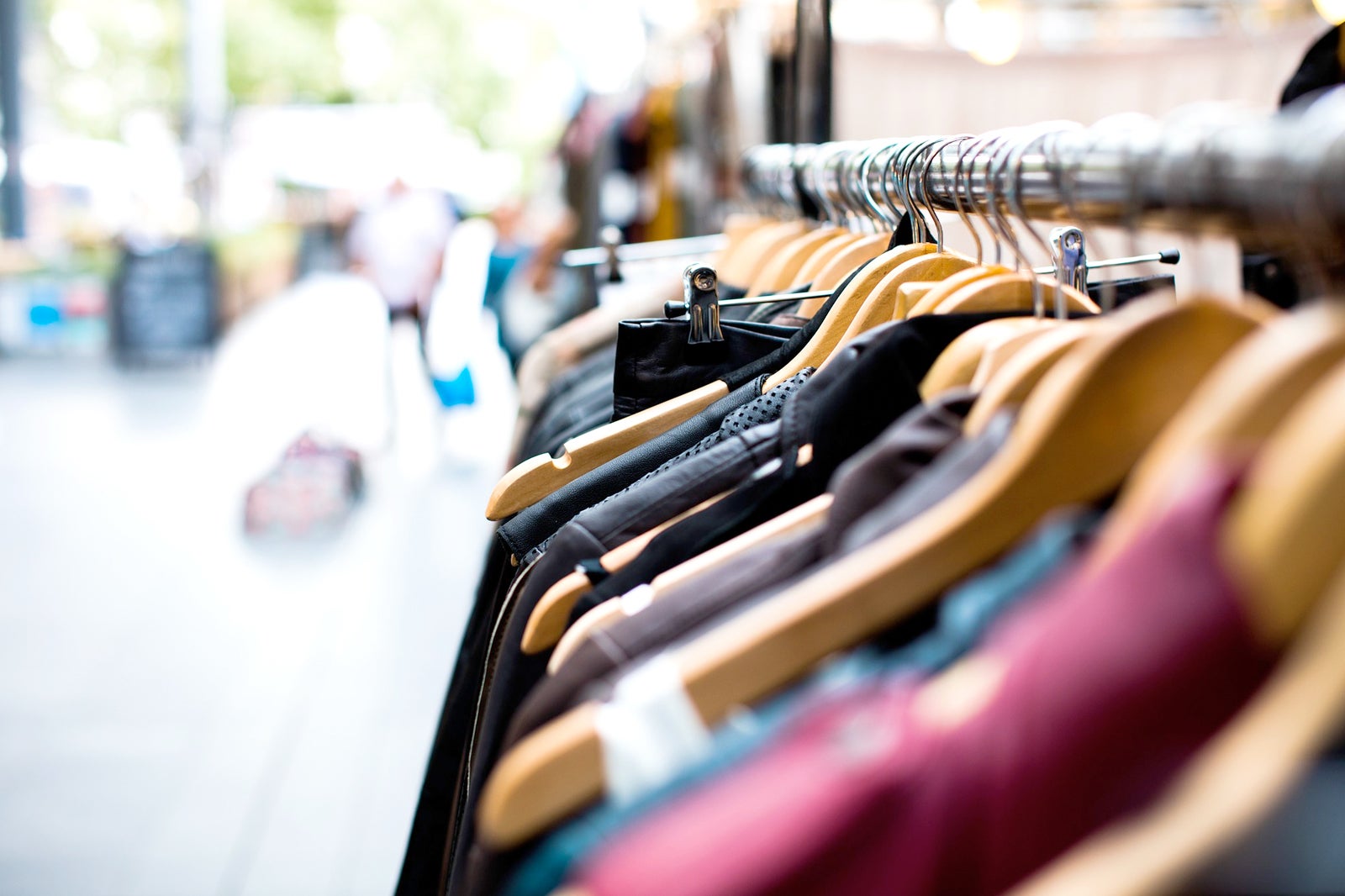 Lake Buena Vista Factory Stores
Lake Buena Vista Factory Stores is an outlet shopping mall that follows the same theme as the 2 Premium Outlets around International Drive. Rows of shops are set around an outdoor space, all offering big discounts on apparel and homeware taken straight off the factory line. The choice here is smaller, but so are the crowds. Stores include Reebok, Crocs, Calvin Klein, Justice, Tommy Hilfiger, Timberland, Fossil, Nike and a few dozen more. Discounts range from 20-70% off the usual price.
Location: 15657 S Apopka Vineland Rd, Orlando, FL 32821, USA
Open: Monday–Saturday from 10am to 9pm, Sunday from 10am to 7pm
Phone: +1 407-238-9301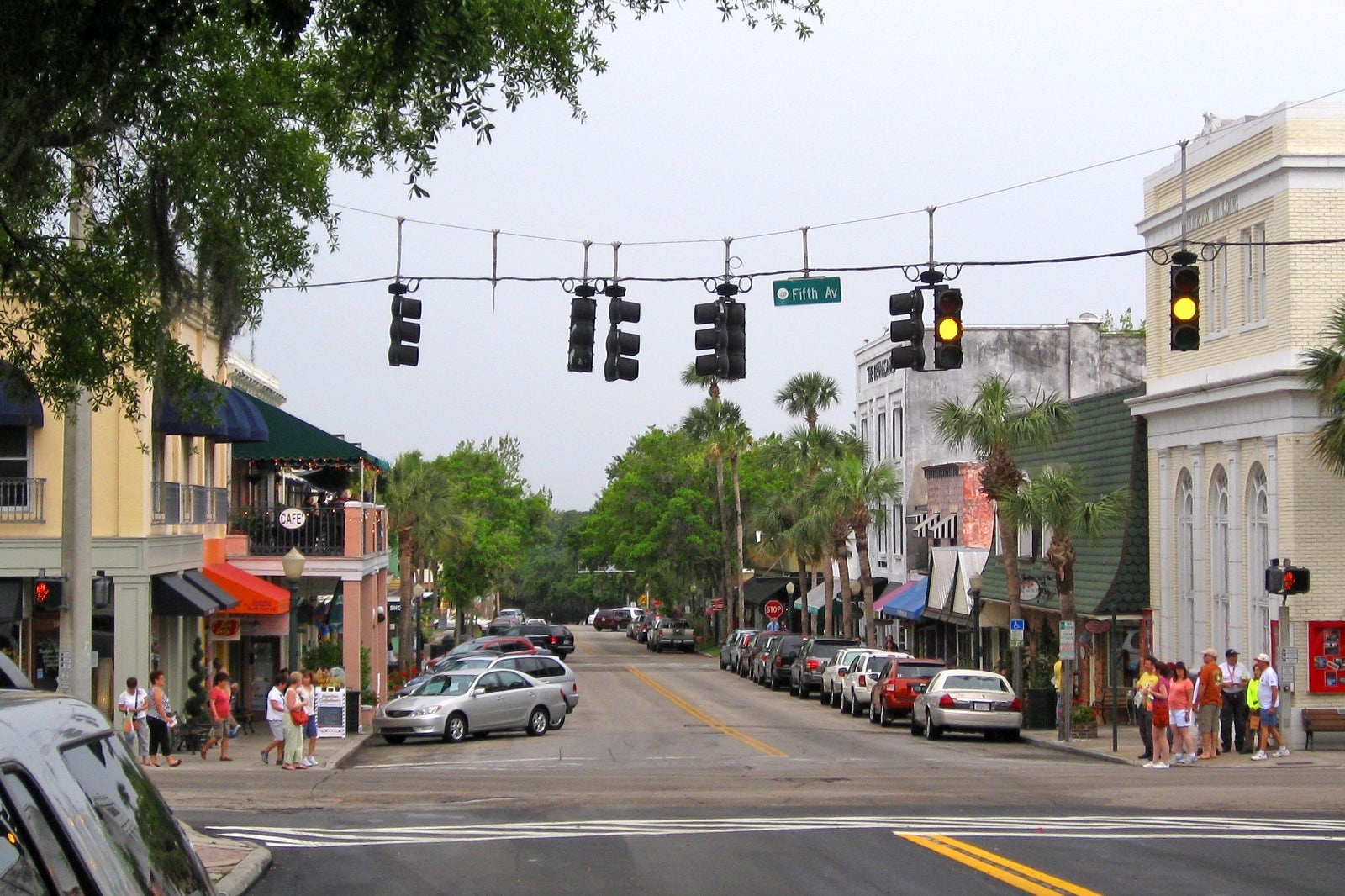 Mount Dora presents an excellent range of shops and dining options that are within a short stroll away from its picturesque namesake lake. The delightful town centre was once known as the "antiques capital" of the region, and while many fine antique and collectable stores remain, the shopping options have somewhat diversified. You'll find plenty of art galleries, fashion boutiques, gardening stores, home décor, jewellers, and wine cellars, all making this a highly recommended area to spend the afternoon browsing the shops. Most of the stores are found around 3rd-7th Avenue, which comprises the main town centre.
Location: Mt Dora, FL 32757, USA