14 Best Things to Do in Daegu
What is Daegu Most Famous For?
Daegu is one of the largest cities in South Korea, and coupled with its rich and ancient culture, it has a number of scenic attractions and beautiful mountains. Enjoy scenic views of the Palgongsan and the Apsan mountains, as well as historical sites dating back to the Silla periods and the Joseon Dynasty. The city's beautiful parks offer exquisite scenery, especially during fall and spring.
You can also spend time exploring unique museums, which showcase a number of artefacts dating back to ancient times. Check out our guide of Daegu attractions below for some ideas on what to do and see during your holiday.
What are the best things to do in Daegu?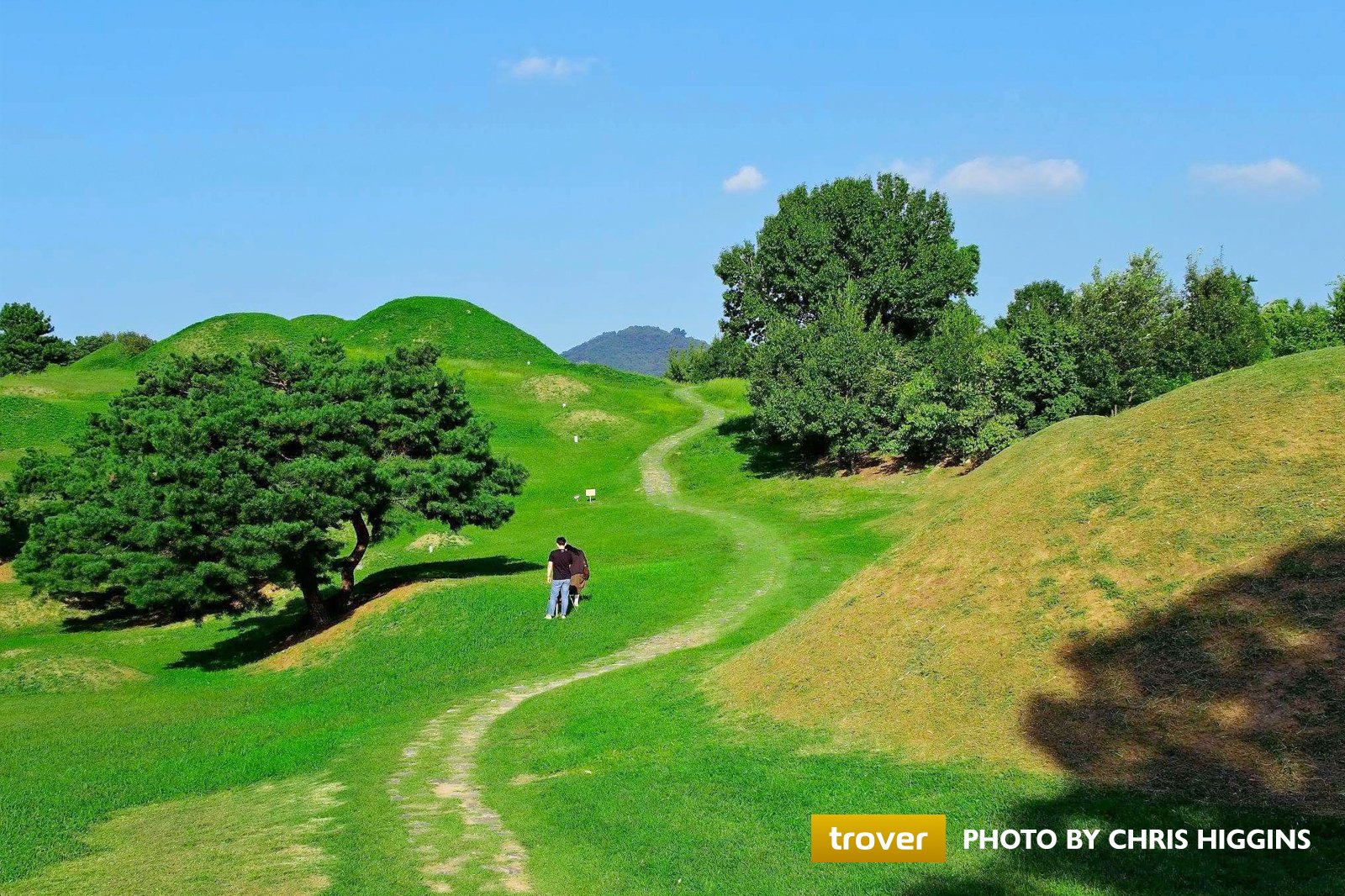 Bullo-dong Ancient Tomb Park
Bullo-dong Ancient Tomb Park is a mass burial site about 5 km north of Daegu city. It covers 330, 000 sq m, with around 200 grassy hillocks across the valley. These hillocks are known as tumuli or burial mounds, and they date back to the 2nd and the 6th centuries. The mounds are of nobles and commoners who lived during the period of Korea's Three States.
Location: 1-17 Bullo-dong San, Dong-gu, Daegu, South Korea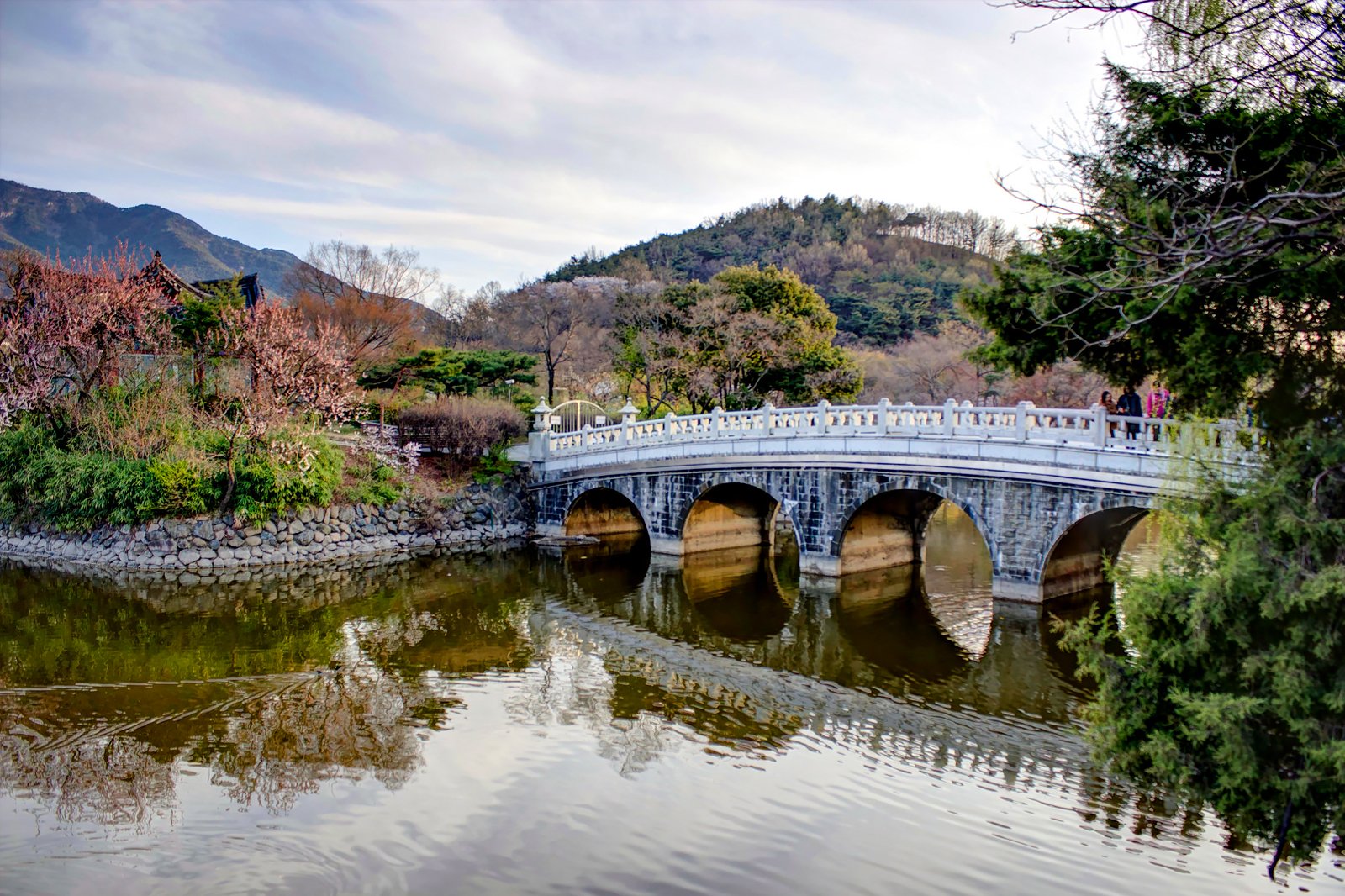 Duryu Park is home to Daegu Tower, one of the tallest observatory towers in South Korea. The park is also popular for leisure and cultural attractions – a must-see is Osaek Fountain, which is said to contain mineral water with healing properties. You can also explore Duryu Library, Daeseongsa Temple, and Geumyongsa Temple when you're visiting the park.
Duryu Park is usually busiest during spring, when cherry blossoms are in full bloom. There are more than 133 species of trees and plants within the lush green landscape. The park's facilities include a judo centre, a skating rink, swimming pool, and a tennis court.
Location: 36, Gongwonsunhwan-ro, Dalseo-gu, Daegu, South Korea
Phone: +82-53-625-1949
photo by Chris Anderson (CC BY-SA 2.0) modified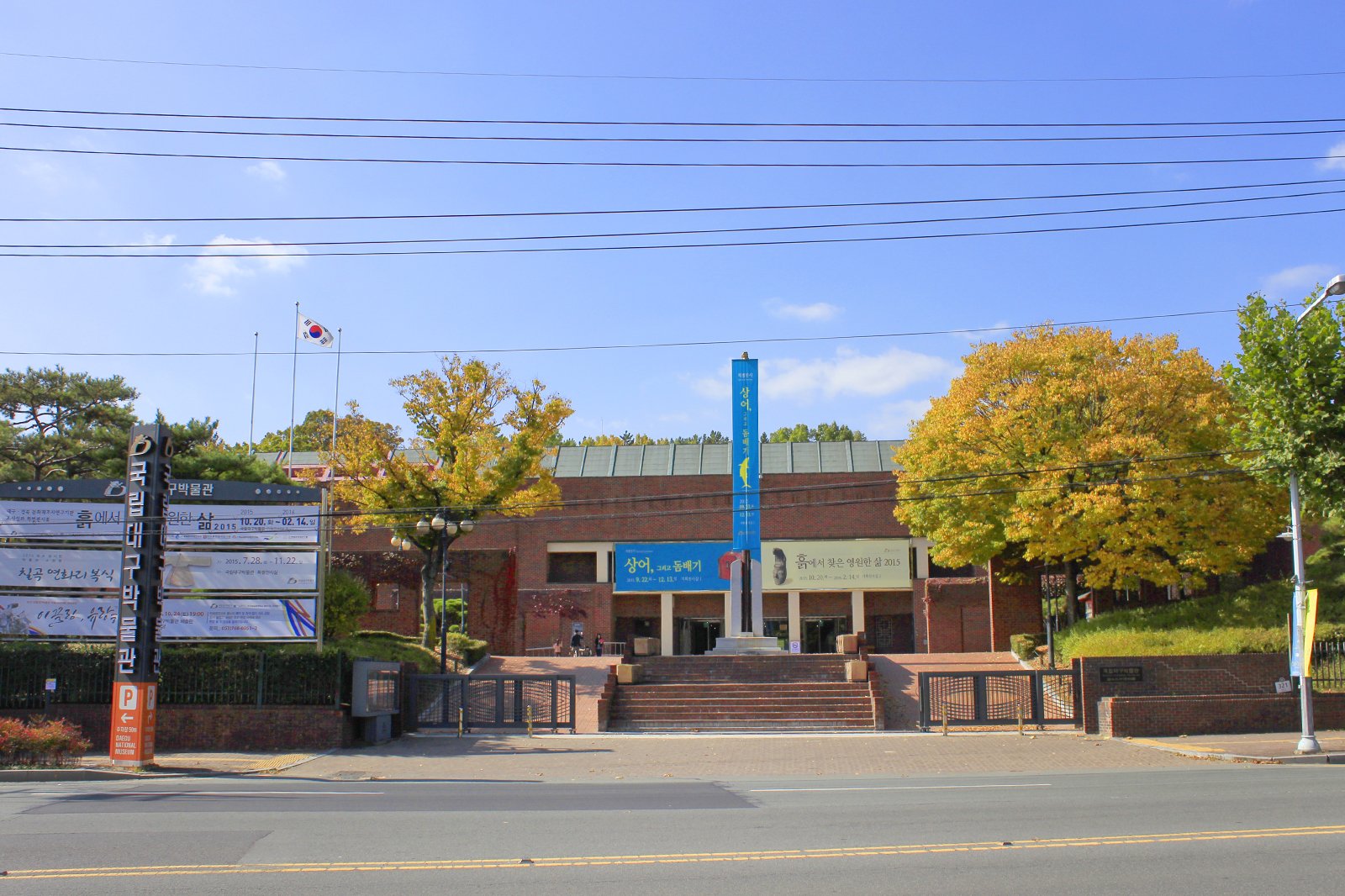 Daegu National Museum, one of the city's largest museums, showcases the unique heritage of Daegu and the Buddhist culture of Gyeongsangbuk-do Province. The museum has about 30,000 artefacts dating back to the Neolithic era and the Korean dynasties, as well as Buddhist crafts, sculptures, and statues.
Outside Daegu National Museum is a landscaped garden with several stone monuments that were excavated from several archaeological sites in Daegu. Must-sees include a 5-storey stone pagoda dating back to the Goryeo dynasty, a dwelling site from the Bronze Age, and a restored kiln from the Three Kingdoms period.
Location: 321, Cheongho-ro, Suseong-gu, Daegu, South Korea
Open: Tuesday–Friday from 9am to 6pm, Saturday–Sunday from 9am to 7pm (closed on Mondays)
Phone: +82-53-768-6051
photo by Trainholic (CC BY-SA 3.0) modified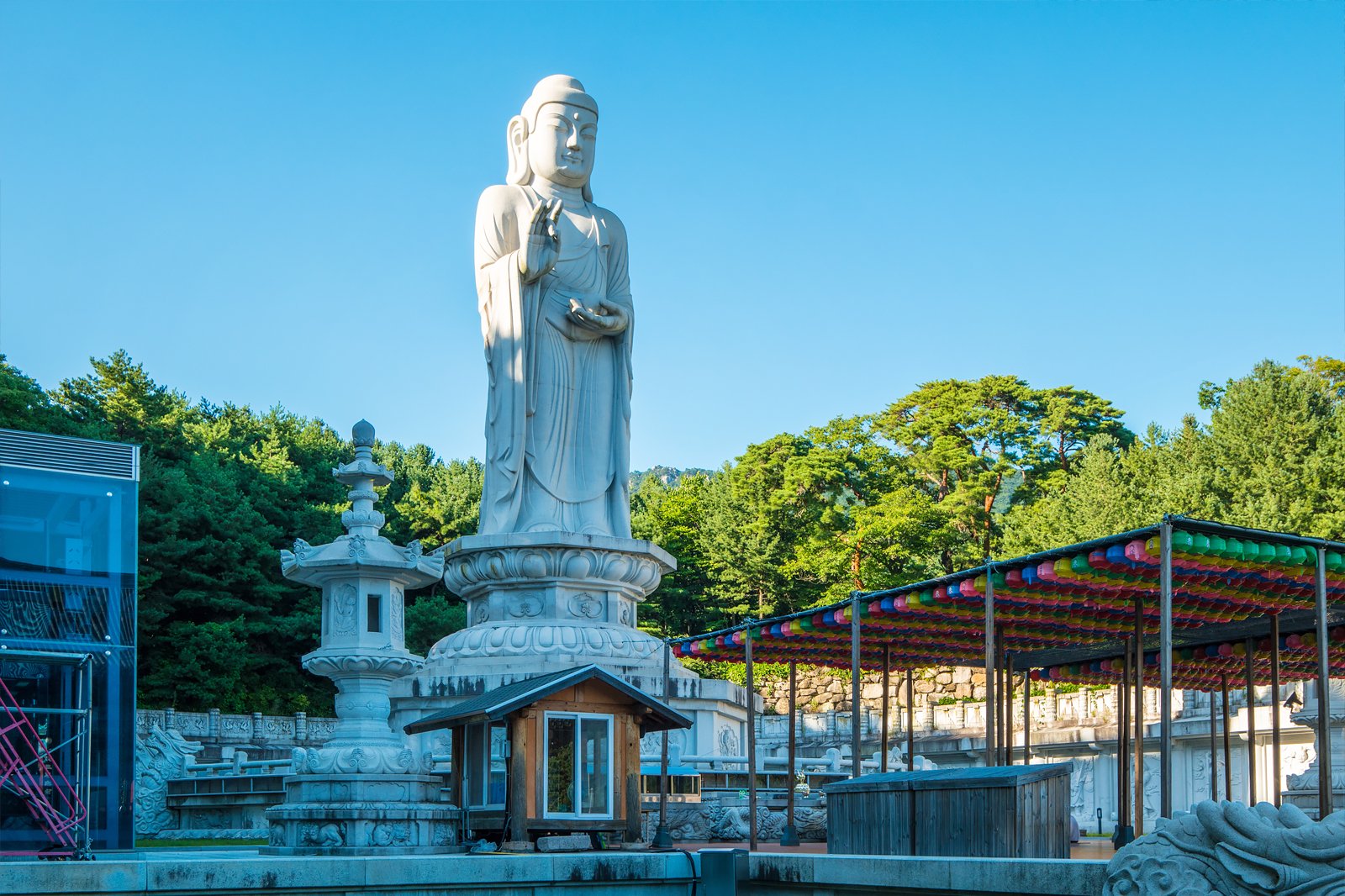 Donghwasa Temple (Temple of Winter Flowers) is an ancient shrine on the southern side of Palgongsan Mountain. It dates back to 493 AD, and was built by a monk named Guel-Dal during the 15th year of King Soji's reign.
The Buddhist shrine was named after the flowers of Paulowania trees that grew within its compound. The prayer halls and pavilions are decorated with stone statues of mythical creatures and Buddhist deities – check out the 17-metre-tall sculpture of Seokjoyaksa Yeoraebul, which was created as a petition to God for reunification.
Location: 1, Donghwasa 1-gil, Dong-gu, Daegu, South Korea
Phone: +82-53-980-7900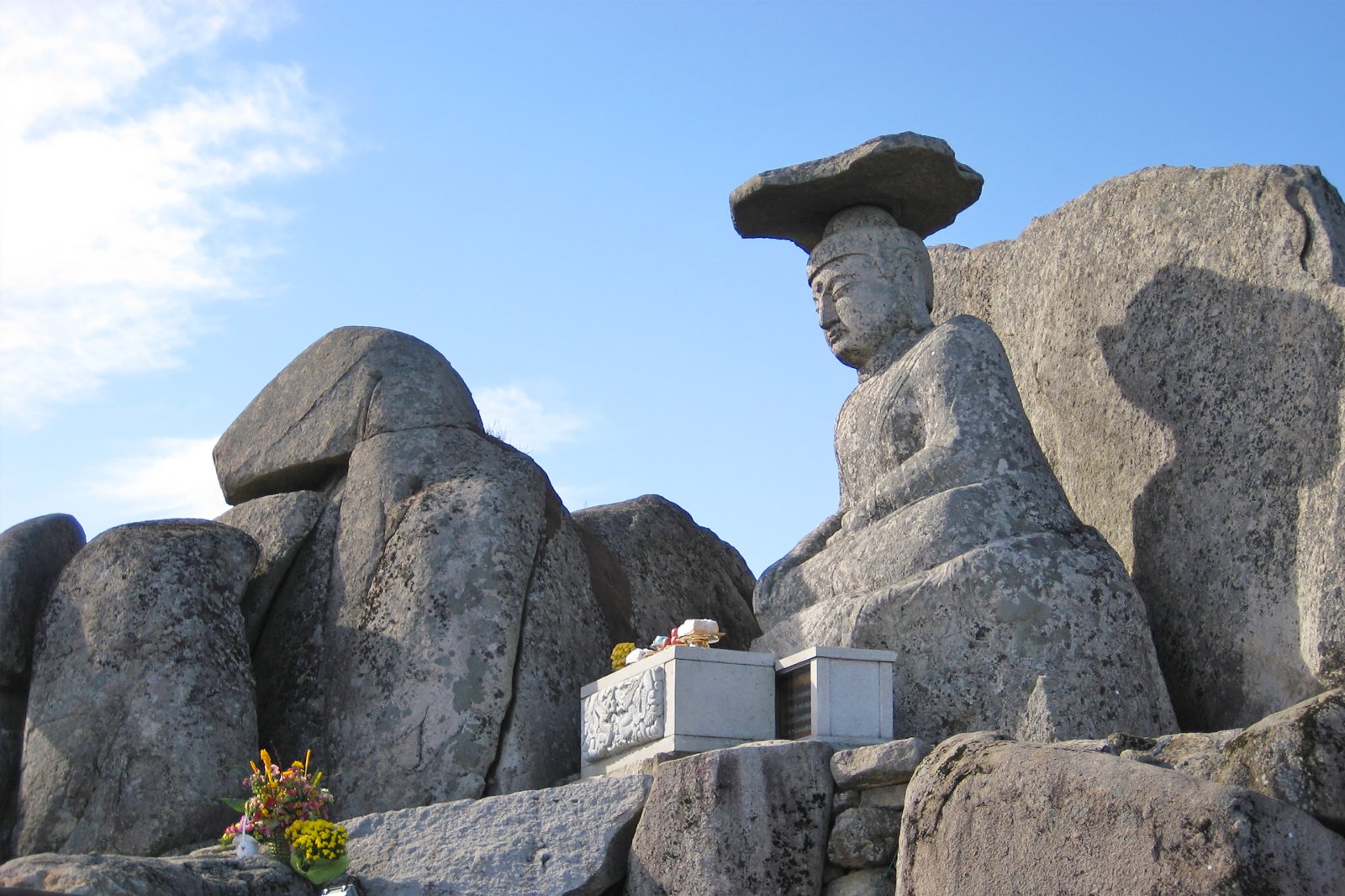 Seonbosa Temple lies on the top of Palgongsan Mountain, about 20 km northeast of Daegu city. Many locals embark on a 3-hour-long hike to this 9th-century temple, especially during Buddhist celebrations and on the 1st day of every month.
One of Seonbosa Temple's most visited landmarks is Gatbawi Buddha, which dates back to the 9th century According to legend, this stone statue is believed to grant at least one of your wishes.
Location: 35, Ganghak-gil, Gyeongsan-si, Gyeongsangbuk-do, South Korea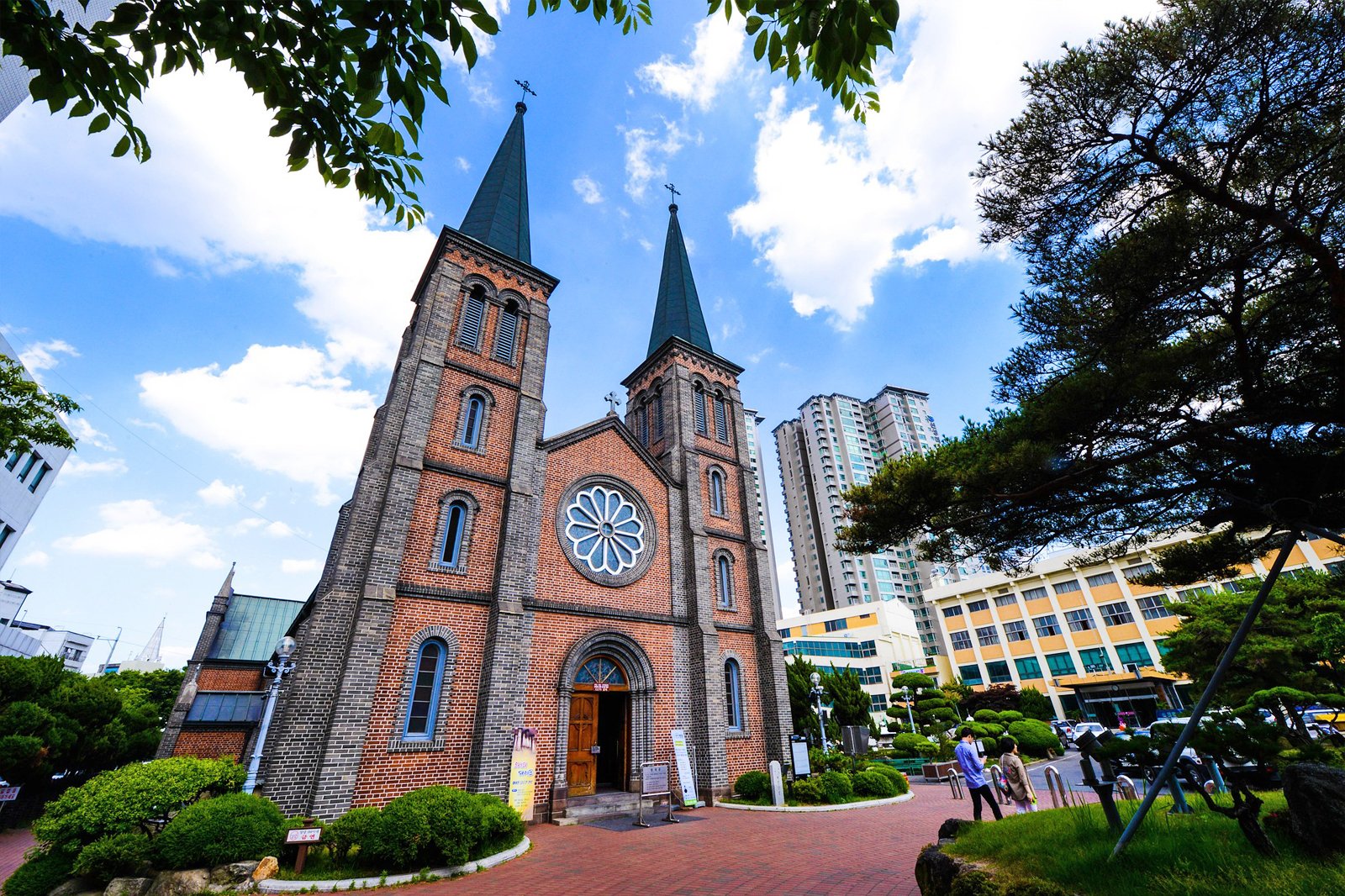 Gyesan Catholic Church, founded in 1900, is the city's only remaining building from that period. This cathedral is a mix of Romanesque and Gothic styles, with stained glass windows and pinnacles.
It serves as Daegu's main Catholic parish – there are several statues of the church's founder in the rectory, and a memorial hall containing the remains of 65 Catholic martyrs. Daegu Gyesan Catholic Church is the 1st Gothic-style church in the Yeongnam region and the 3rd in the whole of Korea.
Location: 10, Seoseong-ro, Jung-gu, Daegu, South Korea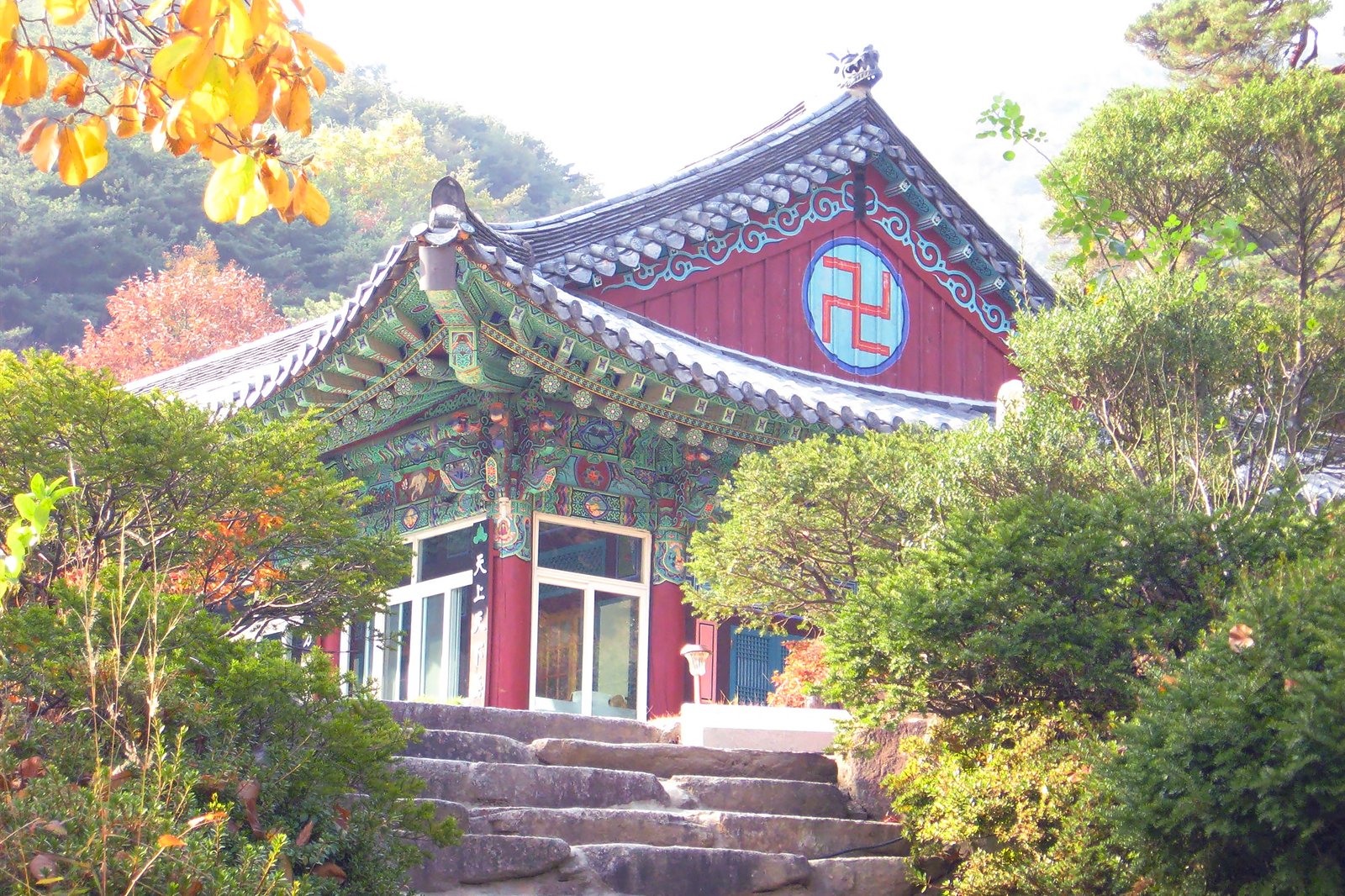 Pagyesa Temple was founded in 804 AD by Simjiwangsa of the Silla kingdom. It lies on the western edge of Palgongsan Mountain, about 20 km northeast of Daegu city. Locals believe King Yeongjo of the Joseon Dynasty had a special fondness for Pagyesa Temple. According to Korean folktales, the king was born after a 100-day prayer by a Buddhist teacher of the temple.
Surrounded by lush trees, this serene temple serves Daegu's Buddhist community. Before entering the main compound of Pagyesa Temple, you'll first pass through Jindong-nu Hall, which hosts important Buddhist ceremonies year-round. Another must-visit is the bell pavilion, where you can see traditional percussion instruments on display.
Location: 7 Jungdae-dong, Dong-gu, Daegu, South Korea
photo by Ken Eckert (CC BY-SA 4.0) modified
Daegu's Buinsa Temple dates back to the 7th century and serves an affiliate temple of Donghwasa Temple. It's also known as the memorial temple for Queen Seondeog of the Silla dynasty. A shrine for the queen was built within the premise, with memorial rituals taking place every 3rd lunar month.
One of the most popular attractions in Buinsa Temple is the west pagoda. It's believed to have been constructed during the unified Silla era. Entrance is free year-round, but you're welcomed to make a donation to the temple.
Location: 967-28, Palgongsan-ro, Dong-gu, Daegu, South Korea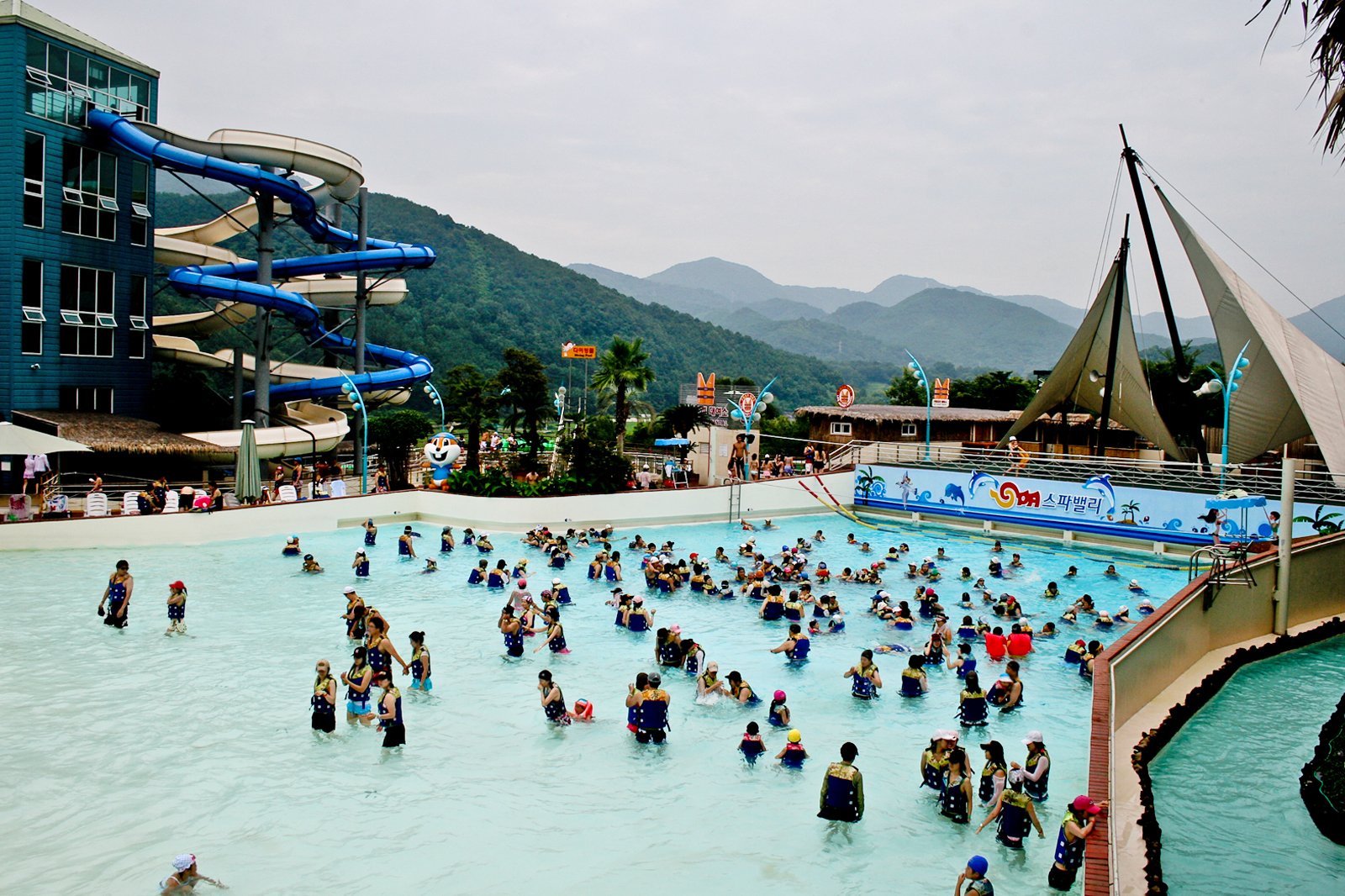 Daegu Spa Valley is a place to relax and enjoy the experience of hot springs. The indoor complex has a health club and souvenir store on the 1st floor, while the 2nd floor features several hot spring pools, steam rooms, a herbal bath pool, a kiddie pool, and a jjimjilbang (Korean bathhouse).
There's an outdoor water park, which consists of a youth pool, water polo pool, wave pool, waterslide, and a diving pool. Daegu Spa Valley attracts those looking to experience a traditional Korean spa treatment – the sauna-like jjimjilbang is known for improving blood circulation and skin complexion.
Location: 891, Gachang-ro, Gachang-myeon, Dalseong-gun, Daegu, South Korea
Open: Hours vary by season
Phone: +82-1688-8511
photo by Shawn Perez (CC BY 2.0) modified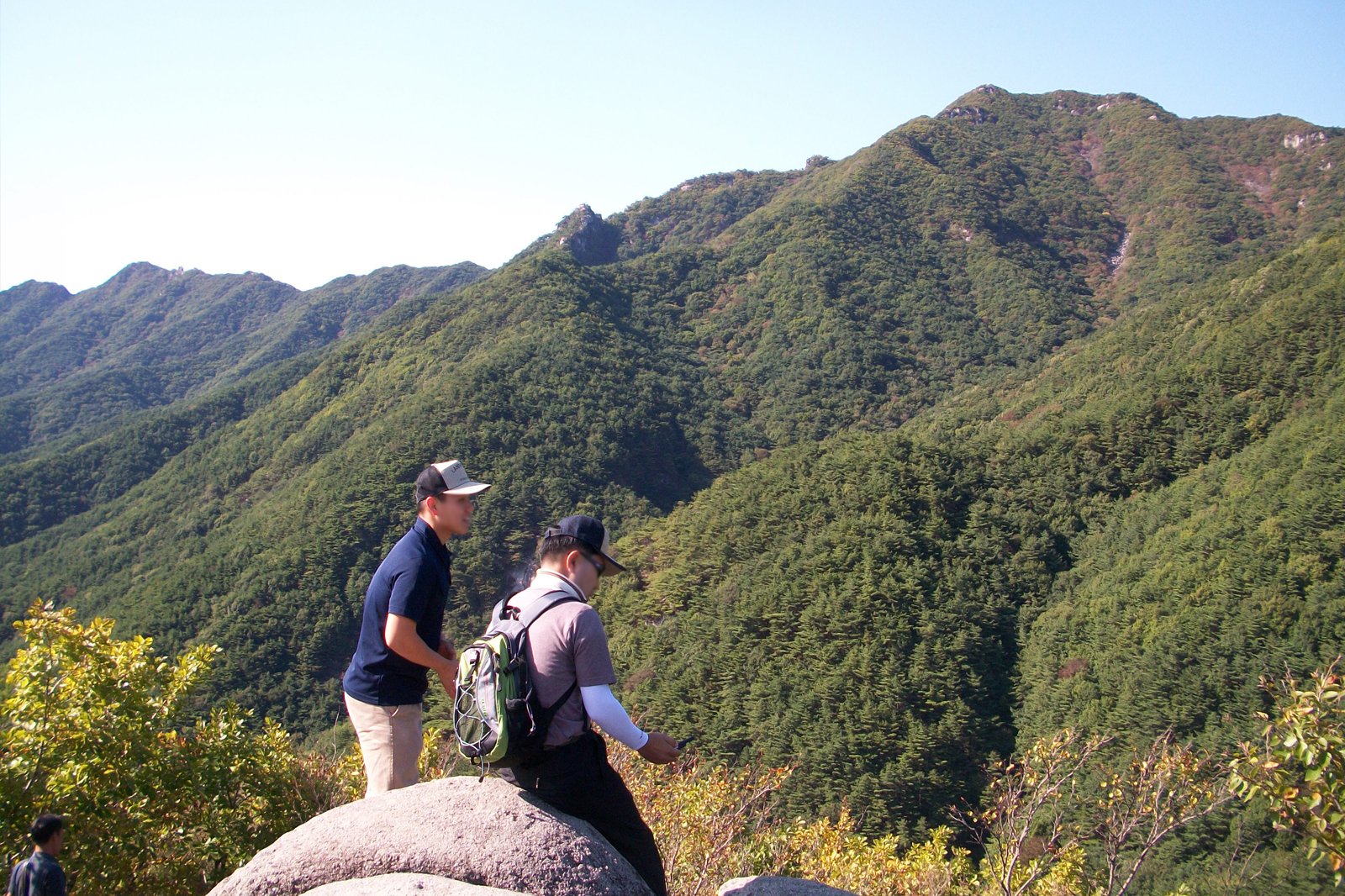 Palgonsan Natural Park is part of a beautiful mountain with magnificent granite formations, interwoven rock formations, thick forests, and beautiful valleys. Located 20 km northeast of Daegu city, the lush park attracts hikers with scenic trails that lead to Buddhist shrines, such as Donghwasa Temple, Seonbosa Temple, and Pagyesa Temple.
You can visit Palgonsan Natural Park just about any time of the year – see blooming azaleas in spring, enjoy fall foliage along a 15-km pathway within the park, and enjoy views of falling snow during wintertime.
Location: 229, Gatbawi-ro, Dong-gu, Daegu, South Korea
photo by adam nicholson (CC BY 2.0) modified
Daegu Bangjja Brassware Museum
The Daegu Bangjja Brassware Museum showcases bangjja (hand-forged bronzeware) that was once used for presenting royal court cuisine in South Korea. Bangjja dates back to the Bronze Age, and used throughout the Goryeo and Chosun dynasties.
The museum has 2 levels dedicated to exhibits, cultural experiences, and data research. The Brassware Cultural Hall is where you can learn about South Korea's brassware history via informative exhibits of authentic bangjja. The displays at the Reappearance Hall in the museum illustrates where brassware was first produced and traded.
Location: 29, Dojang-gil, Dong-gu, Daegu, South Korea
Open: April–October: Tuesday – Sunday from 10am to 7pm. November–March: Tuesday – Sunday from 10am to 6pm (closed on Mondays)
Phone: +82-53-606-6171
Yugasa Temple, located in the western valley of Mount Biseulsan, is one of the most secluded places in Daegu. The temple was founded by a Buddhist teacher named Doseongguksa in 827 AD. Thanks to its countryside location, it's quite popular among those who like to meditate.
The rock cliffs and the peaks surrounding the temple further add to its scenic beauty. Stone stupas near the temple date back to the Joseon Dynasty. The Buddhist hermitages of Doseongam and Sudoam Hermitage are just behind the temple.
Location: 144 Yang-ri, Yuga-myeon, Dalseong-gun, Daegu, South Korea
Daegu Culture and Arts Center
Daegu Culture and Arts Center showcases a variety of live performances year-round. It has an outdoor stage, an exhibition hall, and 2 performance theatres. The main theatre hosts opera, concerts and dances, while the other is mainly used for plays and solo recitals.
The outdoor stage can accommodate over 25,000 people, making it one of the largest in Korea. World-class musicals, plays, music concerts, and operas take place throughout the year. If you love art and music, the Daegu Culture and Arts Center is a must-visit. Make sure you book your tickets in advance.
Location: 201, Gongwonsunhwan-ro, Dalseo-gu, Daegu, South Korea
Open: Hours vary by show and exhibition
Phone: +82-53-606-6114
Biseulsan Recreational Forest
Biseulsan Recreational Forest has a number of notable rock formations, pure streams, and beautiful cliff walls. Located between 2 mountain peaks in Dalseong-gun, this family-friendly spot has a water playground for children, camping grounds, and forest cabins for rent.
Spring is one of the best times to see beautiful pink azaleas in full bloom. During winter, Biseulsan Recreational Forest transform into an outdoor theme park, with icicle hills, snow sleds, ice gardens and caves.
Location: 230, Hyuyangnim-gil, Yuga-myeon, Dalseong-gun, Daegu, South Korea
Phone: +82-53-659-4400