9 Best Nightlife in Canggu
Where to Go and What to Do at Night in Canggu
Enjoy the best nightlife in Canggu at beach bars, clubs and hip hotspots spread throughout the coastal area. Canggu's nightlife scene used to be somewhat lower-key compared to neighbouring Seminyak. But this favourite surf destination and residential area for Bali's expatriate community gradually evolved, now being home to some of Bali's most prominent after-hour hangouts.
Many of the best places to go at night in Canggu are literally on the sand, popular with surfers looking for cold beers, meals and good music. The sweeping seascapes with dramatic sunsets make it all better. The crowd is often a mix of Canggu expats as well as Kuta and Seminyak regulars who are simply looking for a change of scene and ambience.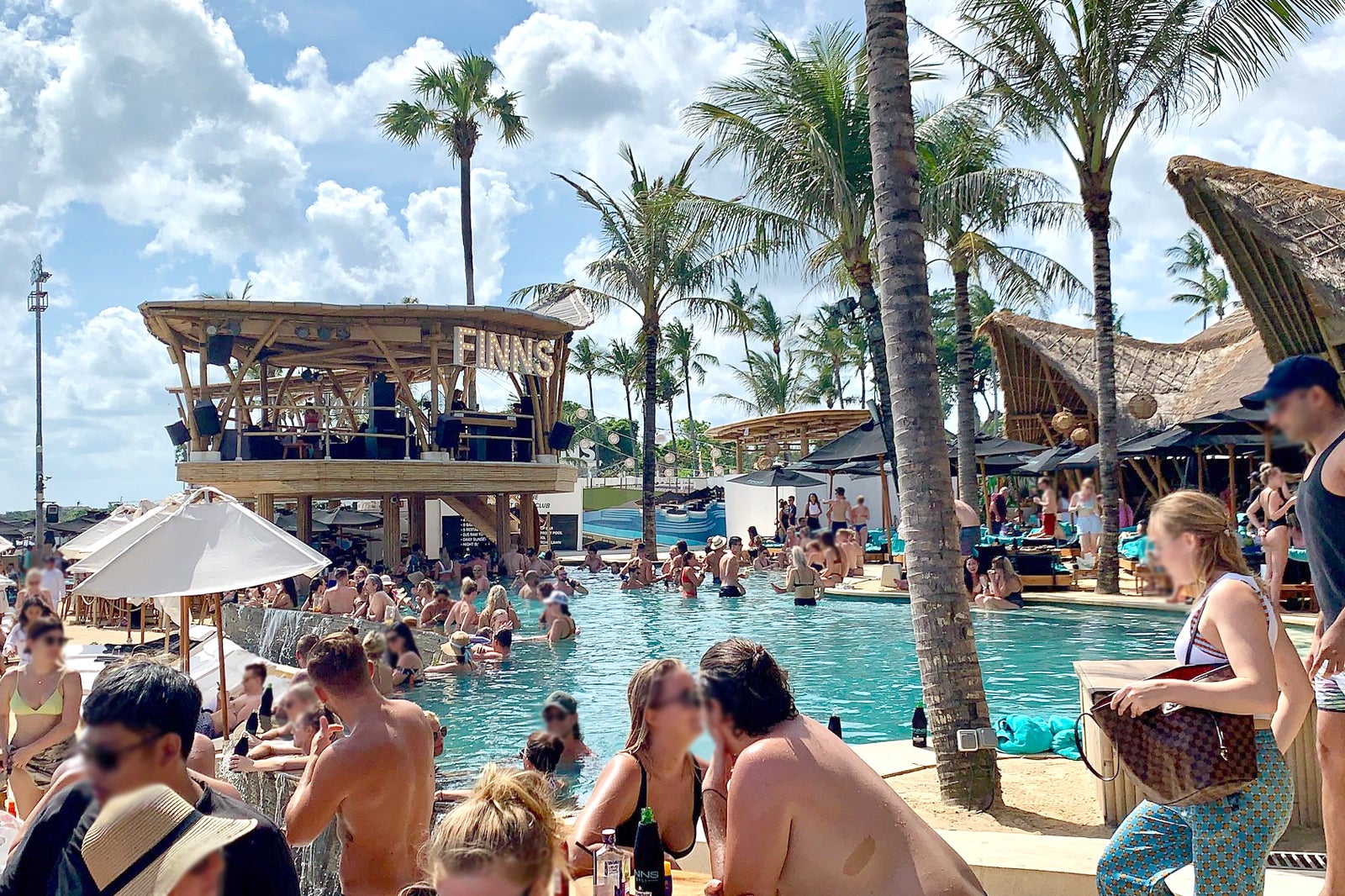 Finns Beach Club is probably the chicest hangout at Berawa Beach, with its magnificent all-bamboo structure and stylish lounging spaces. The bar overlooks a blue-tiled freeform infinity pool and setups around the poolside are great for lounging at sunset. Finns regularly after-dark parties where you'll often be treated to live music performances by international guest DJs.
Finns Beach Club also plays host regularly to specialty events. These include fitness and bodybuilding championships, catwalks and product launches with interesting promo deals. A minimum spend usually applies and varies for each event. The regular cover charge per person also gets you a towel.
Location: Jalan Pantai Berawa, Tibubeneng, Canggu, Badung, Bali 80361, Indonesia
Open: Daily from 9am to midnight
Phone: +62 (0)361 8446327
photo by Dion Hinchcliffe (CC BY-SA 2.0) modified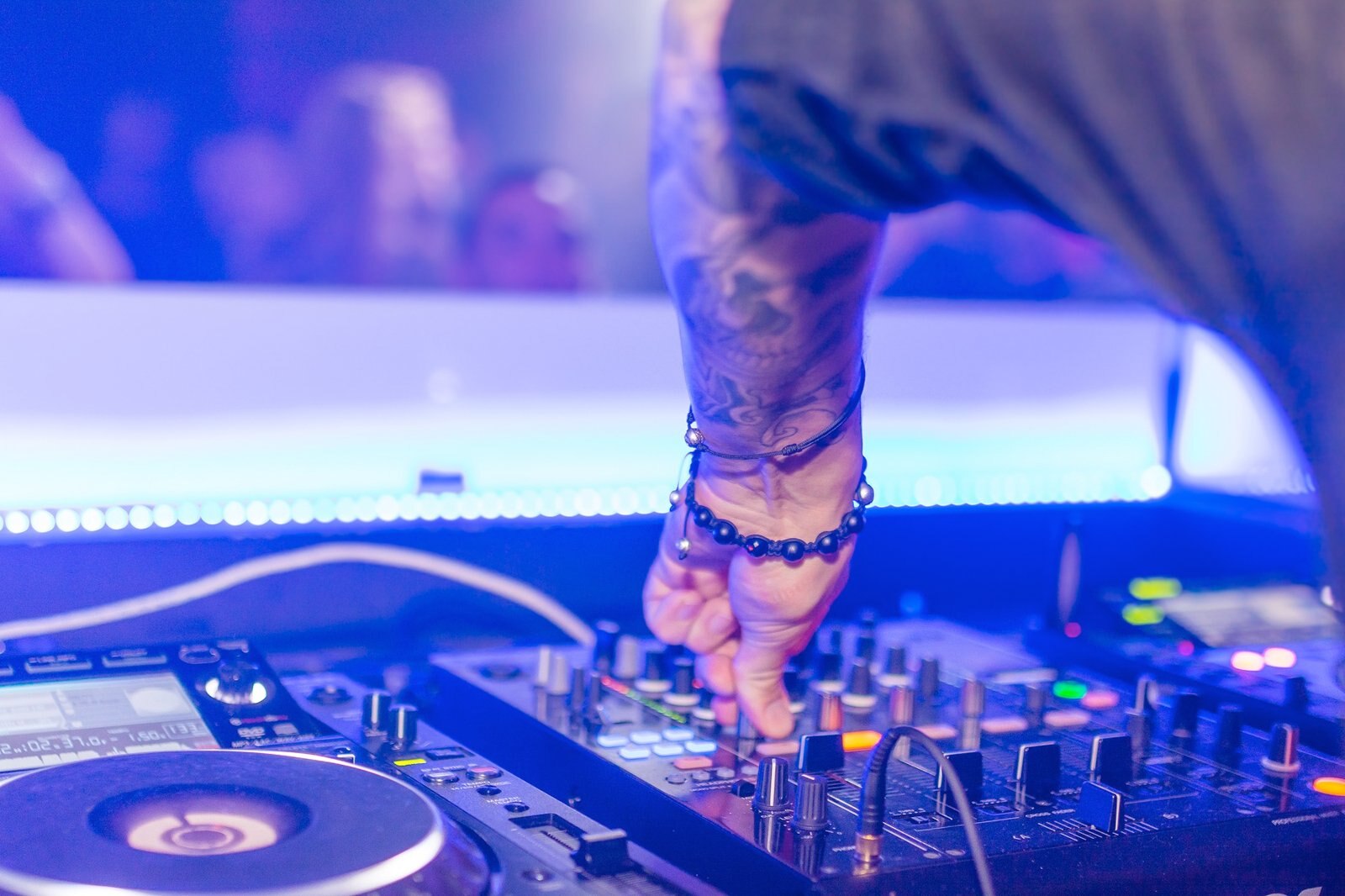 Head down to Old Man's, a hip beer garden near the dark sand beachfront of Batu Bolong Beach, for laidback vibes in Canggu. The bar's thatched-roof pavilion is perfect for hanging out with friends and to cool off during the day. There is seating that ranges from benches under wide Balinese style parasols to striped and colourful beanbags for lounging over a green lawn.
You can kick back with a cold Bintang at hand and enjoy some simple meals such as burgers, fries and salads. The fun and friendly atmosphere takes on a wilder partying scene after the sun sets, particularly during Old Man's weekly party nights that often features drinking, ping-pong and beer pong matches.
Location: Jalan Pantai Batu Bolong No.117X, Canggu, Badung, Bali 80351
Open: Daily from 7am to 1am
Phone: +62 (0)361 8469158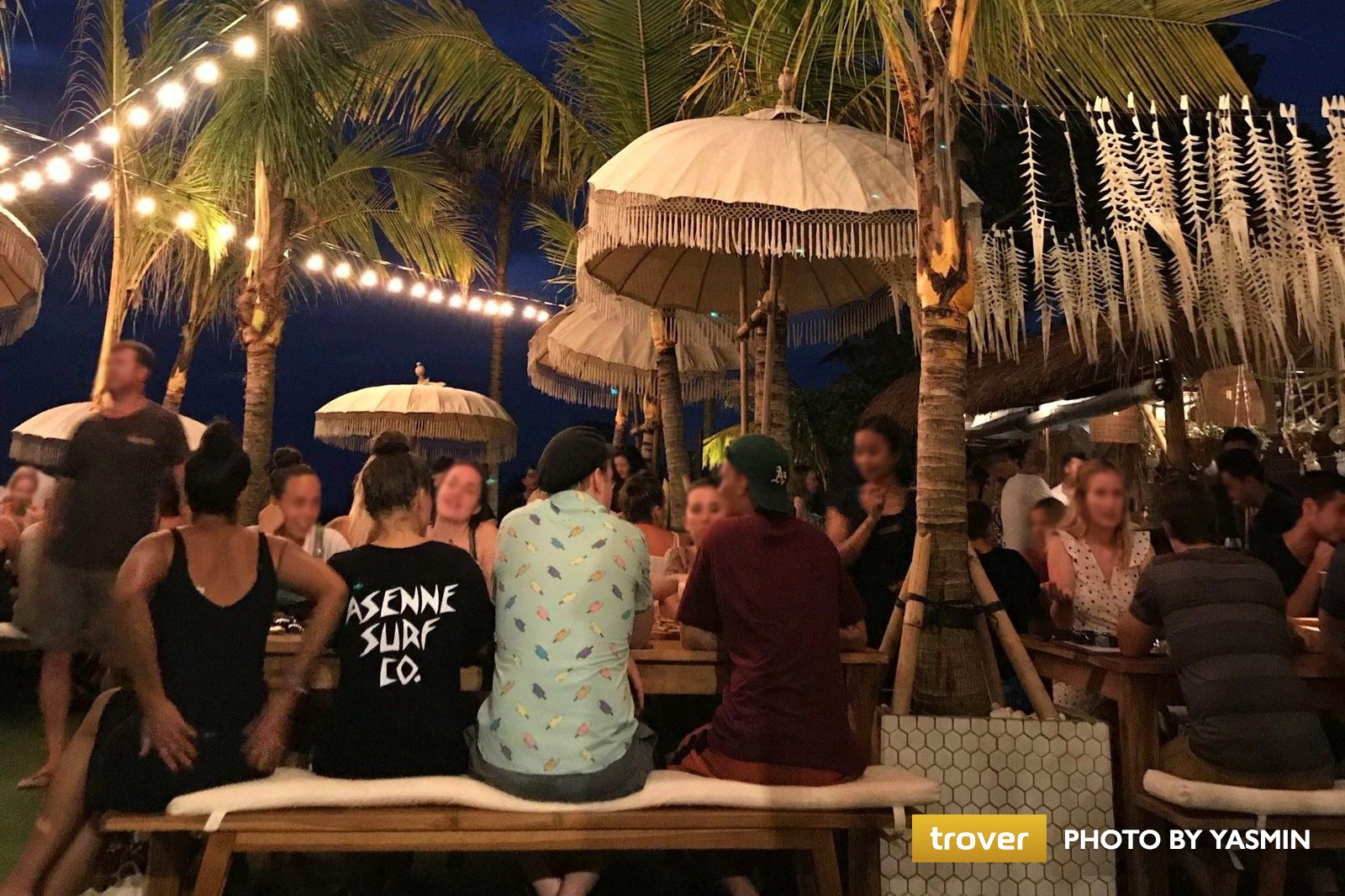 The Lawn is a breezy seaside venue beside the Hotel Tugu Bali in Canggu is a favourite weekend spot for lounging with family or friends. There's an extensive international grazing menu available, as well as a wide selection of signature cocktails served from a bar. You can settle down on tatamis, or sink into beanbags laid out on its green lawn.
You can enjoy great sunsets with the exotic seascape of Batubolong Beach in view. Tasty seafood morsels include tuna ceviche and locally-inspired delicacies such as Balinese babi guling roast pork belly. There are Bintang and Heineken (bottled or on tap), as well as San Miguel and Albens ciders and a selection of reasonably priced cocktails.
Location: Jalan Pura Dalem, Canggu, Badung, Bali 80361, Indonesia
Open: Daily from 10am to 11pm
Phone: +62 (0)821 45927396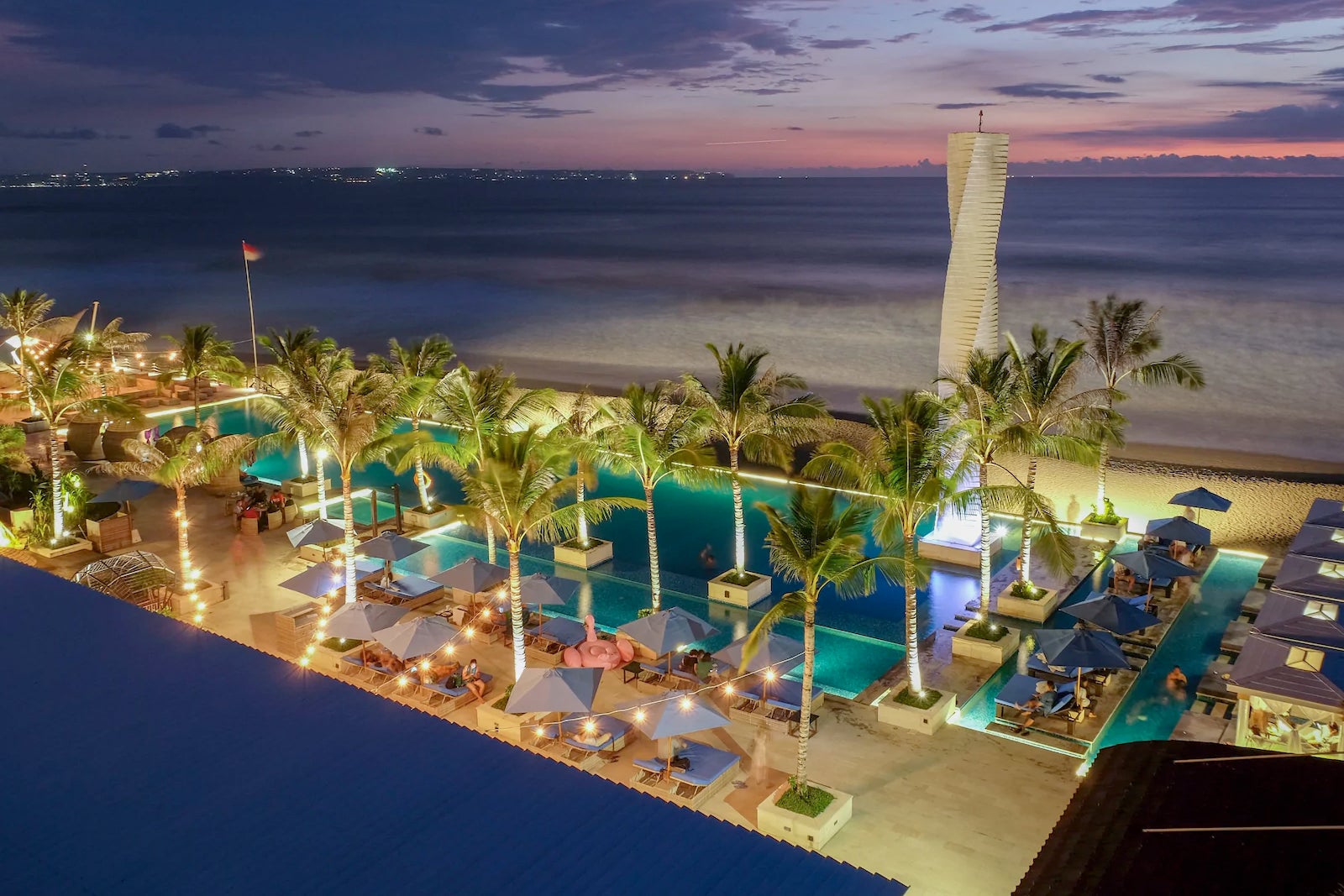 Vue Beach Club is part of the Lv8 Resort Hotel and overlooks the secluded beachfront of Berawa Beach and a small lagoon. It offers you great views to the rolling surf as well as the Canggu sunsets from its raised position. The club's massive swimming pool overlooks the beach and is surrounded by a generous sundeck dotted with beanbag chairs, sunbeds and gazebos. Enjoy elaborate cocktails served at the bar, while DJs regularly spin their turntables at the decks.
The music ranges from ambient house to pumping EDM, depending on the event and time of the night. There's no minimum order for the beanbag chairs and tables but you'll need to pay extra if you want to use the pool.
Location: Jalan Pantai Berawa No.100XX, Tibubeneng, Canggu, Badung, Bali 80361, Indonesia
Open: Daily from 9am to 10.30pm
Phone: +62 (0)361 8948888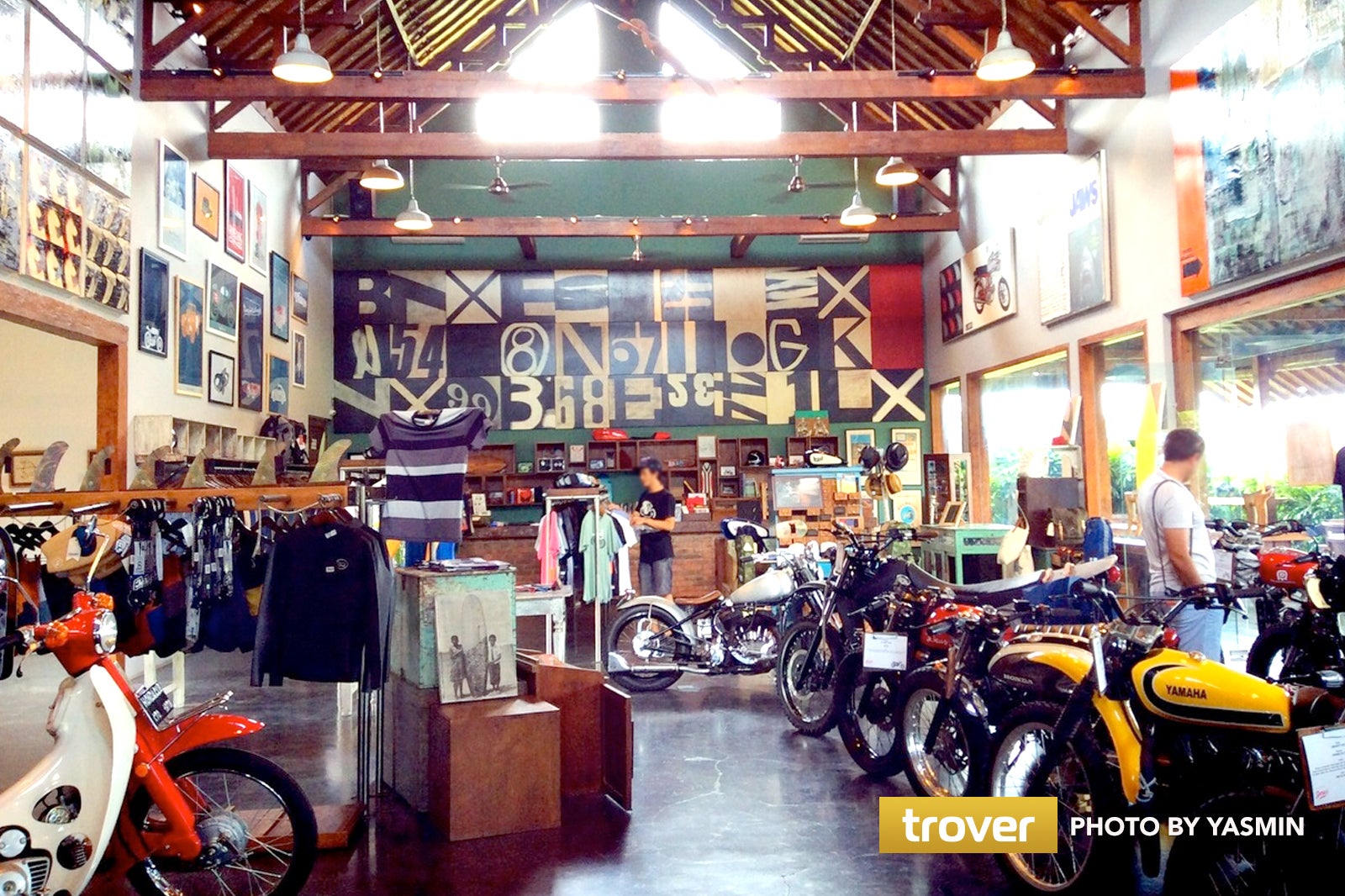 Deus Ex Machina - Temple of Enthusiasm
The café at Deus Ex Machina is the extension of the cool Aussie surf and motorsports enthusiast's company on Jalan Batu Mejan in Canggu. You can chill in the evenings with vintage motorbikes and surfboards in close view through its showroom. There's also an art gallery where regular pop art and contemporary exhibitions are held onsite.
Deus Café offers tasty treats and a range of drinks – from espresso to cocktails – all the while basking in the cool Canggu paddy breezes. The bar stocks a good selection of New World wines, while Deus custom cocktails include Mai Tai, Sea Breeze and sidecar. You can also order cocktails for sharing, served in 1-litre jugs.
Location: Jalan Pantai Batu Mejan No.8, Canggu, Badung, Bali 80361, Indonesia
Open: Daily from 7am to midnight
Phone: +62 (0)811 388 150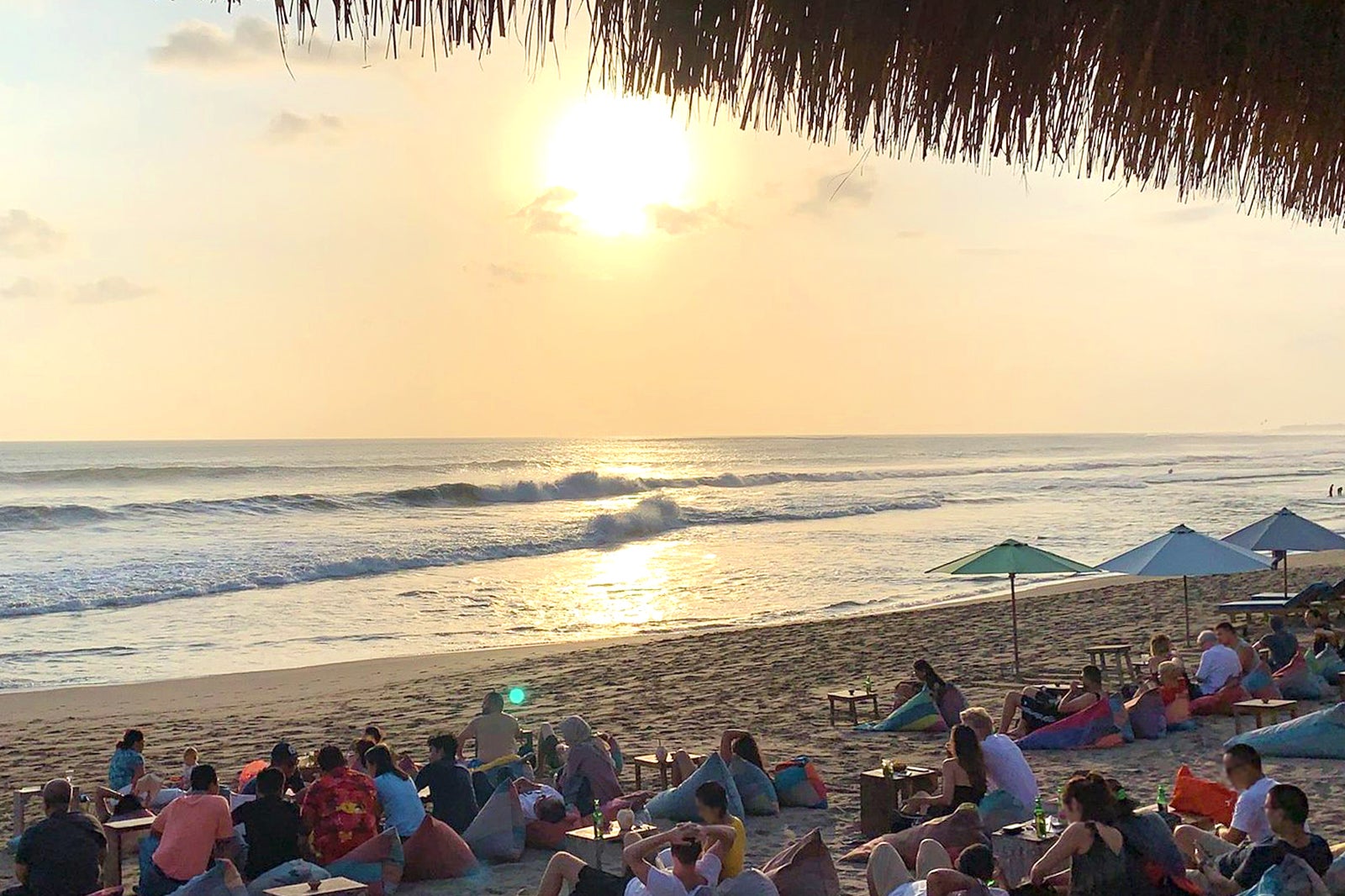 707 Beachberm is a laidback beach bar on the dark sand coast of Batubelig Beach, between Seminyak and Canggu. It's far north from the bustle of Legian's Double Six strip. Beachberm is quite popular for sunsets, drinks and groovy music. Its live DJs play almost nightly from a raised booth. As seating goes, you have the options of sinking into the colourful beanbags on the lawn or on a raised bamboo platform. You can even go further down at the wide parasol-shaded sunbeds.
The kitchen is quite basic, serving simple 'surfers' bites'. These include fried calamari, nasi goreng fried rice and mie goreng fried noodles. Even so, the chilled ambience and the no-frills service is what draws its loyal crowd.
Location: Jalan Batu Belig No.33 A, Kerobokan, Badung, Bali 80361, Indonesia
Open: Daily from 10am to 8pm
Phone: +62 (0)812 3981 356
photo by Dion Hinchcliffe (CC BY-SA 2.0) modified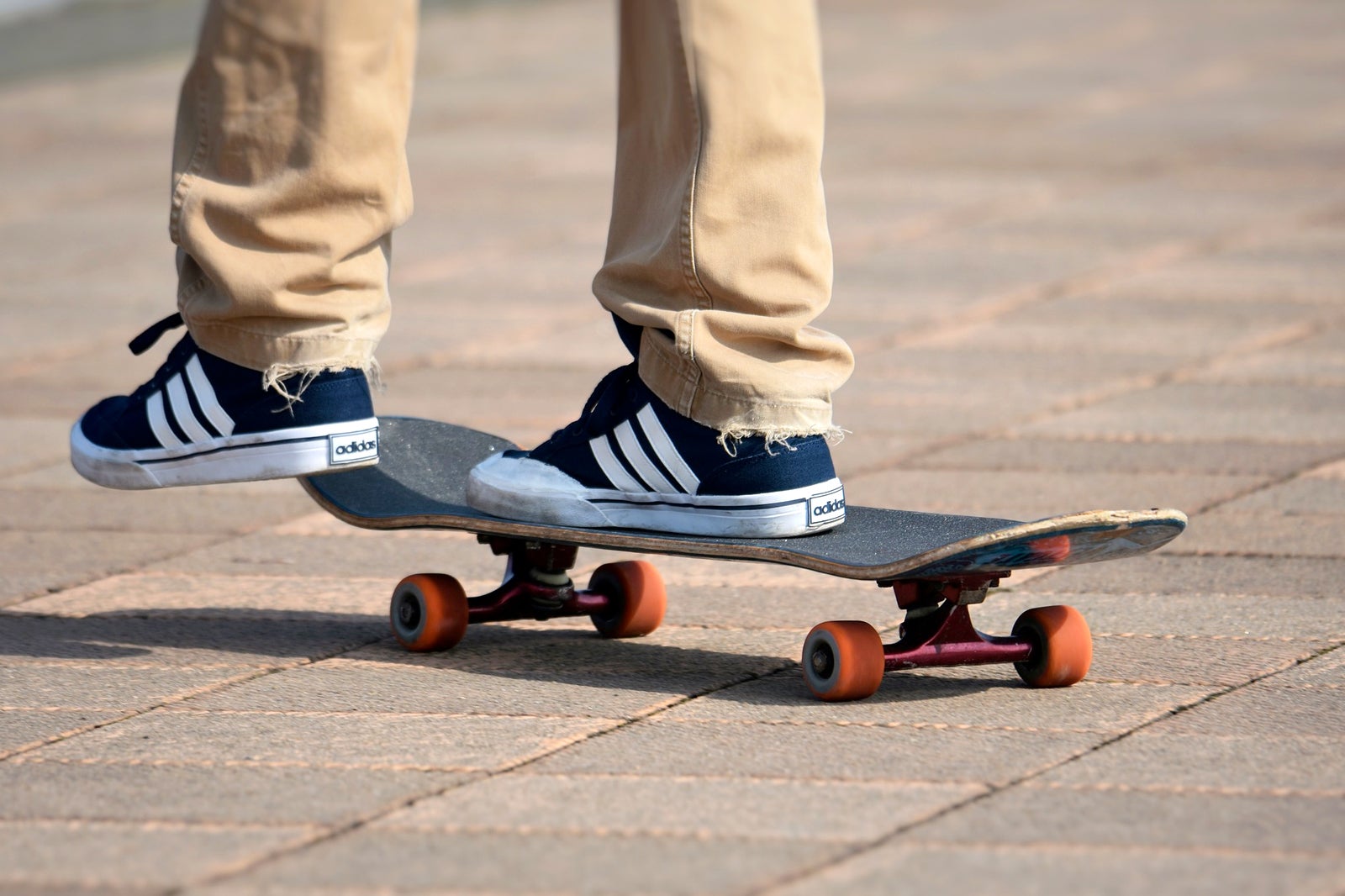 Pretty Poison is a hip hangout in Canggu, which has a backyard featuring a Californian deep bowl-style pool for skaters. It refers to the pool as the 'dog bowl', where you can 'dive in' with a board and shred some rounds. Skating was invented out of frustration when there were no surfable waves in sight. So, in a surfer's paradise like Canggu, it's no surprise that someone eventually set up a skatepark like this.
The onsite bar serves up cold beers and light bites, so even though you're not a board rider, you can kick back and watch the fun action over some drinks and bangers and mash. Weekly skate jams attract the crowds, featuring live bands and DJs.
Location: Jalan Subak Canggu, Canggu, Badung, Bali 80361, Indonesia
Open: Daily from 4pm to midnight
Phone: +62 (0)812 4622 9340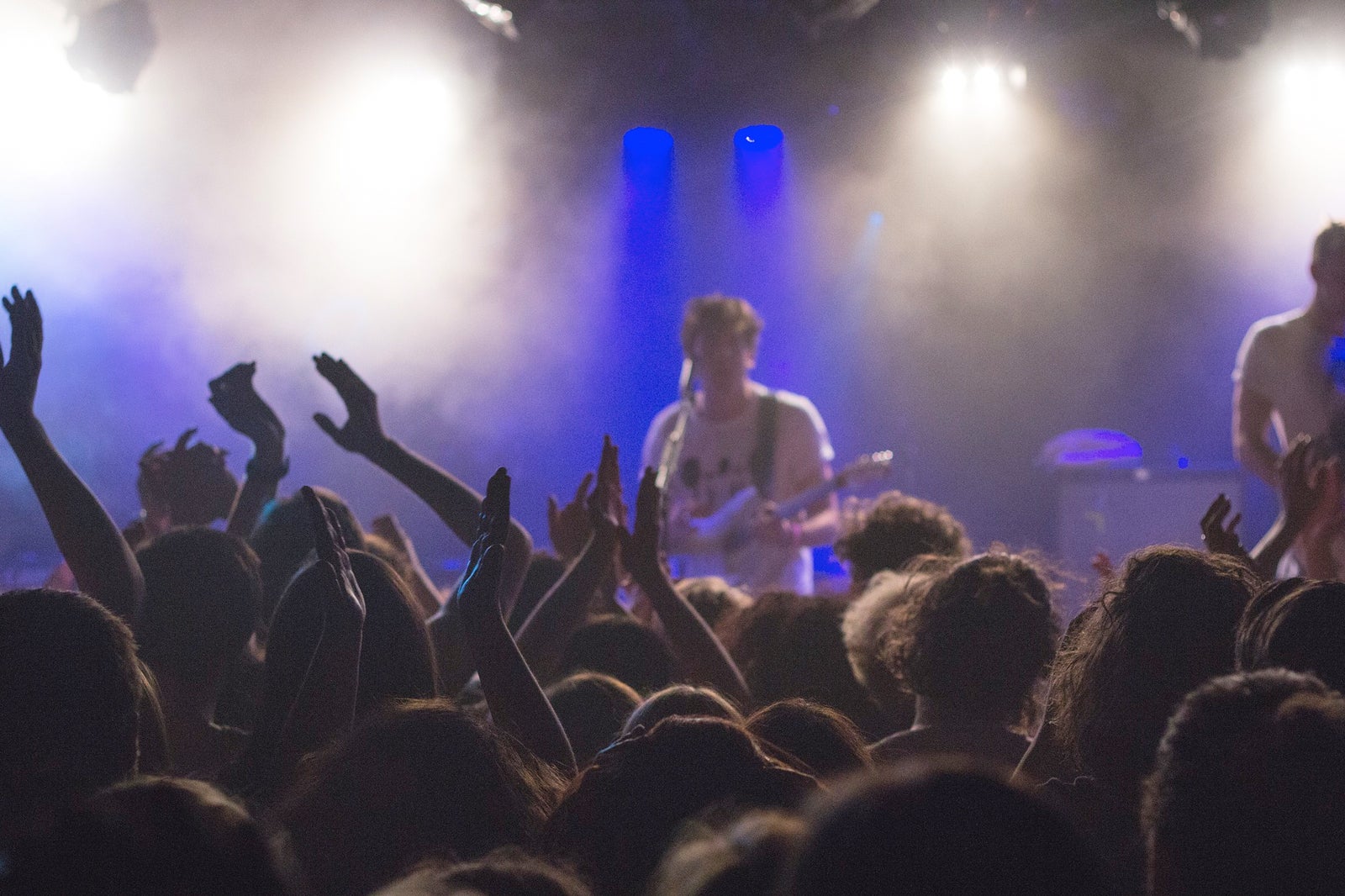 Some good rock 'n' rolling fun awaits at Gimme Shelter, one of Canggu's live music venues that dedicates itself to the genre. You can easily find the spot on Jalan Lingkar Nelayan, which branches right off from Jalan Batu Bolong street. You can expect the place to be much alive every Wednesdays and Saturdays, with things often kicking off from 7pm.
You can also expect open mic sessions every Mondays where you can express your inner rockstar on the stage. Happy hour is usually between 10pm and 11pm, with drinks that are simple, strong and affordable. Most gig nights are free entry, while special highlight events call for a cover charge at the door.
Location: Jalan Lingkar Nelayan No. 444, Canggu, Badung, Bali, Indonesia
Open: Daily from 7pm to 3am
Phone: +62 (0)812 3804 8867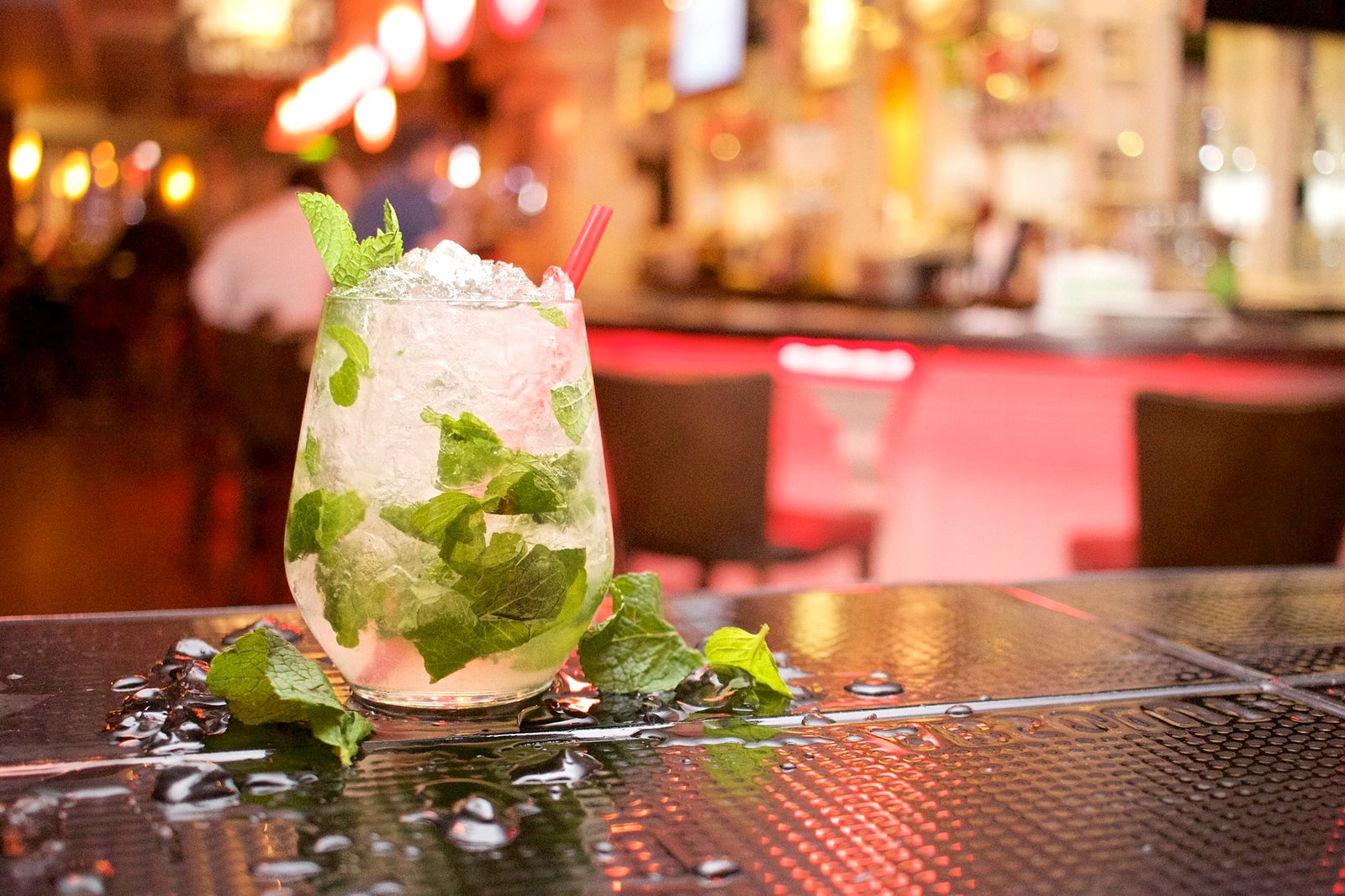 Lacalita Bar y Cocina is part of the Lacalita Mexican restaurant group in Bali, where you can enjoy a selection of Cuban, Hawaiian and Mexican cuisine and refreshing cocktails. You can find the quaint bar and restaurant on Jalan Raya Batu Bolong in Canggu.
While you can have a feast here with tasty tacos, tostadas, quesadillas and tortillas, Canggu's Lacalita is also a great spot to head to for simply chilling out in Canggu. They offer happy hours daily between 5pm and 7pm and you can expect their regular drink specials to include offers like sangria jugs every Saturday and '2-for-1' Bloody Marys every Sunday.
Location: Jalan Pantai Batu Bolong No.68, Canggu, Badung, Bali 80361
Open: Daily from 10am to midnight
Phone: +62 (0)822 4731 2217