13 Best Nightlife Experiences in Kowloon
Best Places to Go at Night in Kowloon
Nightlife in Kowloon boasts a whole host of rooftop bars that take full advantage of breathtaking views across the bay to Hong Kong Island. In fact, even frequent visitors are unlikely to have been to all the rooftop bars in the area, but there are plenty of other ways to enjoy your nights out in Kowloon.
You can hit bustling night markets, sing your heart out to live music or even take to the water to see Hong Kong from a completely different angle. All these options, and so much more, make up the best of Kowloon's nightlife options. To give you a helping hand, we have listed our favourite night time attractions in Kowloon below.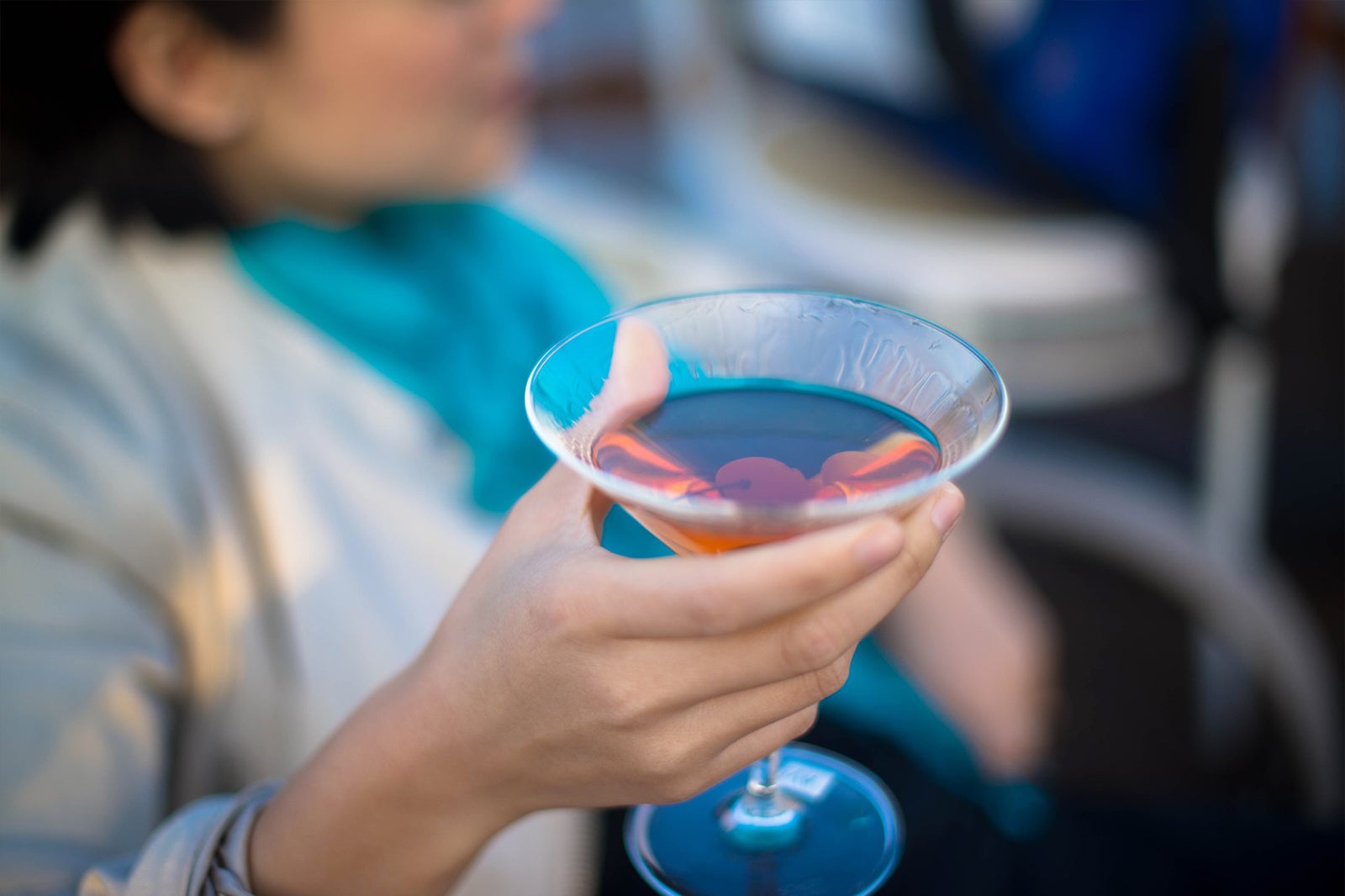 Eyebar is one of our favourite rooftop bars in Kowloon due to the amazing views of Hong Kong Island across the bay. Despite its fairly squat 30-storey view (in Hong Kong terms), this cool spot has plenty of seating with clear views of Hong Kong's Islands greatest attribute, the cityscape as seen at night from Kowloon.
The bar has sweeping 270-degree views of Victoria Bay and is a firm favourite as a go-to place to show visitors the neon-toned spectacle. Eyebar has a large decking area outside, and an impressive menu of tasty cocktails and modern European bistro food. Those feeling extra peckish should head indoors to the Cantonese seafood restaurant Nanhai No 1.
Read more
Location: ISQUARE, 30/F, 63 Nathan Rd, Tsim Sha Tsui, Hong Kong
Open: Daily from 7.30 pm to 2 am
Phone: +852 2487 3988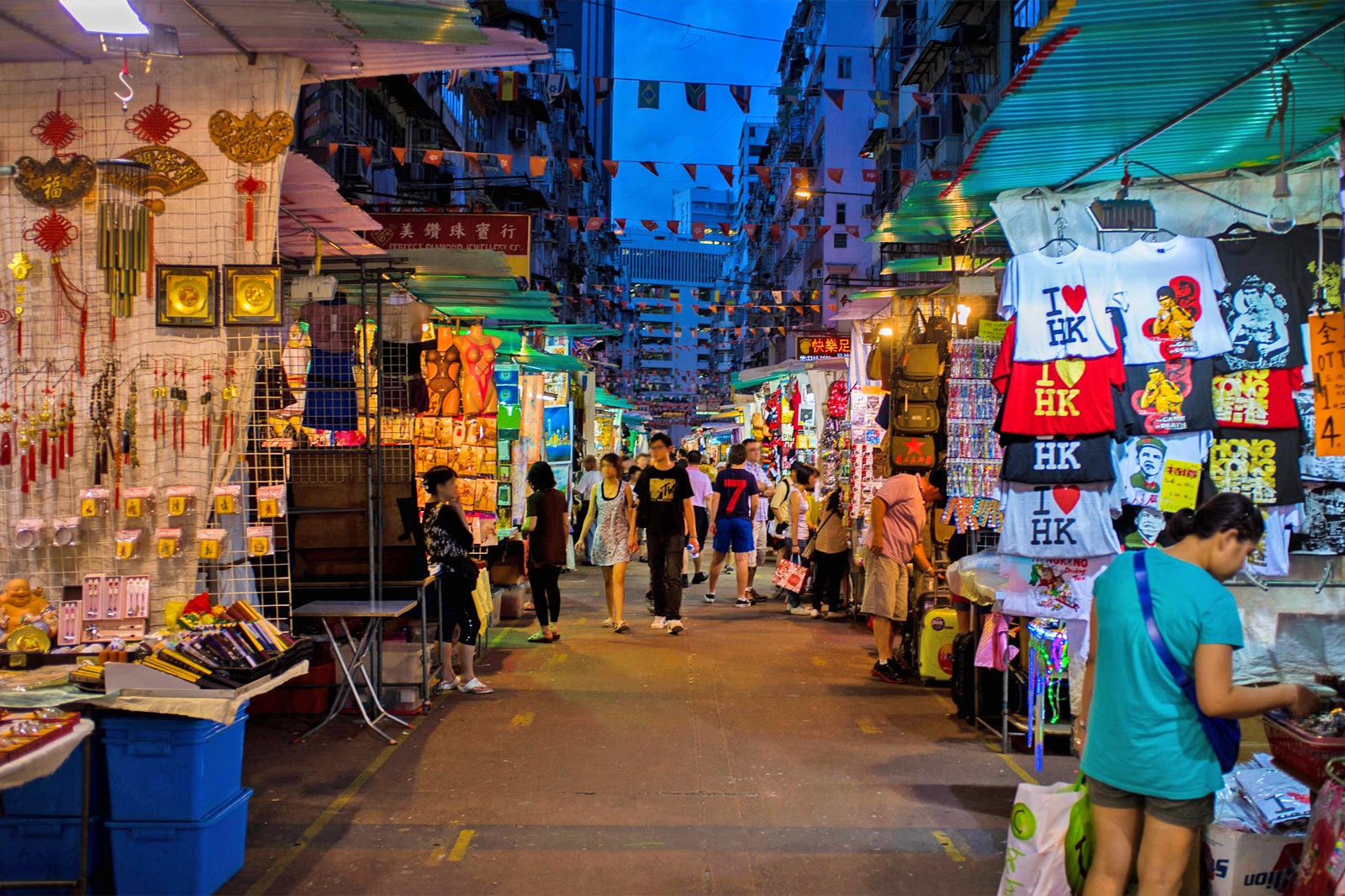 The largest night market in Hong Kong and also the best place to pick up souvenirs, Temple Street is incredibly popular. The walkways are always packed with shoppers and there is a great range of items to buy. You'll find plenty of fashion and accessories, electronics, children's toys and copied designer gear to name but a few.
Many of the market traders at Temple Street are selling the same kitsch, mass-produced souvenirs, such as resin moulds of dragons, Chinese Qipao dresses and mobile phone paraphernalia, but they do make interesting and cheap presents to take back home. You can walk from Mongkok MTR Station to Temple Street Night Market.
Read more
Location: Temple St, Jordan, Hong Kong
Open: Daily from 5 pm to 11 pm
photo by severin.stalder (CC BY-SA 3.0) modified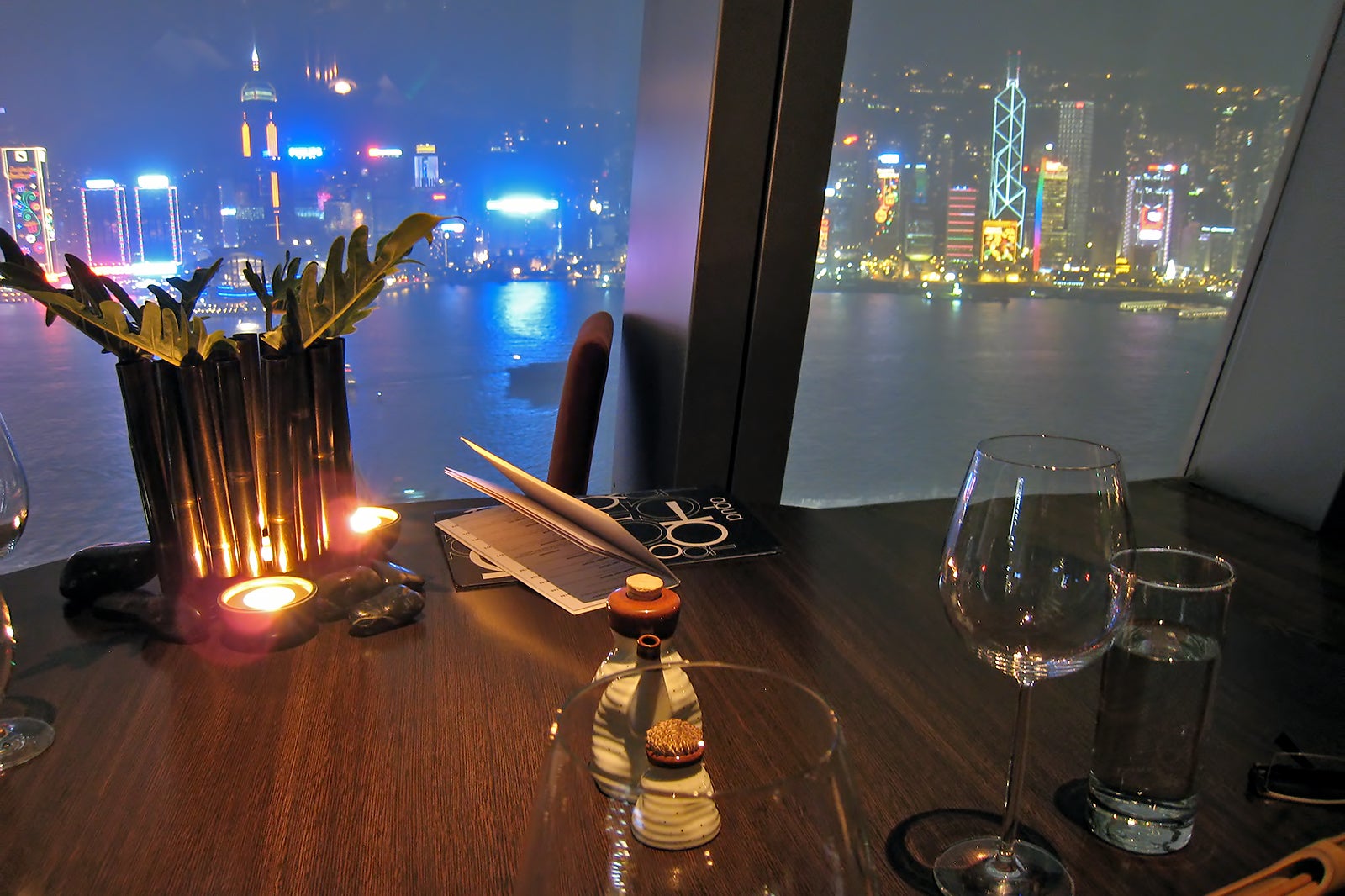 Aqua is one of the most sophisticated bars in Kowloon, located on the 29th and 30th floors of the One Peking Building. While most lofty bars in Hong Kong rely on good views and drinks to win over punters, Aqua Hong Kong takes things to a whole new level, with one of the most incredible interior spaces you'll ever see in a bar.
The 2-story venue is comprised of 2 spaces; a fine-dining restaurant on the 29th floor and an equally lavish bar area above. There's no outdoor terrace, but the breathtaking floor-to-ceiling windows slant at an angle across the entire length of the venue, making for an incredible frame to Hong Kong's skyline across the water. Aqua is recommended for a chilled drink in exclusive surroundings.
Location: 29 & 30F, One Peking, Tsim Sha Tsui, Kowloon, Hong Kong
Open: Daily from 12 pm to 3 pm and from 6 pm to 11 pm
Phone: +852 3427 2288
photo by Mark Pegrum (CC BY 2.0) modified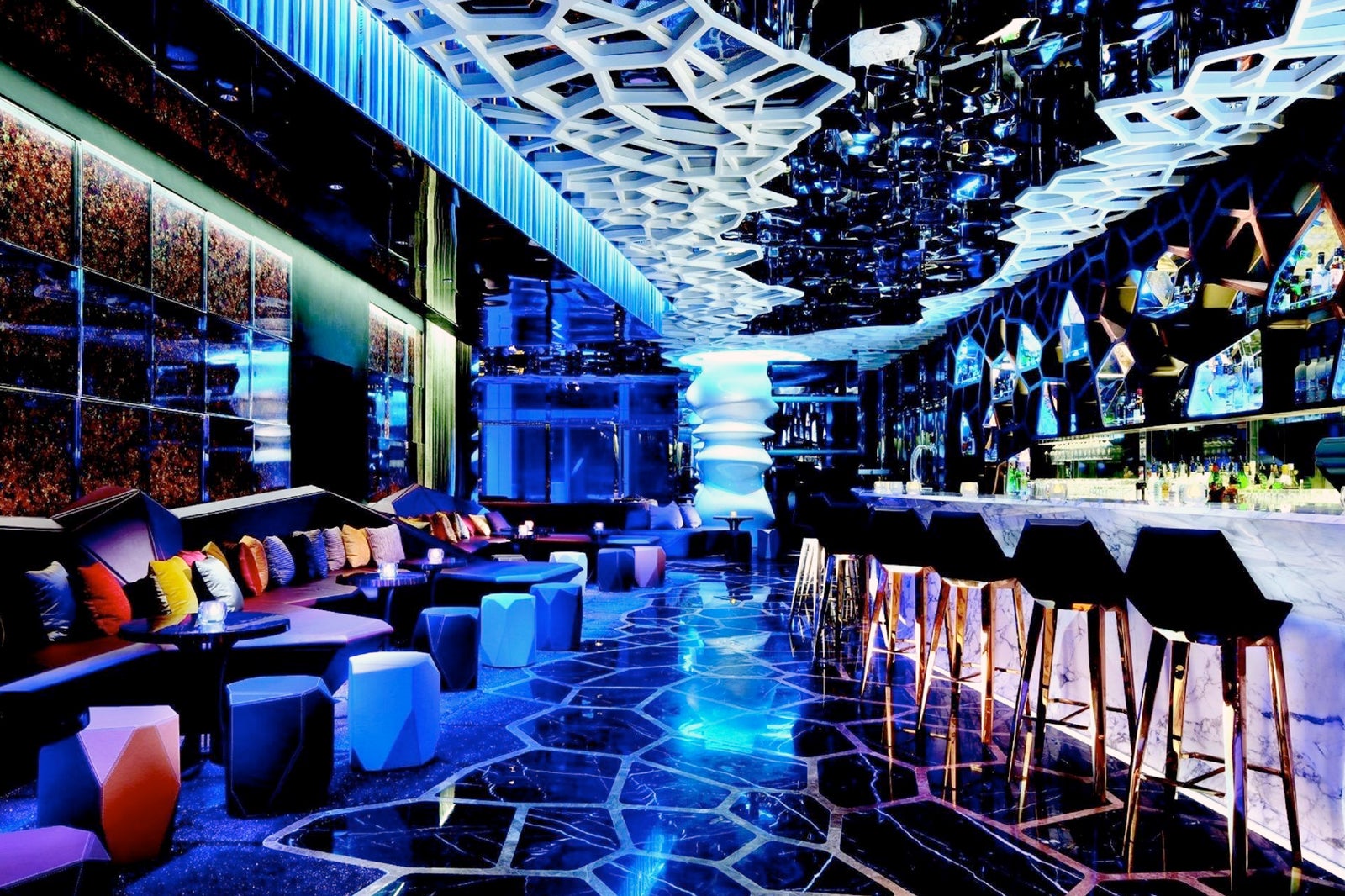 Ozone is the 'highest bar in the world' and while it's undeniably a bit touristy, the interior design is stunning and the bragging rights of sipping a cocktail 118 floors above the earth are too tempting to miss for most visitors. The almost-cyber interior of black marble, purple furnishings and mood lighting is impressive, while out on the terrace, the attention is focused on the bird's eye view (although there is a thick pane of glass separating guests from the stunning vista).
Ozone is part of the Ritz-Carlton Hong Kong at the top of the ICC Tower in Kowloon, and just like the luxury hotel down below, the bar exudes an air of class and sophistication.
Read more
Location: The Ritz-Carlton, Level 118, International Commerce Ctr., 1 Austin Road West, Kowloon, Hong Kong
Open: Monday–Thursday from 5 pm to 1 am, Friday from 5 pm to 2 am, Saturday from 3 pm to 2 am, Sunday from 12 pm to 12 am
Phone: +852 2263 2270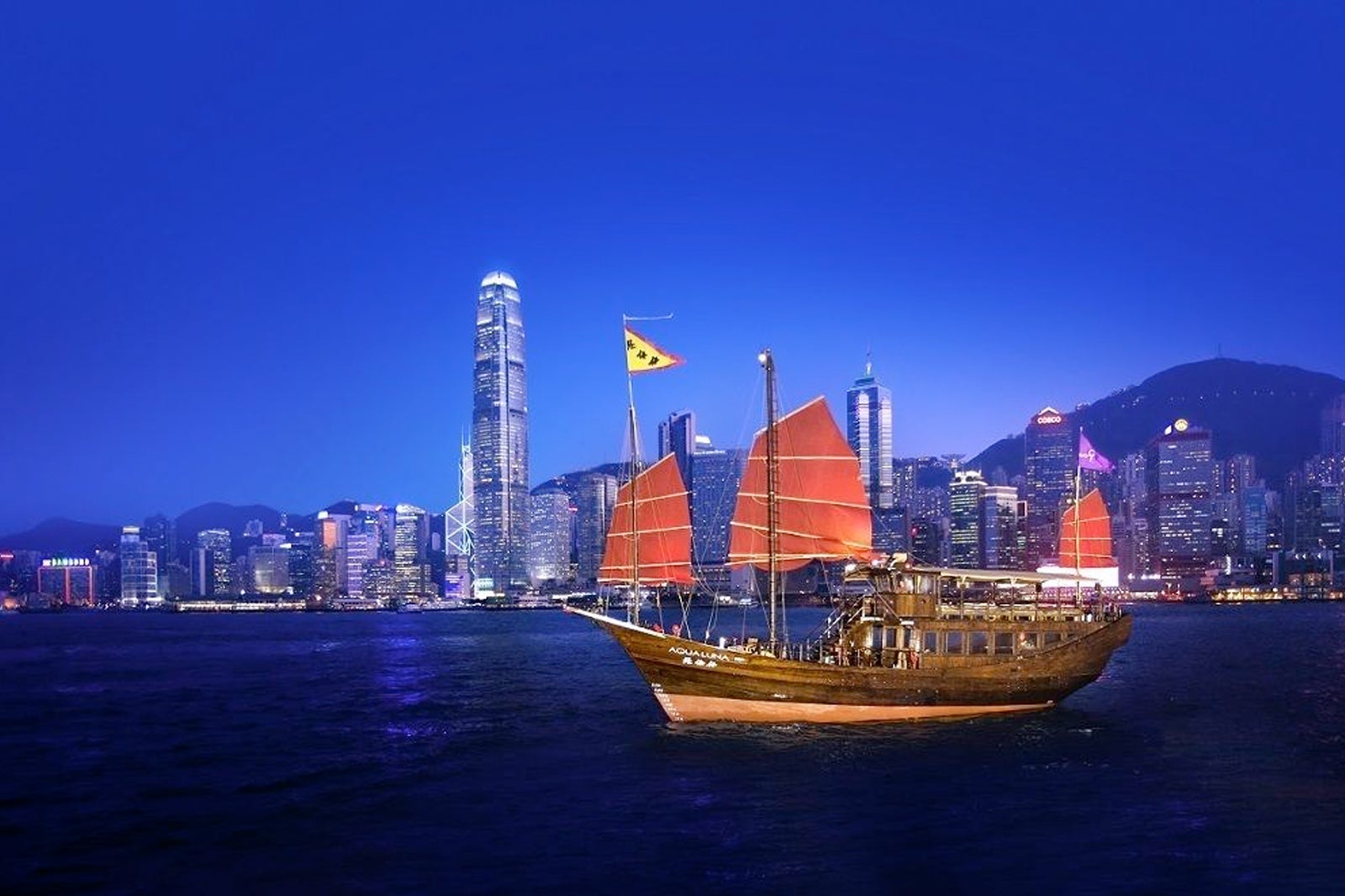 This 45-minute night time cruise on a reconstructed Chinese junk boat is an exceedingly popular way to see the bright lights of Hong Kong. The route around Victoria Harbour takes in the classic sites on both shores while guests sip on their complimentary cocktail and laze back on comfy seats.
This tour can be booked from Kowloon or Hong Kong pier, although boarding from Kowloon will mean you get on first to get the pick of the seats and you will be the last to disembark. Be sure to book your cruise a day or 2 in advance.
Location: Board from Tsim Sha Tsui Pier 1 Kowloon or Pier 9 in Central.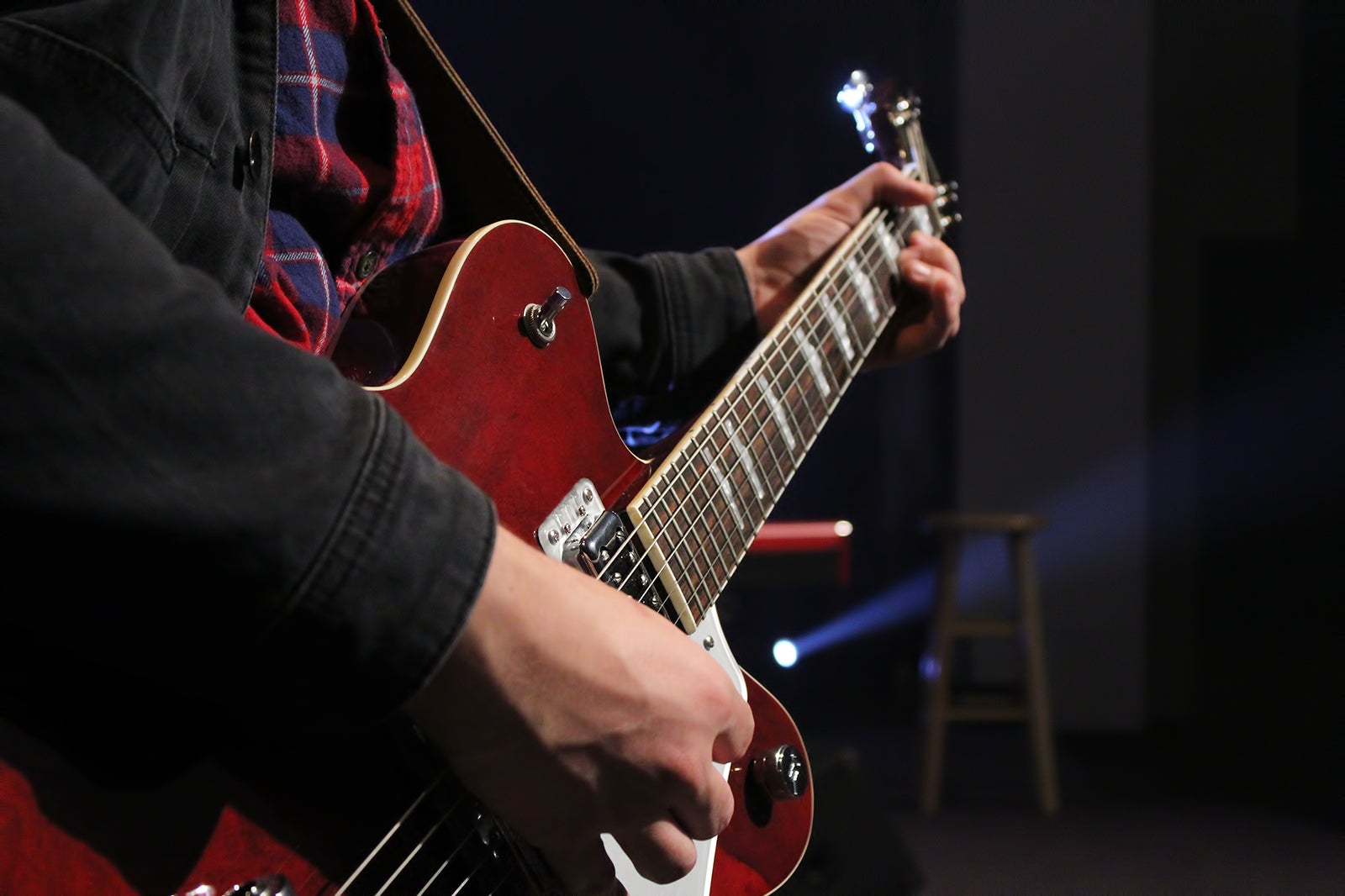 Ned Kelly's was famously the first Jazz bar in Asia and remains Hong Kong's oldest bar. If this isn't enough to draw your interest, it also plays some of the best live music in Hong Kong every night.
Named after the famous Aussie outlaw, you can expect some antipodean touches throughout the dimly lit saloon, such as framed rugby jerseys and posters, but most of all, a carefree, friendly vibe. The house band plays swing jazz every night from 9pm. Find Ned Kelly's Last Stand on Ashley Road on Ashley Road, walking distance from Tsim Sha Tsui MTR Station.
Location: Ned Kelly's Last Stand, 11A Ashley Rd., Tsim Sha Tsui, Kowloon
Open: Daily from 11.30 am to 2 am
Phone: +852 2376 0562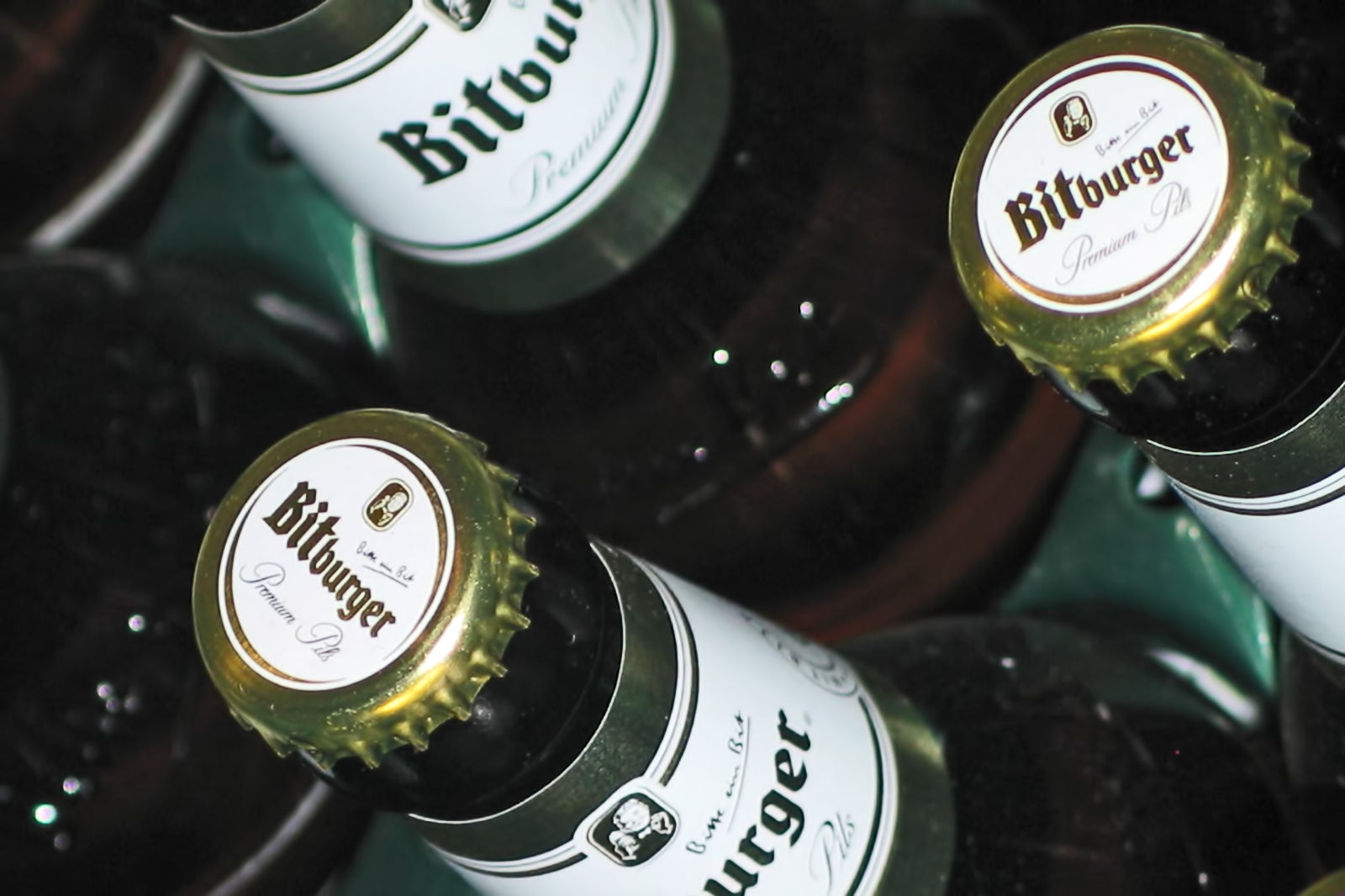 Kowloon's most popular German bar and restaurant, Biergarten, serves an enormous range of imported beer both in the bottled and draft form, with half a litre of Bitburger for around $69 during happy hours.
An authentic German vibe is helped along by the wooden bar and cosy booths, as well as plenty of German artwork and advertising memorabilia hanging on the walls. Soak up a hard night's worth of drinking with one of their pork knuckles with sauerkraut – the ultimate fill.
Location: Prat Commercial Building, Hanoi Rd, Tsim Sha Tsui, Hong Kong
Open: Daily from midday to 2 am
Phone: +852 2721 2302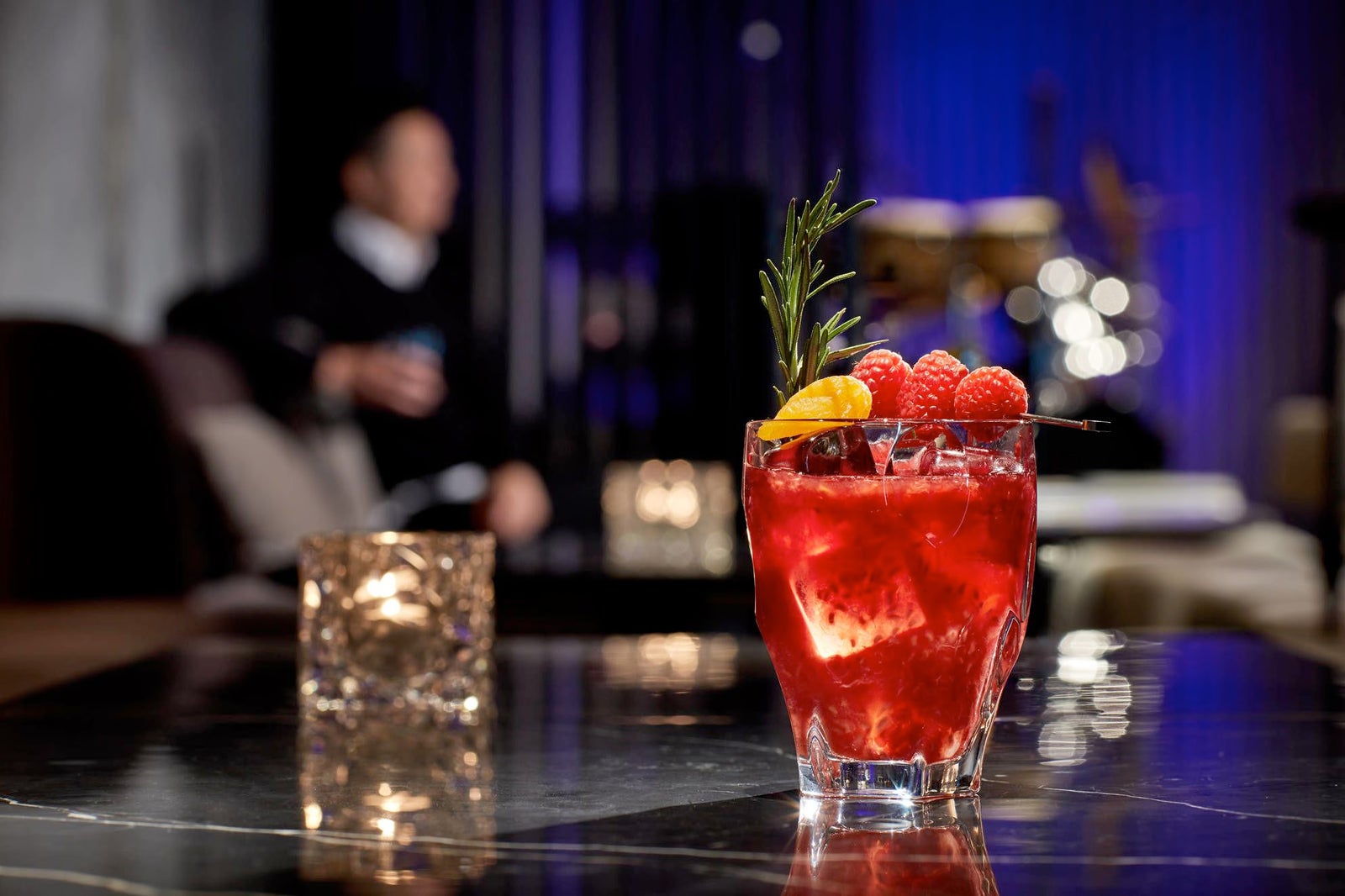 Funky and stylish, W Hotel knows how to do a lobby bar better than the rest and Woo Bar HK is no exception. Modish, sensual interiors and huge house pours bring a cool crowd to this happening night spot in Kowloon.
Sexy lounge house keeps toes tapping, without it ever turning into a rave. The mixologists at Woo Bar really know their stuff – whether a dry martini or a Bellini, they're always on point. A menu of lite bites is also available.
Location: 1 Austin Rd, West Kowloon, Hong Kong
Open: Daily from 10 am to 1 am
Phone: +852 3717 2889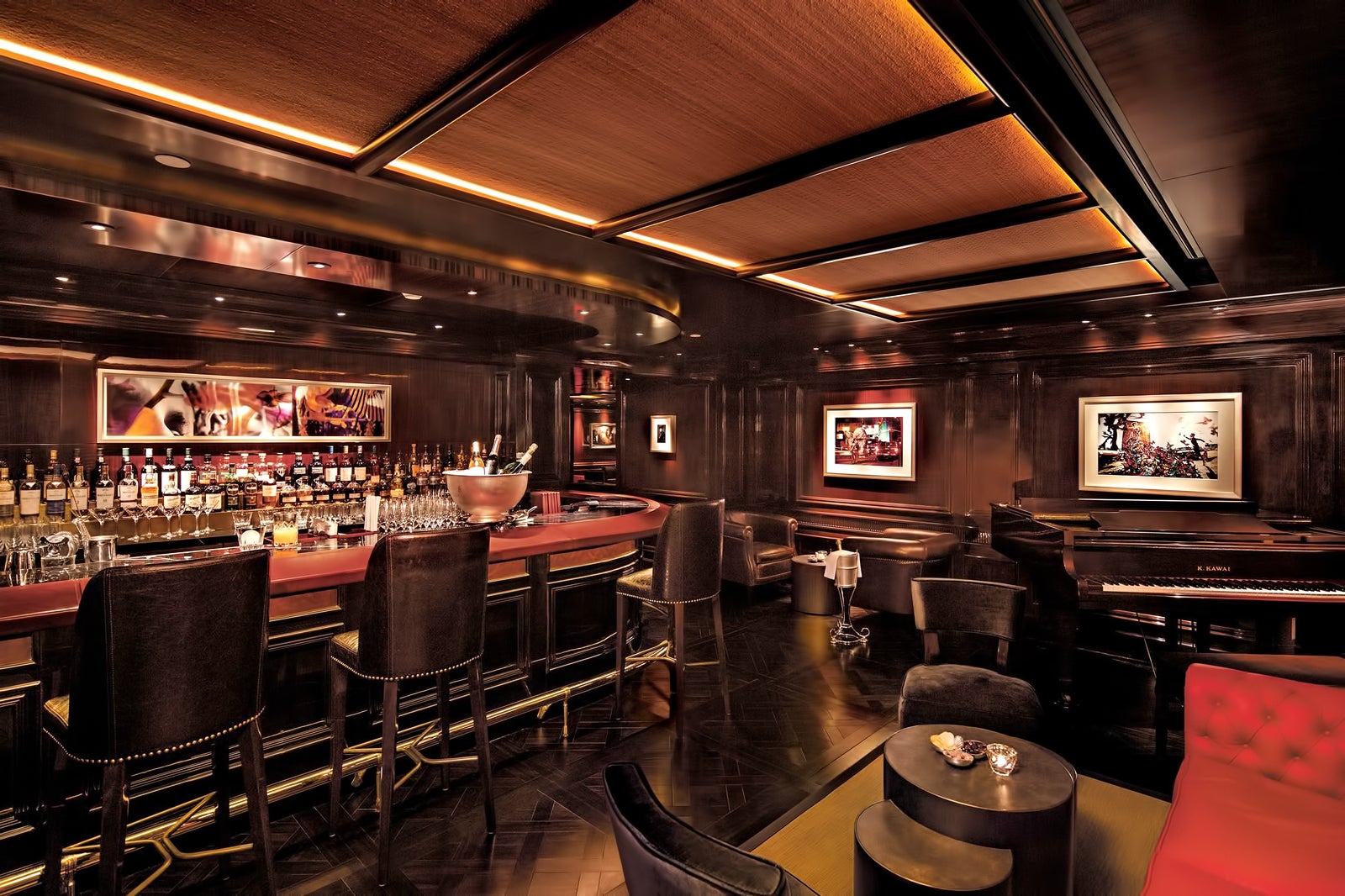 Felix is a swanky collection of a restaurant, bar and dance space on top of the ever-so-fancy Peninsula Hong Kong. Designed by the legendary Philippe Starck, it comprises a restaurant serving modern, creative cuisine, a balcony, a wine bar, an American Bar and, as the centrepiece, a Perspex box containing a dance floor known as the Crazy Box.
The sweeping views across the harbour from the 28th floor have to be seen to be believed.
Location: 28/F, The Peninsula Hong Kong, Salisbury Rd, Tsim Sha Tsui, Hong Kong
Open: Daily from 5.30 pm to 1.30 am
Phone: +852 2696 6778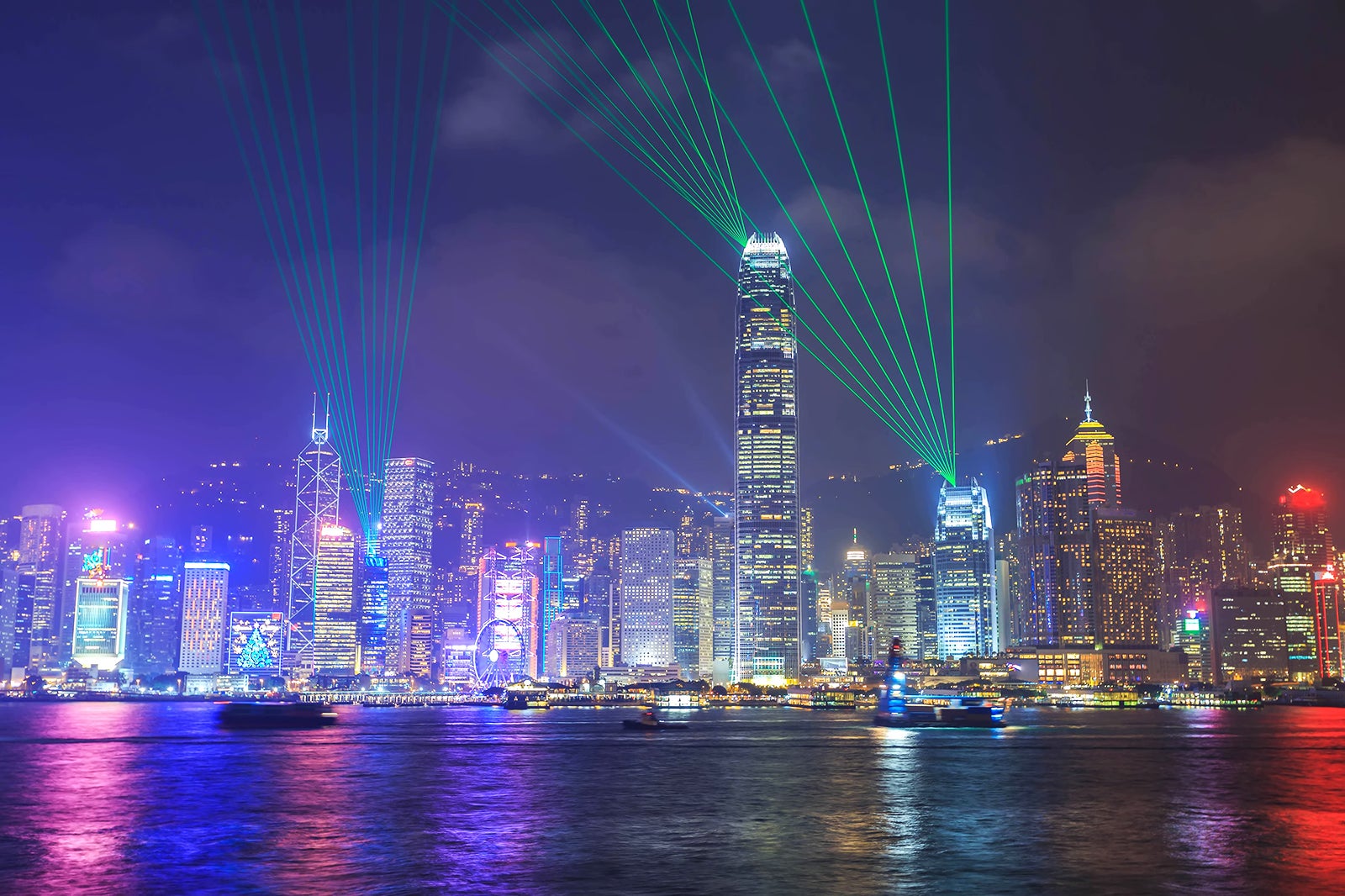 Couples
Families
Photo
Nightlife
Budget
This nightly spectacle is a riot of colourful lasers synchronised with music and takes advantage of Hong Kong's wonderful cityscape. In total, 44 buildings are part of the 14-minute show, which takes place at 8pm every night.
It's shamelessly touristic and if it's your first time in Hong Kong you will no doubt want to witness this most famous of skylines lit up with colour. You can watch the show from the boardwalk on the water's edge, or go classy by finding a high vantage point at one of Kowloon's rooftop bars.
Read more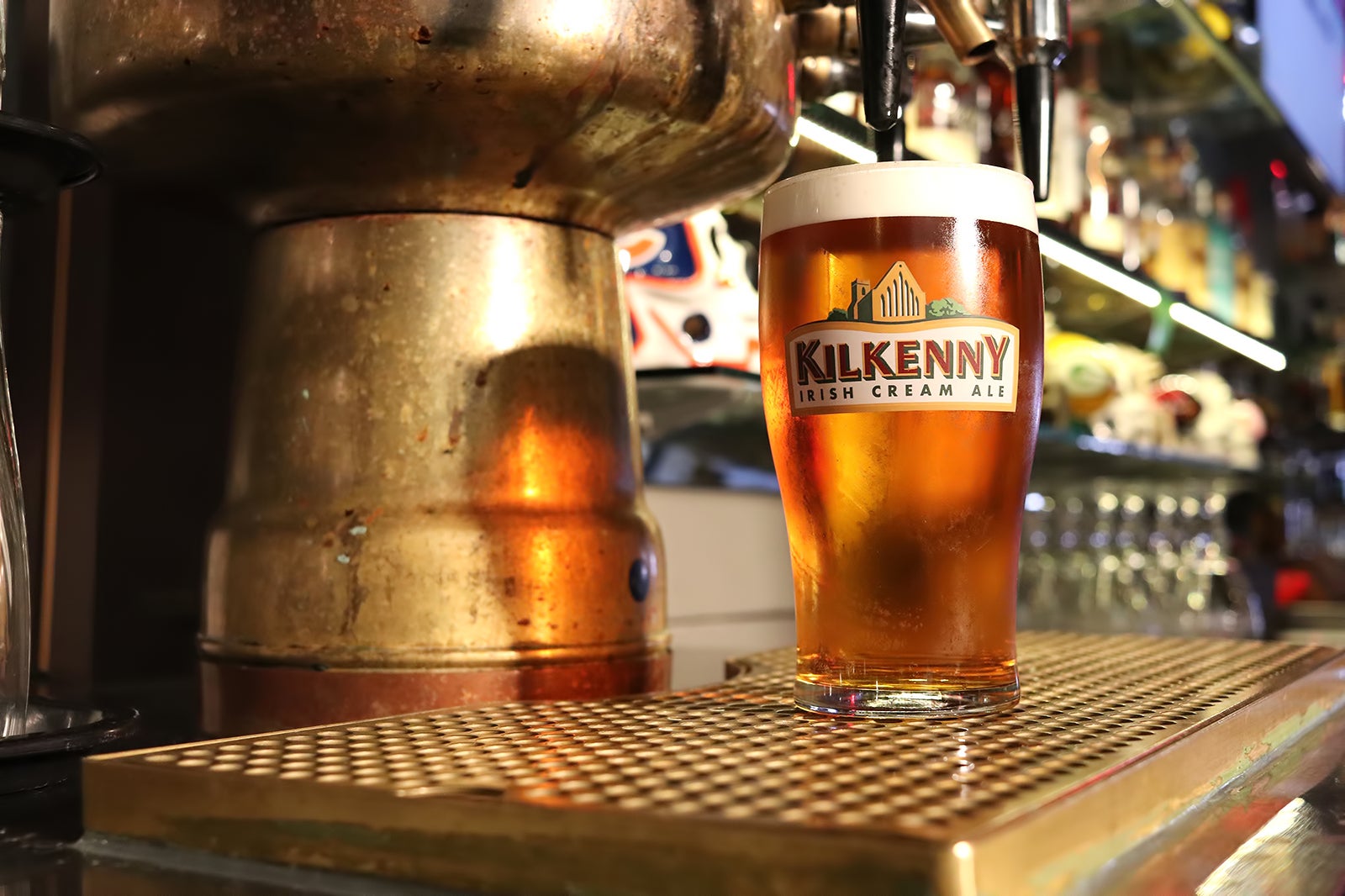 This upmarket Irish pub is in the heart of Tsim Sha Tsui and is a safe option for a few beers and a hearty meal. Decorated in 'ye old' style with vintage posters and photographs, its convivial atmosphere gets an extra boost through free weekly events, such as Tuesday quiz night with prizes and a DJ on Thursday and Friday nights. Delaneys happy hour is from 5pm to 9pm daily.
Location: Mary Building, 71–77 Peking Road, Tsim Sha Tsui, Kowloon, Hong Kong
Open: Daily from 8 am to 2 am
Phone: +852 2301 3980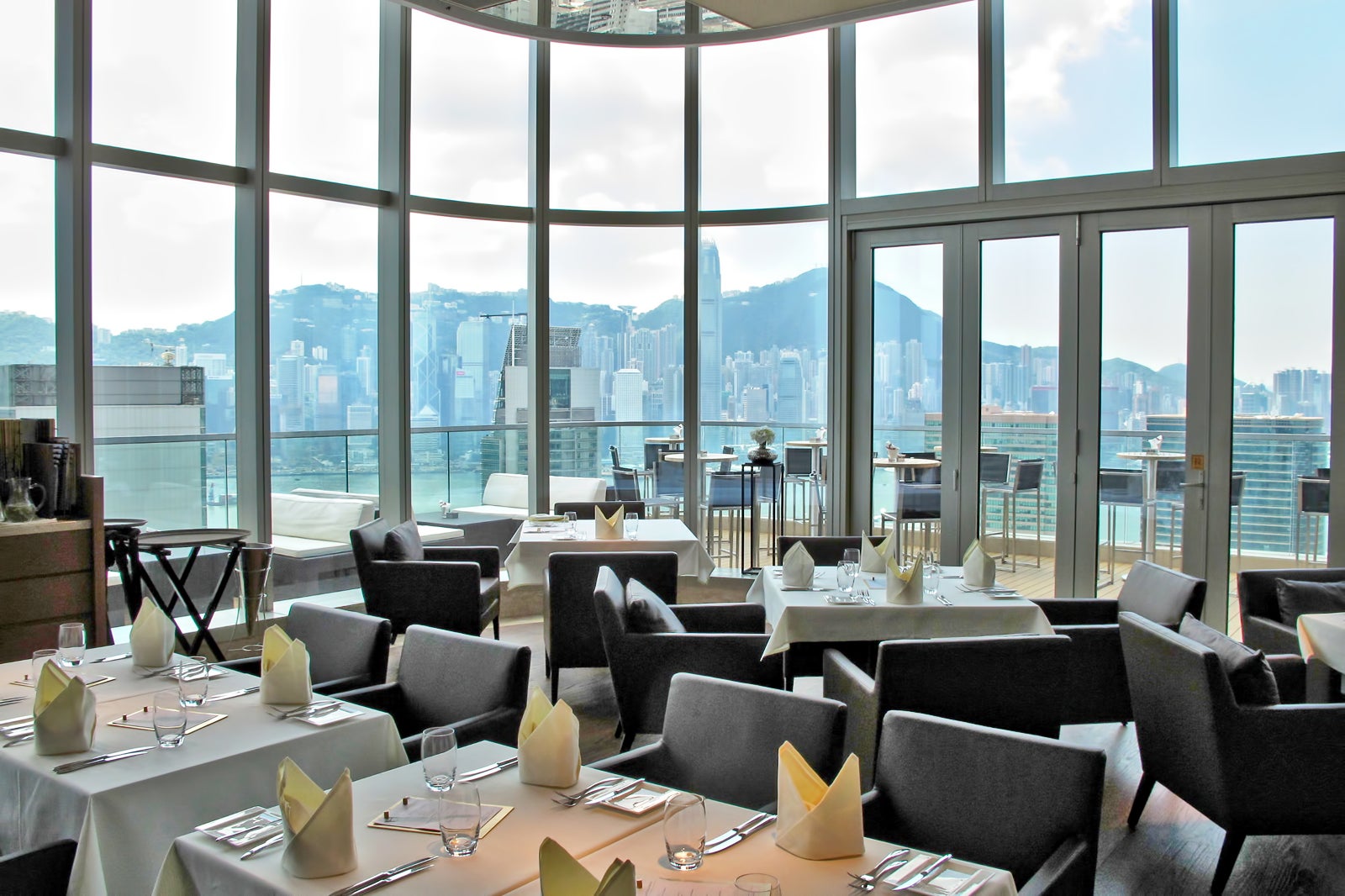 Although more of a restaurant than a bar, Harlan's on the 19th floor of 'The One' building stays open late, and has some absolutely stunning views across the bay to Hong Kong Island, meaning it's a great nightlife spot in our book.
You can prop up the bar and explore their long list of classic cocktails from around HK$100 all night long. To get a table outside you'll have to fork out for a slap-up meal. Failing that, a more economical option is to come on a weekday between 3pm and 5.30pm for their special afternoon tea set for 2 people.
Location: 19/F, The One, 100 Nathan Rd, Tsim Sha Tsui, Hong Kong
Open: Monday–Thursday from midday to 2.30 pm and 6 pm to 10.30 pm, Friday–Saturday from midday to 11 pm, Sunday from 6 pm to 10.30 pm
Phone: +852 2972 2222
photo by Wpcpey (CC BY-SA 4.0) modified
13
Tsim Sha Tsui Promenade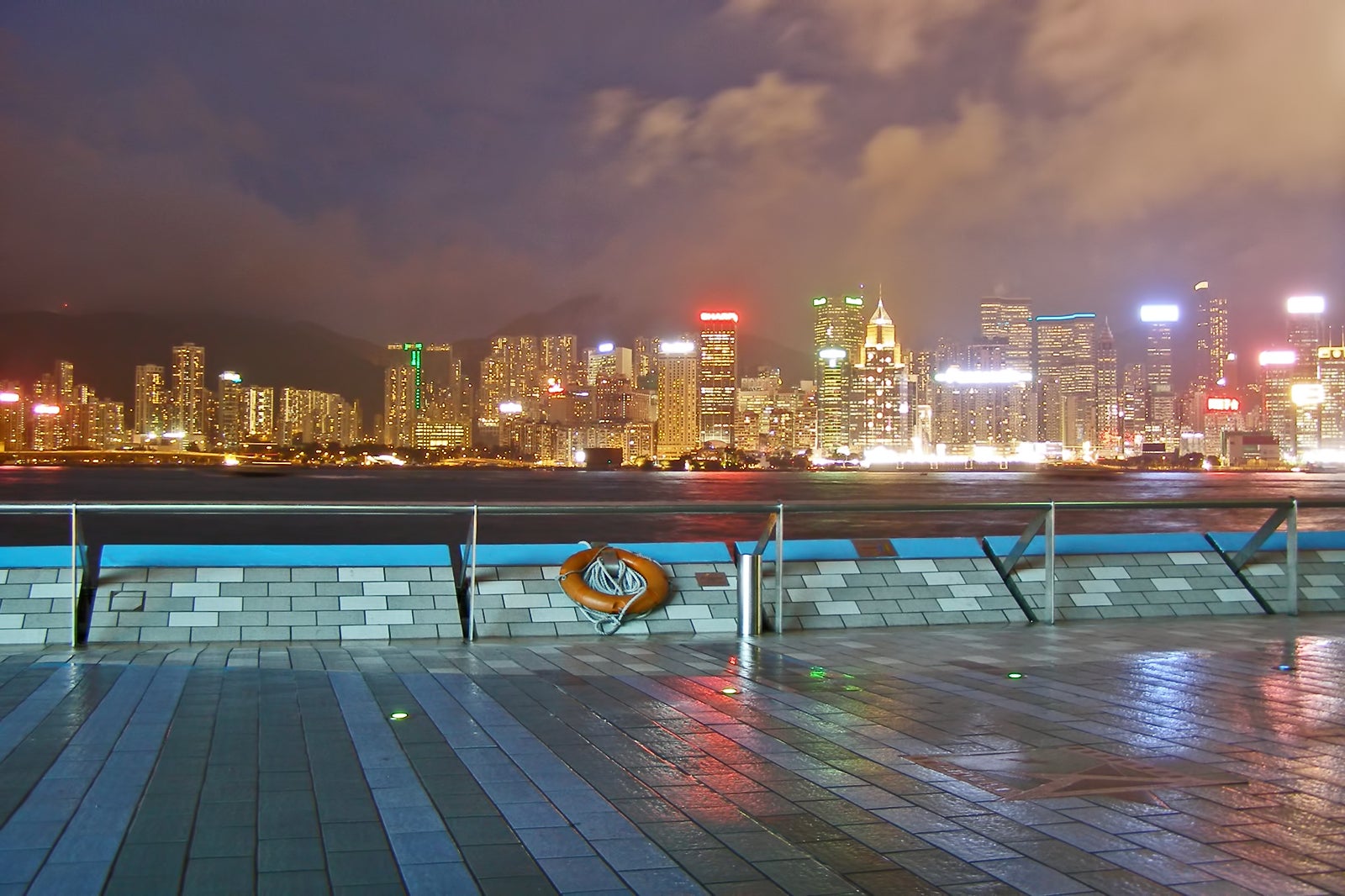 Anybody who is planning a visit to Hong Kong will have inevitably seen an image of the iconic view across Victoria Harbor, with Hong Kong Island and its gleaming skyscrapers towering above in the background. One of the best spots to come for that picture-postcard view is Tsim Sha Tsui Promenade, located at the tip of Kowloon peninsula and directly accessible via East Tsim Sha Tsui MTR Station.
As well as admiring the spectacular scenery, the area is also home to Hong Kong Cultural Centre, the Hong Kong Space Museum, the Hong Kong Museum of Art, Avenue of Stars and a pretty colonial-era clock tower. Entrance varies between each of these attractions, but walking up and down the promenade is completely free, making this one of the most popular things to do at night in Kowloon.
Location: Tsim Sha Tsui, Hong Kong
photo by Maccess (CC BY-SA 2.5) modified