10 Best Things to Do in Portsmouth
What is Portsmouth Most Famous For?
Portsmouth has been one of the main homes of the British Royal Navy since 1194, and continues to be an important seaport. It wears its maritime associations with pride, from the mighty sail-shaped Spinnaker Tower puncturing the skyline to the many close associations to naval hero Vice-Admiral Lord Nelson. Even the city's nickname – Pompey – is thought to originate from old ship logs and navigational charts.
Portsmouth is technically the only island city in Britain, though the watercourse separating it from the mainland is very narrow. Even so, it has a distinct culture and atmosphere, particularly around the ports and docks. However, there's a lot more to the city than just museums, ships and museum ships – as you're about to discover.
What are the best things to do in Portsmouth?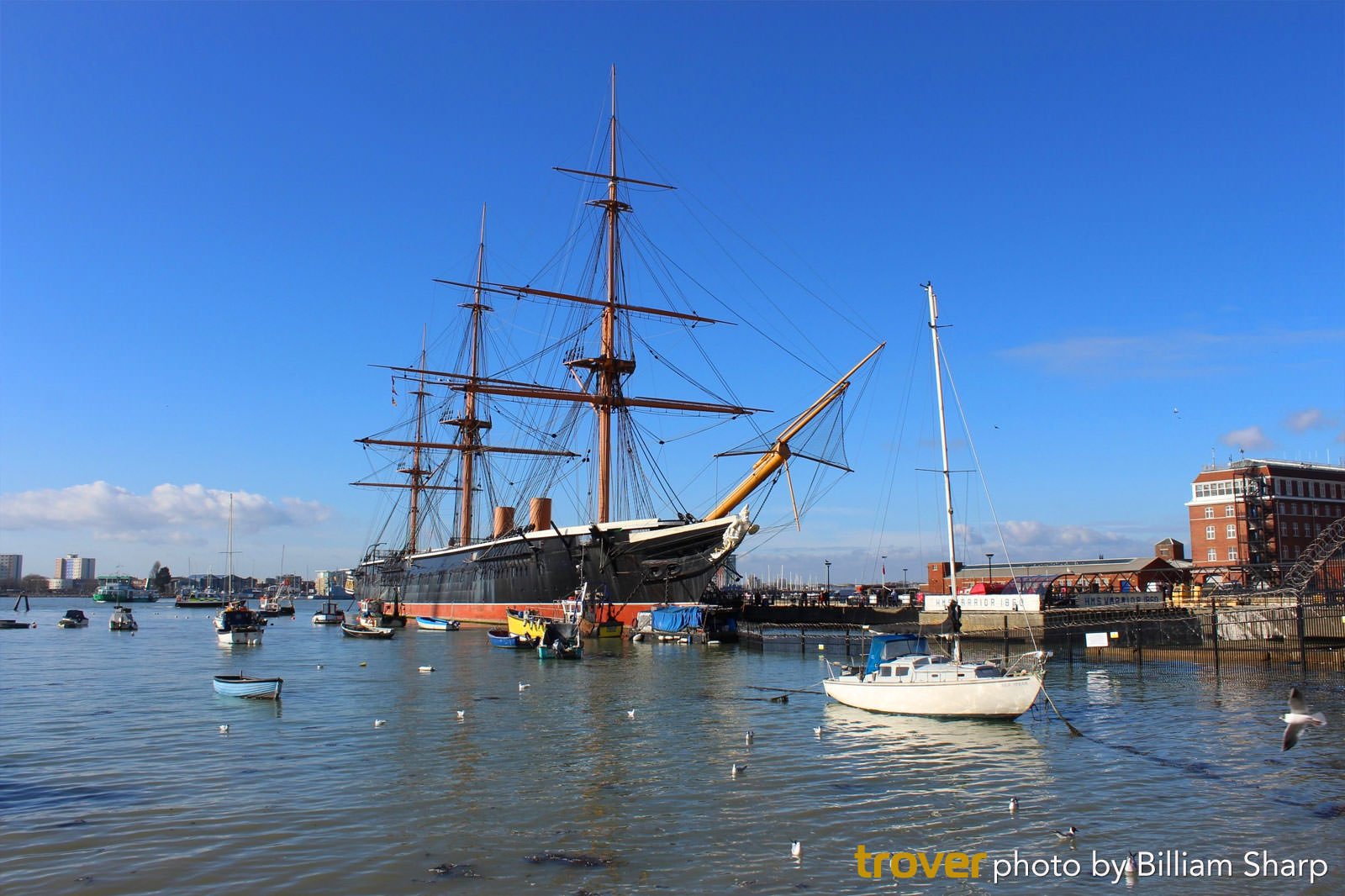 Start the Day in Portsea
See how Britannia ruled the waves
Portsmouth is best known as a historic dockyard, so where better to start your day than Portsmouth Historic Dockyard? Just south of the Royal Navy's modern docks and north of the Portsmouth Harbour train station, Portsea is a hub of Britain's proud naval heritage. Within a very small area is HMS Warrior (Britain's first iron-hulled warship), HMS M.33 (a World War I-vintage gunboat), the remains of the Mary Rose (a Tudor-era warship) and HMS Victory (Admiral Nelson's flagship). The National Museum of the Royal Navy is a good place to start, giving you a more general round-up of the surrounding warships and their place in British history.
Location: North of Portsmouth Harbour Train Station, Portsmouth, UK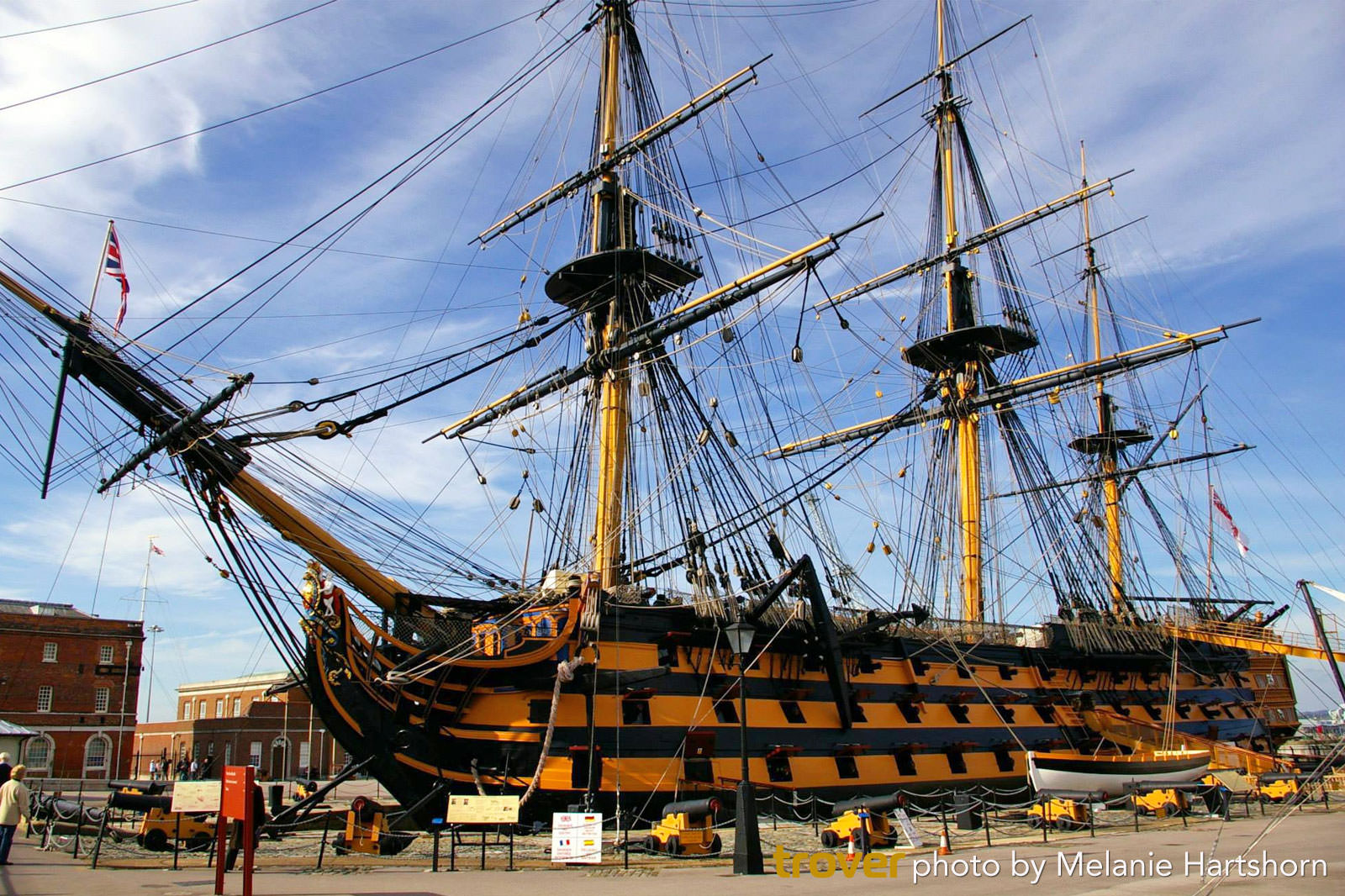 Board the HMS Victory
Explore Britain's oldest serving warship
The Victory is perhaps one of the most famous warships in Britain, if not the world. She has a number of battle honours to her name, but she's best remembered for her part in the 1805 Battle of Trafalgar, where she was the flagship of Vice-Admiral Lord Nelson. Victory is technically still a serving ship in the Royal Navy, but her primary role is now as a museum ship, showing visitors what life was like at sea in the Napoleonic Wars.
Location: Main Road, Portsmouth, UK
Open: Daily from 10am to 6pm
Phone: +44 (0)2392 839766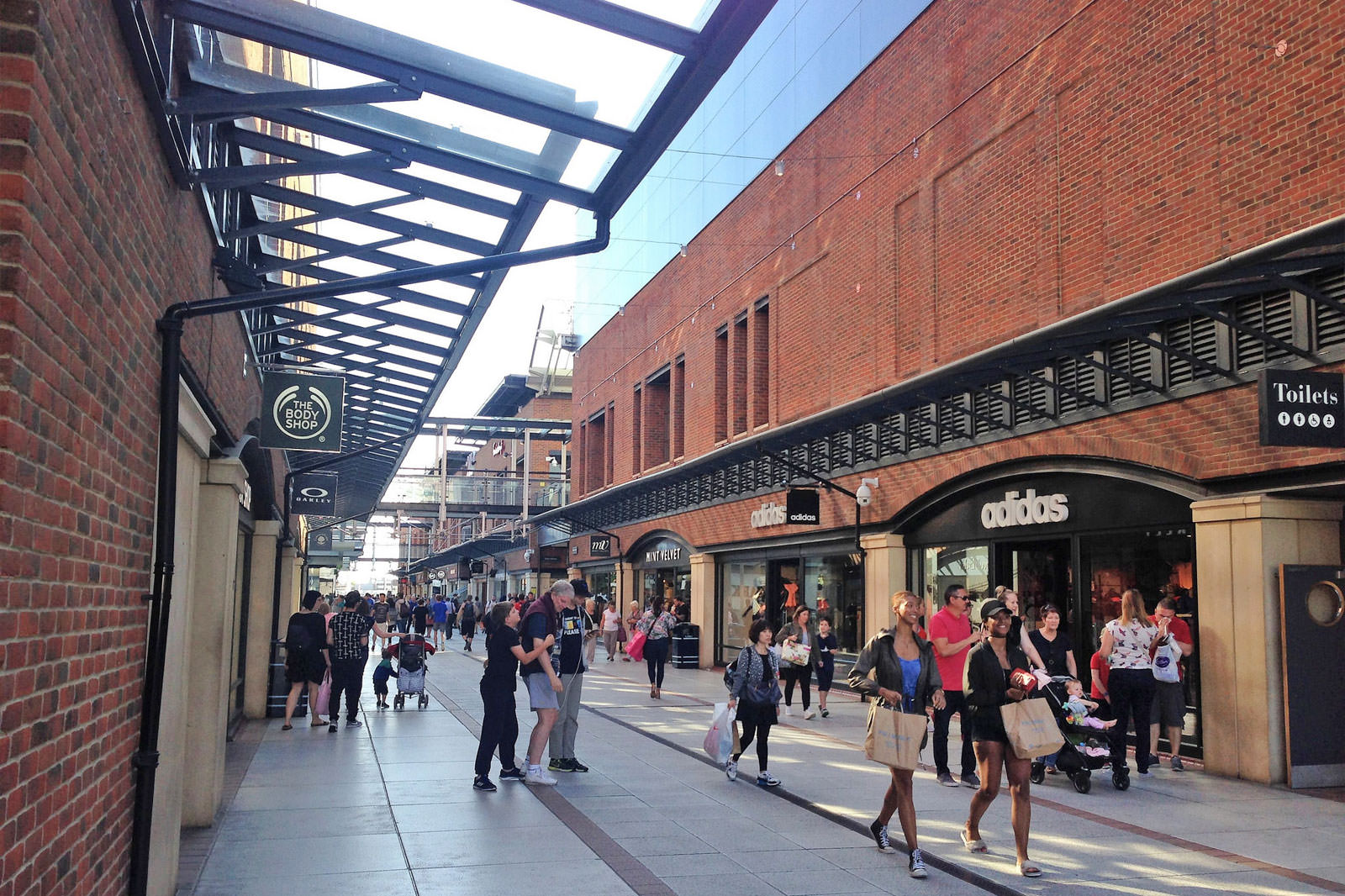 Go Shopping in Gunwharf Quays
Come for the shops, stay for the clubs
With well over 100 stores and restaurants, Gunwharf Quays is a sprawling shopping complex right in the heart of Portsmouth. It's an outlet mall, so you can expect luxury designer goods at quite considerable discounts. Big brands available include Armani, Tommy Hilfiger, Superdry, Paul Smith and more. Come back to the Quays after dark for one of Portsmouth's best nightlife scenes, with plenty of great pubs and clubs.
Location: Gunwharf Quays, Portsmouth PO1 3TU, UK
Open: Monday - Friday from 10am to 8pm, Saturday from 9am to 8pm, Sunday from 10am to 6pm
Phone: +44 (0)2392 836700
photo by Philip Mallis (CC BY-SA 2.0) modified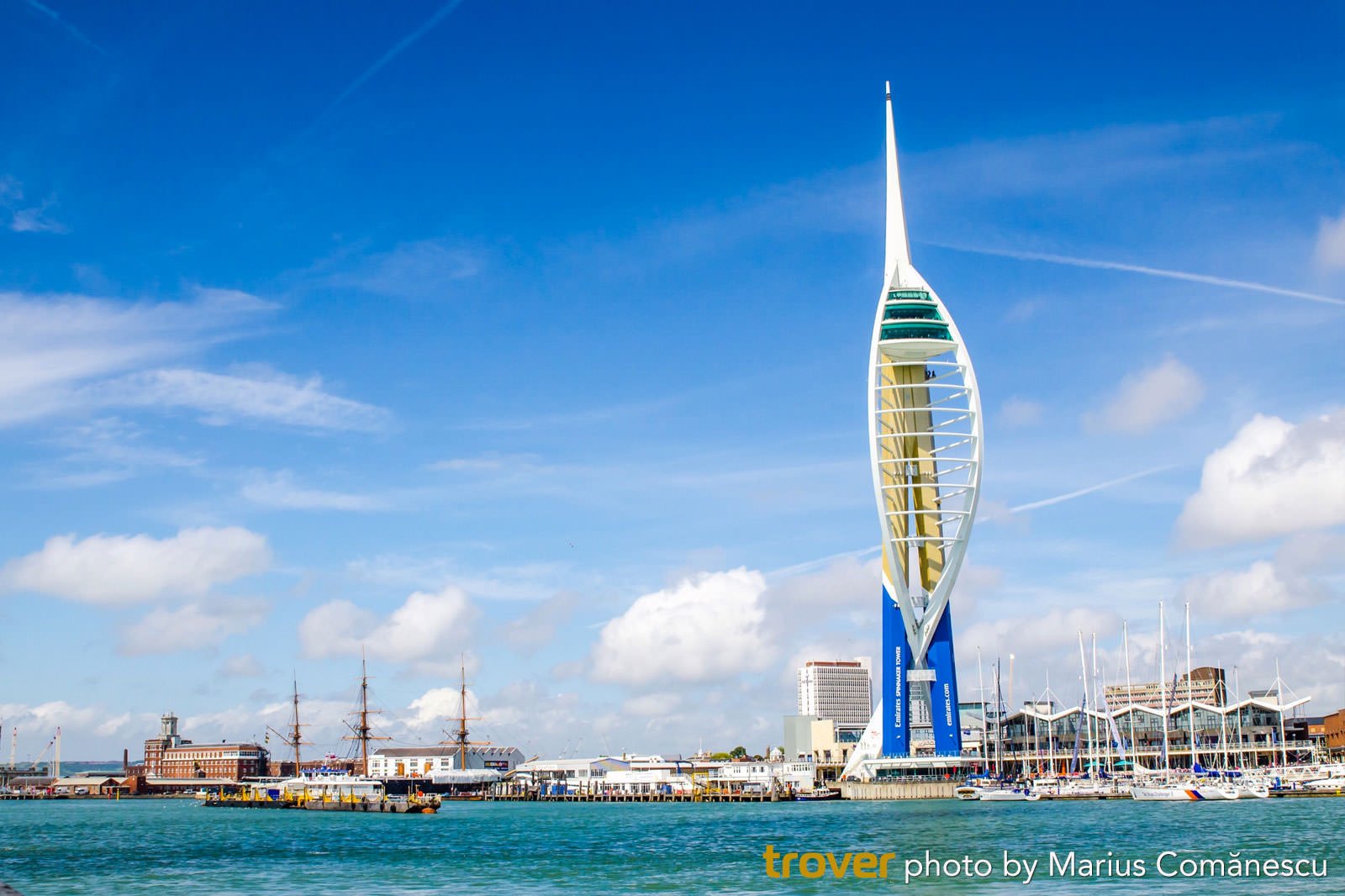 Enjoy the View from Spinnaker Tower
Relax in a garden 110 metres up
The Spinnaker Tower is among the UK's tallest structures, rising 170 metres above Gunwharf Quays. It has a very similar shape to the Burj Al Arab hotel in Dubai, probably because both are based on sails. You can ride the high-speed lift (or take nearly 600 stairs, if you're feeling extremely ambitious) up to the glass-floored Sky Walk or the Sky Garden, where you can relax on artificial grass and enjoy the view across the harbour. In between them is The Clouds – a café with an outstanding view. Naturally, it's usually extremely busy, so pre-booking a table is recommended.
Location: Gunwharf Quays, Portsmouth PO1 3TT, UK
Open: Daily from 10am to 6pm
Phone: +44 (0)23 9285 7520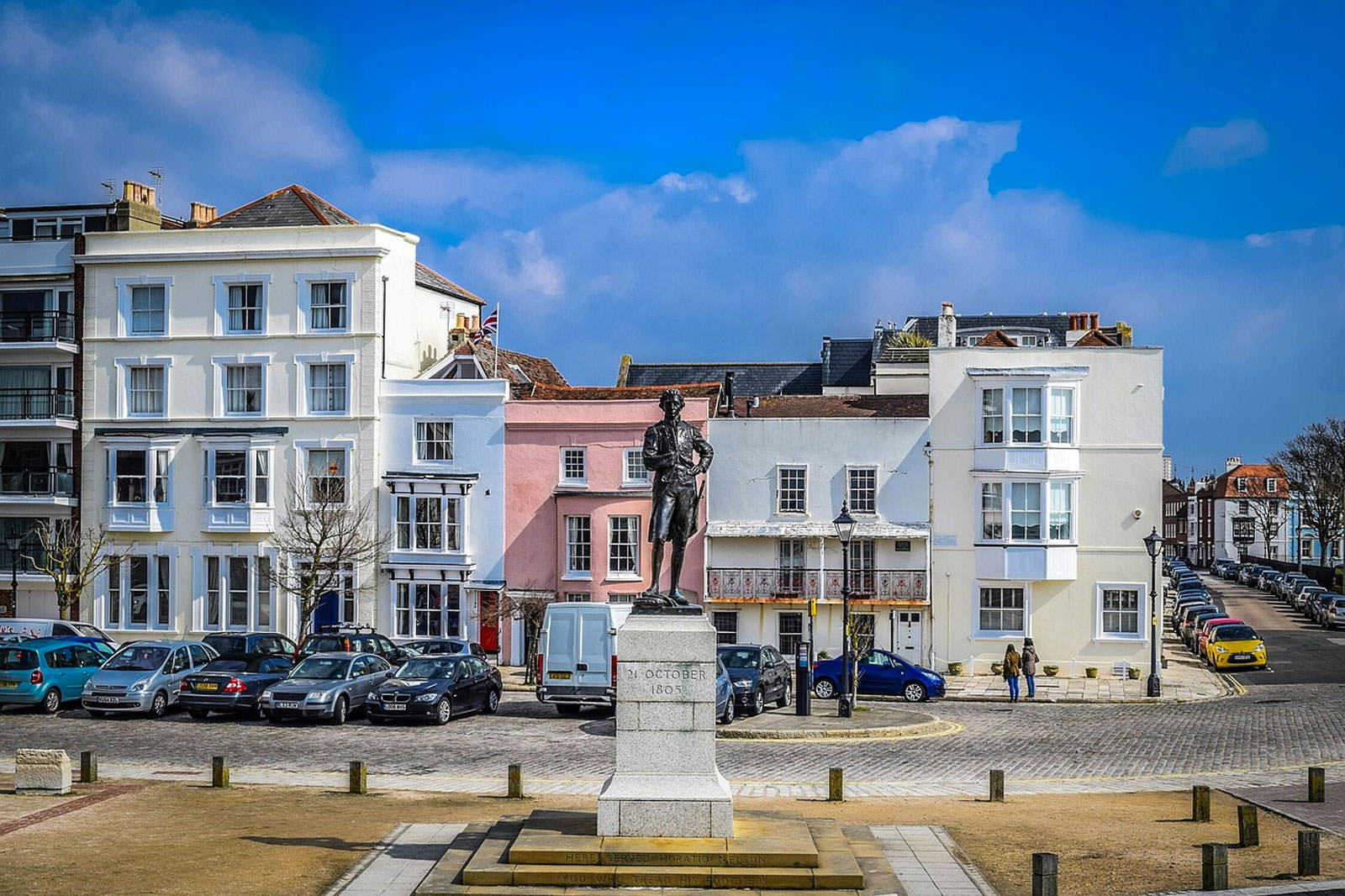 Walk the Nelson Trail
Walk in the footsteps of a British hero
The Nelson Trail is a free self-guided walking tour of some of the older parts of Portsmouth, stopping at places of interest related to Vice Admiral Lord Nelson. It's a very simple, easy route, starting at St George's Road, heading right down High Street and then following the coastline to end at the anchor of Victory, by Clarence Pier. Interesting stops along the way include Portsmouth Cathedral, the Spur Redoubt and The George Inn. It's only a 1-mile walk, but it's a good idea to wear comfortable shoes. You can find the route at tourist information offices and online.
Location: Start at Landport Gate, St George's Road, Portsmouth, UK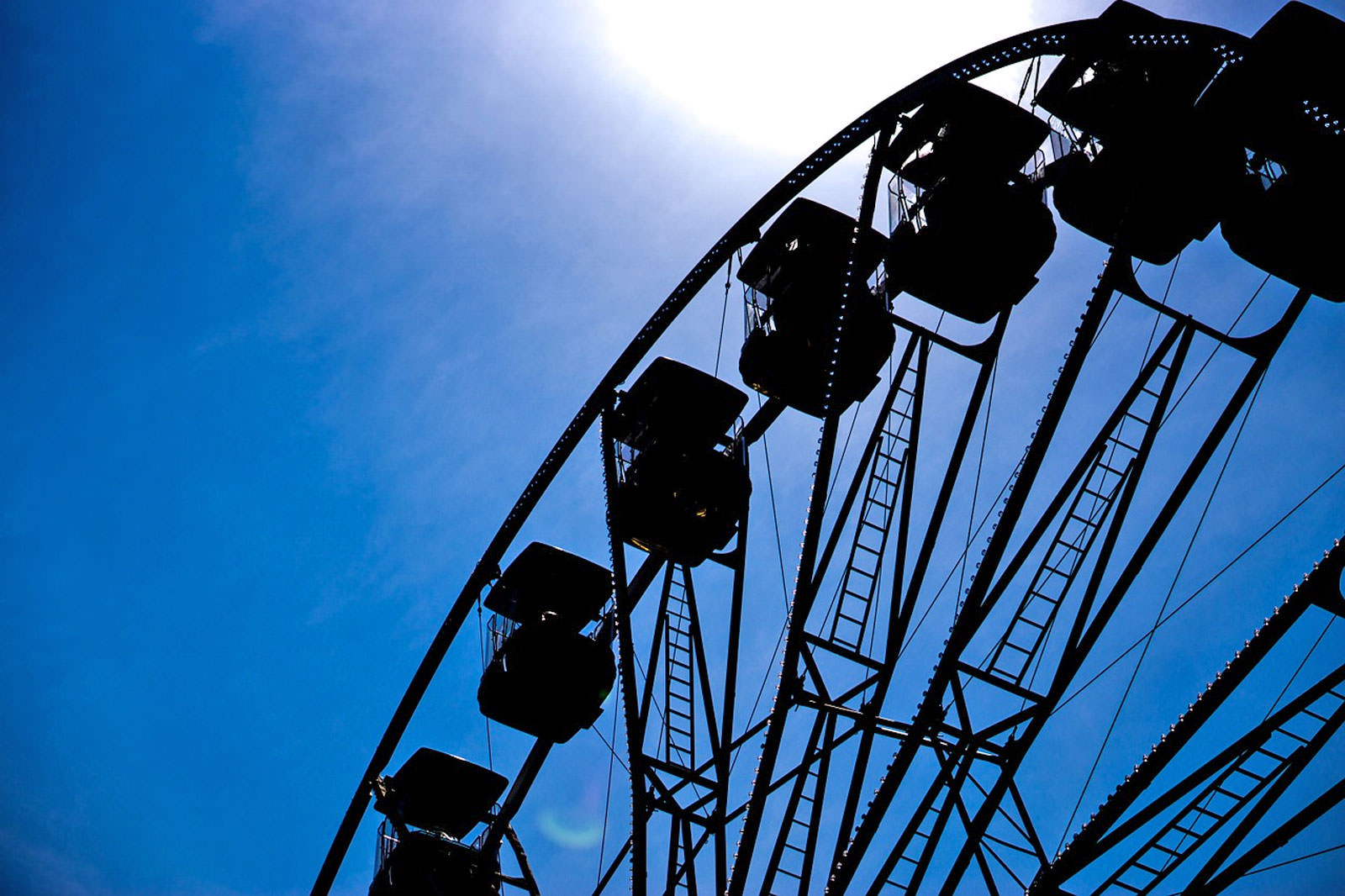 Take the Kids to Clarence Pier
Ride the Solent Wheel for views across the harbour entrance
Clarence Pier is a funfair near the entrance to Portsmouth Harbour, right next to the hovercraft port. The fair stretches along the beach, not out to sea from it. It includes a big wheel, a couple of rollercoasters, a mini golf course and an amusement arcade. Some of the attractions close during the winter months, but it has that very typical British seaside atmosphere in summer. Come a little early on Sunday morning and you can check out the car boot sale in a nearby field before the park opens.
Location: Clarence Esplanade, Portsmouth PO5 3AA, UK
Open: During summer, usually 12 noon to 8pm
Phone: +44 (0)23 9282 1455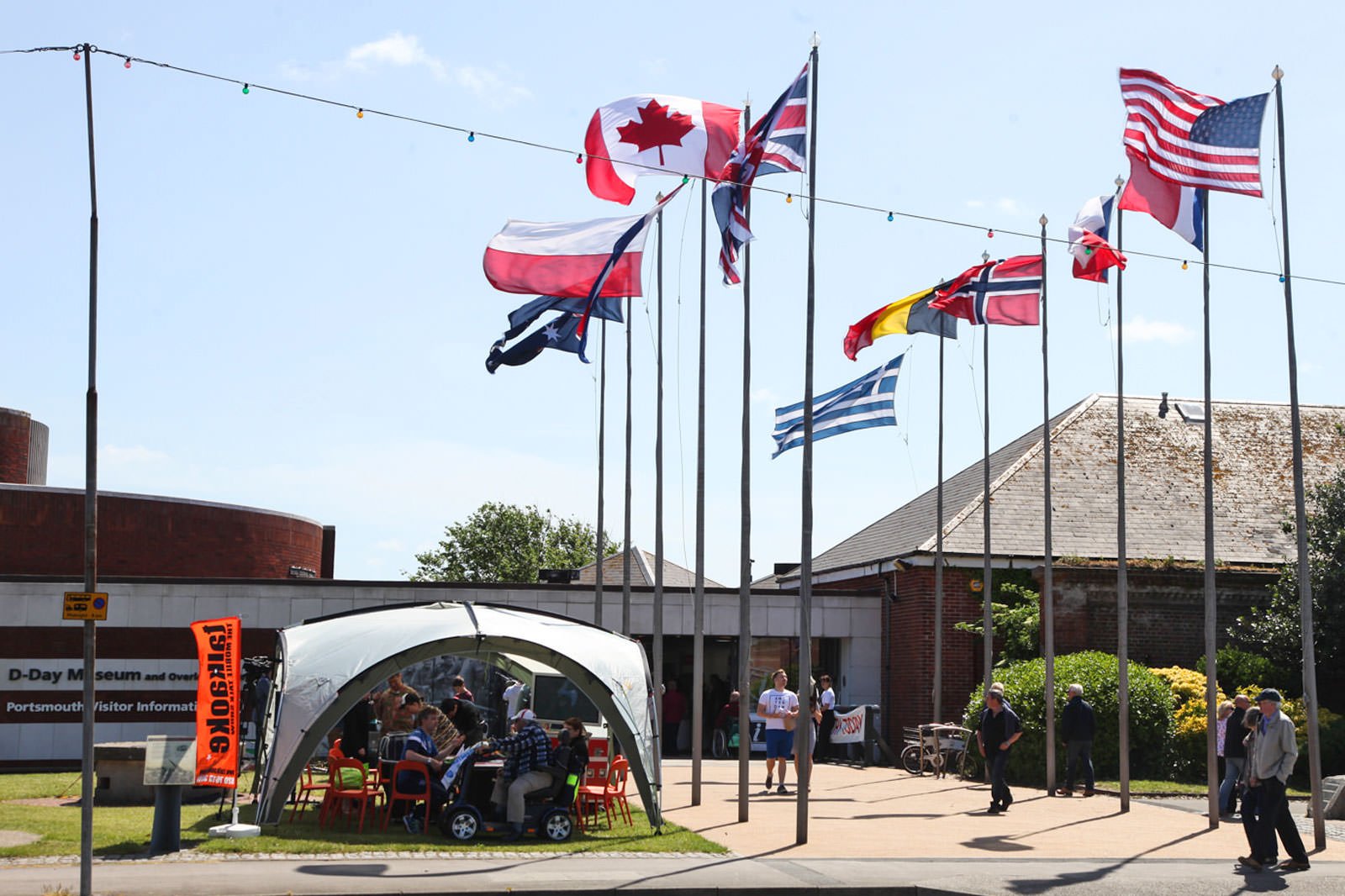 Hear the D-Day Story
Check out Southsea Castle, too
D-Day in June 1944 saw a massive multinational army crossing the English Channel into occupied France – an awe-inspiring undertaking, which Portsmouth played a pivotal role in. The D-Day Story is a modern museum which tells the tale of that undertaking through archive films and photos, as well as period artefacts. To give you an idea of the sheer scope of the operation, there's an 83-metre-long embroidery showing the landing craft crossing the sea – basically a modern-day Bayeux Tapestry. Within a short walk of the museum is Southsea Castle, which is also worth a visit.
Location: Clarence Esplanade, Portsmouth PO5 3NT, UK
Open: Daily from 10am to 5.30pm
Phone: +44 (0)23 9288 2555
photo by The People Speak! (CC BY 2.0) modified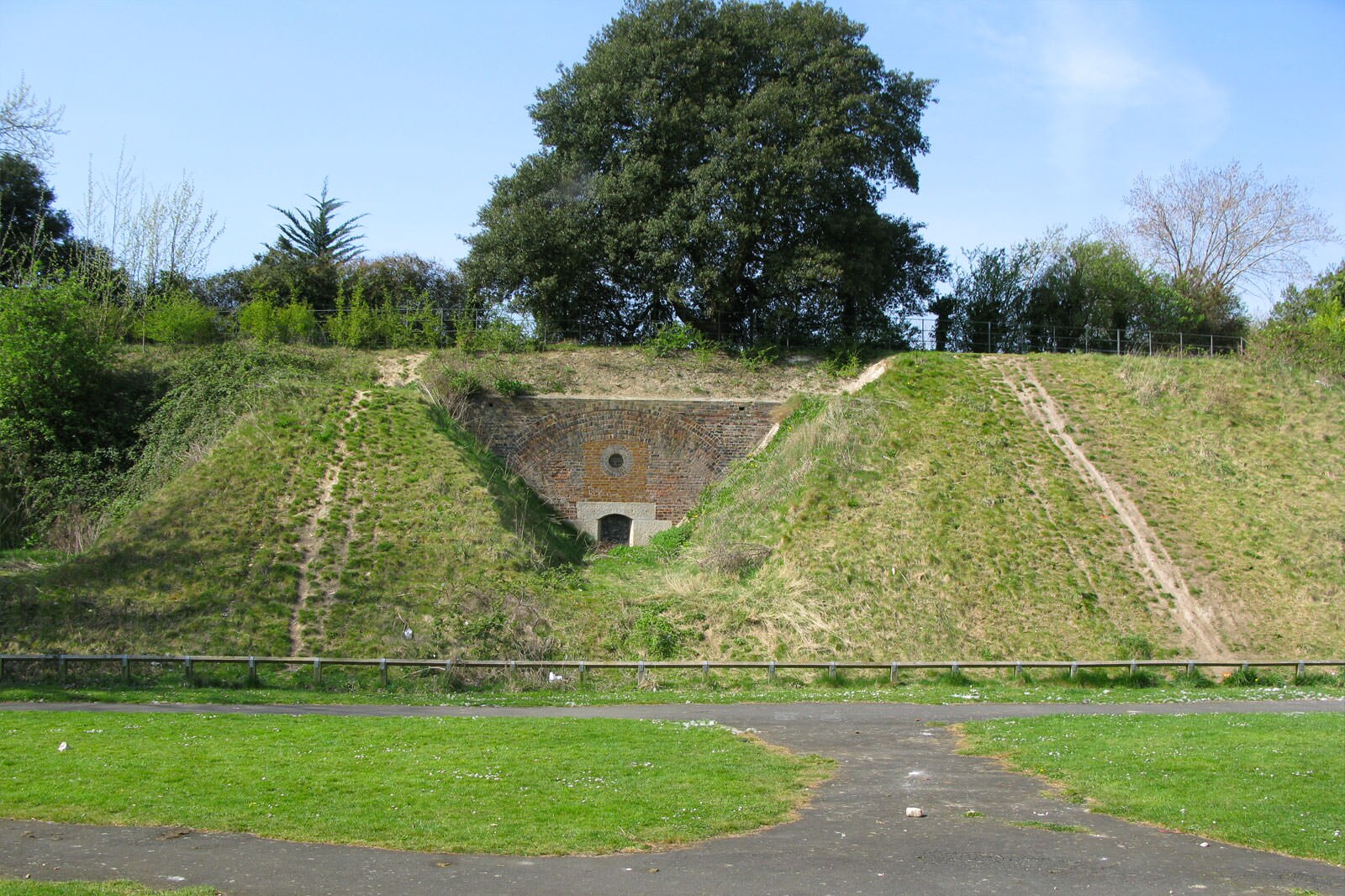 Walk Among Nature and History at Hilsea Lines
Look out for kestrels, kingfishers and casemates
The Hilsea Lines is an old and long-abandoned line of defence. The overgrown crumbling brickwork dates back to 1871. The old moat and bombproof gun emplacements (or casemates) are certainly impressive, but it's the natural habitat that has grown around them which makes it worth the visit. There a nature trail in the park which takes about an hour to walk and will give you the best chance of spotting some colourful creatures.
Location: Scott Road, Portsmouth PO3 5DZ, UK
photo by Geni (CC BY-SA 4.0) modified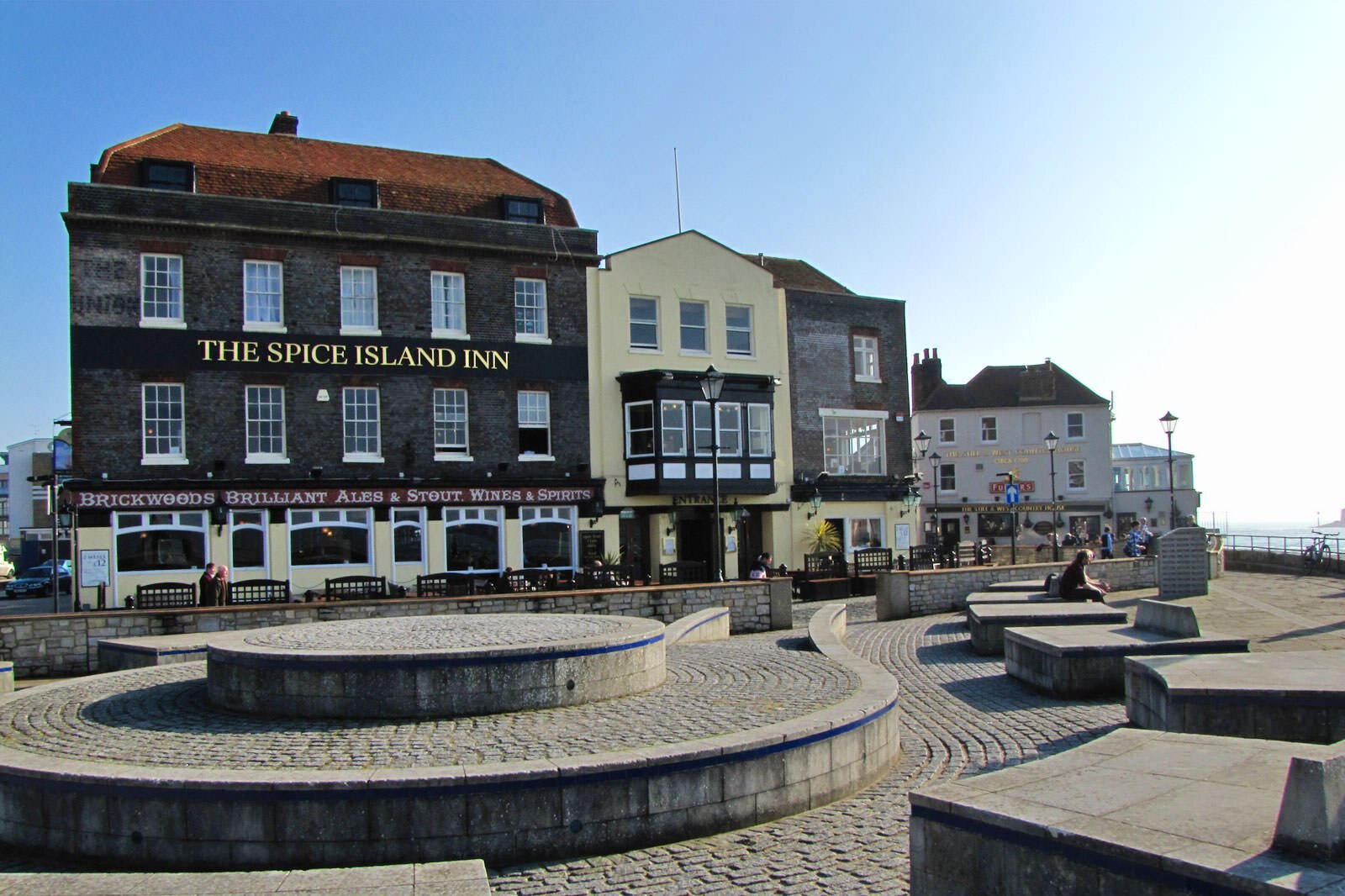 Eat a Curry on Spice Island
Great international cuisine in Old Portsmouth
The Old Portsmouth area was once known as Spice Island because of the nearby historical docks, which were often the entryway for exotic spices from around the world coming into the UK. That legacy lasts to this day, and the area has many great foreign flavours on offer. For a real taste of Spice Island, head to Albert Road and one of the many Indian and Chinese restaurants there. Noteworthy names include the Real China Hotpot Restaurant, Haldi, and Bodrum Restaurant.
Location: Albert Road, Portsmouth, UK
Open: Restaurant opening hours vary
photo by Tim Schofield (CC BY 2.0) modified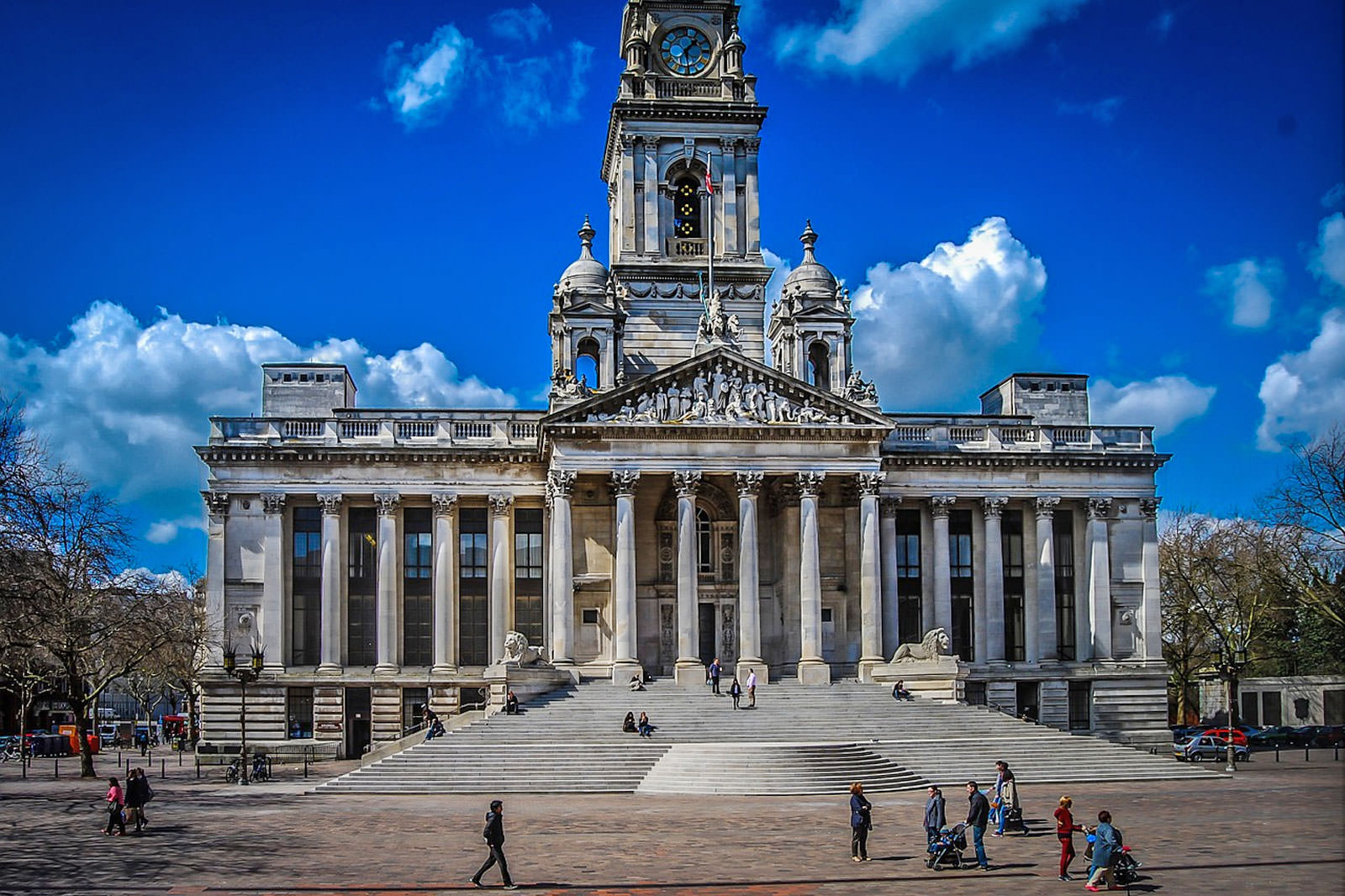 End the Day at the Portsmouth Guildhall
Take in a show in a beautiful Victorian venue
The Portsmouth Guildhall is the home of culture and entertainment in the city. The events calendar is filled virtually year-round, with concerts, comedy and drama. Having been the first place to host a live performance of Pink Floyd's Dark Side of the Moon album, it continues to attract big names to this day. There are also regular exhibitions and conferences you can visit during the day. For smaller but edgier plays, the New Theatre Royal Portsmouth is just down the road and, as with most good theatres, there are several bars in the immediate area.
Location: Guildhall Square, Portsmouth PO1 2AB, UK
Open: Monday - Friday from 9am to 5pm, Saturday from 10am to 2pm, Sunday from 1 hour before performances
Phone: +44 (0)23 9387 0200