10 Most Popular Neighbourhoods in Aarhus
Where to Stay in Aarhus?
The City of Smiles is full of beautiful natural experiences, heavenly flavours and world class cultural events. For example, enjoy a show in the 120-year-old historic theatre, Aarhus Teater, or catch a movie in the small, cosy cinema on Trøjborg. You can also take off your sandals and feel the sand between your toes on Bellevue Strand in the middle of Risskov, or you can bike to the lovely Frederiksbjerg, where you can buy crème de la crème specialities and fresh, colourful flowers at the outdoor market on Ingerslevs Boulevard.
1
The Latin Quarter (Latinerkvarteret)
Visit the oldest and most unique district in the City of Smiles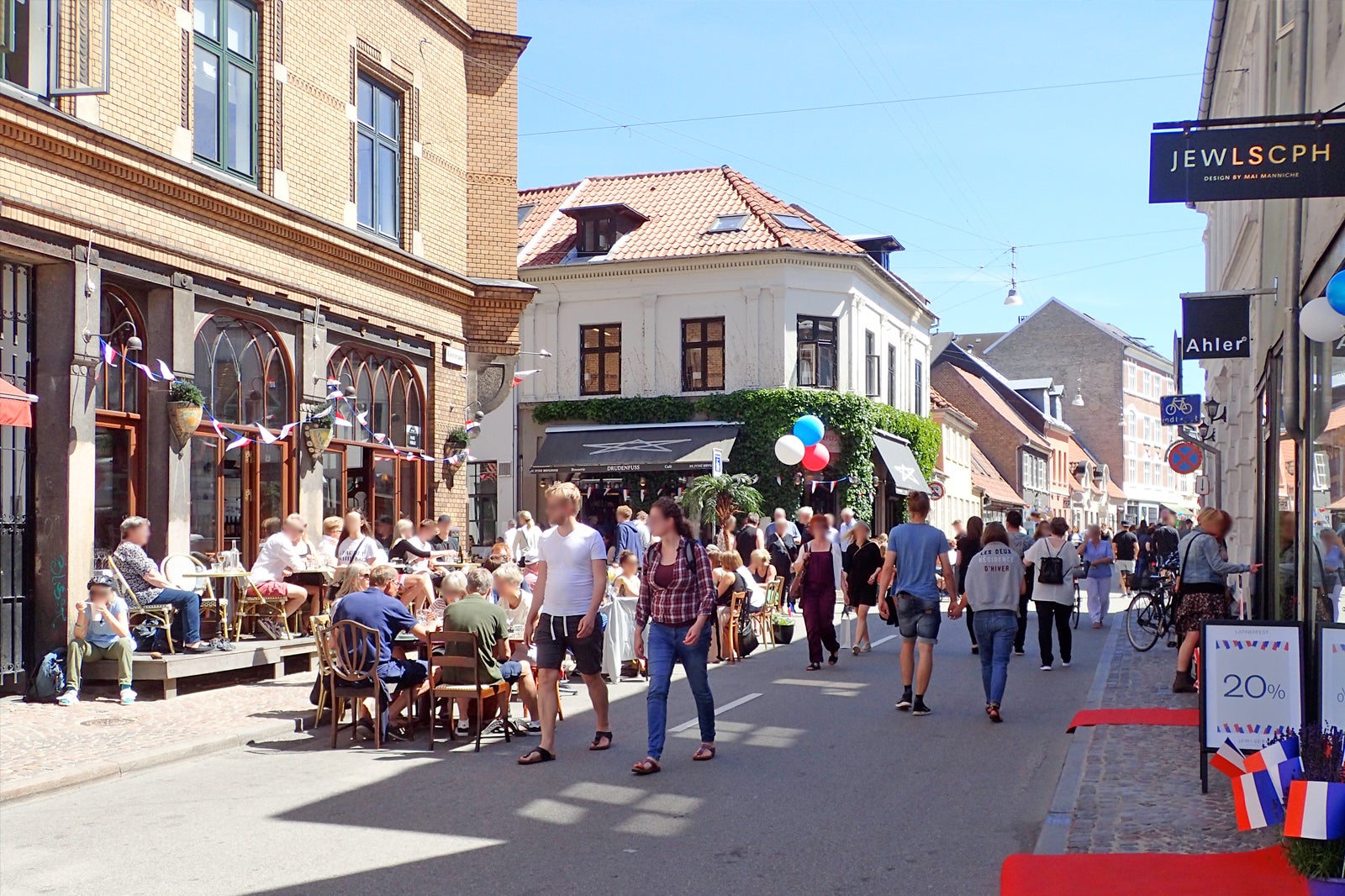 The Latin Quarter (Latinerkvarteret) is many things, but most of all, it is stylish and the oldest quarter in the city, dating back to the 1400s. This quarter is full of life, with cosy cafés, restaurants and culture. At Pustervig Torv, you can sample French cuisine at Carlton, enjoy a cold glass of wine at one of the many cafés and adsorb the pulsating atmosphere of Aarhus in the stylish streets with colourful buildings.
Among other things, the Latin Quarter is known for KØN – Gender Museum Denmark, which recounts the history of women throughout the last 150 years. The cinema Øst for Paradis will also tempt you with cultural offers, consisting of independent and international films, as well as a true gem of a café. You will find streets full of designer clothing, applied art and nice shops. Set aside good time to experience the nicest quarter in the City of Smiles.
photo by RhinoMind (CC BY-SA 4.0) modified
2
Ceresbyen
Enjoy a pulsating quarter and a fresh, foamy beer in the city centre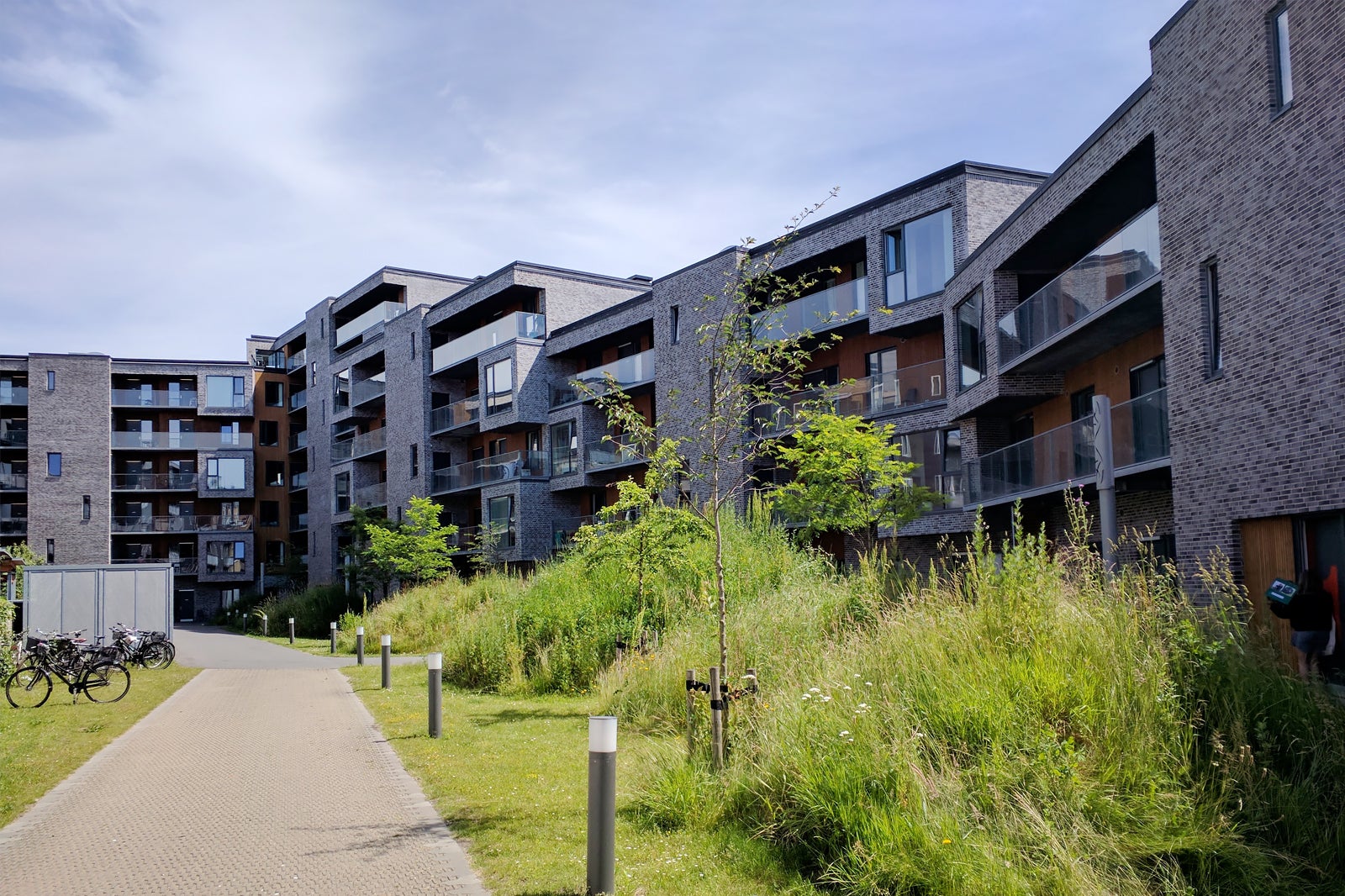 Welcome to a relatively new and popular quarter in the western part of central Aarhus. Ceresbyen is named after the old Ceres Brewery (Ceres Bryggeri), which took its name from the Roman god of corn and fertility. Even though the brewery stopped brewing beer in 2008, the two original buildings from the 1800s have been preserved. The same goes for the garden, which today has been turned into a public park called Cereshaven.
You will experience an inspiring neighbourhood, where both students and the working people of Aarhus live in modern apartments, with energy-efficient architecture, nice cafés and tempting restaurants. Another experience with corn is restaurant MALT, which with its attractive premises in the former Ceres Brewery, offers delicate courses and foamy specialty beers from Kissmeyer. Cheers!
photo by Gardar Rurak (CC BY-SA 4.0) modified
3
Aarhus Ø
Visit the newest neighbourhood in the urban Aarhus Ø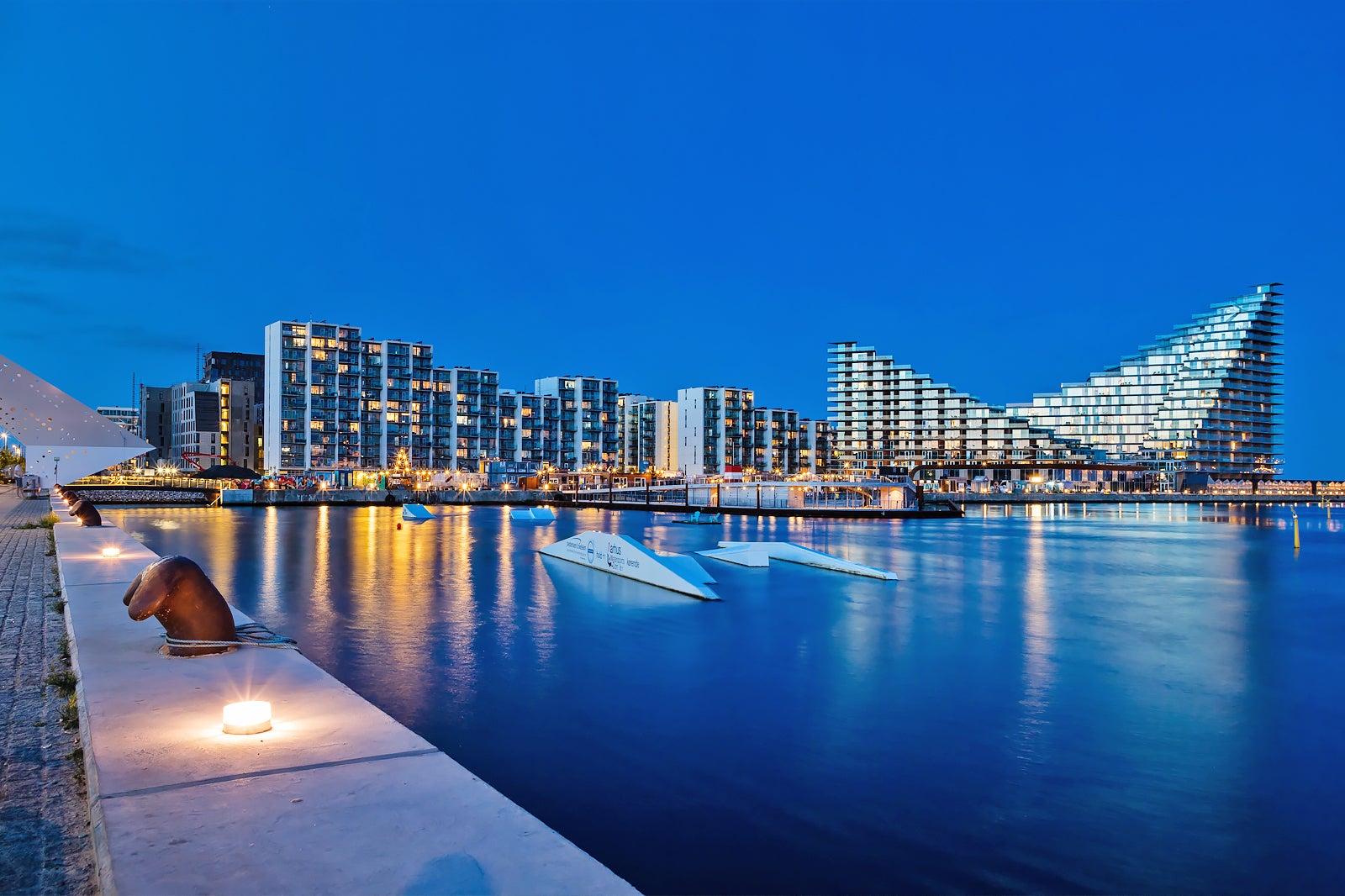 Prepare yourself for nice, modern buildings surrounded by water and a beautiful view of the top of the trees in Riis Forest (Riis Skov). Aarhus Ø is the newest neighbourhood, and very eye-catching with its different, tall, architectonic residential and cultural buildings. You can't help but fall in love with this neighbourhood when taking a walk on the paths along the harbour overlooking the Bay of Aarhus (Aarhus Bugt).
When you visit Aarhus Ø, you'll not only come across tempting fish restaurants and delicate wine bars, but also the popular harbour baths. Here, you can take a dip in the harbour pool or jump on a SUP board and sail close to Lighthouse or Isbjerget, which are both landmarks and residential buildings. Should you get thirsty, pop by Hantwerk, which with its urban feel and specialty beers, has a real big-city atmosphere.
4
Aarhus C
Explore the centremost district in the City of Smiles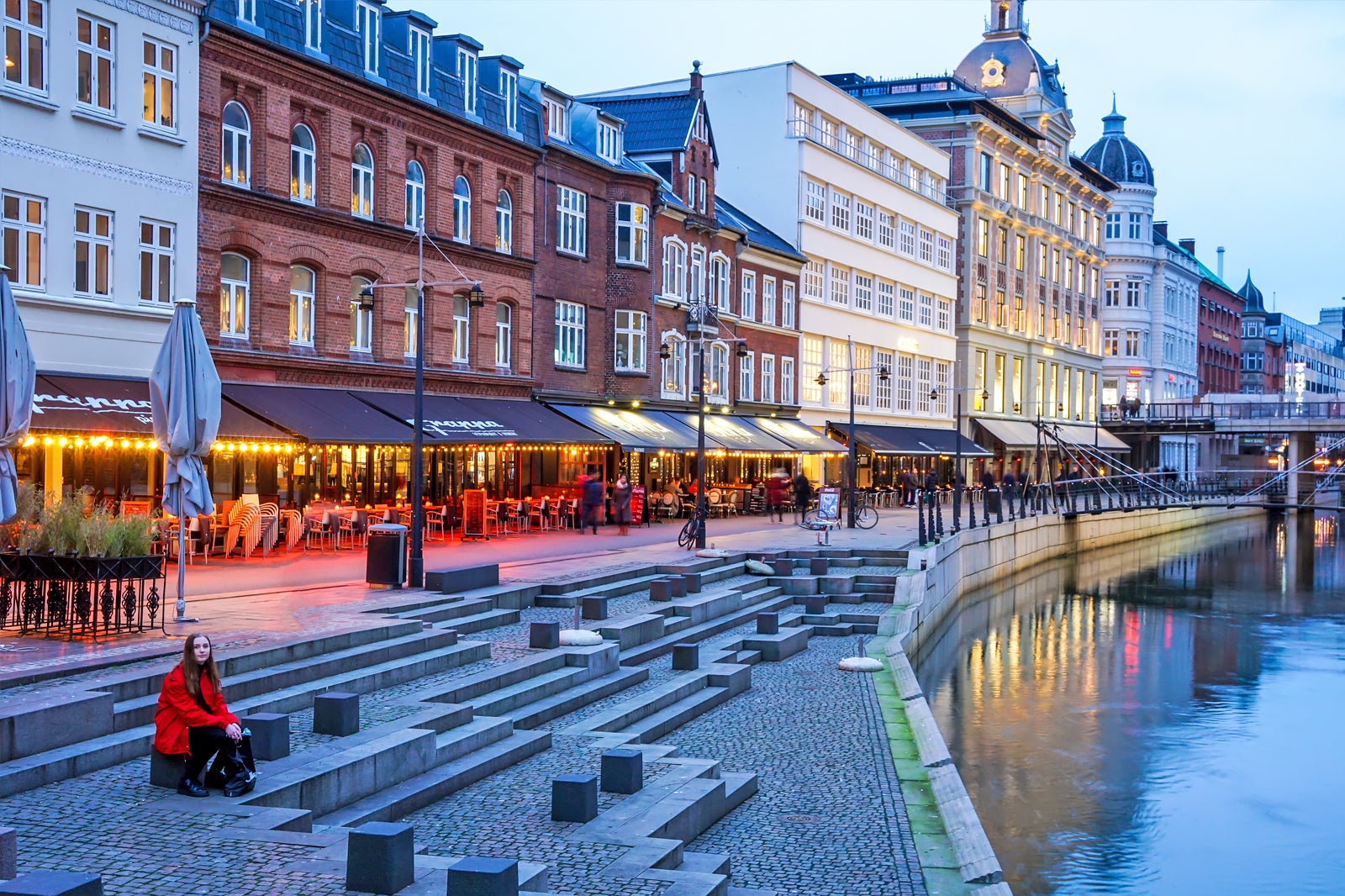 History
Photo
Food
Nightlife
In the heart of the City of Smiles, you'll find an old district with roots dating back to the end of the 700s. Naturally, we are talking about Aarhus C, the city's inner core. Here, you'll find the nicest historic buildings and charming cobblestone roads, all of which can be found along three avenues: Nørre Allé, Vester Allé and Sønder Allé.
You can take the train to Aarhus Central Station and stroll down Strøget with its multitude of shops. The district is swimming in culture, with the world-famous ARoS Aarhus Art Museum (ARoS Aarhus Kunstmuseum), Musikhuset Aarhus, and of course, Denmark's largest provincial theatre with five stages under the same roof – Aarhus Theatre (Aarhus Teater). The residents of Aarhus love delicious food and drink, and you'll therefore find plenty of restaurants and drinks and wine bars. Enjoy!
5
Risskov
Pop by this district, with city life, forest and a lovely beach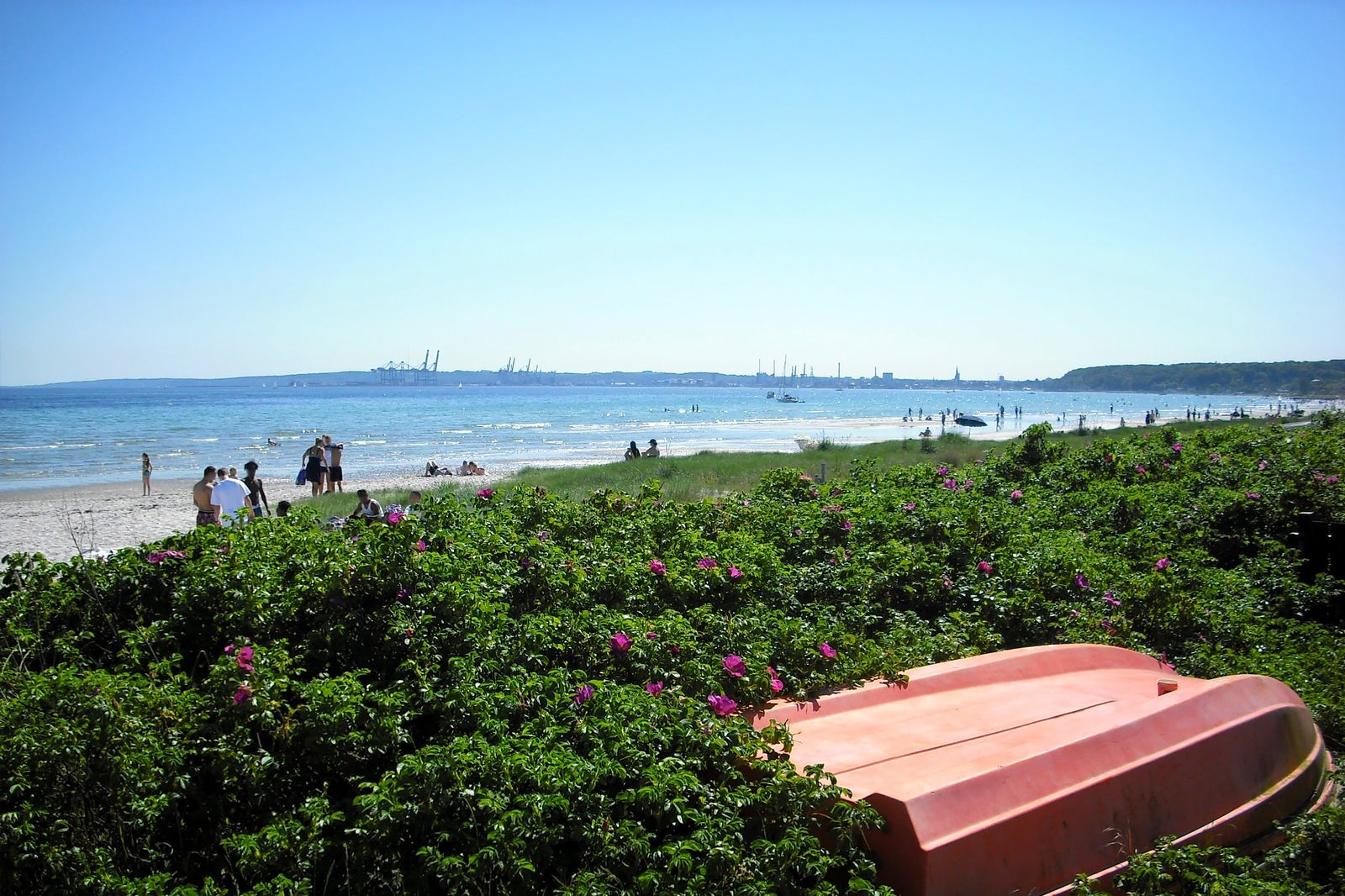 At Risskov, you can go for a nice long walk along fantastic beaches. During summer, these are among the most popular beaches, thanks to the fine sand and lack of rocks in the clear water. Actually, you can walk along the water all the way from the bathing facility The Permanent (Den Permanente), at the end of Riis Forest (Riis Skov), to Åkrogen Beach (Åkrogen Strand) – about 3 miles. Along the way you'll pass Bellevue Beach (Bellevue Strand), which is full of life and a fantastic atmosphere, particularly in the summer.
However, Risskov offers more than just beaches. In the large forest, you can lace up your running shoes and go for a nice run on well-constructed paths and marked jogging routes. You can choose between the red route or the slightly longer yellow route. Just remember to slow down along the so-called Devil Hill (Djævlebakken) at the end of Risskovstien – it's steep!
photo by Bjørn Giesenbauer (CC BY-SA 2.0) modified
6
Åbyhøj
Pack a picnic basket and prepare yourself for a fun trip among great poets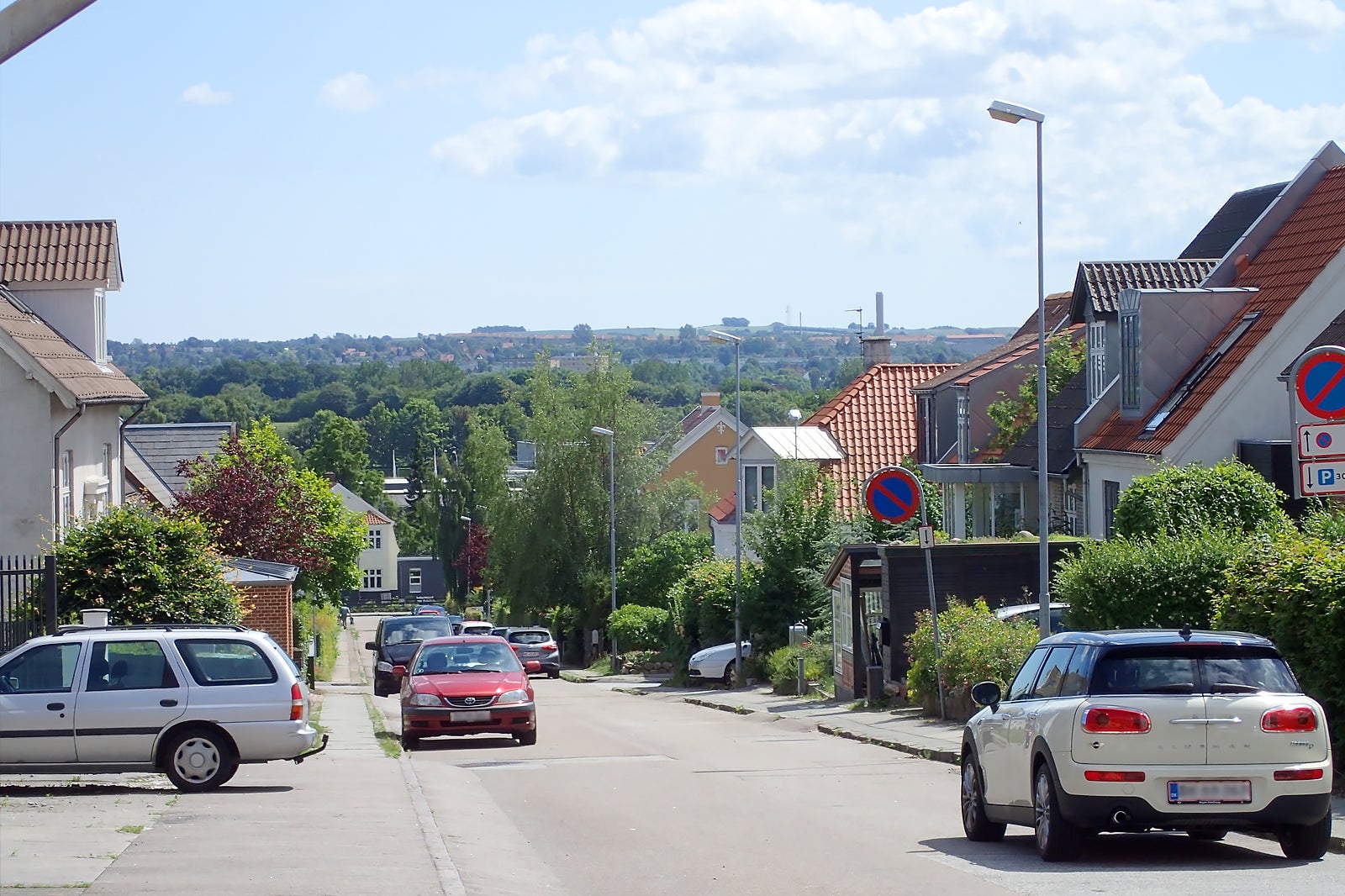 Many of the roads in Åbyhøj are named after great Danish poets, such as Johannes Ewald, Jeppe Aakjær and H.C. Andersen. However, it's not just the road names that point to famous Danes, as the neighbourhood was the birthplace of many popular Danish musicians, including Anne Linnet, Tina Dickow, Steffen Brandt and Marc Johnson. The music history of the town does not end here. The area is particularly famous for its popular music festival, NorthSide, which has been held in Åbyhøj since 2011.
However, there is more to the neighbourhood than great music and cold beer. It's also a quiet family neighbourhood with peaceful residential streets, newly-constructed residence halls full of students and modern apartment complexes. Pack your picnic basket and enjoy an afternoon in the park in Åbyhøj.
photo by RhinoMind (CC BY-SA 4.0) modified
7
Øgadekvarteret
A quiet oasis in the city centre with streets named after Danish islands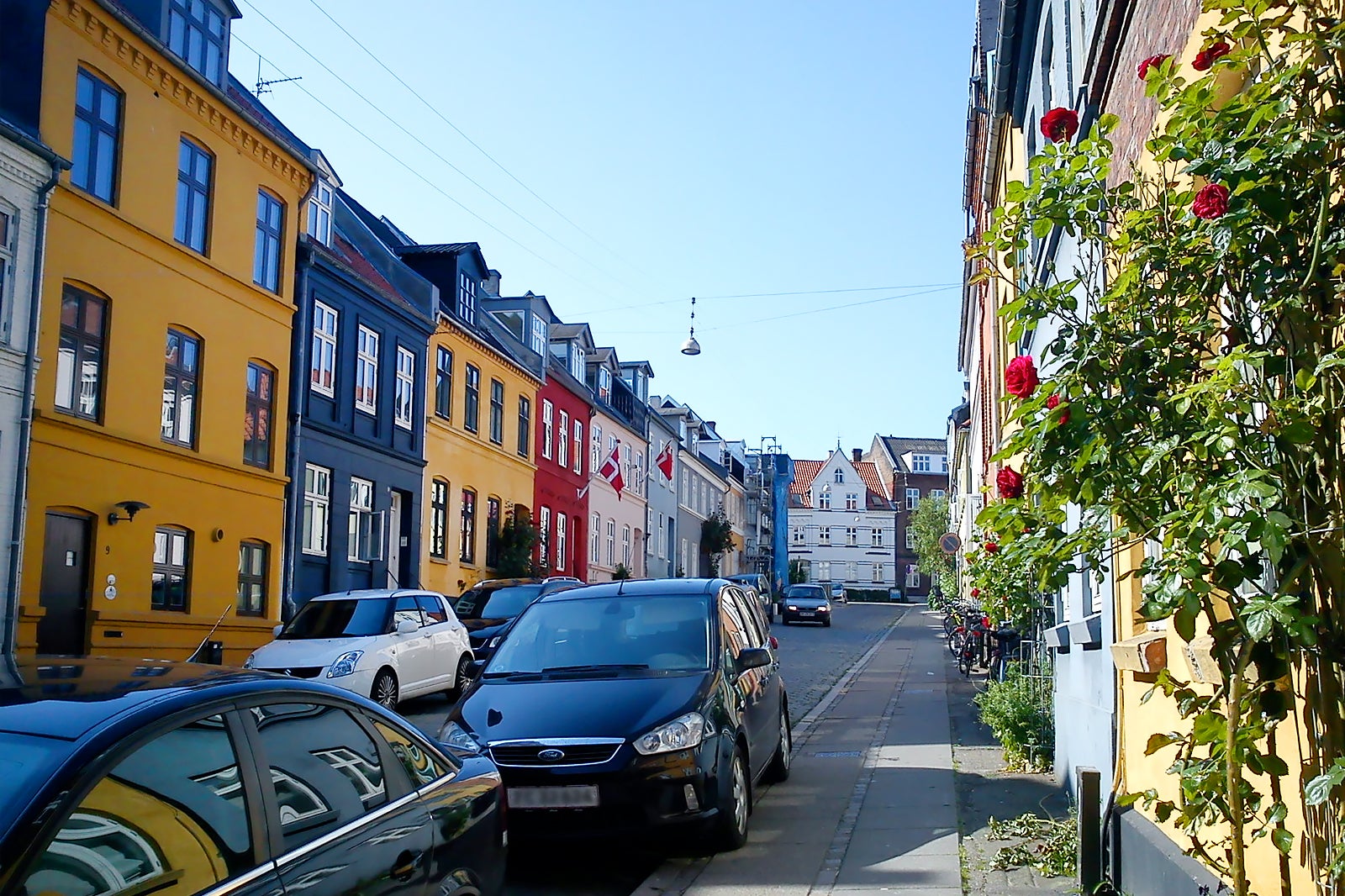 Prepare for a great trip to Øgadekvarteret, which dates back to the 1800s. Due to the long history of the neighbourhood, you can see and admire the majestically decorated buildings, not far from Aarhus C. The neighbourhood is named after Danish islands, so you can take a stroll down roads like Saltholmsgade, Samsøgade or Mønsgade.
This area of the city is full of family life, with schools, playgrounds, small barber shops and a little kiosk. On the other side of the nice buildings of the quiet oasis that is this neighbourhood, you can find the pulsating city life of Aarhus. So, if you start feeling hungry, there are exciting restaurants nearby, and you'll be able to find everything from sushi and Asian food to pizza and moules frites just a stone's throw away.
photo by RhinoMind (CC BY-SA 4.0) modified
8
Frederiksbjerg
Visit Frederiksbjerg, an exclusive district full of delicacies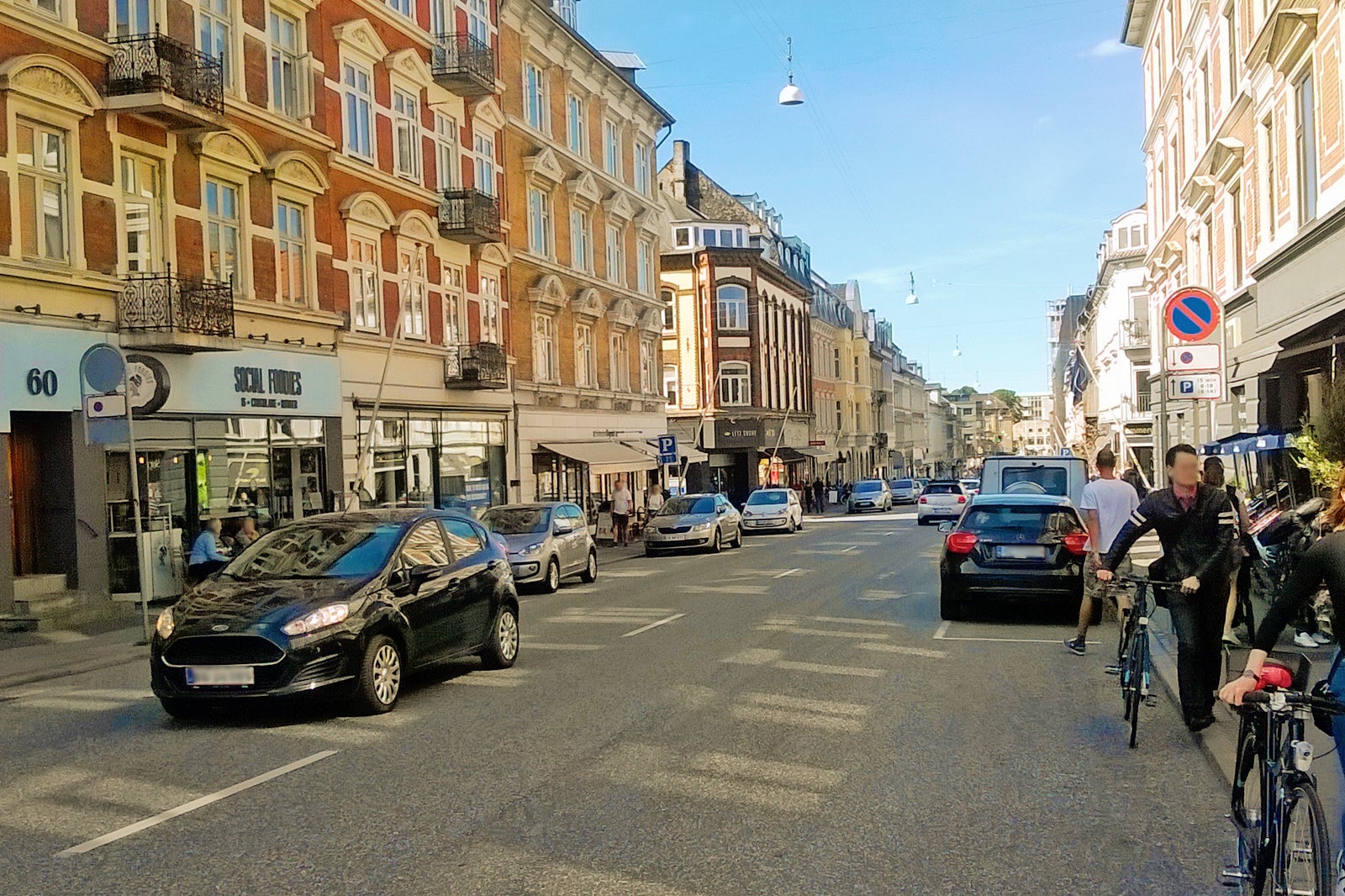 At Frederiksbjerg, everything is just a bit nicer. Here, you'll find an exclusive residential zone with beautiful old buildings topped with spires, as well as new buildings like Frederiksbjerg School (Frederiksbjerg Skole). You will also certainly run into housewives and husbands on a stroll with their prams.
Wednesday and Saturday, the district invites you to Ingerslevs Boulevard for the best outdoor market, with delicacies, fresh flowers and vegetables. You can also pop into one of the many bakeries, where you can find delicious freshly-baked bread, or you can visit restaurants with French, Nordic or Italian food on the menu. Visit Mikkeller and enjoy special beer, or get a cocktail with a twist at St. Pauls Apothek on Jægersgårdsgade. If you need a shot of caffeine, you should drop by God Kaffe, which means 'good coffee' and certainly lives up to its name.
photo by Kenny Arne Lang Antonsen (CC BY-SA 4.0) modified
9
Trøjborg
Do as the locals and enjoy the nature and culture of the district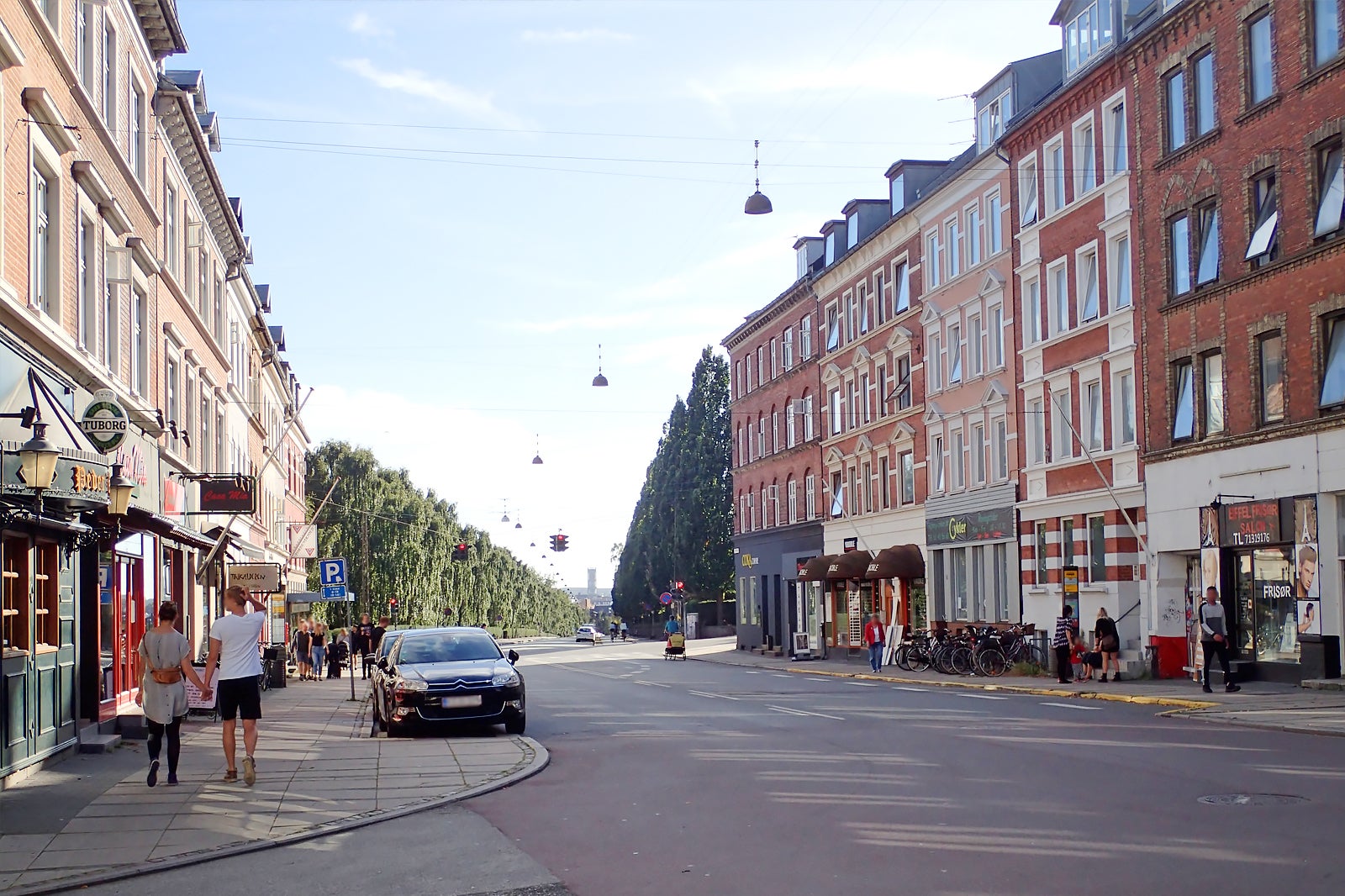 In the northern part of Aarhus you can find Trøjborg, towards Riis Forest (Riis Skov) and the Bay of Aarhus (Aarhus Bugt). Trøjborg is a unique district because it's close to the forest, bathing facilities, the university and the centre. For this reason, it's often called the 'city in the city'. The main road in the district invites you to visit cosy cafés and bars, while Trøjborg's cinema opens its doors to the smell of salted popcorn and the sound of iconic film soundtracks.
Trøjborg is a former working neighbourhood, which today is characterised by family and city life, with cafés and culture. Therefore, it's not all that strange that Trøjborg is one of Aarhus' most attractive neighbourhoods for families and students at Aarhus University, which is right around the corner.
photo by RhinoMind (CC BY-SA 4.0) modified
10
Viby J
Visit the Viking town of Viby and enjoy an afternoon in the centre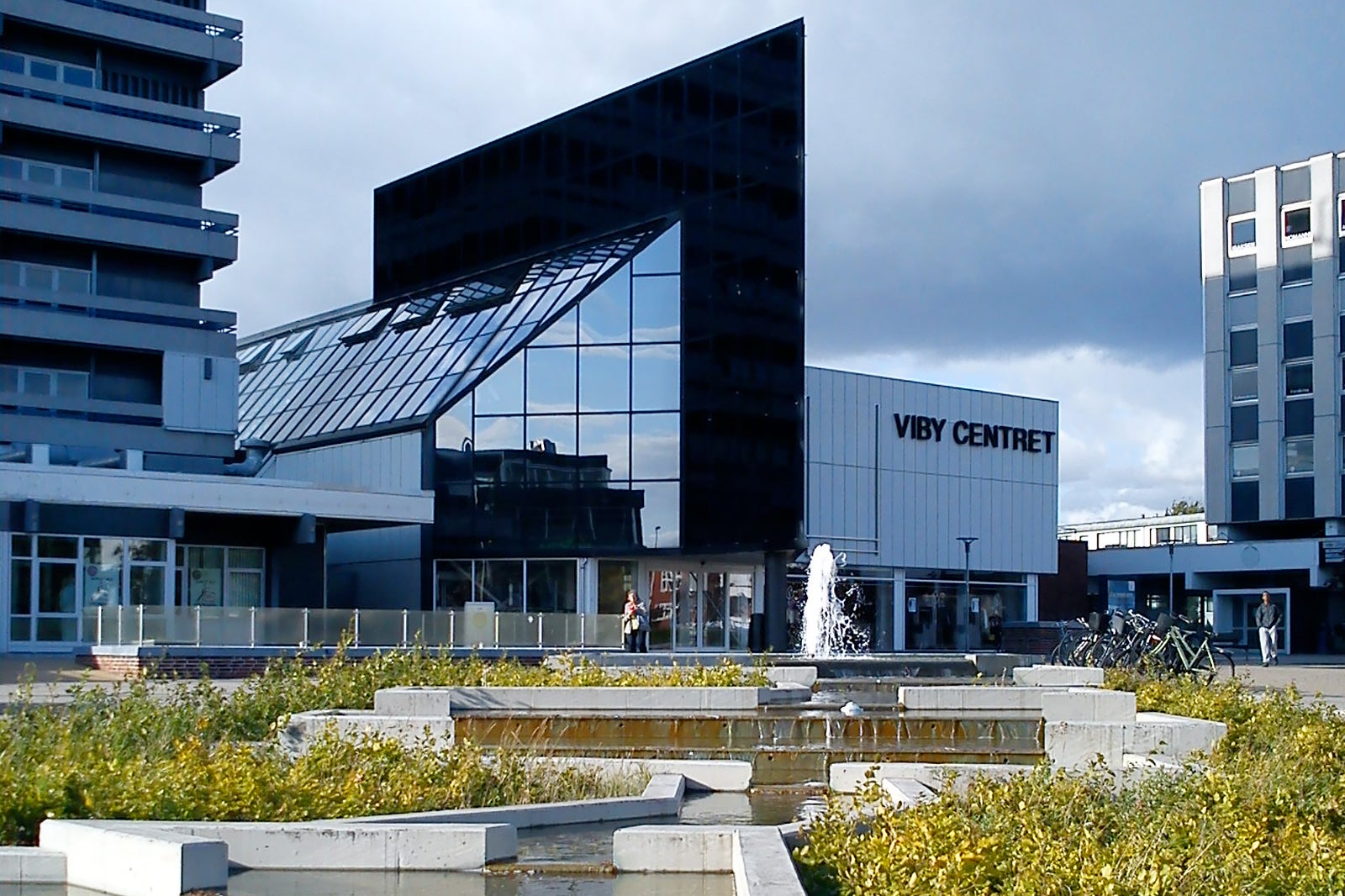 Two and a half miles south-west of Aarhus centre, you can find Viby Square (Viby Torv) in Viby J. The square is centrally-located on the corner of Skanderborgvej, Kirkevej and Viby Ringvej, and it's adjacent to Viby Church (Viby Kirke) and Viby School (Viby Skole). Here, you can find shops and banks, and you can jump on the train at Viby Station, just over half a mile from the square. Viby's history is interesting since it was actually here, at the mouth of Aarhus River (Aarhus Å), that the Vikings settled and founded Aarhus.
In this district, you can exercise by playing some squash or knocking down some pins at Bowl'n'Fun. Should you want to go shopping, you should drop by Viby Centret, which offers clothing and specialty stores as well as food and drink.
photo by RhinoMind (CC BY-SA 4.0) modified
Back to top