10 Best Siem Reap Dishes
Must-Try Dishes in Siem Reap
The best Siem Reap dishes can be enjoyed everywhere in the quaint town, from dingy roadside stalls and traditional markets to luxury hotels and high-end Khmer restaurants. Due to its close proximity to Tonle Sap Lake, freshwater fish is a common ingredient with noodles, soups, and curries, while grilled beef, pork, and chicken are paired with rice and salads. Siem Reap is also heavily influenced by the French, so traditional soups are often served with a baguette for breakfast.
Siem Reap cuisine is healthier than many other regional cuisines as its dishes contain a myriad of fresh vegetables and herbs such as lemongrass, galangal, kaffir lime, and shallots. Not only are these dishes inexpensive (with prices sometimes as low as US$0.50 per serving), you can easily have them customised according to your dietary specifications. Start your Khmer culinary adventure with these 10 must-try dishes in Siem Reap.
1
Bai Sach Chrouk (Pork with Broken Rice)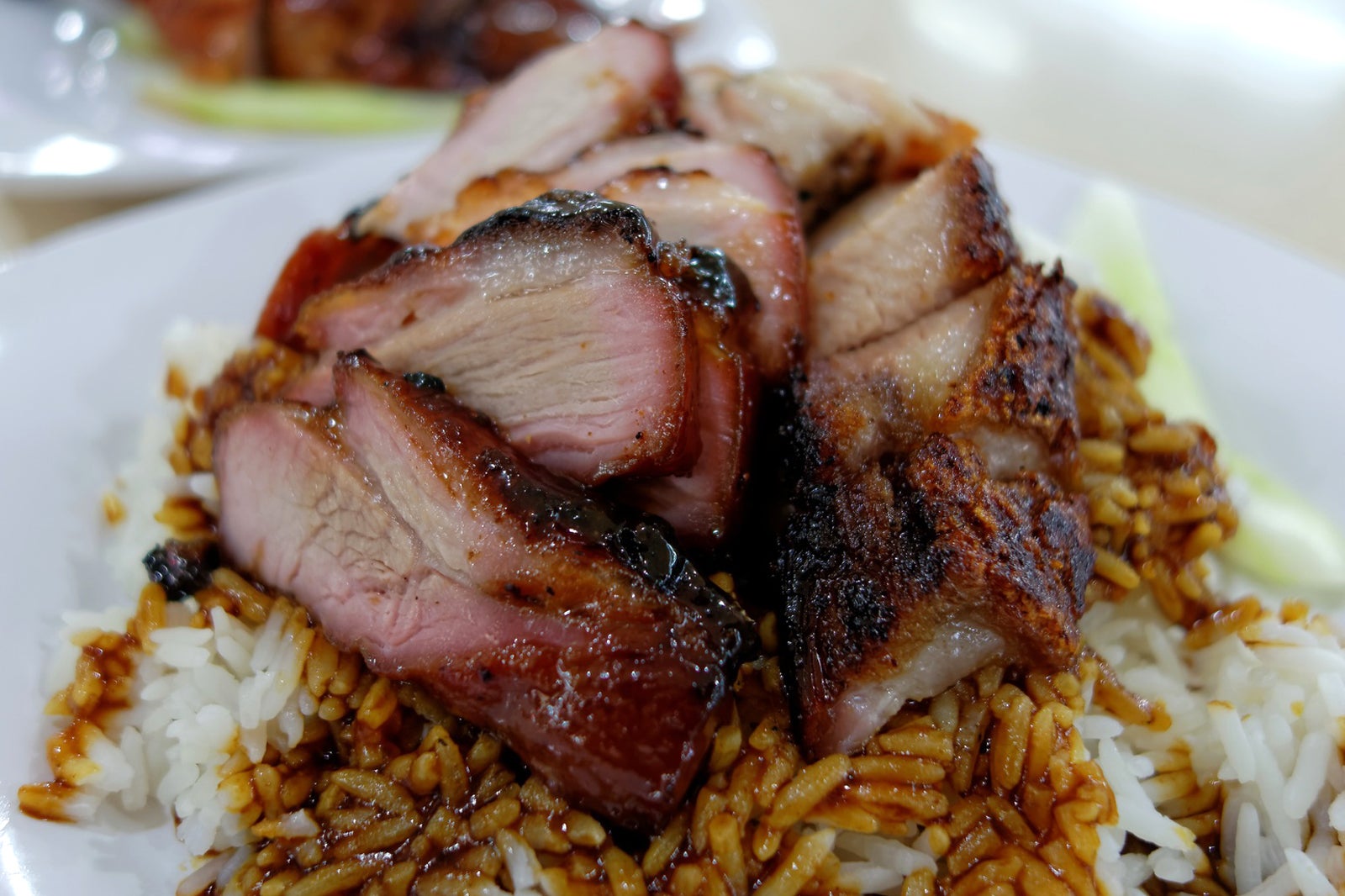 Bai sach chrouk is sold by roadside food stalls and local markets in downtown Siem Reap for less than US$1. This simple yet popular Cambodian breakfast staple comprises juicy pork slices, scrambled eggs, and rice.
While the dish typically calls for raw pork that's slow-cooked over a charcoal stove, there are several Khmer restaurants that marinate the meat with coconut milk or garlic for added flavour.
Once it's cooked, the pork is thinly sliced and arranged atop a bowl of broken rice, sliced scrambled eggs, pickled cucumbers, and daikon radish. A bowl of chicken broth, scallions and fried onions are also served together with bai sach chrouk.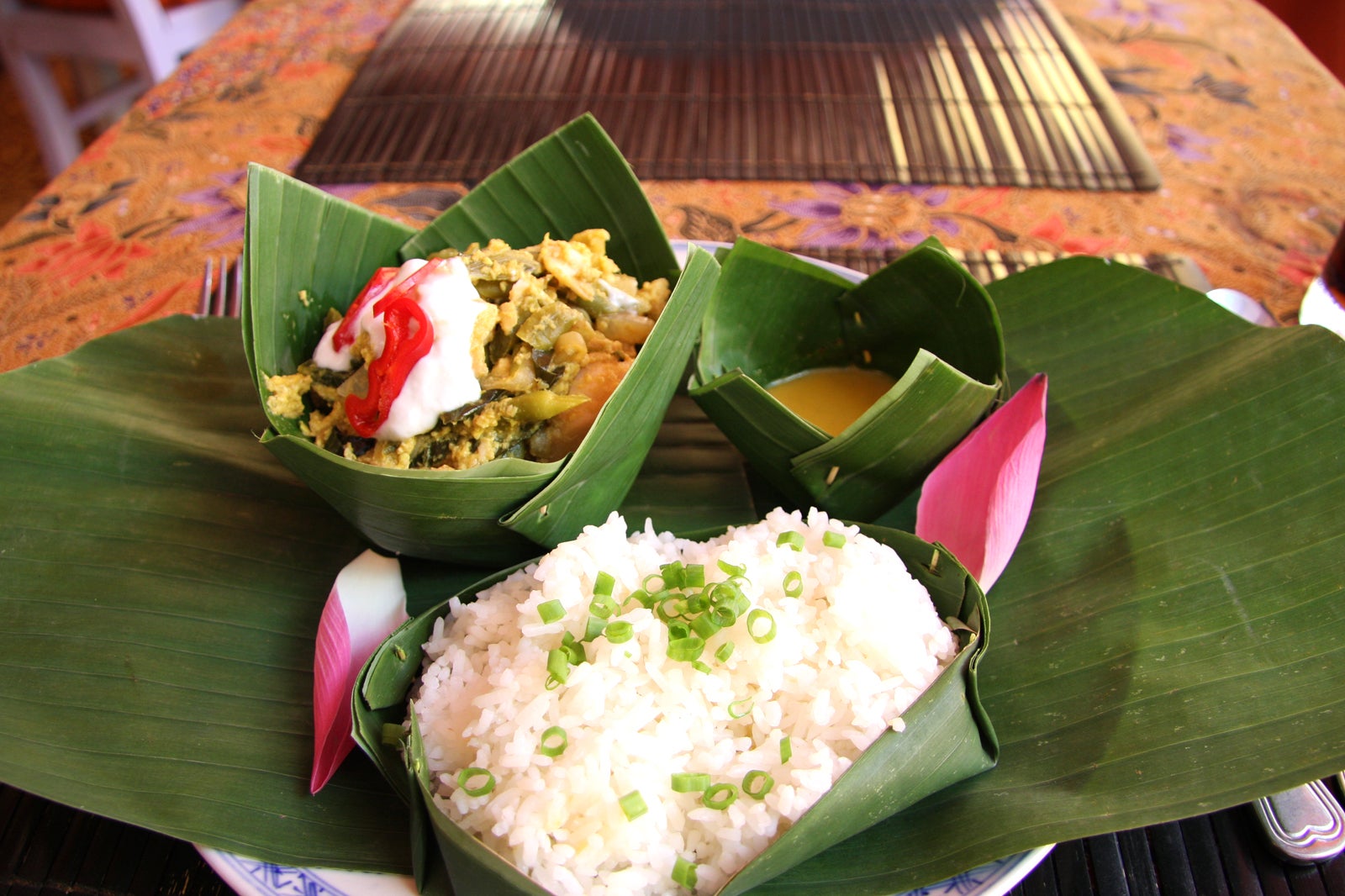 Fish amok is freshwater fish fillet that's steamed with curry and banana leaves, resulting in a soft mousse-like texture. Unlike most curries in Asia, it exudes a fragrant flavour rather than a spicy one due to the combination coconut milk and kroeung, a Khmer-style curry paste which contains garlic, lemongrass, turmeric root, Chinese ginger, kaffir lime, shallots, and galangal.
Fish amok is traditionally eaten during the Water Festival, but travellers can enjoy this classic dish (with a big plate of rice) any time of the day at local restaurants in Siem Reap.
3
Lok Lak (Stir-Fried Beef)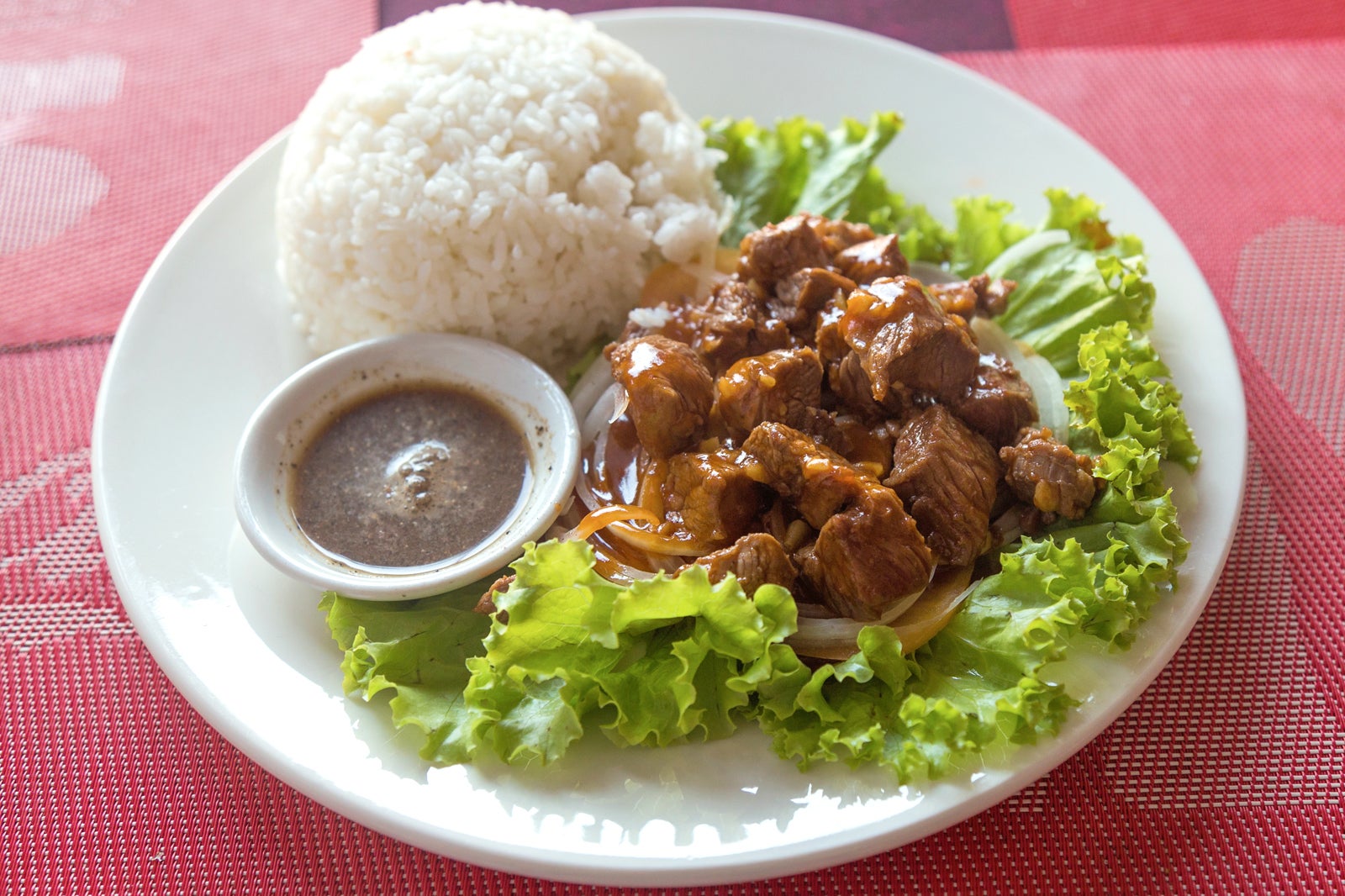 Lok lak or stir-fried beef varies from one cook to another, but it's usually accompanied with fresh lettuce, tomato, red onion, and cucumber slices. To produce its distinctive flavour, the meat is marinated overnight with a unique combination of fish sauce, soy sauce, lemon, pepper, and oyster sauce.
If you're not a fan of beef, most restaurants can easily substitute it with venison, pork, chicken or even tofu. As with most local dishes in Siem Reap, lok lak is served with rice, fried egg, tangy brown sauce, and a side of fresh lettuce leaves.
photo by Marcin Konsek (CC BY-SA 4.0) modified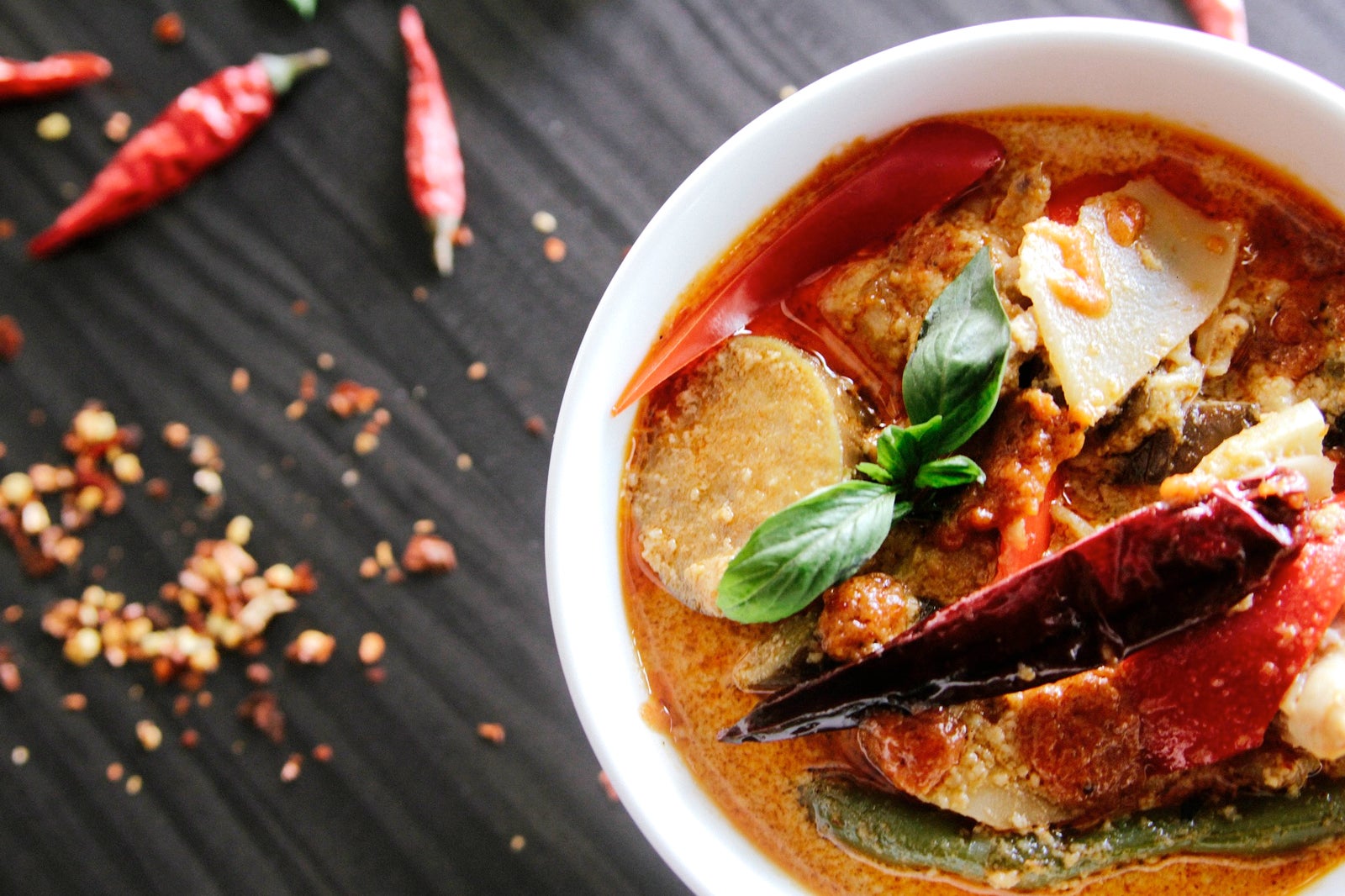 Khmer red curry, despite its striking colour, does not contain chilli, making it a much milder version of typical Thai and Indian curries. Ideal for those who can't stand spicy food, this coconut milk-based dish utilises kroeung, which is a Khmer curry paste made with lemongrass, galangal, kaffir lime zest, and turmeric.
Traditionally served with a French baguette, it's cooked together with meat slices (beef, chicken or fish), eggplant, green beans, and potatoes. The best place to enjoy Khmer red curry is at Khmer Kitchen Restaurant, though we highly recommend Malis Cambodian Restaurant's Kampot rock crab red curry (US$22) for seafood lovers.
5
Nom Banh Chok (Khmer Noodles)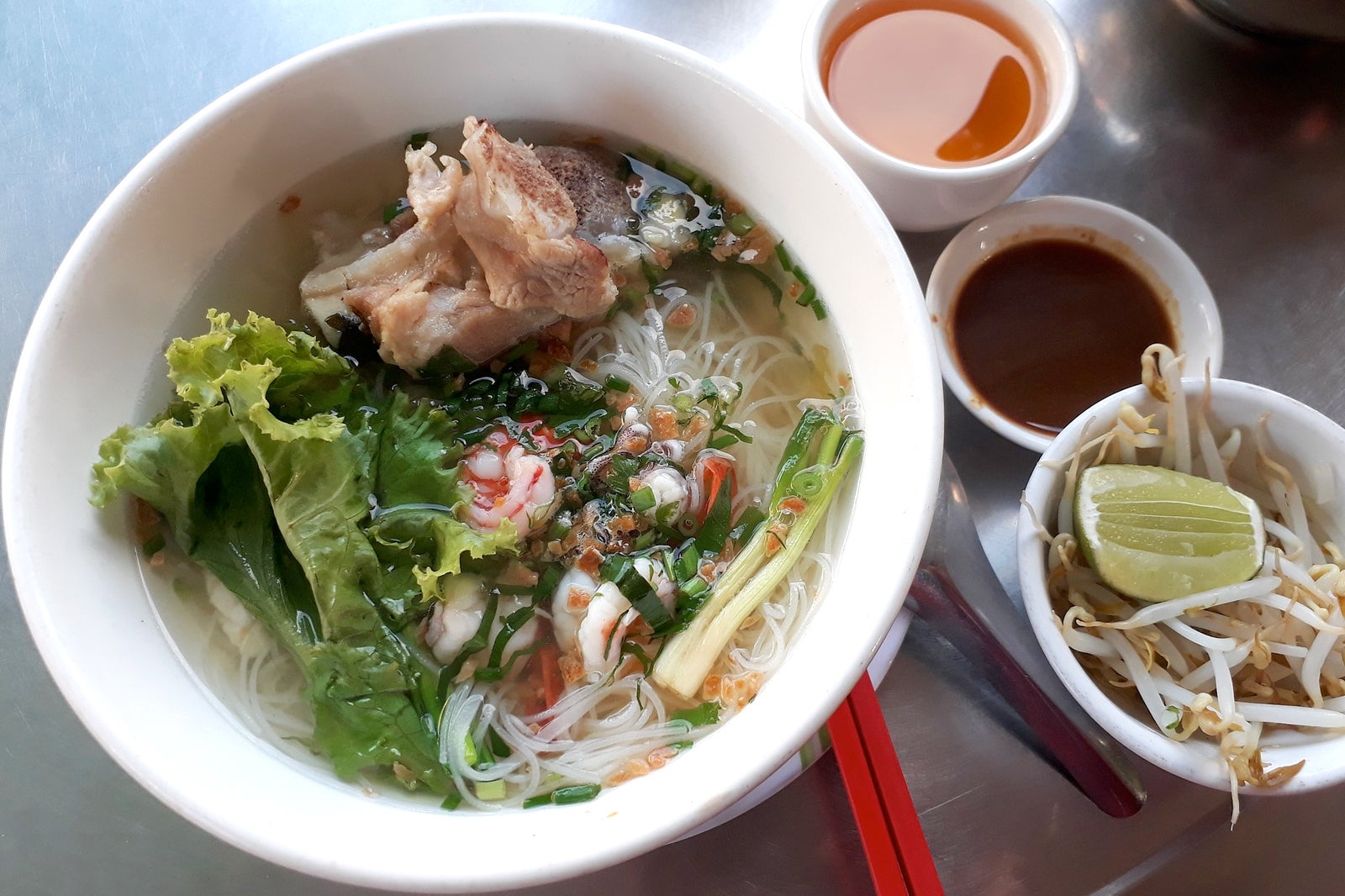 Nom banh chok, similar to Vietnam's pho, is typically enjoyed as a quick and inexpensive breakfast. Available around markets in downtown Siem Reap, look out for local women carrying handwoven baskets with a shoulder pole.
A bowl of Khmer noodles costs between US$0.50 and US$1, consisting of rice noodles, mint leaves, bean sprouts, green beans, banana flower, and cucumbers in a fish-based green curry. On special occasions such as weddings and religious festivals, locals usually replace nom banh chok's green gravy with red curry sauce.
6
Prahok Ktiss (Pork Dipping Sauce)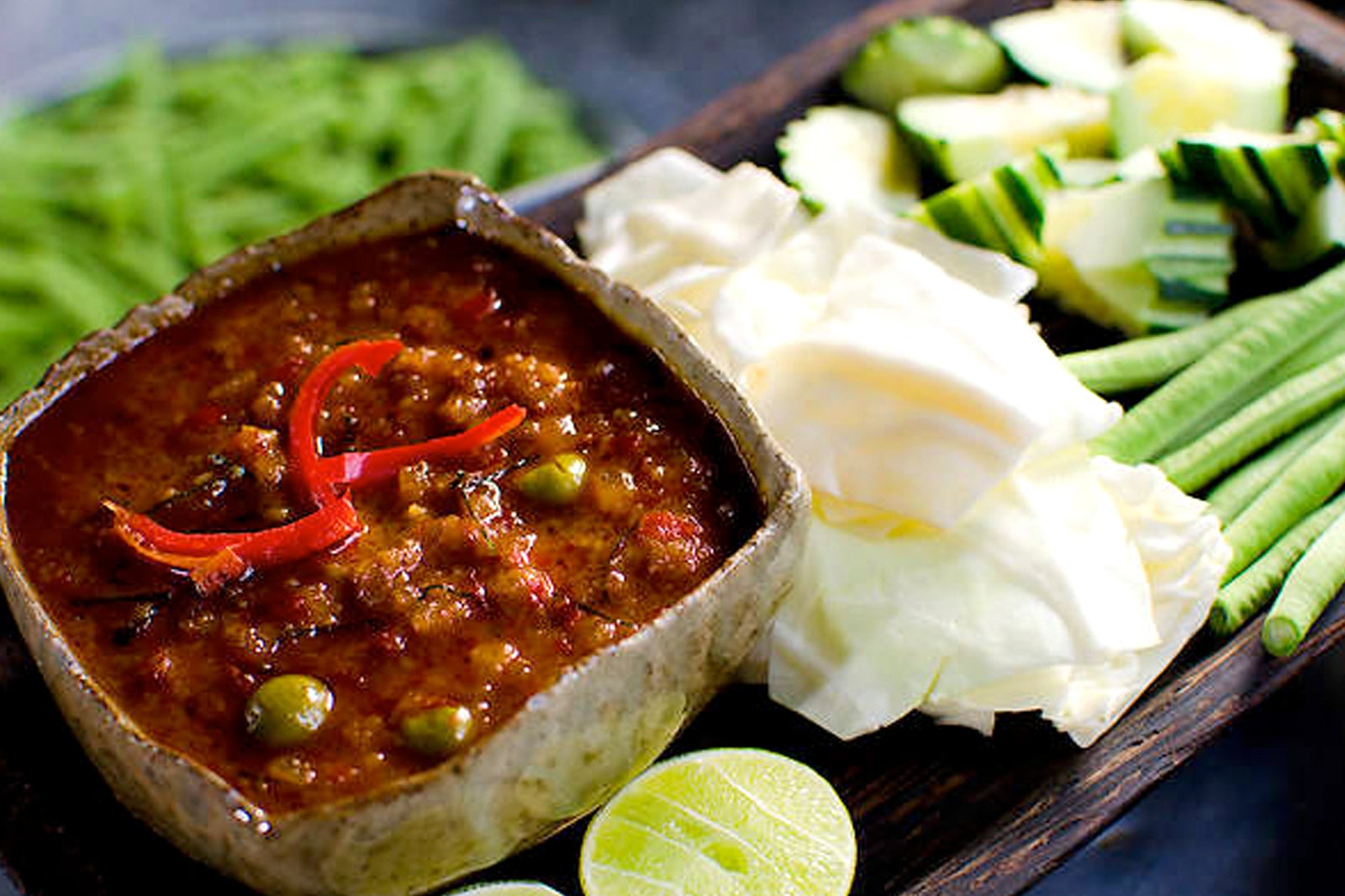 Prahok ktiss is a traditional condiment in Siem Reap which uses fermented fish paste as its main ingredient. While most prahok-based dishes have a very strong, pungent flavour, this dipping sauce is palatable to most visitors thanks to the addition of sliced pork belly or minced pork, eggplant, coconut milk, and kroeung (Khmer curry paste).
Served with plenty of freshly sliced vegetables such as carrot, cabbage, cucumber, and long beans, prahok ktiss is typically enjoyed as a snack or side dish to noodles or rice.
photo by Louistrinh (CC BY-SA 4.0) modified
Samlor machu kroeung is a filling, sweet and sour soup that's usually enjoyed during dinnertime. Great for meat lovers, this dish contains diced beef ribs and succulent tripe that are stewed in kroeung paste, lemongrass, turmeric, morning glory, and coriander leaves.
Peanuts are sometimes added to the ensemble, resulting in a tangy and nutty flavour. As with most dishes in Siem Reap, restaurants serve samlor machu kroeung with a side of white rice and chilli flakes.
photo by Sodanie Chea (CC BY 2.0) modified
8
Samlor Machu Trey (Sweet And Sour Soup With Fish)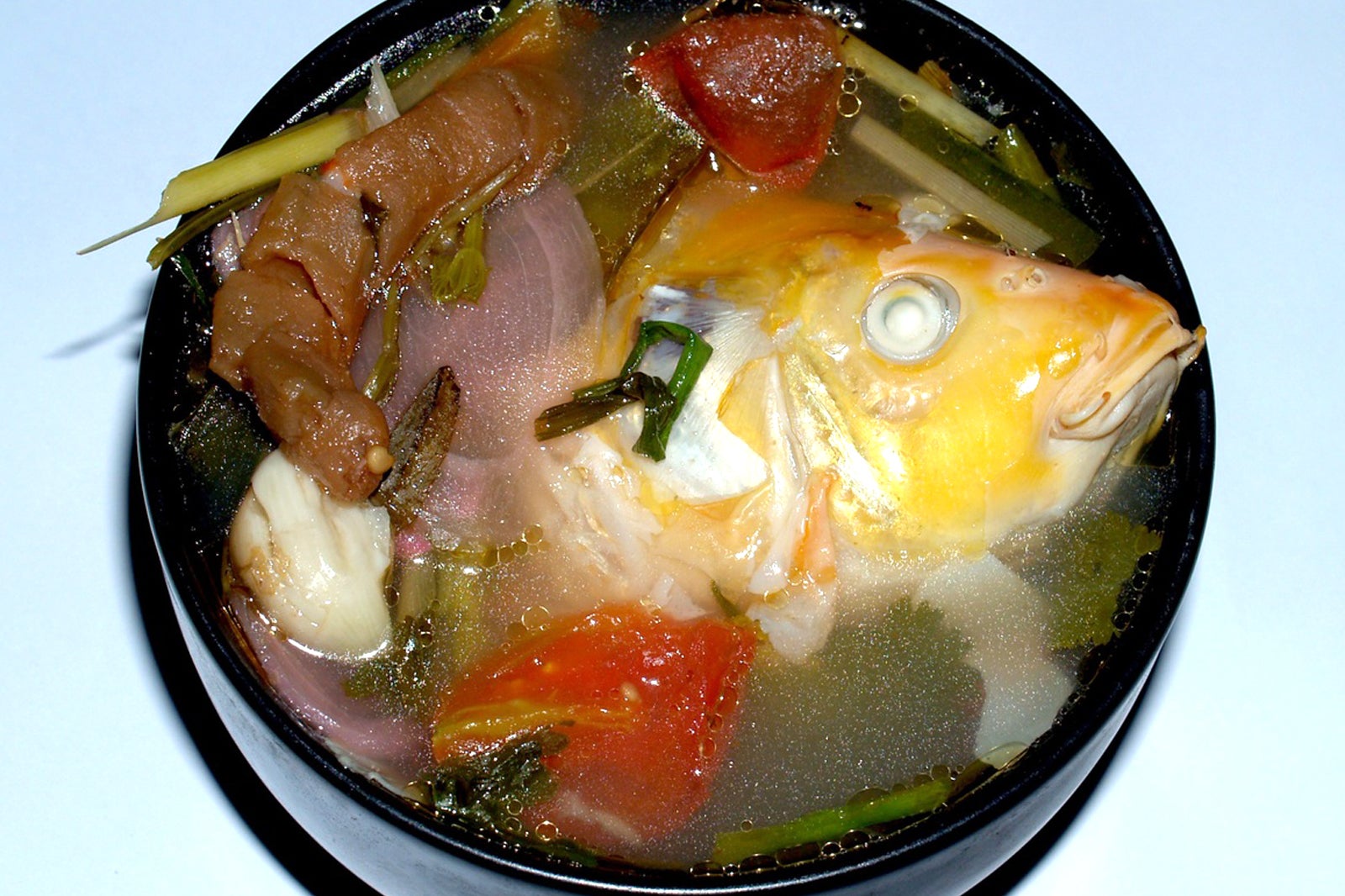 Samlor machu trey is popular among health-conscious diners thanks to its generous portions of fresh herbs, fish fillets, and vegetables, all cooked in a clear broth. Sweet and sour in taste, this one-pot dish is lightly seasoned with sugar, fish sauce, and salt and makes for a filling lunch or dinner.
Some of its ingredients include fish, water spinach, garlic, lemongrass, celery, tamarind juice, bean sprouts, and pineapple. Priced at US$0.75 onwards, eat like the locals by pilling fresh herbs and chilli peppers on top of your samlor machu trey.
9
Lap Khmer (Lime-Marinated Khmer Beef Salad)
Lap Khmer is the Cambodian version of Latin America's ceviche, comprising raw beef slices marinated with lime juice, lemongrass, shallots, garlic, fish sauce, Asian basil, mint leaves, green beans, and green pepper.
Due to its contrasting flavours, this dish goes well with a plate of white rice and fresh chillies if you prefer it to be spicy. Most Khmer restaurants serve grilled beef slices to suit international visitors, so we highly recommend visiting Siem Reap's local markets for the authentic lap Khmer salad.
10
Samlor Korko (Stirring Soup)
Samlor korko was originally a royal Khmer dish that was later adopted by the local population. It's basically a spicy fish-based soup with lots of vegetables.
Locally known as stirring soup, both kroeung (curry paste) and prahok (fermented fish) are used in this dish along with pounded rice, pork or fish, and vegetables such as pumpkin, green papaya, green banana, long beans, eggplant, and bitter gourd leaves.
Samlor korko can also be tailored to vegetarian diners, with restaurateurs substituting the meat with coconut cream and vegetable stock.