10 Most Beautiful Beach Towns in Brazil
Brazilian Beaches Where You Can Sunbathe in Style
Several beautiful beach towns in Brazil are off the beaten path, while others are well-developed or a few hours' journey from big cities like Rio. They're like strewn jewels in the vast lush expanse of a country that's home to some of the most spectacular scenery in the world. Head to the up-and-coming and ever-so stylish Trancoso or opt for the more mellow but varied Ubatuba that's surrounded by the Atlantic Forest.
Brimming with beauty and life, there's no getting bored along Brazil's beaches. The northern coastline stretches for miles towards the south where it meets Uruguay. Along this staggeringly beautiful coast, you'll find lagoons, natural pools, and sprawling beaches – given its sheer size, you may even find your own little paradise. Here are some of the best beach towns in Brazil, where sunbathing in style is just a short walk away.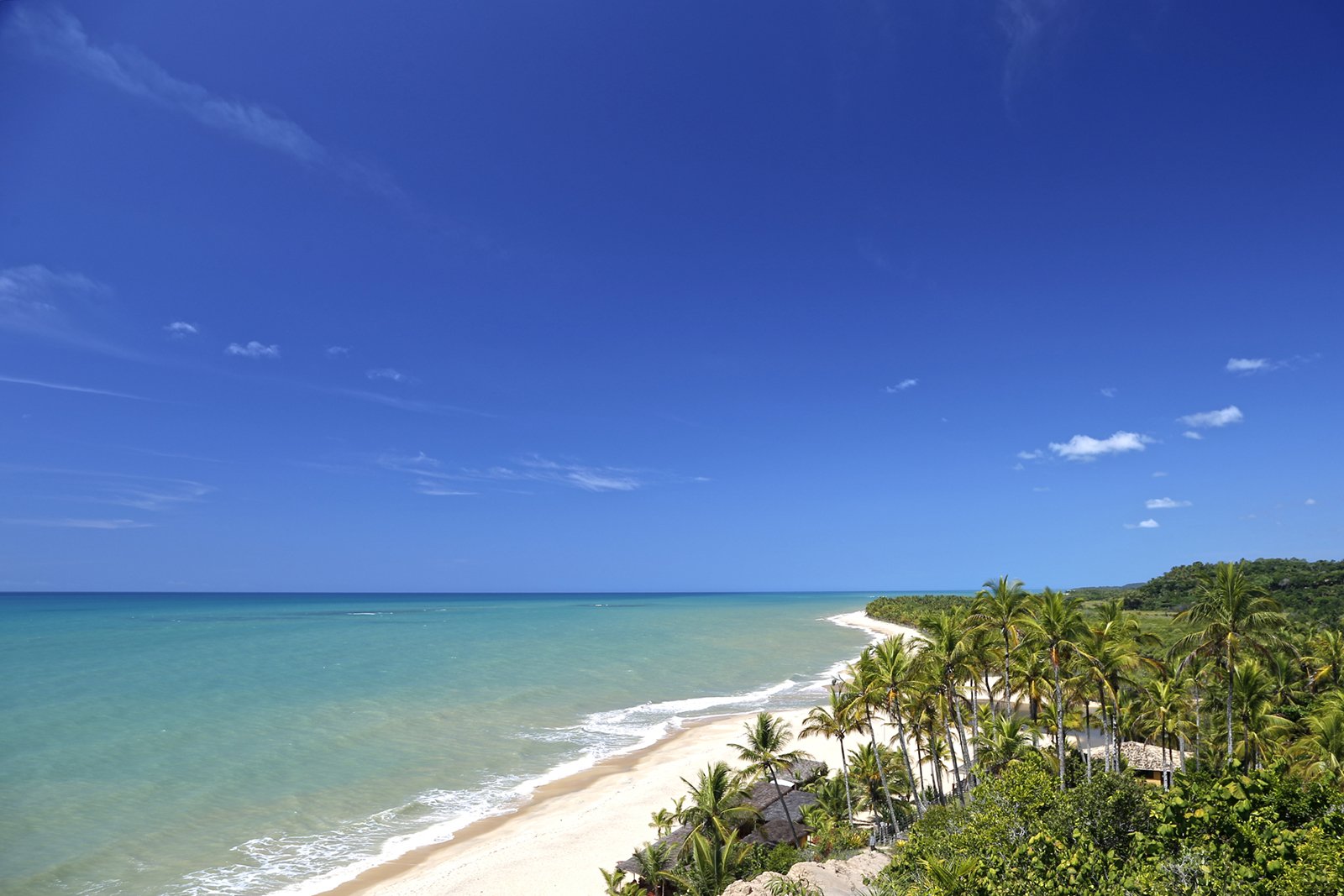 Trancoso
Where Brazil's elite live it up in luxury
In Trancoso, on Brazil's southern Bahia coastline, mornings are reserved for a daily trip to the beach, meaning shops don't open until 3pm. What we may normally see as inconvenience, comes forth as Trancoso's laidback charm and people keep coming back for more. You can reach the town in an hour's drive from Porto Seguro International Airport.
As a burgeoning travel spot for the trendy, this former fishing town has made its name as the Tulum of Brazil with its compelling aesthetics and definitively relaxed atmosphere. Walk along the 'village green' named Quadrado, along colourful houses and the all-white São João Batista Church, which overlooks the beach and sea. Take your pick from the dreamy Nativos Beach or Coquieros Beach – both are equally beautiful.
Location: Trancoso, Porto Seguro, State of Bahia, 45810-000, Brazil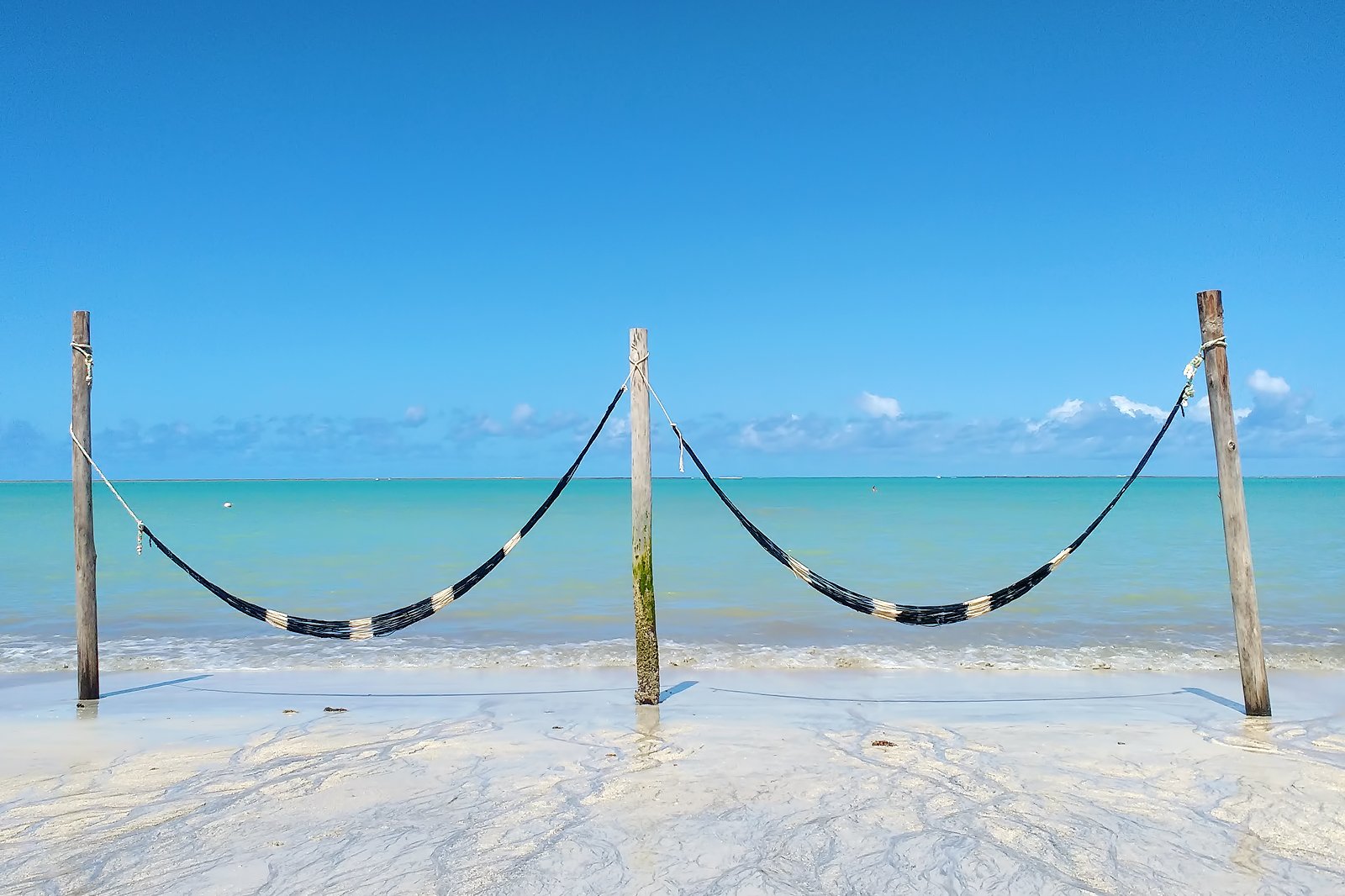 Barra Grande
A captivating getaway for ultimate seclusion
Barra Grande on the northern tip of the Peninsula de Maraú on the south coast of Bahia has gradually blossomed into a popular holiday spot for Brazilian families. Its sandy streets are lined with dozens of pousadas (guesthouses) and restaurants, which fill up with delightful chatter and smells as the warmer months roll in. You can reach Barra Grande on a 25-minute direct air taxi flight from Salvador airport.
The town is also a kitesurfing haven, with many professional competitions pitching up on its beaches. Part of Barra Grande's mysterious allure is its inaccessibility – the journey is time consuming but well worth the effort and its remoteness means it remains unspoilt by mass development. A beach to mention is Taipús de Fora which is beautiful with natural rock pools that form at low tide.
Location: Barra Grande, Trairi, State of Ceará, 62690-000, Brazil
photo by Edujsneto (CC BY-SA 4.0) modified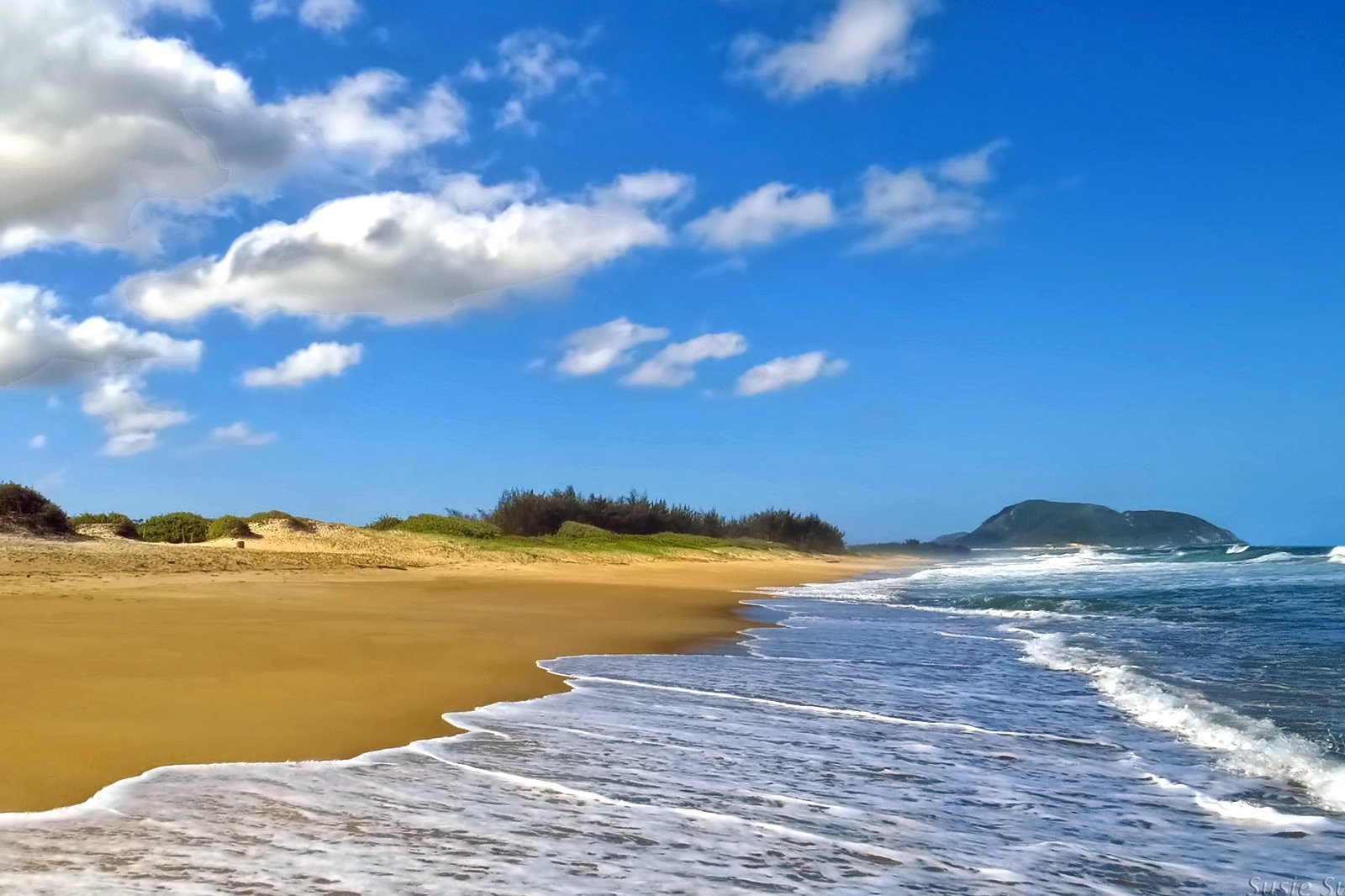 Barra da Lagoa
A small fishing village where river meets ocean
Barra da Lagoa in the city of Florianópolis is a good spot for beginner surfers with swells generally smaller and easier to navigate. This also means perfect conditions for those looking just to body surf and enjoy the beach. This backpacker-friendly enclave is dotted with colourfully painted boats bobbing along the waters of the Canal da Barra. The beach is within an hours' drive from Hercílio Luz International Airport (about 90 minutes' flight from Rio).
The pretty rock formations which line the route to the sea make a sight for sore eyes when those sunset colours kick in. The town's Praia Barra da Lagoa merges with Santa Catarina's longest beach, Praia do Moçambique, to form a spectacular 14km strand. Be ready for some breathtaking long beach walks.
Location: Barra da Lagoa, Florianópolis, State of Santa Catarina, 88061-050, Brazil
photo by Susie Sun (CC BY-SA 4.0) modified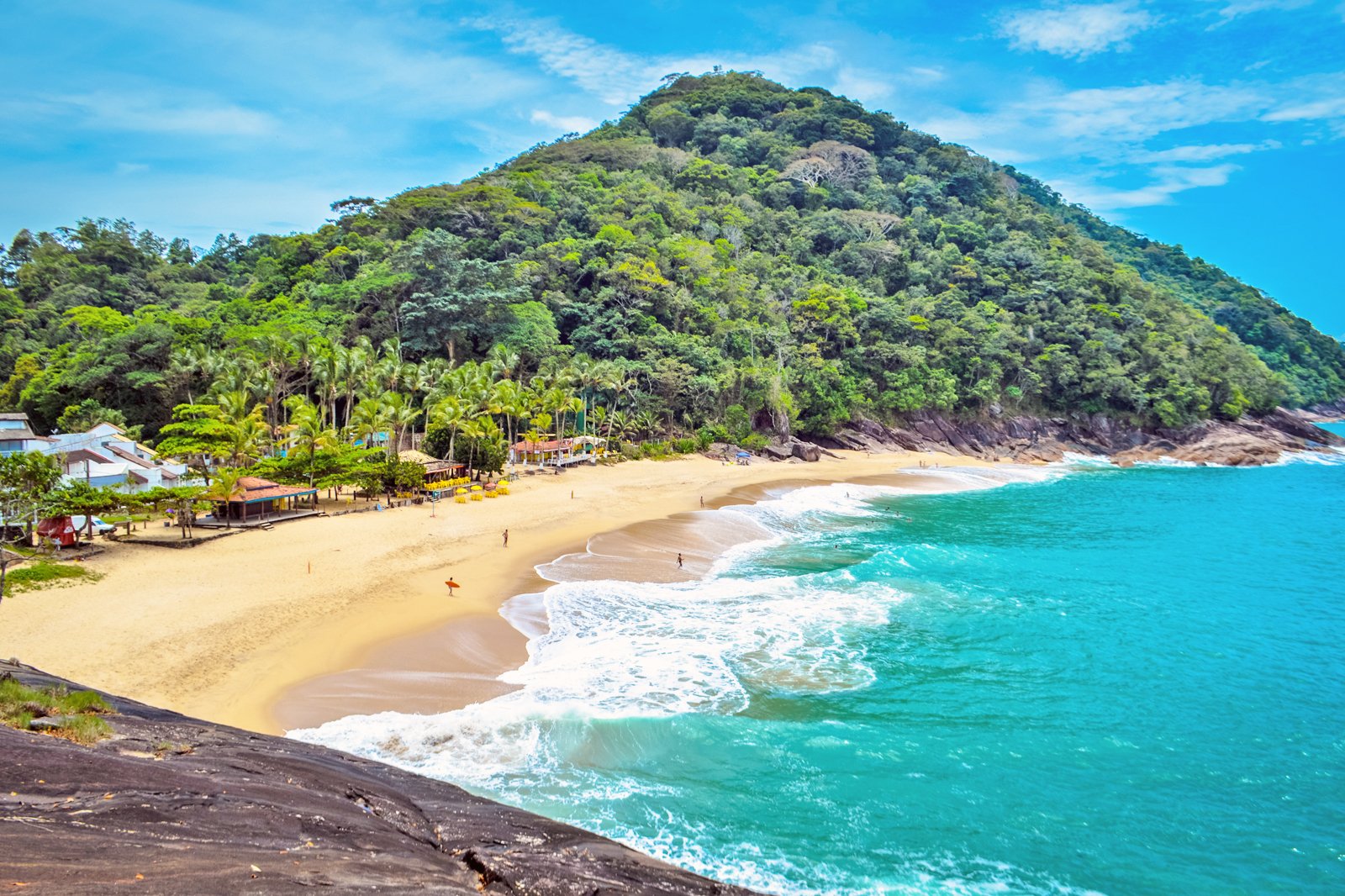 Ubatuba
A gorgeous area surrounded by hillsides carpeted with Atlantic Forest
Enclosed by the magnificent Serra do Mar, Ubatuba is a coastal municipality with over 90 beaches – you'll certainly be spoilt for choice. Whether you're looking for challenging mountain walks or a simple day out on a stunning beach, Ubatuba will keep you entertained and bewitched with its beauty. You can reach Ubatuba within a 3 hour's drive from Sao Paulo.
For big waves frequented by floppy-haired surfers, head to Praia Vermelha do Norte. For a good mix of activities and crowds, visit Praia Grande, which can get busy in peak season but is well maintained and has plenty of food and drink options. For ultimate serenity and seclusion, spend a day at either Praia da Fortaleza or Praia da Santa Rita. Both beaches have walking trails to neighbouring hills.
Location: Ubatuba, São Paulo, 11680-000, Brazil
photo by Tiago Pompeu (CC BY-SA 4.0) modified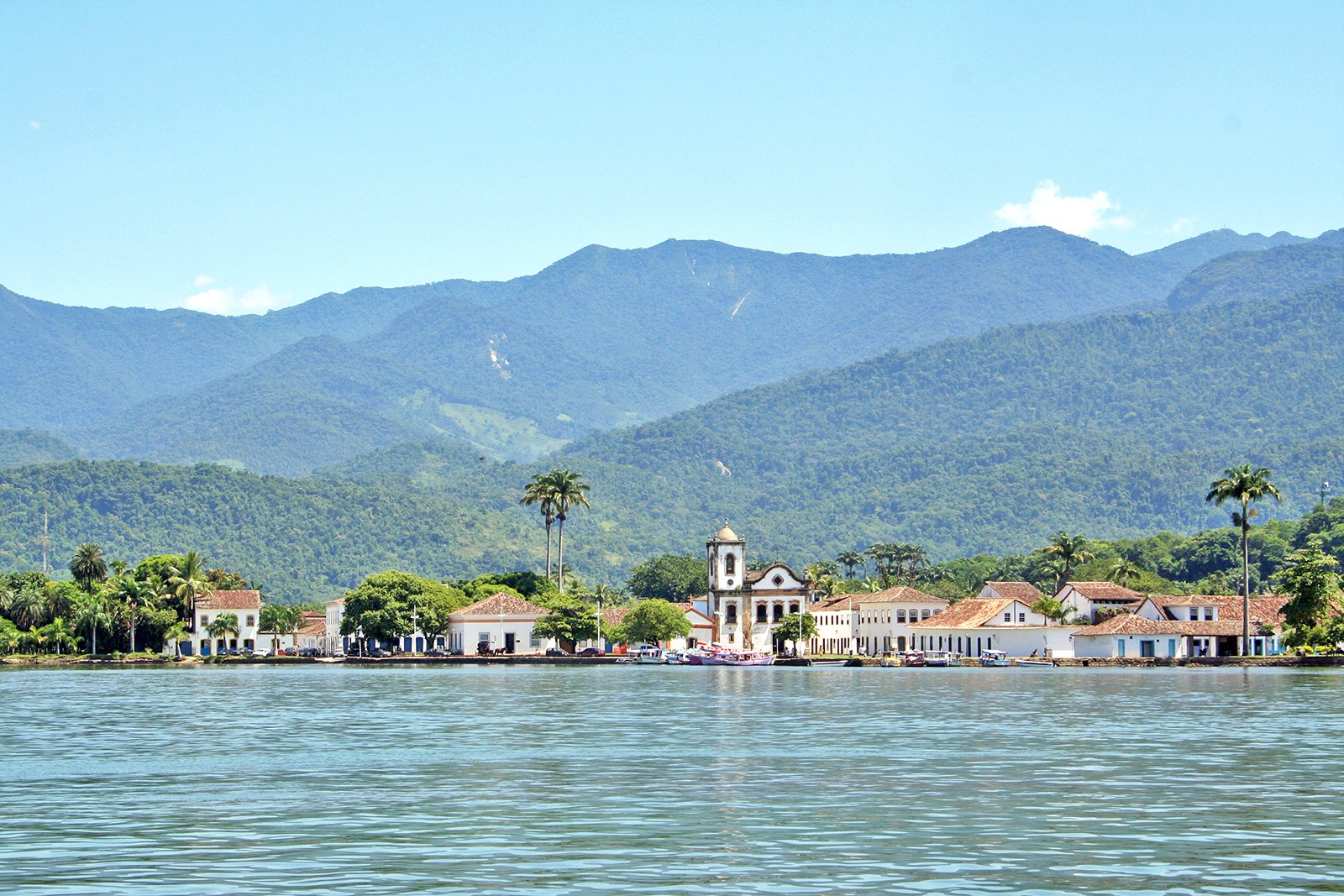 Paraty
A charming colonial town backed by mountains
Paraty is widely considered to have one of Brazil's most breathtaking settings, with its immaculately preserved colonial centre and verdant green background of steep, jungled mountains. Recognised as a National Historic Site since 1966, the town emanates elegance with white buildings decorated with multi-hued borders and latticed windows, which pair perfectly with the quaint cobblestone streets.
With its colonial charm and the town's undeniable natural beauty, it's no surprise that the town brims with Brazilian and international travellers. Many artists, chefs and writers have fallen under Paraty's spell choosing to settle there, causing Paraty to become more cosmopolitan. Excellent beaches and nature spots include Praia do Sono, Praia da Trindade, Praia da Lula, and Saco do Mamangua. Paraty is an hour's drive north from Ubatuba.
Location: Paraty, State of Rio de Janeiro, 23970-000, Brazil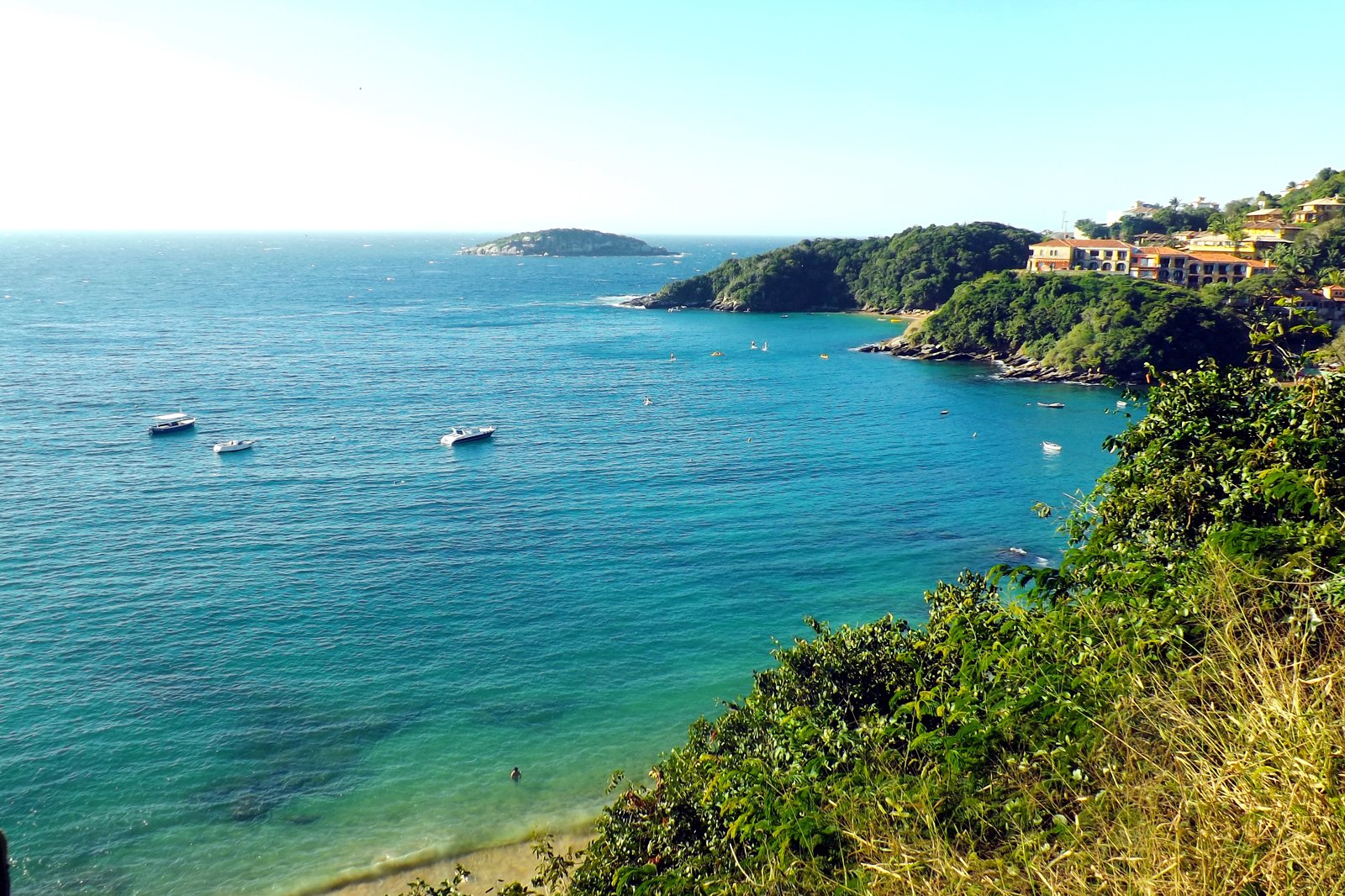 Búzios
An upscale resort town with fabulous beaches
Armação dos Búzios, known simply as Búzios, is a luxury escape for the residents of Rio. This coastal spot offers an admirable mix of natural beauty and entertainment with a smattering of shops and restaurants that continues along a pretty boardwalk to the centre of town. Often coined the Brazilian Saint Tropez (spurred on by Brigitte Bardot's extended visits), Búzios exudes pure charm with pristine beaches, delicious cuisine and a bustling nightlife.
Most of its beaches are declared environmentally protected zones and cherished as local heritage. Favourites amongst both townsfolk and tourists are Azeda and Azedinha. Other nice beaches include João Fernandes, the neighbouring João Fernandinho, Manguinhos and Geribá. You can reach Búzios in about 3 hour's drive northeast from Rio.
Location: Armação dos Búzios, State of Rio de Janeiro, 28950-000, 28950-000, Brazil
photo by Larissa Fraga (CC BY 3.0) modified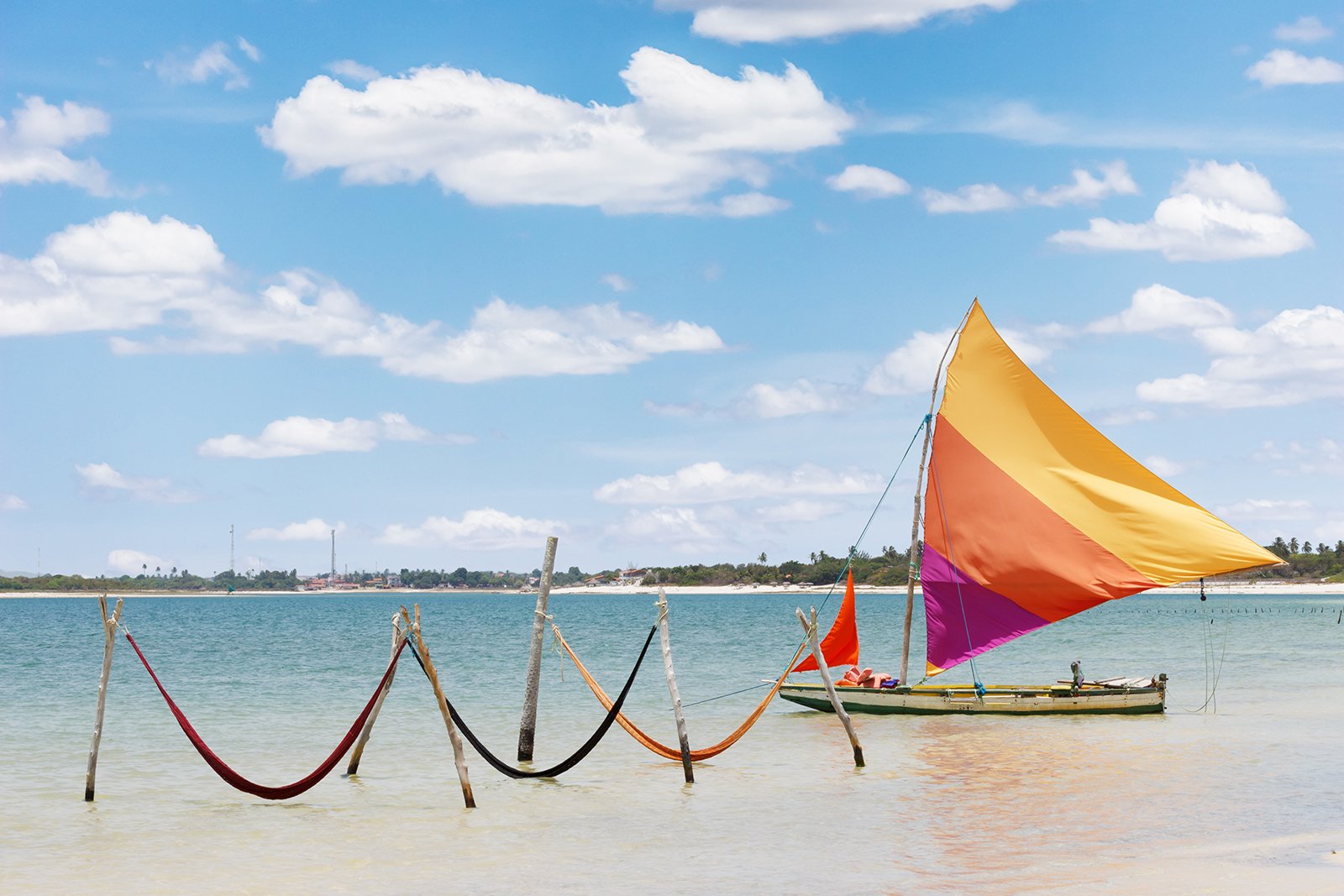 Jericoacoara
A town ringed by stunning freshwater lagoons
Jericoacoara or 'Jeri' – as it is fondly known – is lodged between a magnificent national park and the brilliantly turquoise waters of the Atlantic Ocean. With its alluring hard-to-reach location, striking coastal landscapes and exciting activities, Jeri fits the criteria for tropical paradise. Most visitors drive to Jeri from the city of Fortaleza (an approximate 3-hour flight north from Sao Paulo).
This former fishing village features quaint sandy streets, live forró music, enchanting mangroves, and vast dunes. The freshwater lagoons are what draws in travellers from far and wide. Lagoa do Paraiso delights visitors with its hammocks hanging from overwater stilts, offering stunning views of unbelievably clear waters. Another nature spot to mention is Pedra Furada, a striking rock formation sculpted by the waters and winds.
Location: Jijoca de Jericoacoara, State of Ceará, 62598-000, Brazil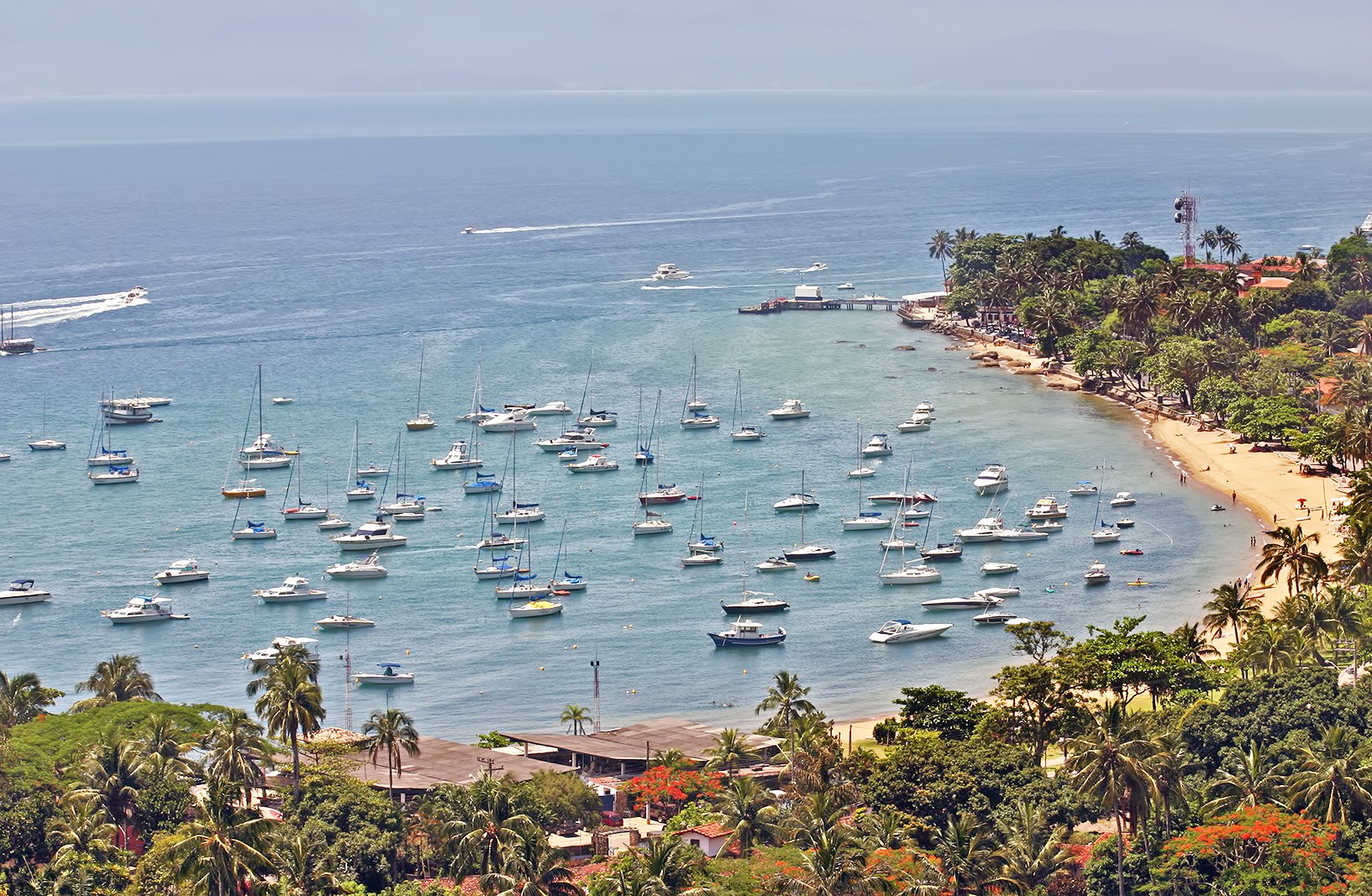 Ilhabela
An archipelago made up of a protected state park
Over 80% of Ilhabela is part of a protected state park (nature lovers rejoice!). The coast faces the São Sebastião channel, meaning calm seas and easily accessible coves. Praia do Curral stuns with its impressively blue-green waters and Jabaquara Beach, found on the northern tip of the island, gives it a run for its money with silky sand surrounded by virgin forests. It's roughly a 4-hour drive east from Sao Paulo.
Must-see spots are Bonete, which can either be accessed by boat or through a memorable 4-hour trail through the jungle, and Baía de Castelhanos, which is best explored using four-wheel drive vehicles. Both spots take you to beautiful waterfalls. Other pretty beaches/nature spots include Praia do Julião, Ilha das Cabras and Saco do Eustáquio (only accessible by boat).
Location: Ilhabela, State of São Paulo, 11630-000, Brazil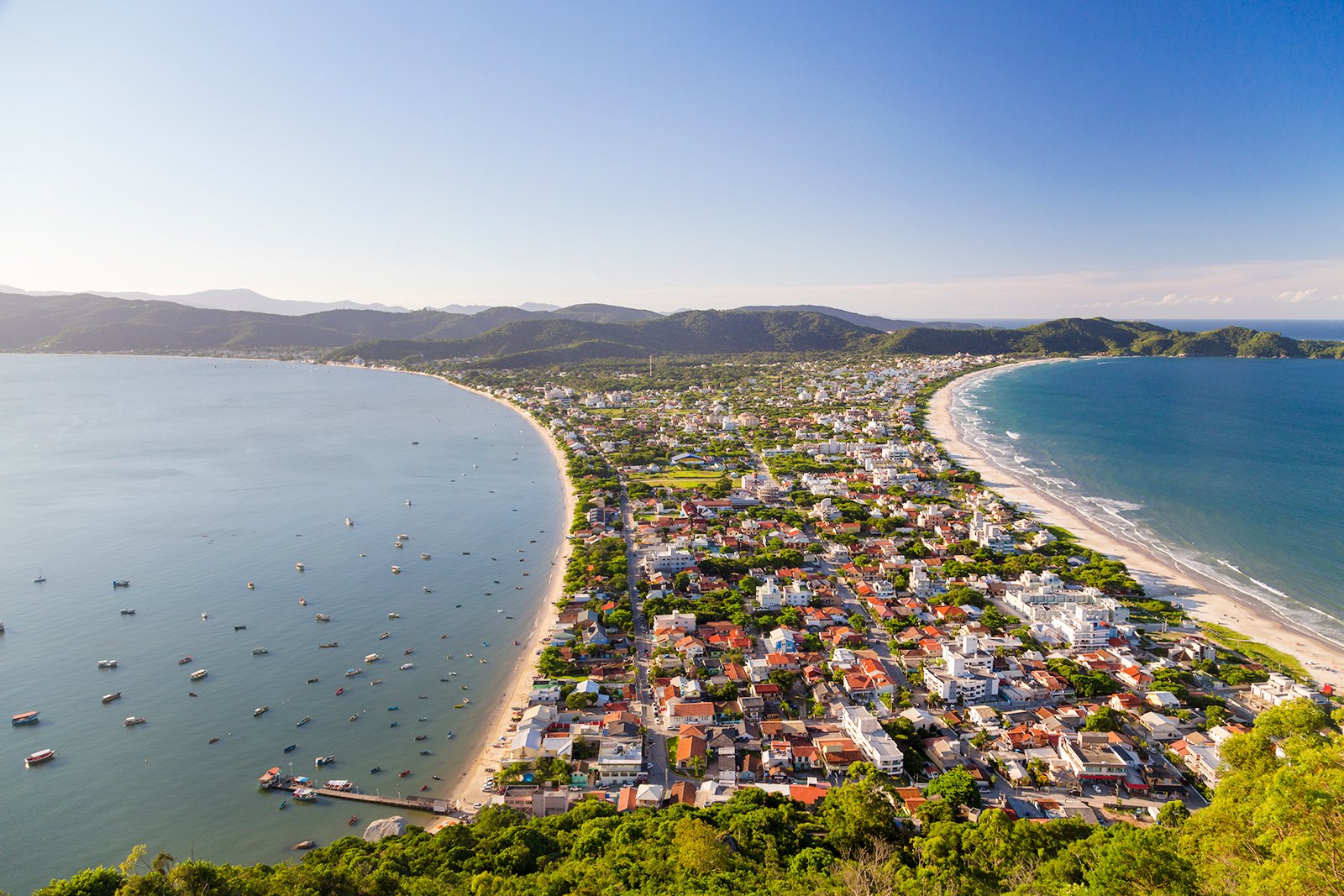 Bombas and Bombinhas
A ragged three-pronged peninsula blooming with life
Itapema is a three-headed peninsula which contains the towns of Bombas and Bombinhas. Bombas is the largest of the two with a main avenue trailed with lively restaurants and bars and a quieter promenade for pedestrians and cyclists which runs just along the water's edge. Bombinhas is just over the hill and into the next cove. You can reach Itapema in an hours' flight from Sao Paulo.
'Smaller Bombas' in the local tongue, Bombinhas exudes the same laidback vibe of its bigger sibling, except that it's more condensed. Praia Mariscal is found over the steep hill and is a residential area with a pretty beach and trails hiking up to Morro do Macaco.
Location: Bombas, State of Santa Catarina, 88215-000, Brazil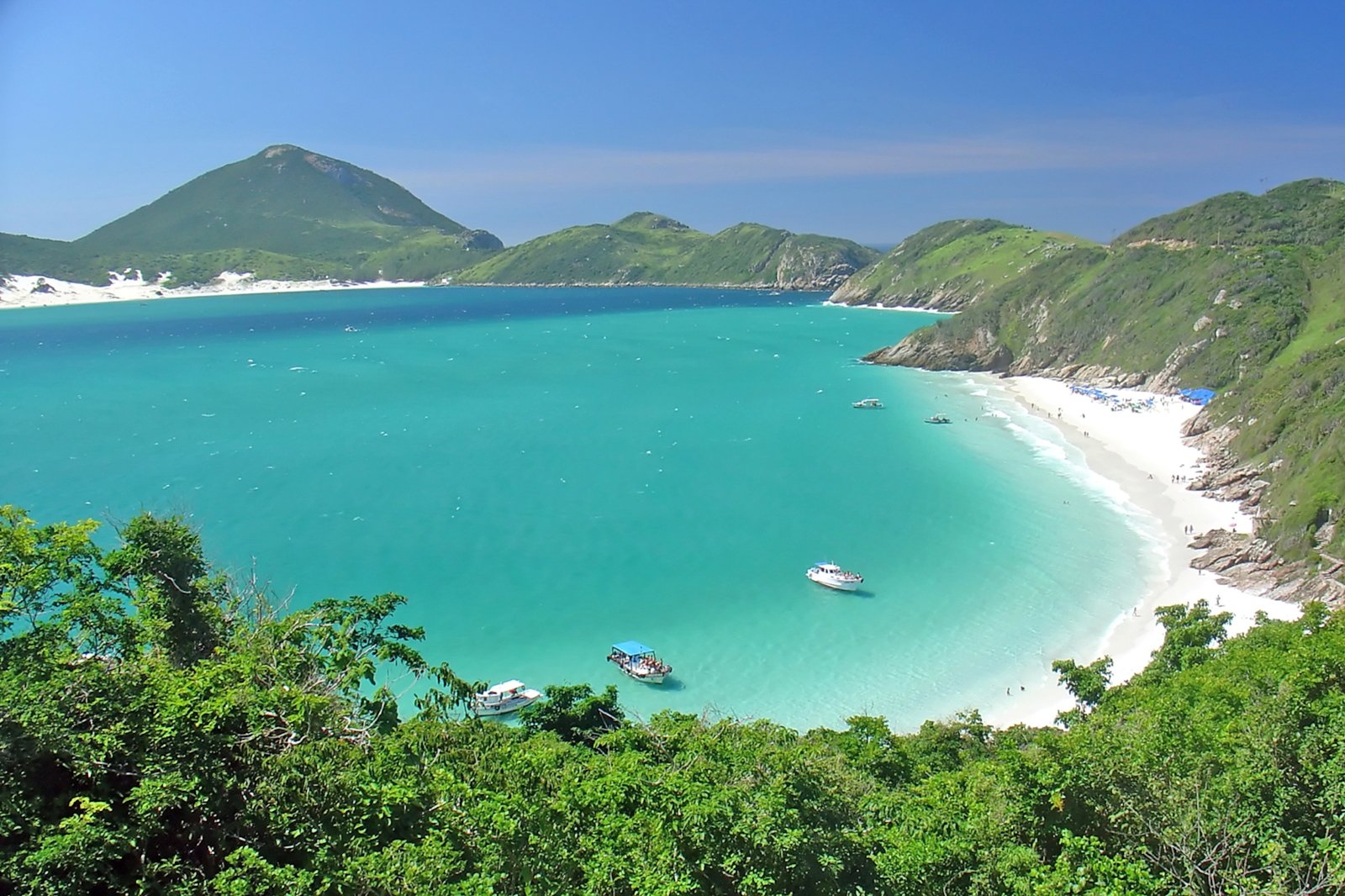 Arraial do Cabo
For a rustic, laidback escape on white-sand beaches
Just a few hours' journey northeast from Rio de Janeiro, Arraial do Cabo is lightyears away from the inner-city beaches. With its rustic vibe and excellent mixture of activities, this town should be high on your list.
Arraial do Cabo is made up a small web of winding streets, which all seem to end up at a pristine beach, some of the best including Prainhas do Pontal do Atalaia, Praia do Farol, Praia Grande, Praia dos Anjos and Praia Forno. For divers, make sure to check out the shipwreck dive sites and the Blue Grotto Cave.
Location: Arraial do Cabo, State of Rio de Janeiro, 28930-000, Brazil