A City Guide to Breckenridge - Ski, Paddle, and Play in the Rockies
A City Guide to Breckenridge - Ski, Paddle, and Play in the Rockies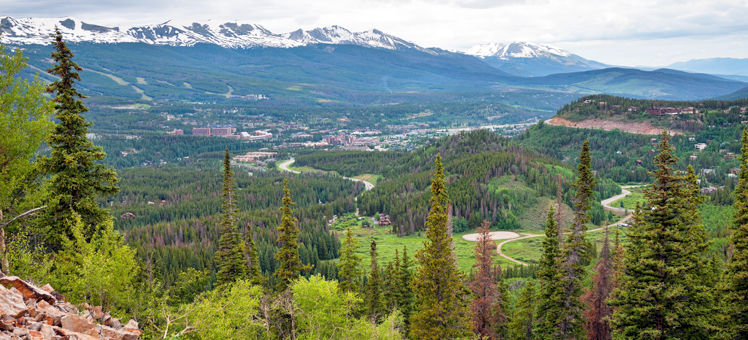 With a skyline defined by snowcapped peaks, it's no wonder Breckenridge is a skier's paradise. But it also shines in the warm months. Spend a summer vacation here, and you'll see the wisdom in the local saying; "You come for the winters, and stay for the summers."
Alpine outdoor thrills
In "Breck," as this historic town is affectionately known, getting outside to play in the summer sun or the deep snow isn't just for kids. You'll always find something fun to do up on the mountain, from hiking an alpine wildflower trail, to flying through the air on skis above groomed runs. Looking for even more speed? Tear down backcountry trails on a mountain bike, or pack your snowboard out to the wild chutes and bowls beyond Breckenridge Ski Resort.
Breckenridge Ski Resort, 1599 County Road 3, Breckenridge, CO 80424; Tel: + 1 970 453 5000; Website: Breckenridge Ski Resort
On the water
Breckenridge is rich in rapids, eddies, and lakeside shorelines. Fish run all year on nearby Blue River, where guides from Breckenridge Outfitters can teach you the art of fly fishing. 15 minutes from town, Lake Dillon is ideal for low-key summer days in a canoe, kayak, or sailboat. Sailing lessons are offered through Windrider of the Rockies, but experienced sailors only need to pass a verbal sailing quiz to get out on the water.
Historic Main Street
Main Street, with its ornate Victorian houses and Old West-style storefronts, offers a lot more than a leisurely stroll through history. With more than 200 local businesses in the downtown area, you'll find restaurants, microbrews and spirits, artisan goods, and opportunities to rejuvenate at yoga studios and day spas. History buffs shouldn't miss a guided tour from Breckenridge Heritage Alliance. There's even one that investigates the supernatural.
Family fun
Breckenridge is so family-friendly that it may be hard to whittle down your wish list. Visitors love the free gondola at Breckenridge Ski Resort, where you're treated to stunning treetop views. When the kids are tired of skiing but not the snow, head out to Frisco Adventure Park for a day of tubing. Remember to take it slow at first, as children are just as likely as adults to feel the effects of sky-high altitude for the first few days.
Yearly festivals
The fun-loving side of Breckenridge is in full swing during the Kingdom Days heritage festival at the height of summer. Fall visitors raise their glasses in unison with a hearty "Prost!" during Oktoberfest. Winter is no time for hibernation in Breckenridge, with the Nordic-inspired Ullr Fest, where donning a Viking helmet is strongly encouraged. Concerts, food, and drinks close out the ski season in the spring. Plan your trip for March if you want to catch the citywide party, Breck Spring Fever.