Travel Tips for a Smooth Vacation in Srinagar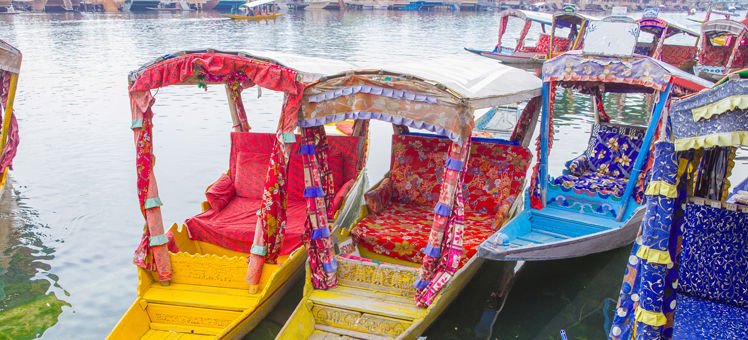 Srinagar is significantly cooler than the rest of India and the best time to visit is between March and October. Over 95 percent of the population is Muslim, which has influenced cuisine, architecture, and the arts. For many years there have been security concerns about Kashmir, although no tourists have been targeted since the 1990s. However, you'll see a strong military presence in town.
Best time to travel
April to June is the busiest time in Srinagar, with a corresponding rise in hotel prices, as people come to escape the heat of the plains. The winter months are cold, with an average daytime temperature of 3.4 degrees C (38 degrees F) in December, which dips below freezing at night. However, tourist numbers see a second smaller peak with visitors coming to ski in Gulmarg. There's no rainy season in the Vale of Kashmir as it's above the monsoon line, but spring is the wettest period. Spring and fall offer fewer crowds, lower prices, and cool, pleasant weather.
Not to miss
Lakes, pine forests, and mountains lure tourists in search of a trekking adventure, or simply to admire the natural beauty of this fabled land. Sleeping on a houseboat on one of Srinagar's lakes is a highlight of any trip: brightly painted shikaras (wooden boats) add colour to the green and blue landscape. The blanket of snow in winter attracts many visitors, as do springtime blossoms and the golden leaves in fall. The historic architecture of the Old City with its decorative shrines and mosques, as well as the Mughal gardens, are an added draw.
Getting around
Tourists arrive at Srinagar International Airport (SXR) from Delhi, Mumbai, or other Indian cities. Cheap taxis are available on arrival, or hotels often offer to book guests a car. To get around, taxis are the most comfortable mode of transport. Auto-rickshaws are even more common, cheaper, and can be flagged down on the street. With both taxis and autos, you must negotiate and agree on the fare before setting off. To travel to Gulmarg and outside Srinagar, it's relatively inexpensive to hire a car and driver. Alternatively, shared jeeps leave from public jeep stands when they're full.
Cuisine
Unlike most of India, Kashmiri cuisine is meat-oriented, with mutton, chicken, and fish (not pork or beef) featuring strongly on menus. Spices such as cinnamon, saffron, and cloves give local cooking its particular flavor. The famous Wazwan banquet consists of many rich courses, and restaurants on or near Residency Road specialize in these dishes. High-end hotels have excellent restaurants for both Indian and international cuisine, often Chinese or Italian. The central area of Srinagar is dotted with restaurants serving regional Indian food, from Punjabi to South Indian vegetarian, as well as eateries offering Tibetan-inspired soups and dumplings.
Customs and etiquette
As a predominantly Muslim state, modest dress is appropriate in Kashmir. When entering one of Srinagar's many mosques or shrines, both men and women must cover their arms and legs, shoes have to be left outside, and women should cover their hair with a scarf. As everywhere in India, haggling is necessary for taxis and auto-rickshaws, as well as in markets and any shops that do not have a price clearly displayed. Tipping is not expected in small restaurants, while taxes and service charges are usually added in more formal establishments.
Fast facts
Population: 1192792

Spoken languages: Kashmiri, Urdu, and Hindi, with some English

Electrical: 230 volts, 50 Hz, plug type C, D, M

Phone calling code: +91 (0) 194

Emergency number: Ambulance: 102; Fire: 101; Police: 100